Now that both Samsung and Micron are shipping their 16 Gb DDR4 memory chips to third parties, we're seeing wider availability of 32 GB unbuffered memory modules (UDIMMs). To date, six brands have either introduced, or started to sell their 32 GB unbuffered DIMMs, and in the coming months more manufacturers are expected to follow.
The Basics
Before we proceed, let us recap the basics here. Because of the way memory sub-systems work, high-capacity memory modules (in our case, 32 GB and higher) for workstations and servers are built differently than regular DIMMs for client PCs (which are called unbuffered DIMMs, or UDIMMs). Registered DIMMs (RDIMMs) carry a register chip that buffers the address and command signals, whereas the Load Reduced DIMMs (LRDIMMs) replace the register with an Isolation Memory Buffer that buffers the command, address, and data signals. While both the register chip and the IMB allow hardware vendors to build high-capacity memory modules and memory subsystems, neither RDIMMs nor LRDIMMs work with regular client platforms. Therefore, if you use a contemporary desktop and need a lot of memory for some reason, you'll need 32 GB UDIMMs.
You can read more about contemporary types DIMMs an appropriate article covering different types of contemporary memory modules
At the time of writing, 32 GB UDIMMs are supported by client platforms based on AMD's 400 and 500-series chipsets as well as Intel's 300-series chipsets.
The List
Twitter user momomo_us, who is from Japan, has managed to get a list of 32 GB unbuffered memory modules that are either available now or are about to hit the shelves there. The list is valid for Japan, yet we do know that ADATA and G.Skill are about to launch their 32 GB UDIMMs in the near future too, so our list includes data on these memory sticks as well.
There are a number of remarks to be made about 32 GB memory modules. Samsung's mass-produced 16 Gb DDR4 memory chips are rated for 2133 MT/s, 2400 MT/s, and 2666 MT/s data transfer rates, yet even the company itself sells 32 GB DDR4-2933 memory modules. Meanwhile, its partners go all the way to DDR4-3000, albeit at 1.35 Volts. Meanwhile, the only modules that semiofficially feature Micron's 16 Gb DDR4 chips are rated at 2400 or 2666 MT/s, at 1.2 Volts.
List of 32 GB Unbuffered Memory Modules Announced
Note: Data is not official
Brand
Data Rate
(MT/s)
Latency
Voltage
DRAM Vendor
PN
More Info
ADATA
2666
CL19
1.2 V
Micron (?)
AD4U2666732G19-B
–
Asgard
2666
CL16
1.2 V
?
?
–
Asgard
3000
CL16
1.35 V
?
?
–
Corsair
2400
CL16
1.2 V
Micron
?
–
Corsair
2666
CL16
1.2 V
Samsung
?
–
Corsair
3000
CL16
1.35 V
Samsung
?
–
Crucial/Micron
2666
CL19
1.2 V
Micron
CT32G4DFD8266.16FB1
–
G.Skill
4000
CL18
?
Samsung
F4-4000C18-32GVR
–
Gloway
2400
CL17
1.2 V
?
?
–
Gloway
3000
CL16
1.35 V
?
?
–
Samsung
2666
CL19
1.2 V
Samsung
M378A4G43MB1-CTD
–
Samsung
2933
?
?
Samsung
M471A4G43AB1-CVF
–
The Modules
Now that we know the specs, let us talk about the modules themselves:
ADATA
What ADATA has shown so far were 32 GB DDR4-2666 CL19 DIMMs at 1.2 V. Considering the clock rate, these modules hardly need a heat spreader, yet knowing the company, we cannot exclude a possibility of enthusiast-class 32 GB UDIMMs with heat spreaders.
Asgard
Asgard's Loki T2 and W2 memory modules are designed for enthusiasts, so they come with heat spreaders. The 32 GB DDR4-3000 CL16 modules need 1.35 V voltage and therefore need an enthusiast-class platform. Meanwhile, their 32 GB DDR4-2666 CL16 modules use industry-standard 1.2 V voltages.
Corsair
Corsair's 32 GB Vengeance LPX unbuffered DIMMs come with DDR4-2400, DDR4-2666, and DDR4-3000 speeds. Depending on speed bins, these modules reportedly use memory chips from Micron or Samsung and require 1.2 V or 1.35 V. Corsair's UDIMMs traditionally rely on the company's custom 10-layer PCB designed to ensure quality signaling when operating at higher clocks, and are equipped with black heat spreaders.
Crucial/Micron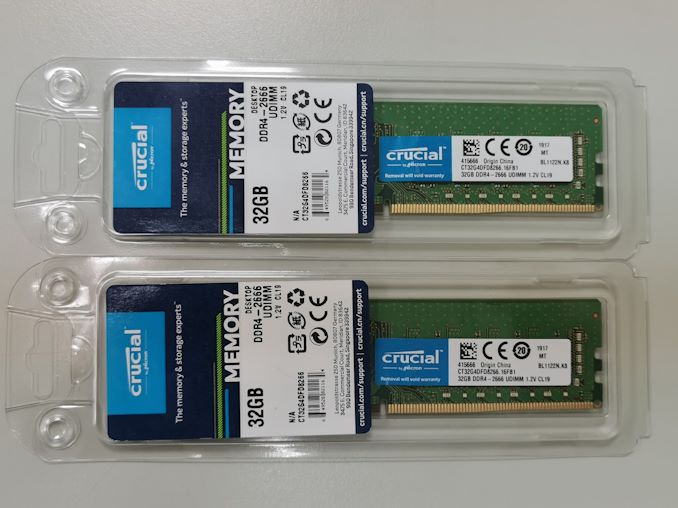 Micron's Crucial brand introduced its DDR4-2666 CL19 32 GB UDIMMs back at Computex and these modules are expected to show up on the market shortly. Crucial's 32 GB UDIMMs do not feature any heat sinks, but use industry-standard voltage, which makes them compatible with a wide variety of PCs.
G.Skill
G.Skill demonstrated its 32 GB UDIMMs at Computex, yet these modules are not available just yet. The company traditionally addresses enthusiasts with its products, which is why the memory sticks are rated for DDR4-4000 CL18 speed and are equipped with red heat spreaders. Given the unique combination of performance and capacity, expect G.Skill's 32 GB unbuffered DIMMs to cost more than competing products.
Gloway
Gloway's 32 GB UDIMMs are rated to operate at DDR4-2400 CL17 and DDR4-3000 CL16 speed bins, according to the listing. Depending on performance, the modules need 1.2 V or 1.35 V and come with heat spreaders.
Samsung
Samsung was first to start to producing 16 Gb DDR4 memory chips and was naturally the first to launch 32 GB UDIMMs. At present, the company offers DDR4-2666 CL19 and DDR4-2933 32 GB unbuffered DIMMs that come without any heat spreaders (based on the pictures of the modules from AVADirect).
Related Reading:
Sources: ADATA, Corsair, Crucial, G.Skill, Samsung, Twitter/momomo_us