Earlier in October, Intel announced that it would be launching its next generation high-end desktop processors in November. That day has come, and Intel expects its hardware to be available worldwide starting today. The new processors are effectively speed bumps of the previous generation Skylake-X Refresh hardware, but with a cunning twist: pricing has been substantially cut in order to compete with other hardware available in the market. Intel's 18-core processor now has OEM pricing of $979, almost half of the $1900+ value it had in the previous generation. Reviews will be going out today too, but we're withholding ours for a few hours, for one very special reason.
Today Intel is formally launching four new CPUs, from 18-core down to 10-core, all built on its HCC Xeon silicon but aimed at the high-end desktop market. These CPUs are very much like the previous generation, except for some extra frequency, a handful of extra PCIe lanes, better memory support, some hardware security fixes, and the slashed pricing.
Intel Cascade Lake-X
AnandTech
Cores
Threads
Base
All
Core
TB2
TB3
TDP
Price
(1ku)
Core i9-10980XE
18C / 36T
3.0
3.8
4.6
4.8
165 W
$979
Core i9-10940X
14C / 28T
3.3
4.1
4.6
4.8
165 W
$784
Core i9-10920X
12C / 24T
3.5
4.3
4.6
4.8
165 W
$689
Core i9-10900X
10C / 20T
3.7
4.3
4.5
4.7
165 W
$590
Skylake-X (previous generation)
Core i9-9980XE
18C / 36T
3.0
 
4.5
4.7
165 W
$1979
Core i9-9940X
14C / 28C
3.3
 
4.5
 
165 W
$1387
Core i9-9920X
12C / 24T
3.5
 
4.5
 
165 W
$1189
Core i9-9900X
10C / 20T
3.5
 
4.5
 
165 W
$989
These new CPUs now support up to 256 GB of DDR4-2933 (up from 128 GB of DDR4-2666), and 48 PCIe 3.0 lanes (up from 44). The base frequency of the halo Core i9-10980XE part stays the same, but the turbo values go up +100 MHz as part of a more aggressive binning strategy.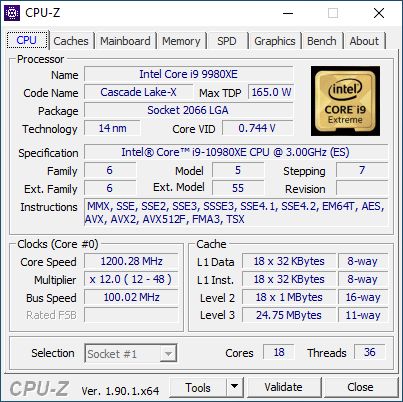 Core i9-10980XE Not Fully Detected in CPU-Z Yet
For security fixes, Intel has now fixed in hardware Spectre/Meltdown variants 2, 3, 3a, 4, and L1TF. This is the same level of hardware protection as the Cascade Lake Xeon Scalable family, now available in the high-end desktop. This hardware does not contain fixes for the recent disclosure of the Zombieload v2 exploit, it should be noted, so that will be patched in firmware in due course.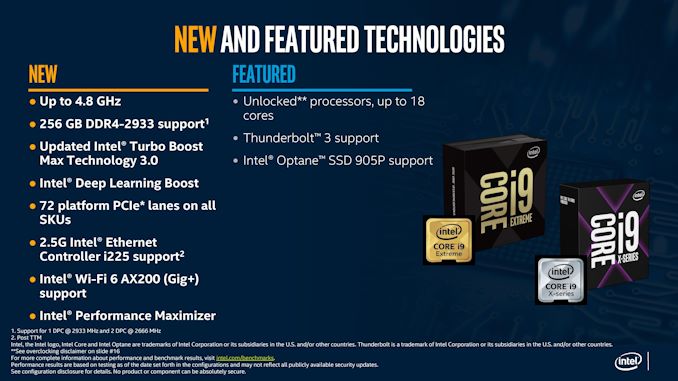 '2.5G Ethernet' and 'Wi-Fi 6' support are dependent on additional system controllers;
For some reason despite previous systems also supporting these, Intel felt the need to add them to this slide
Intel is set to push these new processors on several fronts, one of which will be its AVX-512 VNNI support, along with DL Boost support for AI researchers looking to accelerate their CPU codes. Another angle for Intel will be that they offer high-performance hardware with more I/O than AMD in that sub-$1000 range. AMD is also launching its new high-end desktop processors later today, but those start at $1399 as was previously announced, and as a result Intel has that HEDT market under $1000. AMD does have a 16-core processor at $749, with 24 lanes of PCIe 4.0, which means that for users that are not IO limited, there is a lot of choice in that sub-$1000 category.
Reviews for the new Cascade Lake-X processors are set to go live today. We are delaying ours by a few hours, until the embargo for AMD's new Threadripper processors also lifts. Not only is it odd to have both companies launch their HEDT products on the same day, but originally they were set to launch at the same time – Intel since moved their launch forward a few hours, but we're going to wait until AMD's embargo has also been lifted so we can provide graphs with all the CPUs together in their respective reviews.
Please keep this page bookmarked, as we will update here later today with our full review of the Core i9-10980XE.