Lenovo's Yoga C740 sits in the company's mainstream lineup, below the premium C940 and above the mid-range C640. It was announced back at IFA 2019 alongside the rest of the lineup, so it didn't get a lot of attention at the time. But really, it should have, because it's a solid device at a solid price point.
This particular model comes in at $949.99, packing an Intel Core i5-10210U, 8GB RAM, and a 512GB SSD. It also includes a 14-inch FHD display with pen support, Dolby Atmos speakers on the keyboard deck, and more.
Basically, it's taking an amazing premium convertible like the Yoga C940 and chopping out some of those premium features, like the rotating soundbar in the hinge, a 4K display, the pen garage, and Ice Lake processors.
Specs
CPU
Intel Core i5-10210U (1.6GHz)
Graphics
Intel UHD Graphics
Memory
8GB (DDR4-2666)
Storage
512GB (NVMe Samsung)
Display
14″ (1920×1080) IPS, 300 nits, anti-glare multitouch
Body
12.67×8.45×0.59-0.67in (321.8×214.6×14.9-16.9mm), 3.09lbs (1.4kg)
WLAN and Bluetooth
Intel Wireless-AC 9560, Wi-Fi 2×2, Wi-Fi + Bluetooth 5.0, M.2 Card, CNVi
Ports
(2) USB 3.1 Gen 1 Type-C
(1) USB 3.1 Gen 1 Type-A
3.5mm combo audio
Audio
Lenovo speakers with Dolby Atmos certification
Dual-array microphone
Battery
51Whr
Material
Aluminum
Color
Mica
OS
Windows 10 Home
Price
$949.99
Day one
Design
The Lenovo Yoga C740 is made out of all aluminum, so it weighs in at just over three pounds. It's not the lightest thing out there, but for aluminum laptops that cost under a thousand dollars, you're in pretty good shape.
The model that Lenovo sent me comes in the good color, which is called Mica. The company also has some Yoga notebooks in Iron Gray, which is the other color, and personally, I find gray metal laptops to be bland. That's why I call this one the good color, and I stand by it.
Mica is closer to a silver color, or at least a light gray. It has the shiny Yoga logo on the top-left corner of the lid, and that's really the only flashy thing about this PC. Other than that, it's pretty standard for an aluminum laptop. The hinge is the same as we've seen plenty of times before, unlike the big soundbar that's in the Yoga C940.
But that's all OK. We're not looking for flashy here, or unique premium features. We're looking for this to be a great all-around PC for under a thousand dollars, and that's what it is. A mainstream PC is all about removing premium features without making meaningful compromises.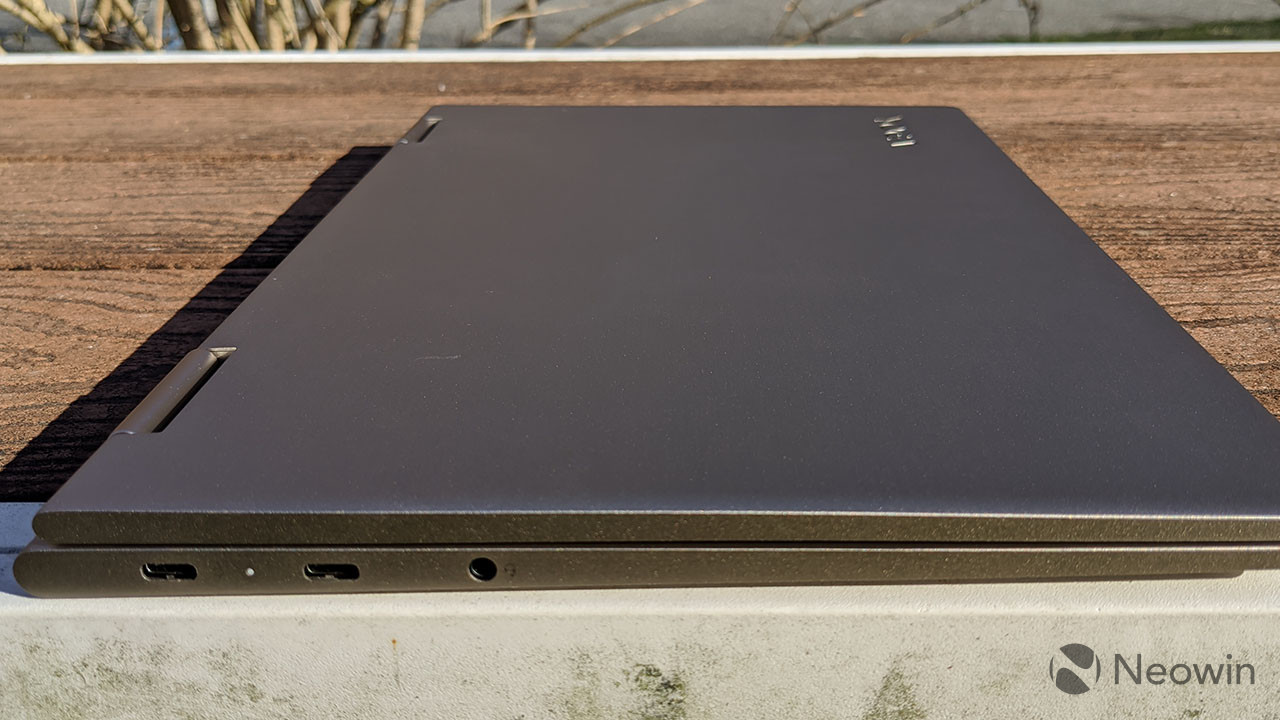 There are some compromises though, such as Thunderbolt 3, Intel's 40Gbps technology that's strangely omitted from the Yoga C940. The left side of the device does have two USB Type-C ports, but they're USB 3.1 Gen 1 for 5Gbps data transfer speeds. It's disappointing that this was left out, as Thunderbolt 3 is becoming more standard at lower-cost laptops, such as Acer's $699 Swift 3.
At this point, you'll want to ask yourself if you actually have a use for Thunderbolt 3, as many people simply don't. It's great for connecting 4K and 5K montitors, external GPUs, and more, but if you're only using it for charging and the odd data transfer, you're OK with USB 3.1 Gen 1.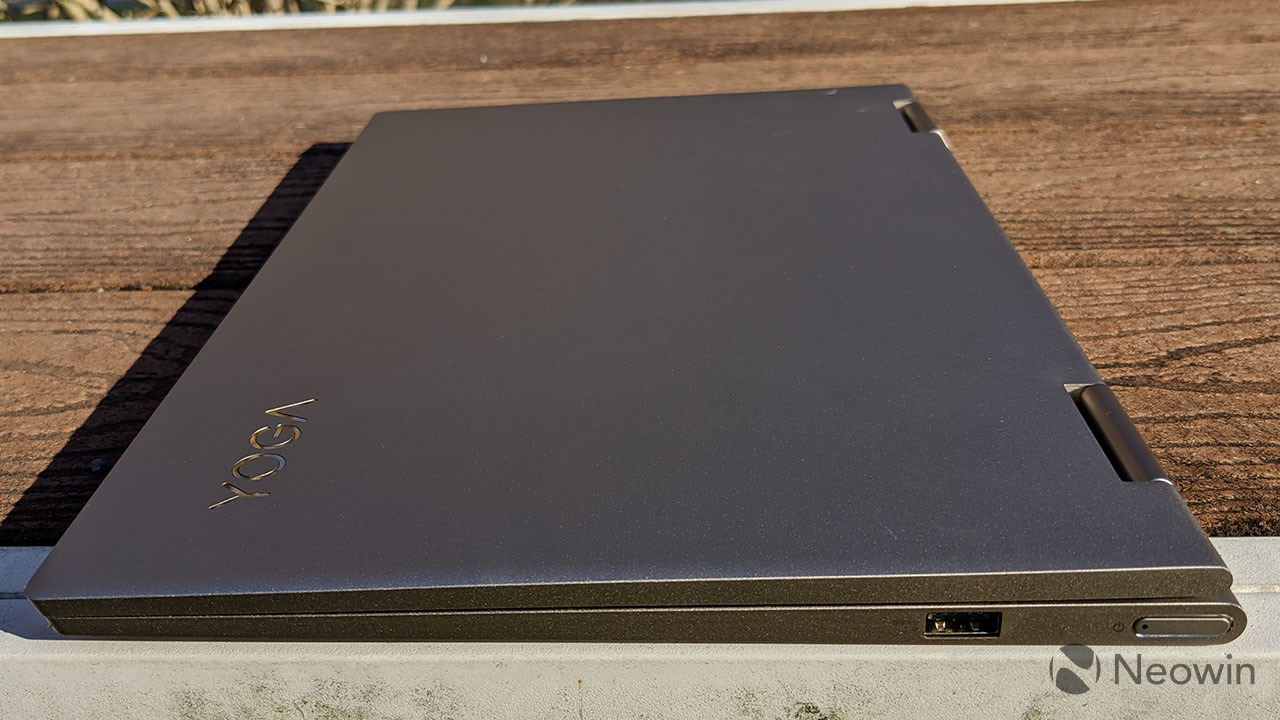 On the right side, there's a lone USB 3.1 Gen 1 Type-A port. This is pretty standard these days, as you're not going to find a lot of ultrabooks outside of business lineups with more than one USB Type-A port.
I think that in general, the Lenovo Yoga C740 checks the right boxes. Thunderbolt 3 isn't something that everyone needs, and if you need it, you probably already know it. Still, it's a feature that's becoming common on lower-cost devices, as I said earlier.
Display and audio
The Yoga C740 includes a 14-inch FHD display, and there's no 4K option like there is on the premium C940. All you get is the one screen, take it or leave it. And as far as things like color accuracy and viewing angle, it does great.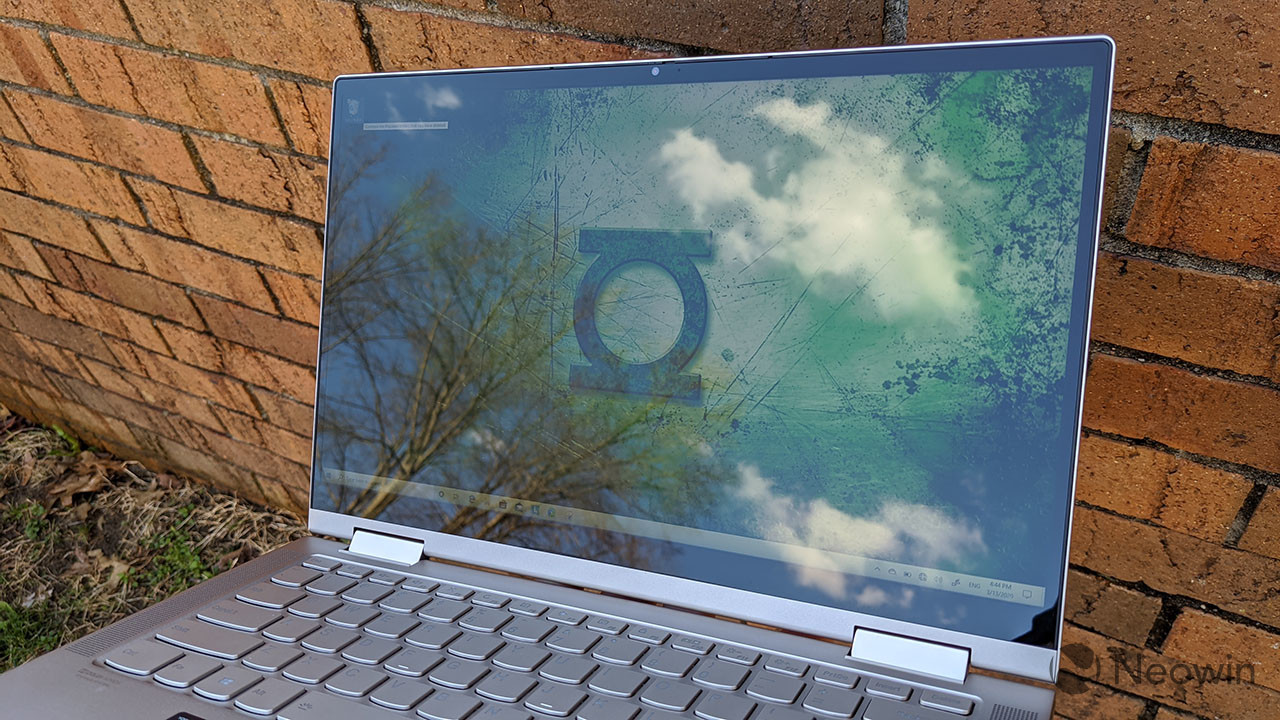 In other areas, it's not so great. The brightness is listed as 350 nits, which is great for indoor use. For outdoor use, it starts to be problematic. I had a real problem using this PC in direct sunlight, and that's amplified by the fact that it's so glossy. In the image above, you can see that the wallpaper isn't as visible as it could be, and you can see reflections of the clouds.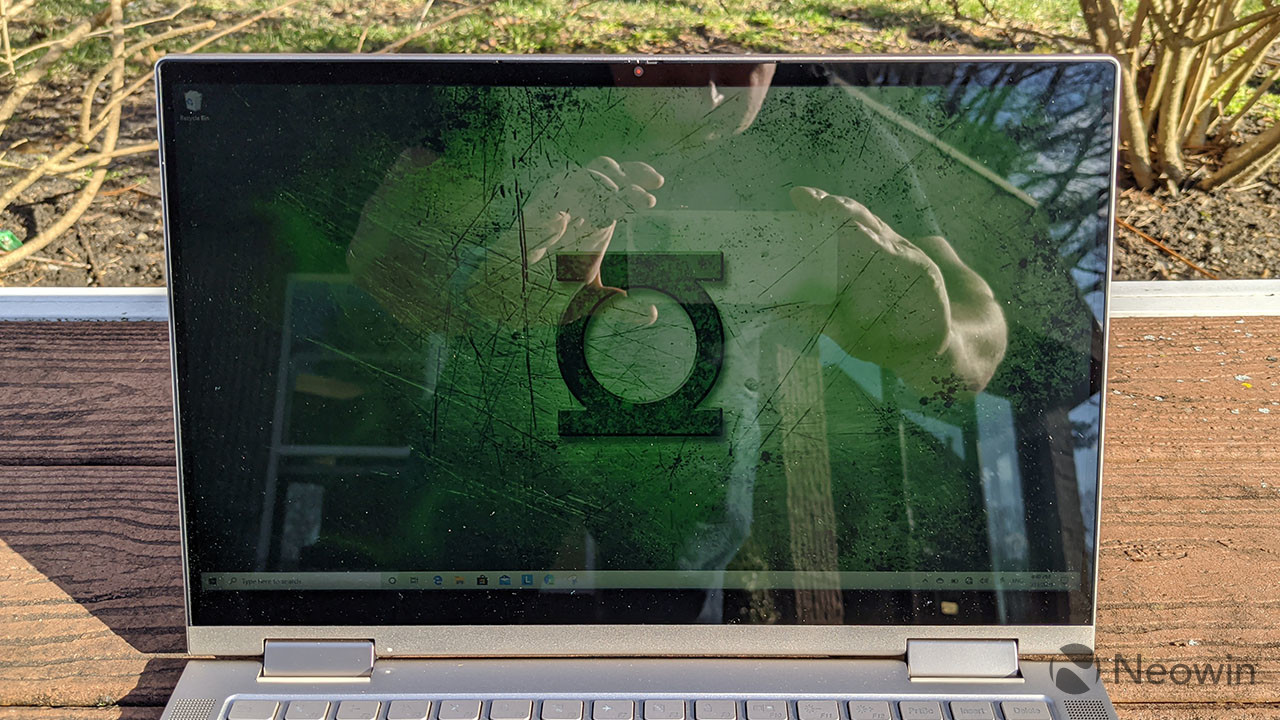 It's a bit better if you try to block the sunlight with your body, but that makes for awkward positioning. But I digress. The display does have pen support, although the Lenovo Active Pen 2 does not ship with the device. That will run you an extra $69.99. This is a common omission for PCs at this price point. The idea is that it lowers the barrier of entry if you don't need it, and if you do need it, you can always pick one up.
My problem was that writing on the screen isn't very comfortable, a common issue with PCs that don't ship with pens. It's not as smooth as screens where the OEM actually plans on you using it with a pen, and honestly, if writing on the screen is a big feature for you, then I'd go with something else.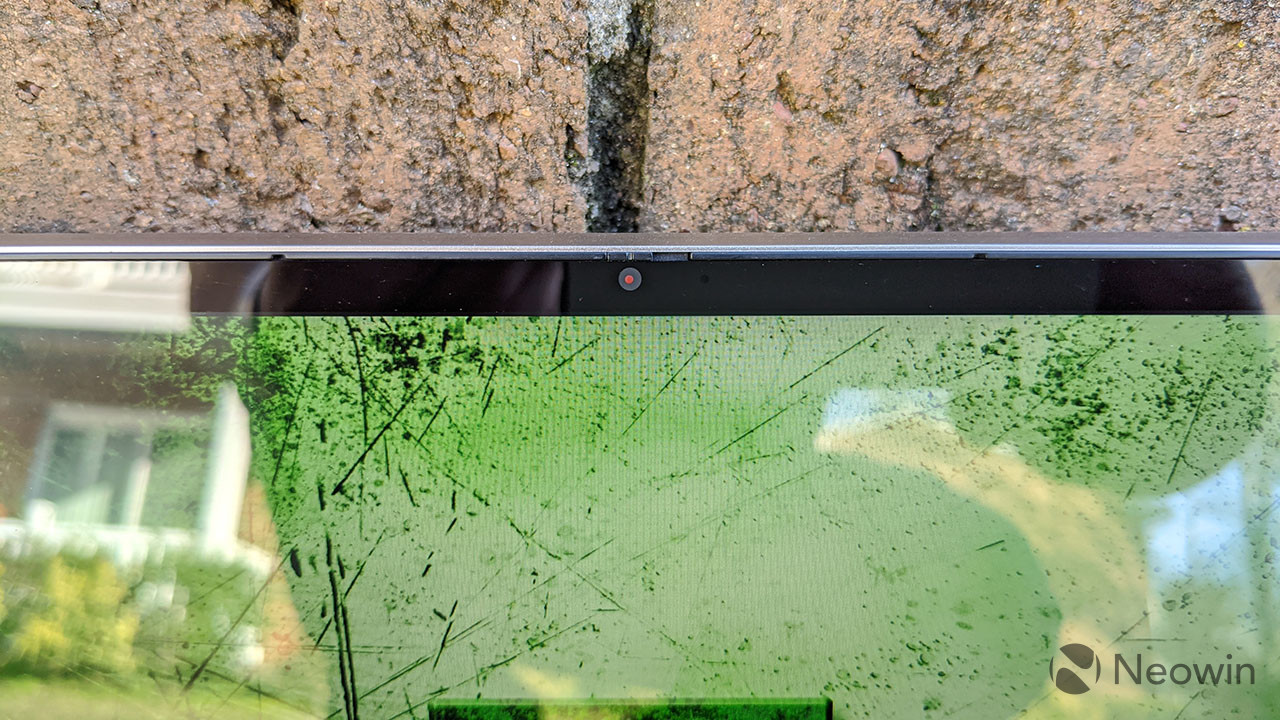 You'll notice that the screen has narrow bezels on all sides, but the Yoga C740 does not come with an IR camera for Windows Hello, another common omission in mainstream devices. It does, however, have a privacy shutter on the camera so you don't have to put tape over it. It actually makes the privacy shutter more useful to me, because I'll never use one if there's an IR camera. What ends up happening is that I'll forget it's closed and then Windows Hello won't work. It's a real silver lining to not having the IR camera, in my book.
As far as audio quality goes, it's pretty solid. It does sound a bit tinny to me for something that's supposed to be tuned for Dolby Atmos. Of course, you can adjust the settings in the Dolby Atmos app for the different kind of content you're listening to. It gets pretty loud too, but it's nothing compared to the rotating soundbar in the Yoga C940.
In fact, I almost feel like there should be a Yoga C840 (there isn't), something between the C740 and the C940, because the C940 is just so good. The C740 is great for its price, but it's just such a far cry from the C940.
Keyboard and trackpad
I really love the keyboard on the Yoga C740, and that's something that I often say about Lenovo PCs. The previous laptop that I reviewed was the Acer Swift 3, and while the keyboard on that was fine, moving to the C740 felt like a dream.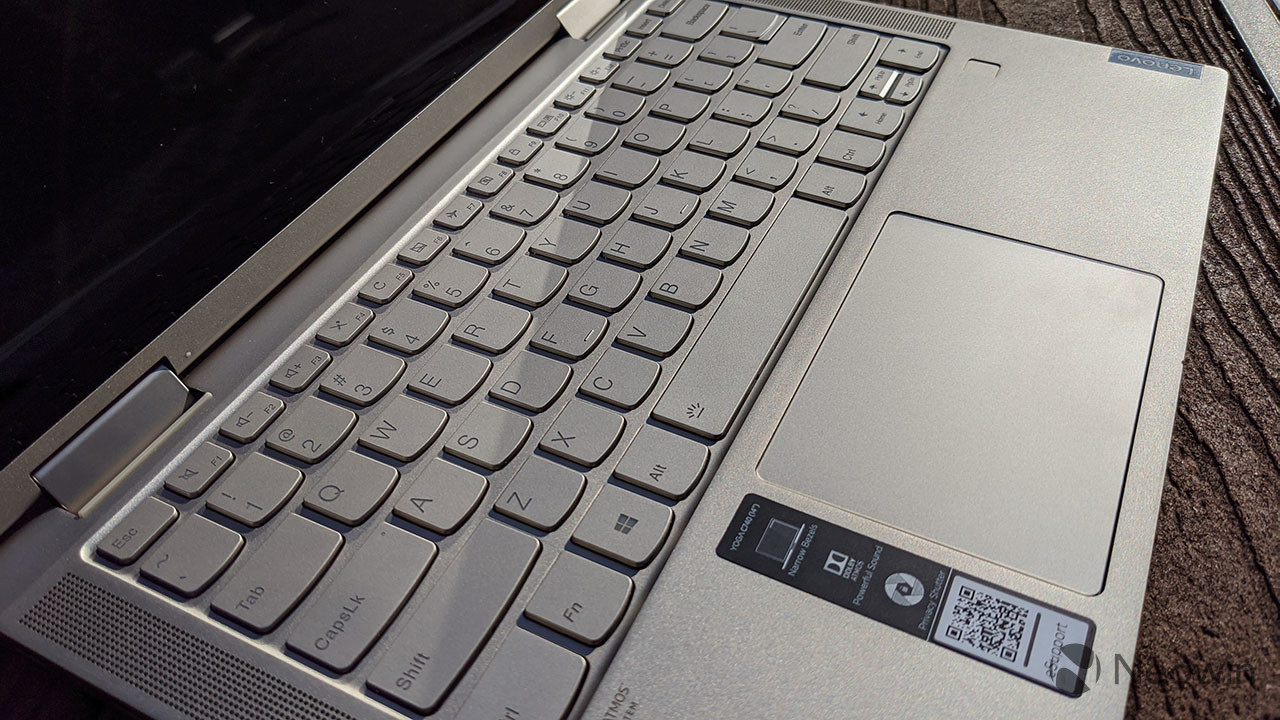 It's comfortable, it's accurate, and it's quiet. It feels great to type on, and that, for me, is the most important thing. I type for a living, so a poor keyboard is going to be the biggest pain point that's going to make me want to walk away from a laptop. I didn't feel that way with the Yoga C940, as I did when trying to take handwritten notes on the screen.
It's a somewhat shallow keyboard, nothing that's uncommon in ultrabooks these days. If you want something with a longer key throw, go for a Lenovo ThinkPad. Those keyboards haven't been changed in years.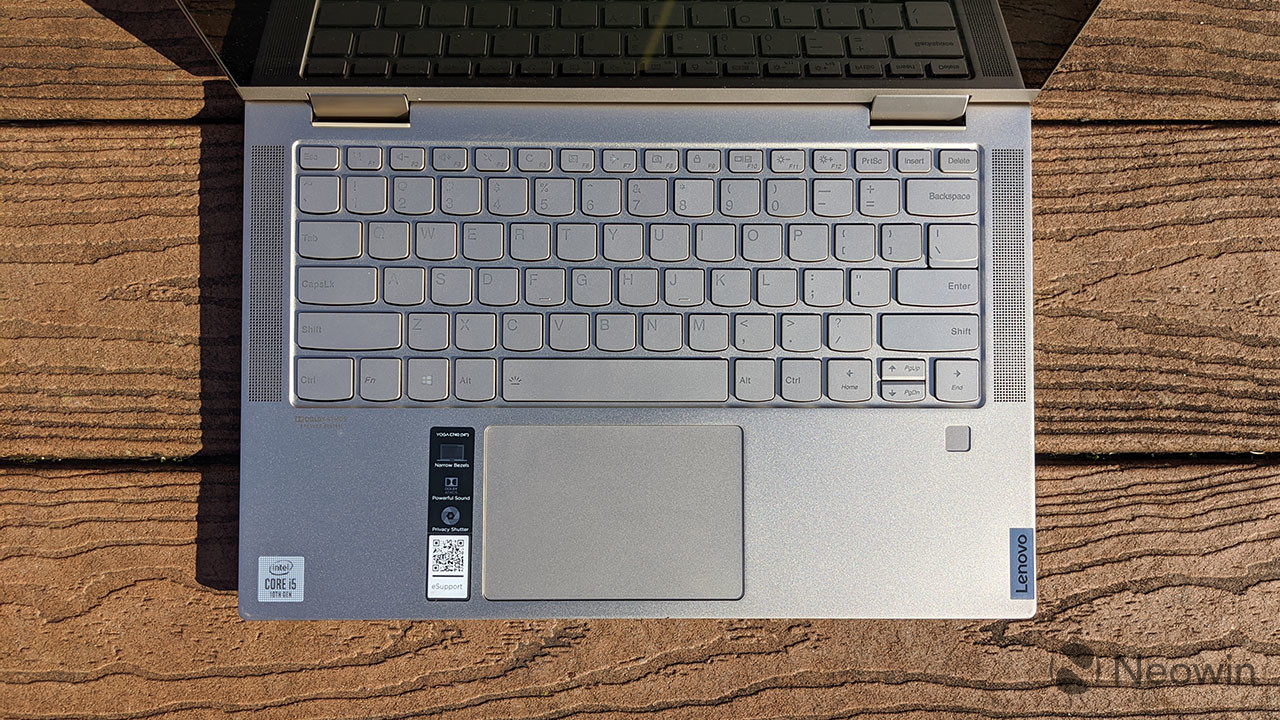 The trackpad uses Microsoft's Precision drivers, so it's fast and supports all of the gestures that you're used to. It's big too, and Lenovo did a great job of taking advantage of the available real estate on this one. I didn't run into any issues in this area.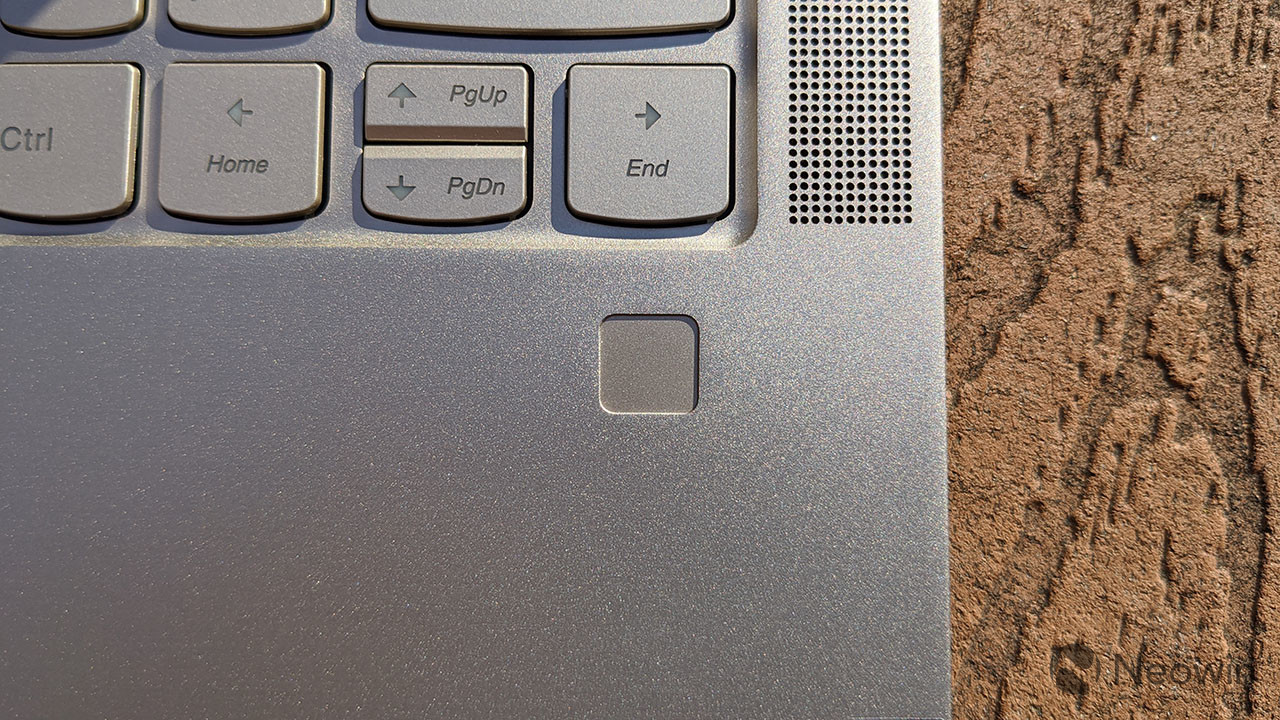 Finally, there's a fingerprint sensor to the bottom-right of the keyboard, so you do get a Windows Hello option.
Performance and battery life
The model that Lenovo sent me includes an Intel Core i5-10210U, 8GB RAM, and a 512GB SSD, although you can have it configured with a Core i7-10510U, 16GB RAM, and a 1TB SSD if you want. Even completely specced out, it will run you $1,219.99.
The Core i5-10210U is from Intel's Comet Lake lineup, but that doesn't clear things up, because there are four different Core i5 models from the 10th generation, when most generations have one (plus a vPro version, but 10th-gen vPro isn't even out yet). 10th-gen is broken up into two families: Ice Lake and Comet Lake.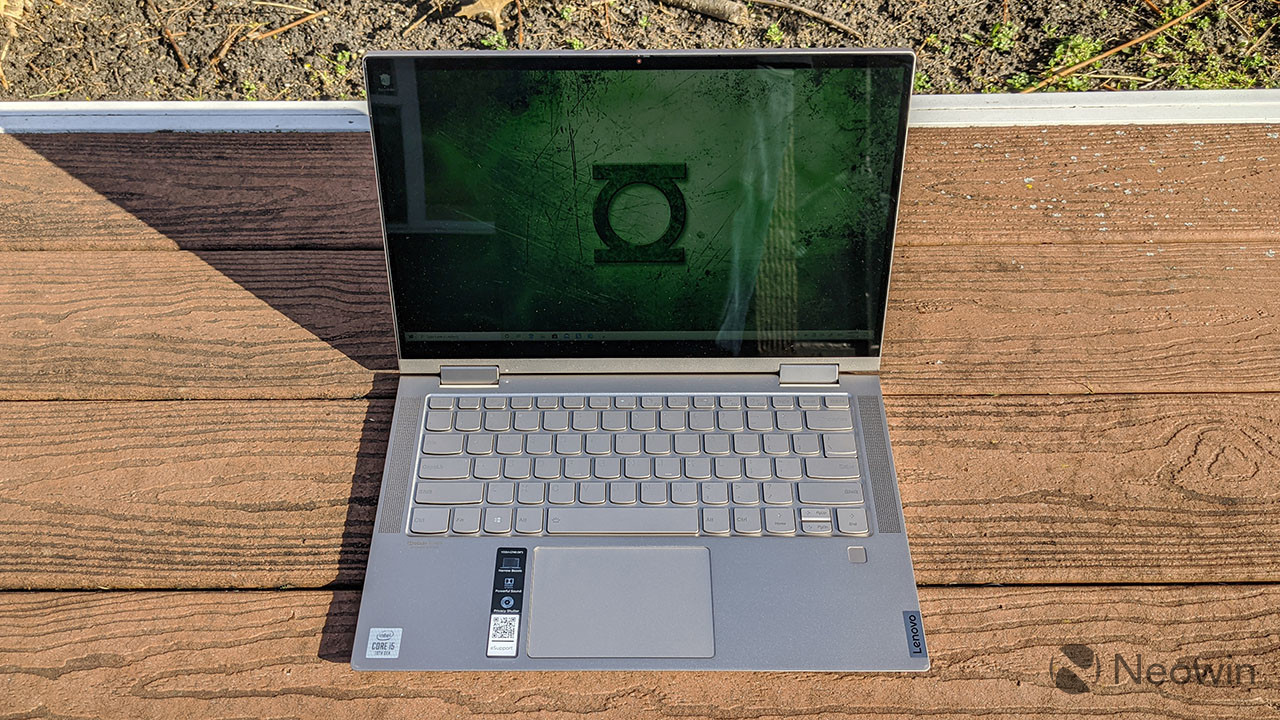 Ice Lake is the fancy new 10nm family, something that Intel was delaying for years. There are three Core i5 models from the Ice Lake side, all with varying levels of graphics power. Comet Lake is still 14nm, and pretty much exists solely because Intel initially had supply issues on its 10nm parts. However, Intel had to lower the clock speed on its CPUs to decrease the node size, so Comet Lake is a faster CPU, albeit less efficient.
That means that if you take the Iris Plus Graphics on Ice Lake out of the equation, Comet Lake is the better chip. So put side-by-side with a Core i5-1035G1, the Ice Lake Core i5 without Iris Plus, you're probably better off with a Core i5-10210U like the one in the Yoga C740. See? Not confusing at all.
Perhaps I should just say that for productivity work, your going to do fine with the Yoga C740. It's not a graphics powerhouse, nor should it be. This CPU is the easiest to compare with the eighth-generation Whiskey Lake family, because frankly, it's not very different. That's not a bad thing if you're not willing to take a risk on a new architecture from Intel. Comet Lake, for all intents and purposes, is tried and true.
Battery life is fine, getting me a solid six hours in most cases. If you use it under heavy workloads, that number can go down pretty quickly. Remember, you absolutely can edit video on this if you really want to, but that will affect battery life. The lighter the workload, the better. If you're just streaming Netflix, you can get eight hours out of it, although I'm not sure who's watching videos for eight hours straight on a PC.
For benchmarks, I used PCMark 8 and PCMark 10.
| | |
| --- | --- |
| PCMark 8: Home | PCMark 8: Creative |
| | |
| | |
| PCMark 8: Work | PCMark 10 |
| | |
| | |
All of these scores are pretty par for the course. Compared to the Acer Swift 3 that I recently reviewed, which has a Core i5-1035G1, all of the PCMark 8 scores are nearly identical. The Comet Lake chip in the C740 was ahead by about 200 points on the PCMark 10 test though.
Conclusion
The Lenovo Yoga C740 is what I'd describe as a great no-frills convertible PC. It cuts out all of the perks of a premium PC, like the soundbar, pen garage, 4K Dolby Vision screen, and the IR camera and other sensors found on the Yoga C940.
That leaves us with the core components of what you want in a PC. Solid performance, a good display, a phenomenal keyboard, and of course, the convertible form factor. That form factor adds a dimension to the traditional PC experience, allowing you to use it as a laptop, a tablet, or anything in-between, such as in tent mode for watching a movie or for a presentation.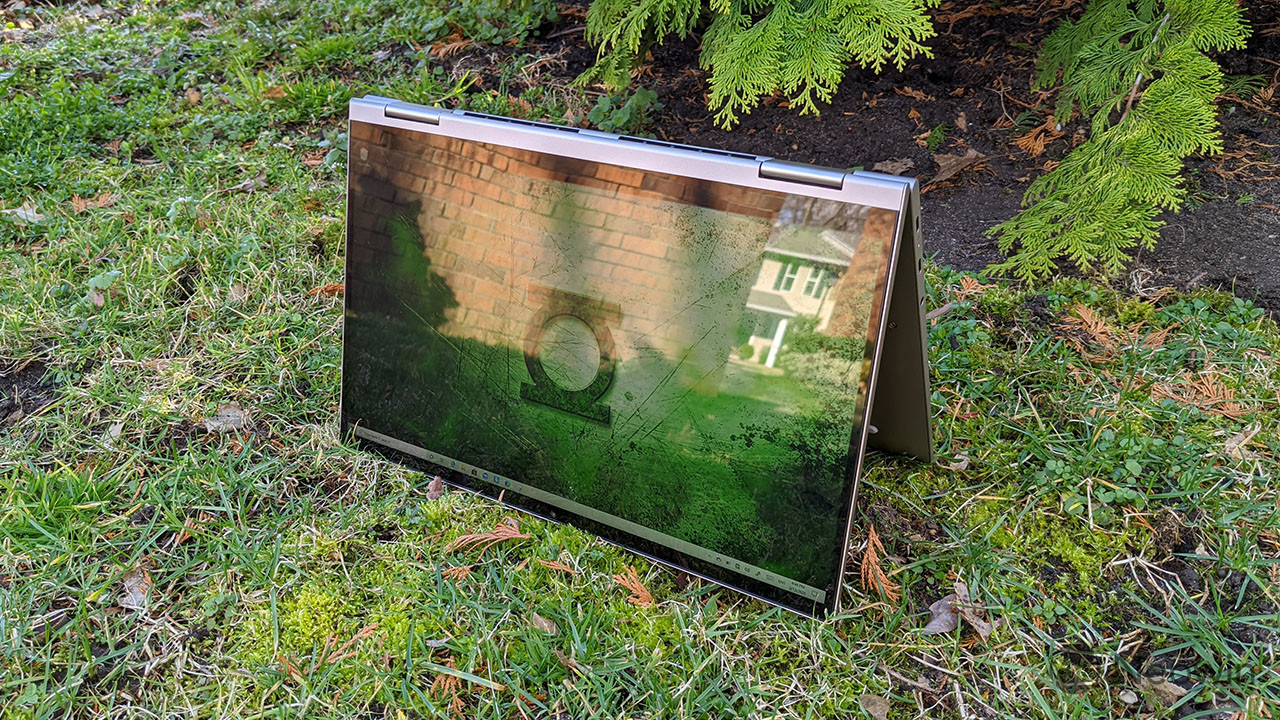 That leaves me with my minor gripes with the Yoga C740. It's not comfortable to write on the screen with a pen, and that screen just isn't bright enough for outdoor use in direct sunlight. And of course, there's no Thunderbolt 3, something that you probably don't need, but should be getting at this price anyway.
But for under a thousand dollars, this is a solid value. Like I said, it really just checks the right boxes for that price point.
Gallery: Lenovo Yoga C740 review