Dell changed the Windows laptop market in a single stroke with the launch of the updated XPS 13 back in 2015, ushering in the world of the InfinityEdge display, and moving the entire industry forward. We were fortunate enough to get a chance to check out the precursor to the new XPS 13 back in November, with a review of the XPS 13 2-in-1. Dell had chosen not to rest on their laurels, and the 2-in-1 proved to be one of the best notebooks around if you needed a compact and powerful convertible laptop. Today we are evaluating the traditional clamshell version of the XPS 13, and while it offers many of the same features and design touches, it does so in a more familiar form factor that many customers are going to prefer.
For the 2020 refresh, Dell has made the refreshing move to taller displays, as we saw with the XPS 13 2-in-1. As a result the XPS 13 uses 13.4-inch display panel with a 16:10 aspect ratio, offering more vertical space for getting work done, and some convenient padding to place controls when watching 16:9 content. The larger display fits into a chassis that is actually 2% smaller than the outgoing design, with the new XPS 13 offering a 91.5% screen to body ratio.
This is actually the second time that Dell has refreshed the XPS 13 within the last year. The company previously updated the XPS 13 in August 2019 to use Intel's 10th generation Core processors, but presumably due to limited supply of Intel's then-new Ice Lake platform, Dell opted to launch that iteration with Comet Lake-U processors. And under more normal circumstances we would have expected Dell to stick with an annual cadence – and thus Comet Lake – for an entire year. Instead, to some surprise, Dell gave the XPS 13 a further mid-generation refresh, launching the Ice Lake-based XPS 13 9300 model that we are reviewing today, and bringing the clamshell XPS 13 to parity with the 2-in-1 version.
The switch from Comet Lake to Ice Lake, in turn, is a significant one. it means the XPS 13 gets Intel's new Sunny Cove CPU architecture, as well as the much-improved Gen 11 graphics. Dell offers Core i3, i5, and i7 models, with the Core i3 and i5 offering G1 graphics, meaning 32 Execution Units (EUs), and the top-tier Core i7-1065G7 featuring the full 64 EUs on the GPU side. Just as a comparison, the Comet Lake-U only offered 24 EUs of Gen 9.5 graphics, so even the base Ice Lake models still offer a 33% larger (and much newer) GPU than the outgoing models.
The move to Ice Lake also brings some badly-needed LPDDR4X support, which in turn means a 32 GB maximum memory option in the XPS 13 9300, up from 16 GB previously. Although Dell still lists a paltry 4 GB option on their specifications sheet, a quick look at the Dell.com site shows that, at least in the USA, it appears that 8 GB is the new minimum, and that is a welcome change. Offering just 4 GB of RAM in a premium Ultrabook was always a poor choice, even if it did allow Dell to hit a slightly lower price bracket. On the storage front there is more good news, with 256 GB the new minimum, with up to 2 TB available, and all drives are PCIe x4 NVMe offerings.
Specifications of the Dell XPS 13 9300-Series
 
General Specifications
As Tested: Core i7-1065G7 / 16GB / 512GB / 1920×1200
LCD
Diagonal
13.4-inch
Resolution
1920×1200
3840×2400
Brightness
500 cd/m²
500 cd/m²
Contrast Ratio
1800:1
1500:1
Color Gamut
100% sRGB
100% sRGB
90% P3
Features
Dolby Vision
Dolby Vision
Touch Support
with or without touch
Yes
Protective Glass
Corning Gorilla Glass 6 in case of touch-enabled model
CPU
Intel Core i3 1005G1 (4MB cache, up to 3.4GHz)
Intel Quad Core i5 1035G1 (6MB cache, up to 3.6GHz)
Intel Quad Core i7 1065G7 (8MB cache, up to 3.9GHz)
Graphics
Intel UHD Graphics
Intel Iris Plus Graphics
RAM
4 – 32 GB LPDDR4X-3733 DRAM (soldered/onboard)
Storage
256 GB PCIe 3.0 x4 SSD
512 GB PCIe 3.0 x4 SSD
1 TB PCIe 3.0 x4 SSD
2 TB PCIe 3.0 x4 SSD
Wireless
Killer AX1650 Wi-Fi 6 + Bluetooth 5.0 (based on Intel's silicon)
Killer AX500 Wi-Fi 6 + Bluetooth 5.0 (based on Qualcomm's silicon)
USB
3.1
2 × TB 3/USB Gen 3.1 Gen 2 Type-C
3.0
–
Thunderbolt
2 × TB 3 (for data, charging, DP displays)
Cameras
Front
720p HD webcam
Other I/O
Microphone, 2 stereo speakers, audio jack
Battery
52 Wh | 45 W AC Adapter (USB Type-C)
Dimensions
Width
295.7 mm | 11.64 inches
 
Depth
198.7 mm | 7.82 inches
 
Thickness
14.8 mm | 0.58 inches
Weight
non-touch 1.2 kilograms | 2.64 pounds
touch-enabled 1.27 kilograms | 2.8 pounds
Launch Price
Starting at $999.99
Dell has gone all-in on USB-C with the new XPS 13, with one port on each side of the notebook. Both feature Thunderbolt 3 with 4 lanes, as well as power delivery for charging. The lack of a Type-A port may inconvenience some, but Dell does include an adapter in the box to assist. Wireless is the Killer AX1650, which based on the latest Intel AX200 wireless adapter – and with Intel purchasing Killer this partnership seems like it is not going anywhere.
If you read our review of the 2-in-1 version of this laptop, you will undoubtedly notice a lot of similarities. As they are from the same product line, that is not an accident: Dell has now refreshed their entire XPS series of laptops with a similar design philosophy. Let's take a peek at what is new.
Dell pioneered the thin-bezel laptop, but that does not mean they did not have room to improve on their original design over the years. The first several generations featured a webcam at the bottom of the panel, which was flattering to no one. With the proliferation of video chat, such a decision would be a major negative to many people. But thankfully Dell solved that particular issue a couple of generations ago, and the new model continues to pack a 720p webcam in the correct location above the display, with only a slightly taller top display bezel to accommodate the camera. And speaking of the display bezel, Dell has tweaked their design language slightly over the XPS 13 2-in-1, with both the black and white models both featuring a black display bezel on the clamshell XPS 13, which helps it disappear into the background a bit easier than the white bezel on the 2-in-1.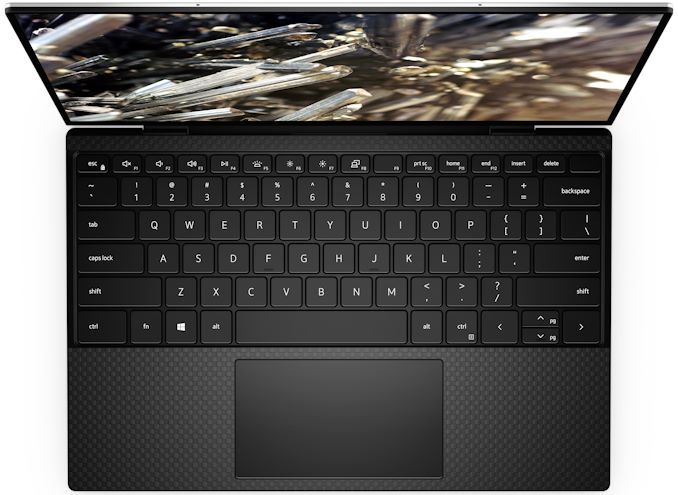 The XPS 13 in Platinum Silver with black carbon fiber
Another nice change over the 2-in-1 version is that Dell is not using their MagLev keyboard design, instead outfitting the XPS 13 with a more traditional scissor-switch keyboard with 1.0 mm of travel. The MagLev has a very short throw, whereas I find the traditional keyboard to be much more reassuring to use.
Dell is offering the XPS 13 in the same color choices as the 2-in-1 as well. The Platinum Silver model features a black carbon fiber keyboard deck with a soft-touch coating, while the Arctic White model features a woven fiber keyboard deck which Dell has treated with a stain and UV resistant coating, to prevent the deck from yellowing with age. The Arctic White is only $49 more, and certainly makes a statement, although it still suffers from the same issue as all white-on-white laptops with white backlighting, which is that the keyboard backlighting can wash out the keys in a bright room. That is a fairly minor negative though, for an otherwise fantastic finish.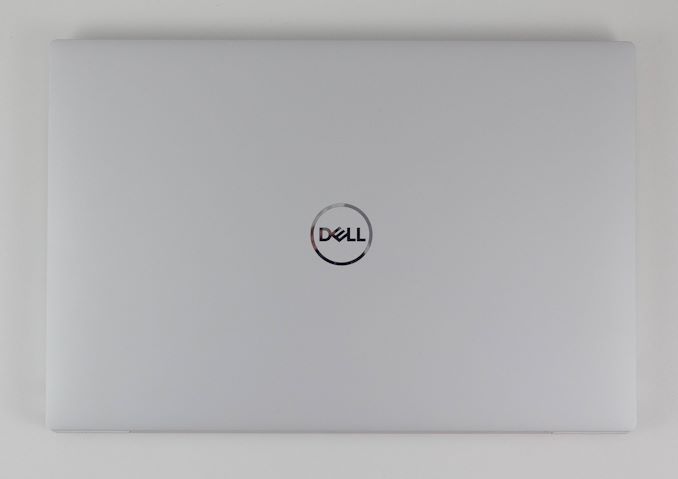 The XPS 13 also features an excellent trackpad, offering a very smooth finish, and good precision. Laptop trackpads have come a long way, and part of that is the standardization on the Microsoft Precision touchpad drivers, which Dell employs here.


Dell has eschewed the use of USB Type-A ports, instead offering just a single USB Type-C port on each side of the laptop. This in turn is paired with a 3.5 mm headset jack on the right, and a micro SD card reader on the left. Although the XPS 13 lacks ports in numbers, it somewhat makes up for that with both USB ports supporting Thunderbolt 3, including power delivery. It is unfortunate that the Type-C port has found itself to be so confusing in its capabilities, but with the XPS 13 supporting the full range of protocols, as well as four lanes of PCIe on both ports, that at least is not a liability here. Dell does include a Type-C to Type-A adapter in the box as well, for those that require the larger port. By including power delivery on both sides of the laptop, that also means the XPS 13 can charge on either side, which can be very handy when moving the laptop from place to place.
Dell's design ethos with their XPS lineup has converged across the entire range of XPS laptops, and with great success. The CNC milled aluminum bodies, thin bezels, compact designs, and lightweight chassis make for some of the most compelling devices in the industry. Moving to a 16:10 aspect ration on their XPS line has been yet another design win for Dell, and helps provide the excellent 91.5% screen to body ratio found on this XPS 13 notebook by further shrinking the bottom bezel. Dell has sculpted a clean, sleek, and functional device, and while the rest of the industry has also adopted the thin-bezel design, Dell has really mastered it.
When we reviewed the XPS 13 2-in-1 back in November, it was the first device we had tested which featured the new 10 nm Intel Ice Lake platform. At that time, Dell had also recently refreshed the XPS 13, but had outfitted it with the older 14 nm Comet Lake platform. For the all-new XPS 13, Dell has now brought parity to their lineup with Ice Lake here as well, with the improvements that platform brings, especially to the graphics side.
Dell offers three processor options. The least-expensive offering is the Core i3-1005G1, the mid-tier outfitted with the Core i5-1035G1, and the top-tier offering the Core i7-1065G7. Our review unit features the Core i7 model, as Dell wanted to put its best foot forward.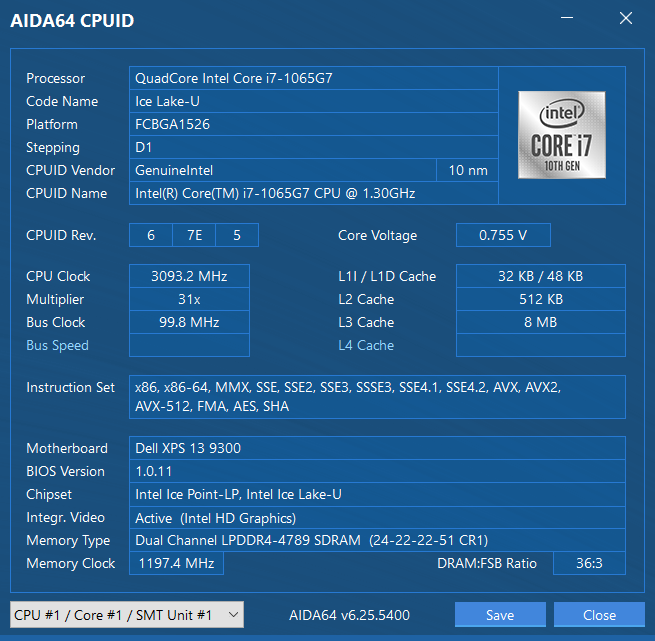 On the memory side, Dell's spec sheet shows a 4 GB base, although thankfully that is nowhere to be found on their Dell.com site, at least for the USA. Thanks to the move to LPDDR4X with Ice Lake, Dell now offers up to 32 GB of memory on the XPS 13. Storage is all PCIe x4 NVMe, with 256 GB as the base, and a 2 TB maximum.
To see how the XPS 13 performs, we have run it through our newly updated laptop suite. Please not that if a graph does not contain a specific older device, that means that the test has not been run on it. Since the laptops are returned to the manufacturer after review, we cannot do any regression testing for the most part. If you'd like to compare the XPS 13 to any other laptop we have tested, please refer to our Online Bench.
PCMark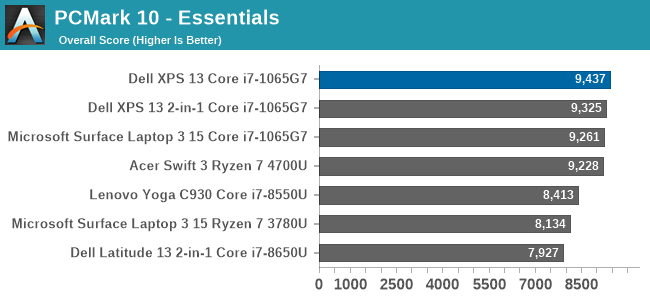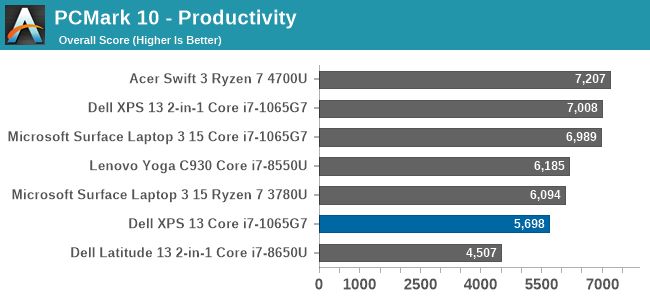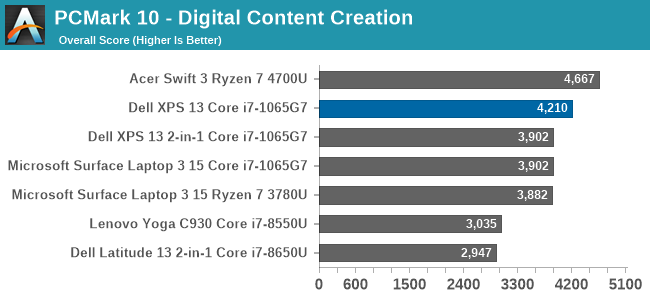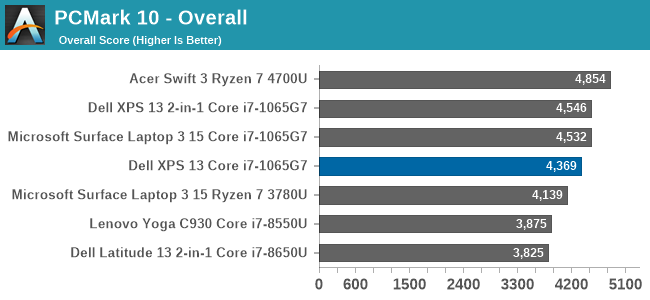 UL's PCMark 10 is a whole-system benchmark, testing everything from CPU performance to app loading time. The Overall score consists of three categories, each featuring their own unique sub-tests. Overall the XPS 13 scored right in the same ballpark as other Ice Lake notebooks, although was slightly down in the Productivity tests, but slightly ahead in the other two.
Cinebench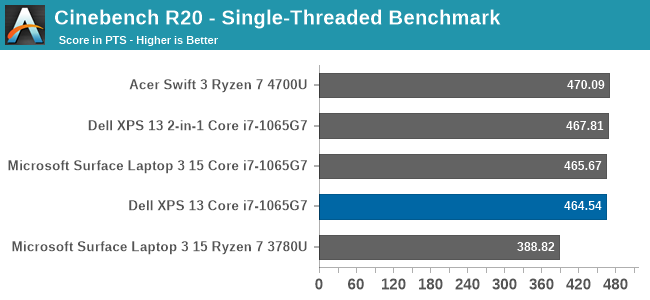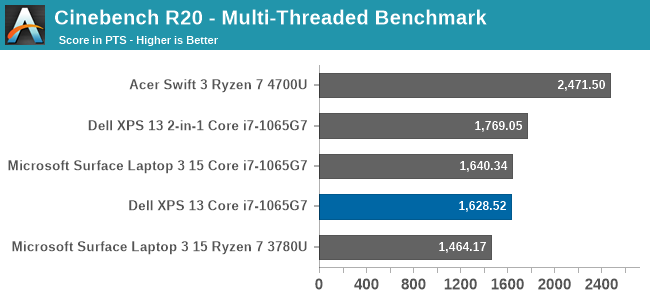 Cinebench, based on Maxon's Cinema 4D rendering, allows tests of both single-threaded and multi-threaded runs, making it one of the more popular tests for overall computational performance. The XPS 13 does well compared to other Ice Lake equipped notebooks, although with AMD offering up to 8 cores in the same 15-Watt TDP, Intel falls behind in the multi-threaded run.
Handbrake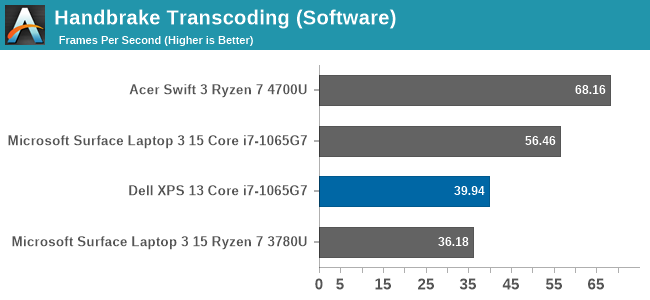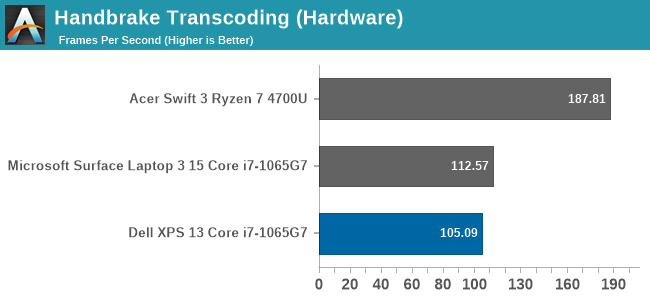 In our Handbrake encoding test, we transcode a 1080p movie to 720p using both software and hardware encoders. Software encoders utilize the CPU, and are generally the preferred method for optimal quality, whereas hardware encoders leverage the media blocks, which in this case is Intel's QuickSync, for a much faster encode. As we will see more in the thermals section, Dell limits the XPS 13 to a 15-Watt TDP even in its maximum performance mode, where some other manufacturers will allow for higher than listed TDP, up to 20 Watts or so, and as such, the XPS 13 falls a bit behind other Ice Lake notebooks in this test which is TDP limited.
7-Zip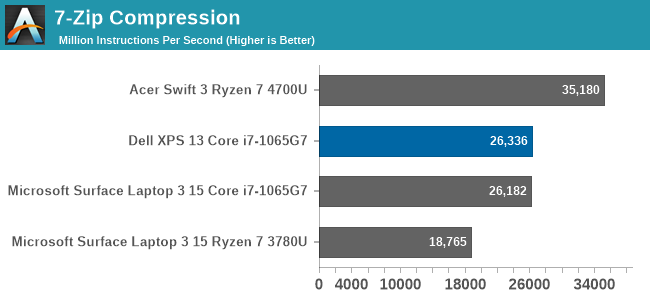 The popular file compression and decompression tool 7-Zip includes a built-in benchmark, and once again the XPS 13 slots right into where other Ice Lake notebooks fit.
Web Tests
Web performance is a function of not only the CPU performance, but also the browser's scripting engine, and as such we have standardized on the Microsoft Edge browser. Microsoft has now transitioned their browser to the open-source Chromium project. Due to this, we have reset our web tests to use the new Chromium based Edge and taken the opportunity to decommission some of the older tests. We will now focus on Speedometer 2.0 and WebXPRT 3.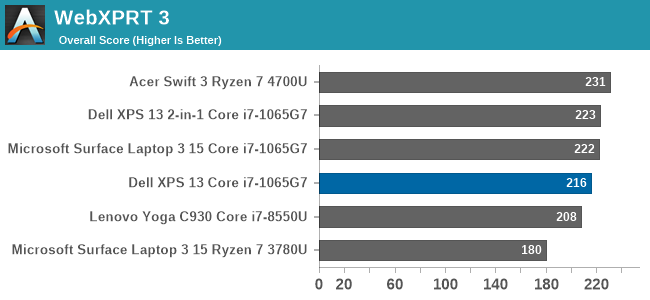 The XPS 13 again slots right in where you would expect for an i7-1065G7 based system.
Dell offers from 256 GB to 2 TB of PCIe storage, and the review unit was outfitted with the Intel 600p 512 GB drive. We are transitioning to the PCMark 10 storage benchmark, which uses test traces of actual common workloads, such as booting Windows, and many of the Adobe applications, and as such should be a much better indicator of drive performance than just maximum transfer rates.



The Intel 600p performs quite well, with good access times and solid bandwidth. Surprisingly, it can't quite match the excellent performance we saw from the SK Hynix 2230 form factor SSD in the Surface Laptop 3, but almost matches it.
One area where Intel-based notebooks had previously was in the graphics department, and with Intel's launch of Ice Lake they directly addressed that. Along the way, Intel has also joined AMD in more aggressively demarcating their integrated GPUs based on the price of the processor. Intel always had a small bit of variation in the included GPU, but for the most part, a Core i3, i5, or i7 U-series would generally offer the same 24 Execution Unit GPU configuration. With Ice Lake, the naming scheme now includes the GPU size in the processor name, with G1, G4, and G7 graphics options, meaning lower-priced Core i3 and i5 models will not necessarily be outfitted with the same iGPU as a Core i7.
Intel 10nm Ice Lake-U Series CPUs
AnandTech
Cores
Threads
Base
Freq
1C
Turbo
AC
Turbo
GPU
EUs
GPU
Freq
L3
Cache
TDP
Core i7-1068G7
4 Cores
8 Threads
2.3
4.1
3.6
64
1100
8 MB
28 W
Core i7-1065G7
4 Cores
8 Threads
1.3
3.9
3.5
64
1100
8 MB
15 W
25 W
Core i5-1035G7
4 Cores
8 Threads
1.2
3.7
3.3
64
1050
6 MB
15 W
25 W
Core i5-1035G4
4 Cores
8 Threads
1.1
3.7
3.3
48
1050
6 MB
15 W
25 W
Core i5-1035G1
4 Cores
8 Threads
1.0
3.6
3.3
32
1050
6 MB
15 W
25 W
Core i3-1005G1
2 Cores
4 Threads
1.2
3.4
3.4
32
900
4 MB
15 W
25 W
This comes into play since Dell offers three processor options on the XPS 13, with both the Core i3 and Core i5 variants only offering the G1 graphics. To be clear, even the G1 Generation 11 graphics on Ice Lake are a larger GPU than the previous Gen 9.5 offered, with even the lowliest Core i3 featuring 32 Execution Units, but the full GPU in this laptop is only found if you choose the Core i7 model, which offers the 64 Execution Unit G7 graphics. It makes choosing the processor a bit more complex than it used to be, as it would be on an AMD-based laptop which follows the same mantra.
Dell shipped the XPS 13 review unit with the Core i7-1065G7, and as such this device does feature the full-sized GPU, and as we have seen in other Ice Lake based notebooks, the larger GPU is a significant improvement over previous designs.
3DMark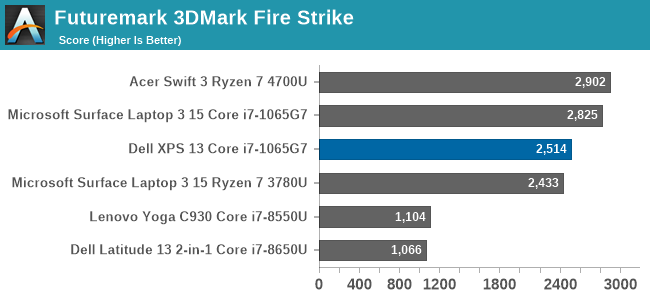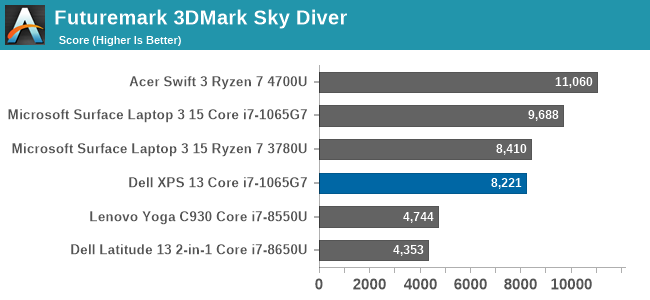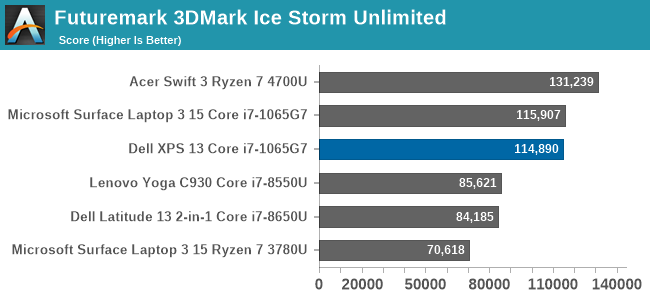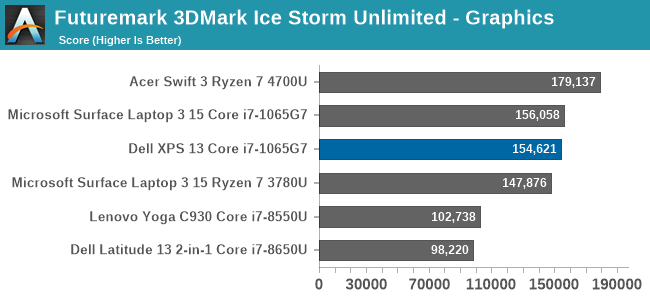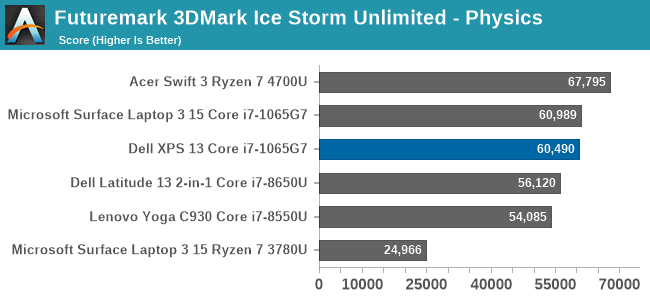 In our first synthetic test, the XPS 13 finishes slightly behind other Ice Lake notebooks, but not by a wide margin.
GFXBench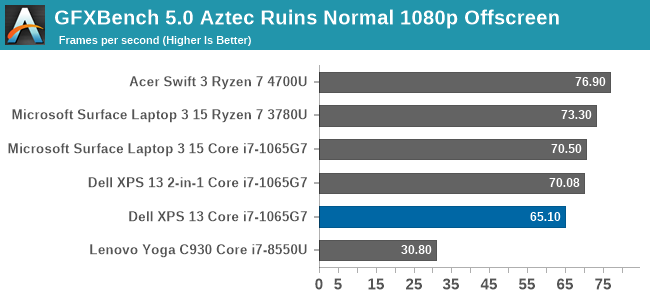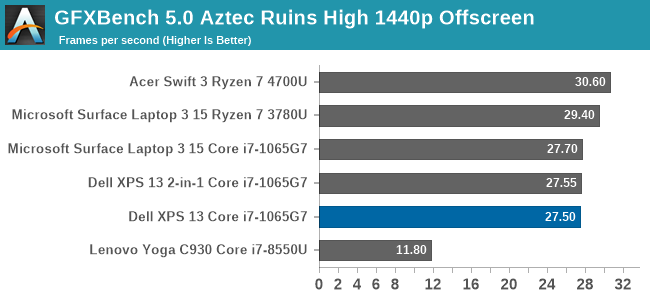 We run the DirectX 12 tests from version 5 of GFXBench, and as expected, the XPS 13 scores right in the same range as expected.
Tomb Raider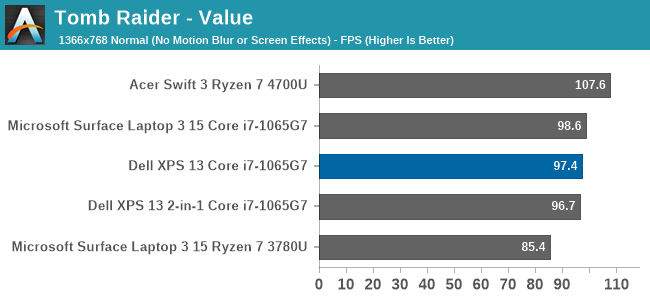 The original Tomb Raider has been a challenge on integrated GPUs, but with AMD's Ryzen and Intel's Ice Lake, the game is finally playable although without any extreme graphics settings enabled. Once again, the XPS 13 slots in right where it is expected.
Rise of the Tomb Raider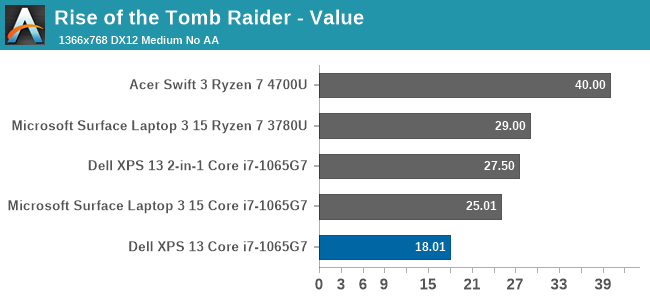 The first sequel to the re-launched Tomb Raider series is much more graphically demanding, and the XPS 13 slides out of the playability window even at the lowest settings we test at.
Strange Brigade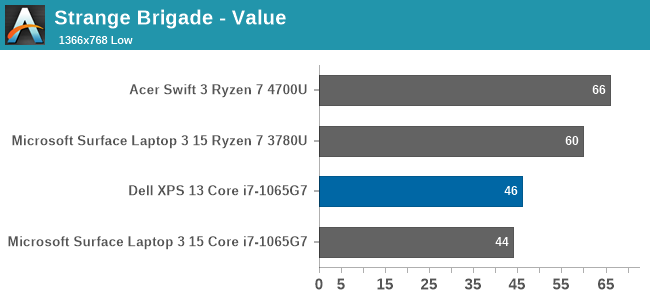 Strange Brigade is a game with a wide-range of settings, and can be very playable even on integrated graphics. As seen with Rise of the Tomb Raider though, the XPS 13 is not quite as performant as some of the other Ice Lake notebooks we have tested.
F1 2019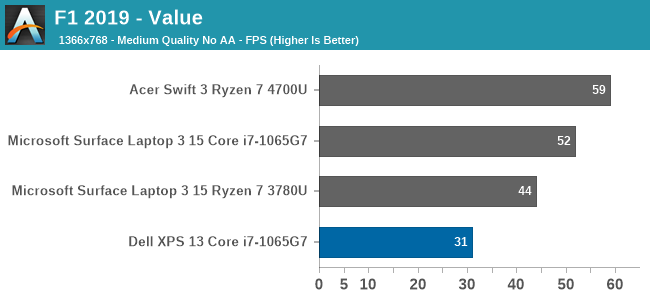 Codemaster's F1 simulator did not fare very well on the XPS 13, scoring well under expectations. This game can be very CPU limited as well, so TDP can be a major factor.
Far Cry 5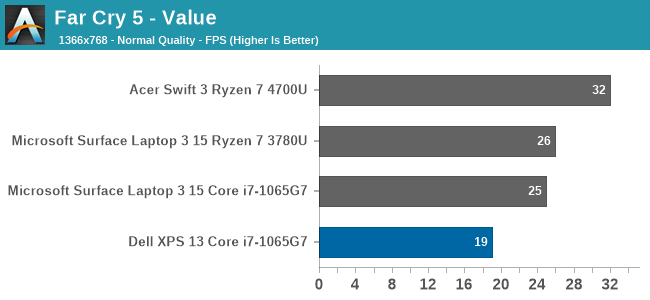 Like most of the other games, we see that Far Cry 5 is once again below other Ice Lake systems, but even on the best integrated system Far Cry is only barely playable regardless.
GPU Conclusion
Although the XPS 13 was outfitted with the top of the range Core i7-1065G7, with its full 64 Execution Unit GPU, the XPS 13 was not quite able to match some of the other Ice Lake systems we have seen. We will get into that a bit more in the thermals section, but this is likely due to Dell more aggressively clamping the processor to its recommended 15-Watt TDP, where other manufacturers may be more aggressive and allow 20+ Watts. Since the GPU is one area where more thermal headroom is always welcomed, this can have a larger impact than a CPU-bound task.
Otherwise, while the Ice Lake G7 GPU configuration is nothing short of a massive step up from Intel's earlier integrated GPUs, they are also competing with AMD in a field that's normally AMD's strength. So for as fast as the G7 configuration is, it and the XPS 13 end up trailing laptops based on the half-a-generation newer AMD Ryzen 4000 APUs.
Dell's move back to 16:10 on their XPS laptop display panels is likely a welcome change for almost all prospective buyers. The PC industry aggressively moved to 16:9 with the rise of HD televisions, and while the 16:9 aspect ratio is still the default for most PC gaming and media consumption, most productivity tasks will enjoy the slightly taller display. Going to 16:10 instead of 3:2 like we have seen on Microsoft's Surface lineup is also a nice compromise between productivity and consumption.
Dell is offering both 1920×1200 and 3840×2400 display offerings, which is in-line with what they've been doing with the XPS 13 lineup since at least 2015. For 2020 though, there is an optional touch digitizer on the lower resolution display, whereas in the past Dell only included touch with the higher-resolution panel. Both displays offer Dolby Vision processing and Eyesafe technology to reduce blue light transmission.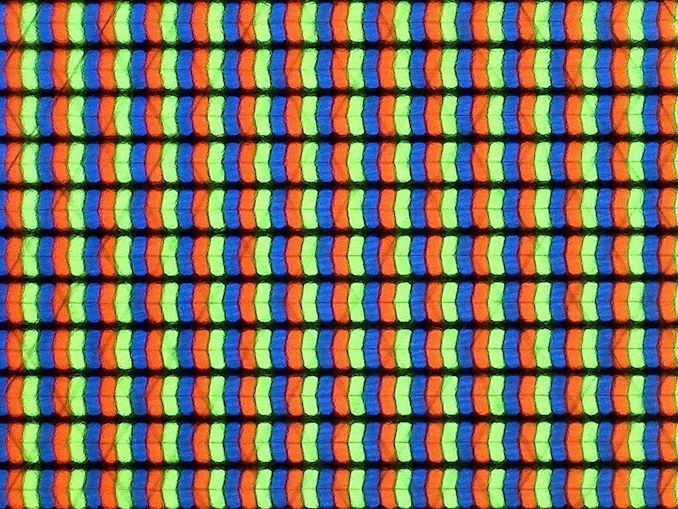 The 1920×1200 panel is a standard sRGB display, rated at 500 nits of brightness. Meanwhile the 3840×2400 panel has a much wider color gamut – offering 90% of the P3 color space – and is HDR 400 certified as well.
Dell sampled us the lower-resolution panel for review, but as with any Windows-based notebook with wider than sRGB gamut coverage, it is still a 'buyer beware' situation. Windows 10 does not offer the best color management system, and since almost all content and programs are designed around sRGB, if you opt for the wider-gamut display colors will be blown out unless you are using an application that specifically supports color management. For most people, the sRGB panel is the better option, not only because the 1920×1200 13.4-inch display still provides a reasonable 170 pixels-per-inch and much better battery life, but also because Windows still deals with wide-gamut and HDR poorly.
One area where Dell needs to be commended though is in their use of anti-glare coatings on their XPS displays. This has been one area that no PC manufacturer has really put much effort in, but Dell offers a 0.65% reflectivity rating on their coating, and it makes a big difference in day-to-day usage, especially in a bright room or outdoors.
To see how the XPS 13 display performs, it was tested using the Portrait Displays CalMAN software suite, using a custom workflow. Brightness and contrast were measured with the X-Rite i1Display Pro colorimeter, and color accuracy measurements were done with the X-Rite i1Pro2 spectrophotometer.
Brightness and Contrast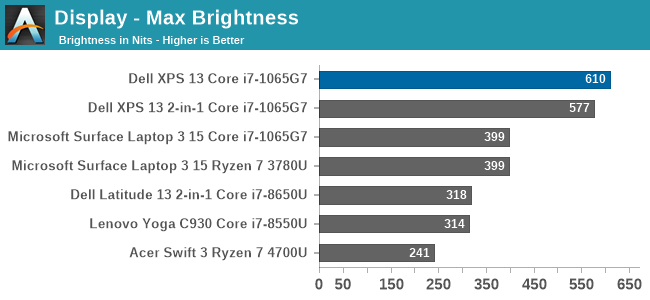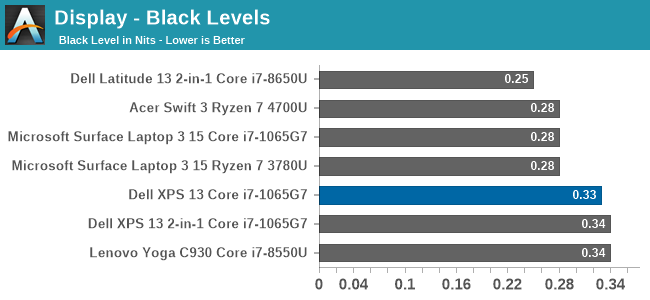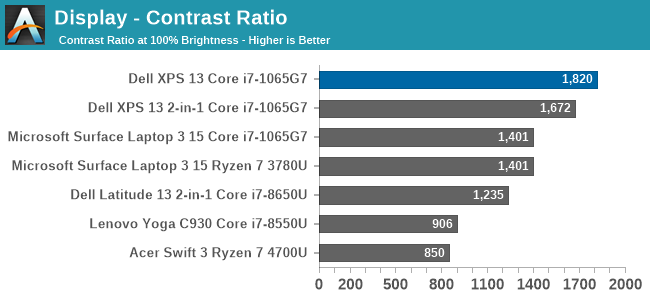 Despite the 500-nit rating, the XPS 13 managed to achieve a very impressive 610 nits of brightness. Coupled with the excellent anti-reflective coatings, the XPS 13 is easily one of the best notebooks for any bright location. The contrast ration of over 1800:1 was also top-notch.
Grayscale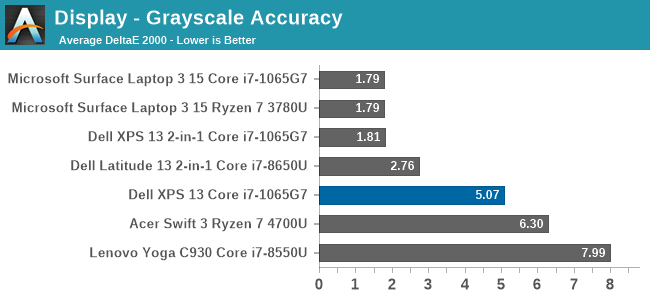 Despite the XPS 13 including an ICC profile, the review unit offered very poor grayscale performance, which was a disappointment after the XPS 13 2-in-1 we reviewed in November had such great results. Dell is likely using a batch-calibration process, rather than tuning each panel individually, which is a shame.
Gamut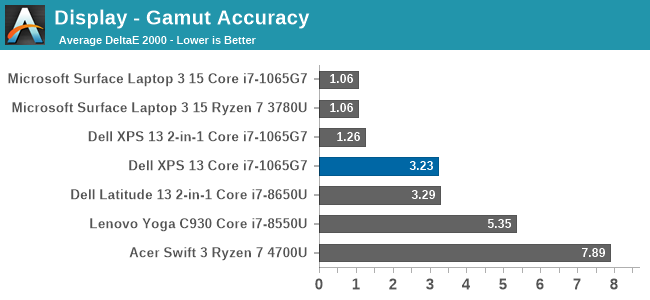 Grayscale aside, the color gamut results show a much better outcome, with really only Cyan having much in the way of color error. The display nicely hits sRGB primary and secondary color points, although does pull a bit to the green end, especially on Cyan.
Saturation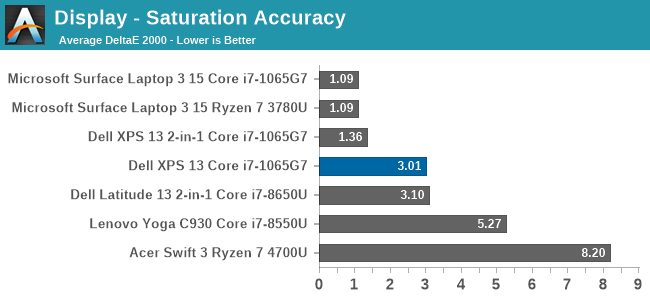 Gamut tests the sRGB color space at the 100% levels, but for the saturation test each primary and secondary color is tested in 4-bit steps from 0% to 100%. Really, other than the Cyan errors, the XPS 13's color accuracy on these sweeps is quite good, just missing the 3.0 DeltaE threshold.
Gretag Macbeth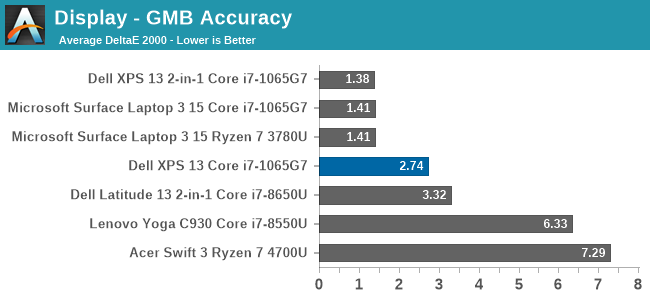 The Gretag Macbeth colorchecker tests many colors, not just the primary and secondary colors, and includes the important skin tones. To be considered accurate, all of the color tests on the DeltaE 2000 scale should be under the yellow line, and for the most part that is the case. The grayscales and the most impacted, which isn't surprising with how inaccurate the grayscale was on this unit, with only a few colors over the 3.0 error level.
Colorchecker
The colorcheck swatch provides a relative look at how the display performs. The colors on the bottom half of the swatch are the targeted colors, and the top half is what the XPS 13 was able to provide. This is a relative result, because any error in your own display would impact this swatch.
For the most part, the color accuracy of the XPS 13 is very good, with mostly only grayscale errors. The bad news is that Dell did include an ICC profile to address this, but it had little to no impact on the grayscale. Meanwhile the good news is that since most of the errors are grayscale, if you owned your own calibration tools, the XPS 13 could be adjusted to give a reasonable result. But as a premium device, it would be nice to see Dell extend the calibration to every panel.
One area that the XPS line has historically done very well was in battery life. This has been a combination of Dell building very efficient devices, as well as providing above-average battery capacities. For the 2020 XPS 13, Dell is offering a 52 Wh battery, which is somewhat smaller than they have in previous models. We shall see what kind of an impact that has on the overall runtime of this notebook. To fairly compare models, all devices are tested with the display brightness set to 200 nits.
Web Battery Life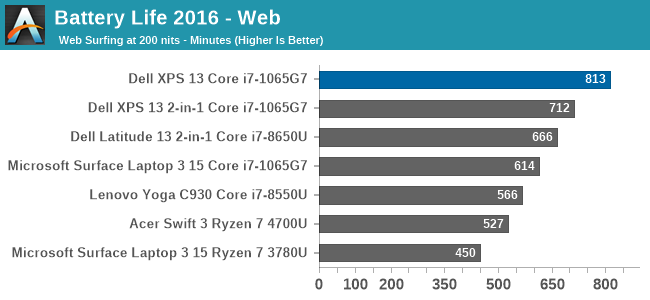 Dell starts out strong with an excellent result on our web battery life test. It managed to achieve over 13.5 hours of runtime on this fairly demanding web workload.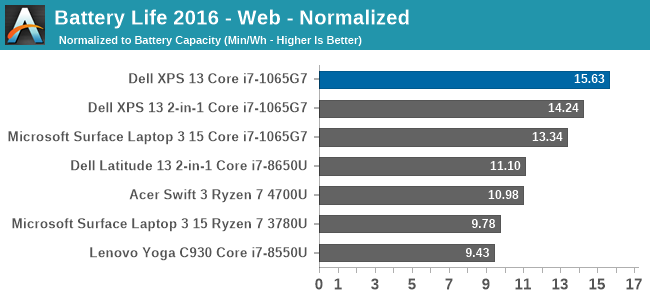 The normalized result removes the battery size from the equation so we can get a clearer picture on overall device efficiency, and we can see why the XPS 13 has lost none of its amazing battery life despite Dell shrinking the battery capacity. Dell continues to lead the field here, at least with the 1920×1200 display that we reviewed. Certainly the higher-resolution, wide-gamut 3840×2400 panel would impact this result significantly.
PCMark 10 Modern Office Battery

A new benchmark added to the stable is the PCMark 10 Modern Office Battery test, which runs through several common office scenarios on a ten-minute loop. If a device is able to finish the tasks quicker, it gets to idle for a higher percentage of the ten-minute test loop, so efficiency is important, but performance also plays a factor. The XPS 13 once again achieved a very strong result, almost matching the web runtime.
Movie Playback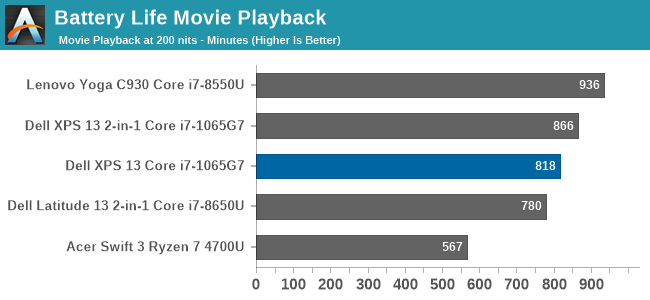 On the movie playback we generally see devices offer even more battery life than the other tests, but the XPS 13 showed such platform efficiency in the previous results that it was not able to extend that much here, but it is still a very strong result.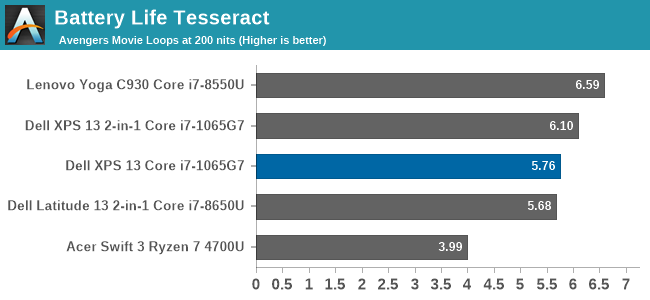 Breaking the movie playback into number of times you can play a very long movie, the XPS 13 almost achieves six complete playbacks of The Avengers before shutting down.
Dell ships a 45-Watt AC adapter with the XPS 13, which charges over a USB-C connector. Since there are Thunderbolt 3 ports on both sides of the notebook, it allows you to charge from whatever side is most convenient, which can help with cable management and is always a nice bonus.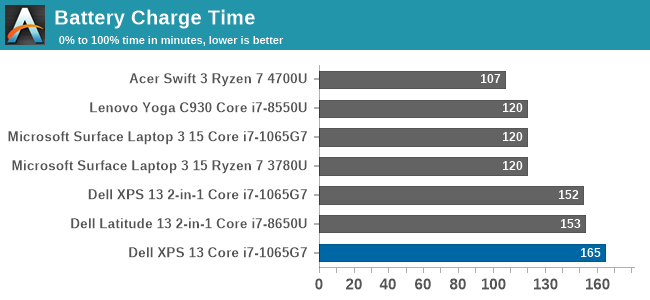 The small charger is plenty to run the notebook, but the charge rate is not spectacular. Luckily, the excellent battery life does mitigate this. Dell does offer an ExpressCharge option which will charge the battery to 80% in one hour and fully charge in two hours, however the user has to specifically choose this if they desire it using the Dell Power Manager software.
Dell offers two wireless radio options for the XPS 13, and both are Killer-branded. The default wireless card is the Killer Wi-Fi 6 AX1650, which is a 2×2:2 wireless solution based on the excellent Intel AX200. If somehow you missed it, Intel recently acquired Rivet Networks, so the Killer brand should continue to provide the performance and stability of the Intel adapters for the foreseeable future. Dell also lists a second Killer AX500 Wi-Fi 6 option, but this Killer product is based on the Qualcomm 6390 Wi-Fi 6 chipset. Since Killer has been acquired, that part may not be around for much longer. Our review unit features the Intel-based AX1650.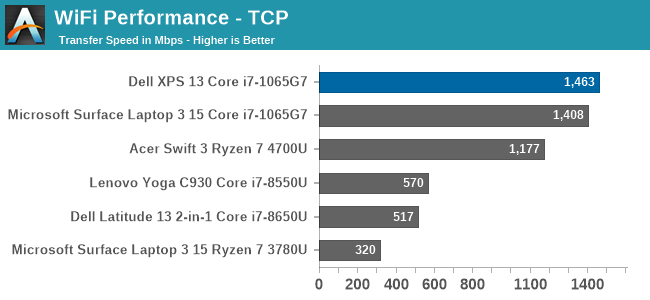 Performance is simply fantastic, and ever since Killer was able to base their network cards on Intel wireless, the stability concerns appear to be a forgotten memory. There was not a single time that the laptop had any issues with its network connection during any of the testing. That was certainly not the case on some of the older Qualcomm-based Killer products.
Dell offers Waves MaxxAudio Pro stereo speakers, at 2.5 Watts peak each, which are outfitted on the bottom of the laptops right on the edge of the device.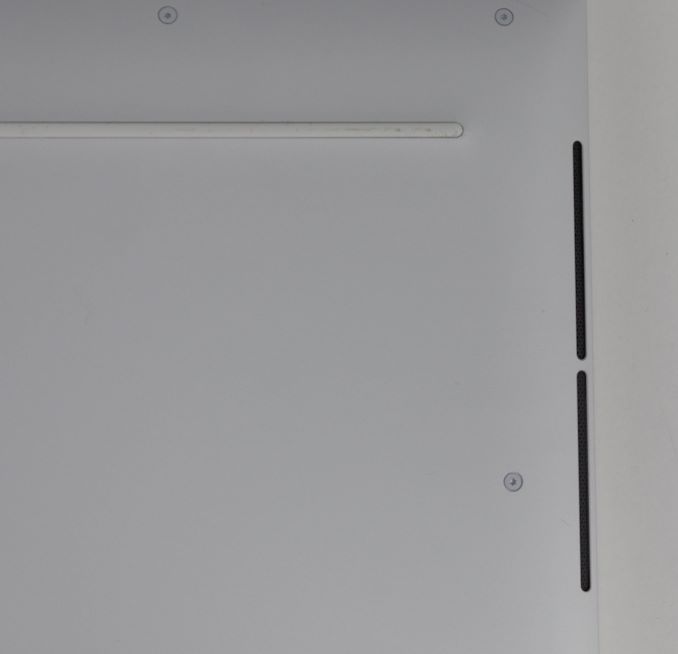 Sound quality is a bit on the tinny side, with not a lot of low end at all. The speaker setup does get quite loud though, with 83 dB(A) measured one inch over the trackpad at maximum volume. There was little to no distortion at peak volume either.
The dual-microphone array is found on the very top of the bezel, which would allow it to work with the device closed. It is a great way to hide the holes, with only the 2.25 mm 720p webcam showing in the bezel itself.
Dell outfits the XPS 13 with dual fans and a single heatpipe to cool the 15-Watt Thermal Design Power of the Core processor under the hood. They have added hidden exhaust vents in the hinge, to allow more airflow without compromising the looks. There is also a layer of GORE thermal insulation under the keyboard, which helps keep that portion cool to the touch even under load.
To see how the XPS 13 performs under load, it was run at 100% for an extended period while monitoring the device.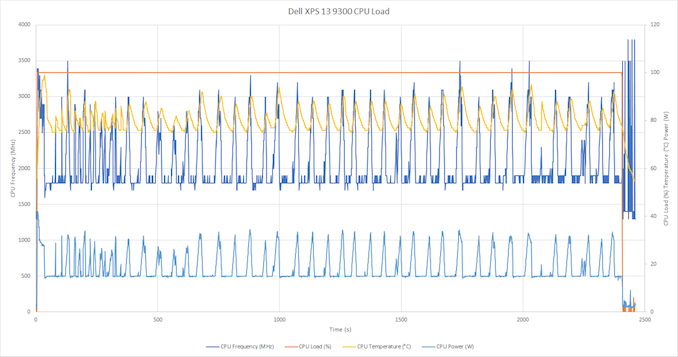 This graph tells an interesting story, unlike most laptops we see. First, Dell has gone absolutely crazy with the PL2 level on the XPS 13, with a peak measurement of a whopping 42 Watts. But, that is not sustainable in a 13-inch laptop, and the CPU throttles in PL2 until it reaches the PL1 limit, which is right at 15 Watts in the XPS 13's most performant mode. Most of the notebooks we have tested tend to allow a PL1 level above this, with maybe 20-21 Watts as a constant, but Dell clamps to 15 Watts, then spikes back up when the thermals allow, so we see this see-saw effect of the device running between 15 and 30 Watts. This is similar to how the XPS 13 2-in-1 behaved, and it would be nice to see the company address this with a more consistent power delivery under sustained load.
Over the duration of the test, the device averaged 18 Watts of draw, with an average CPU temperature of 80°C, with the four cores running at 2100 MHz. During this extended run, the noise level was very restrained, only hitting around 44 dB(A) measured about one inch over the trackpad. The GORE thermal insulation also did its job, with the keyboard deck remaining cool.
Dell's included software suite is a very polished set of applications, allowing the user to quickly get the device set up, adjusted, and of course, contact support. As with most manufacturers, they include a utility to get the latest updates, called Dell Update, and that includes some maintenance utilities as well.
Dell's Power Manager software allows you to change the power profile, as well as adjust the battery charging. The Thermal Management tab allows you to pick a fan and CPU profile, or leave it as the default Optimzed setting which works well for most scenarios.
Dell offers a plethora of battery options to maintain and extend the life of the battery. Out of the box, it comes in an "Adaptive" setting which learns your usage patterns and tries to keep the battery at a good state of charge, but you can override that to keep the battery always at 100% charge in case you need it, or if you mostly use it on AC you can set it to keep the battery to a lower level of charge to prolong its life.
The days of laptops being saddles with an almost unending array of shareware and trial software seem to be mostly over, and even though Dell included Norton with the XPS 13, it can easily be removed if necessary.
Dell's XPS lineup is one of the strongest in the PC industry. The InfinityEdge display was a revolution, allowing laptop sizes to shrink considerably, while providing the same display size. The new XPS 13 improves on an already excellent pedigree by moving to a 16:10 aspect ratio on the display which further reduces the bezel and keeps the new XPS 13 looking as fresh as ever.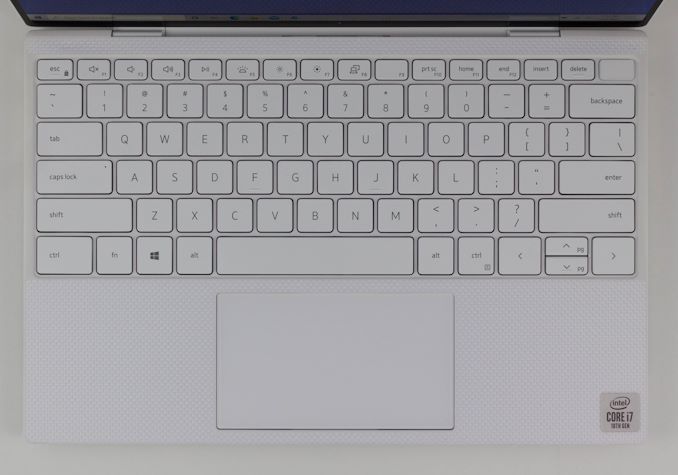 The two color choices are both great, but the Arctic White, with its woven fiber keyboard deck, is really striking. Dell has tweaked this slightly from their original 2-in-1 design by moving back to black display borders, which can help hide the admittedly small bezels even further. The older soft-touch carbon fiber black color is still a great look as well. The refreshed XPS 13 is simply one of the nicest looking notebooks in its class.
The move to Ice Lake in the 2020 refresh is also a welcome addition, mostly thanks to the significantly improved integrated GPU performance, but also because it allows the laptop to support 32 GB of RAM. Coupled with the maximum 2 TB of SSD storage, and the XPS 13 offers plenty of performance for its size. There will be those that lament the lack of an AMD option, as AMD's latest Renoir is a very potent platform, but the lead time on a notebook like this would preclude that option.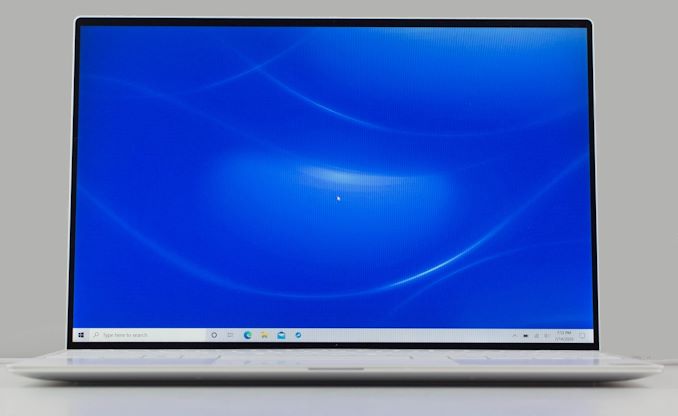 Dell's decision to move to a 16:10 aspect ratio means that you get a bit more vertical space, which should be beneficial in most productivity scenarios. Of the two display options, unless the wider P3 gamut support of the 3840×2400 display is something critical for a specific workflow, the extended battery life of the 1920×1200 is likely the better option for most people. And, just so it is not forgotten, Dell's anti-glare coatings are a shot in the arm for the PC industry, providing just 0.65% reflectivity, and when coupled with the very bright display, makes for a winner in almost any lighting condition.
Even the bottom of the XPS is well thought out. Torx screws surround the bottom which allow access inside if needed, and Dell continues to utilize rubber feet which span almost the entire width of the notebook, providing an incredibly solid footprint across a range of surfaces.
Open or closed, the XPS 13 is a fantastic looking device. It backs that up with excellent performance, and plenty of options to fit almost any budget. It is somewhat rare for a premium notebook to start at under $1000 USD, but Dell manages that, if only barely, but the base model now provides 8 GB of RAM and 256 GB of storage, which is much better than some of the XPS 13's of old, which started with half that RAM and storage for the same price. Dells options are also very reasonable priced, so upgrading from the base model does not instantly launch the price into the stratosphere.
It is great to see Dell update their XPS 13 clamshell notebook to the same internals and design of their previously released 2-in-1 version. It is also great that you can opt for either the clamshell XPS 13, or the convertible 2-in-1, depending on your needs. The convertible offers some increased functionality that you cannot get in a traditional notebook, but there is also a large market that prefers the simplicity of the traditional design. With the XPS lineup, it is your choice.
Finally, in a very rare move, Dell offers not only Windows, but also Linux, giving buyers their choice on what operating system they get. It goes without saying that this is an incredibly uncommon thing on a premium notebook, and very welcome to see. In the case a buyer does opt for Linux, then the the XPS 13 Developer Edition, as it's called, comes from the factory with Ubuntu 18.04LTS.
Overall there is a lot to like about the new XPS 13, and very little to detract from. Dell has yet another winner. With an updated 16:10 display, class-leading battery life, and a fantastic design, the XPS 13 is easily one of the best notebooks around.