Acer has had a big year in 2020, thanks to their close relationship with AMD. Acer has long been a strong partner of AMD, through the good times, and the bad, and right now is about as good a time to be an AMD partner as it can be. AMD's Renoir platform has been a revolution for their mobile device efforts. The company had strong packages for the desktop really ever since they launched the Ryzen platform in 2017, but those successes did not translate over to the laptop space, but with the latest Ryzen 4000 series processors, aka Renoir, all of that has changed.
Earlier this year, we checked out Acer's Renoir powered Swift 3 featuring the Ryzen 7 4700U processor. As a thin and light device, the eight-core Ryzen 7 demonstrated far more performance than many laptops costing far, far more. Today, we move away from the thin and light form factor to an entry-level gaming system. The Acer Nitro 5 is a 15.6-inch form factor, offering a 45-Watt AMD Ryzen processor coupled with an NVIDIA GeForce GTX 1650 in the review unit. As usual, Acer offers a fairly wide range of processor and GPU options, but if you are looking to get into a gaming laptop in a very affordable way, this Acer Nitro 5 spec is a solid start.
The Acer Nitro 5 we are checking out today is powered by the AMD Ryzen 5 4600H, which is a 6-core, 12-thread processor powered by AMD's Zen 2 CPU cores. It offers a base frequency of 3.0 GHz, with a peak turbo of 4.0 GHz, in a 45-Watt TDP. Being a Renoir-based processor, it also offers six compute units of Vega graphics, peaking at 1500 MHz, although in this particular model the integrated GPU plays second fiddle to the NVIDIA GeForce GTX 1650 which offers 896 CUDA cores, and 4 GB of GDDR6.
The Acer Nitro 5 comes with 8 GB of DDR4 RAM in single-channel RAM. Clearly dual-channel would be preferable, but this does give the benefit to the owner of being able to move to 16 GB by just buying a single stick of RAM. Also, since the device has a discrete GPU, system memory is not as critical as it would otherwise be. Storage is also acceptable, but obviously entry-level, with 256 GB of NVMe storage, but the Nitro 5 supports one additional NVMe drive as well as a 2.5-inch SATA drive.
The 15.6-inch display is an IPS panel with a 1920×1080 resolution, and although Acer offers 144 Hz refresh rates on some of the higher-end Nitro 5 models, the base model we are testing today is just a 60 Hz panel.
Acer Nitro 5 AMD Lineup
Model Tested:AN515-44-R99Q $669.99
 
AN515-44-R99Q
AN515-44-R078
AN515-44-R0DL
CPU
AMD Ryzen 5 4600H
6-Core 12-Thread
3.0-4.0 GHz
3MB L2 8MB L3
Vega 6 / 1500MHz
45W TDP
AMD Ryzen 7 4700H
8-Core 16-Thread
2.9-4.2 GHz
4MB L2 8MB L3
Vega 7 / 1600MHz
45W TDP
Discrete GPU
NVIDIA GTX 1650
896 CUDA Cores
4GB GDDR6 128-bit
NVIDIA GTX 1650 Ti
1024 CUDA Cores
4GB GDDR6 128-bit
Display
15.6-inch 1920×1080 IPS
60Hz Refresh
sRGB Target
15.6-inch 1920×1080 IPS
144Hz Refresh
sRGB Target
RAM
8GB DDR4-3200 Single Channel
Upgradable Memory
16GB DDR4-3200 Dual-Channel
Upgradable Memory
Storage
256GB SSD
2 x M.2 (1 free)
1 x 2.5″ SATA (free)
512GB SSD
2 x M.2 (1 free)
1 x 2.5″ SATA (free)
Network
Intel AX200 Wi-Fi 6
2×2:2 802.11ax
Killer Gigabit Ethernet
Left Side
2 x USB 3 Type A
Headset Jack
Right Side
1 x USB 3 Type A
1 x USB 3.2 Gen 2 Type-C
HDMI
Back
Power Connector
Battery
51Wh Lithium Ion
135W AC Adapter
Dimensions
363 x 254 x 23.9 mm
14.3 x 10 x 0.94 inches
Weight
2.4 Kg / 5.29 lbs
MSRP
$669.99
$999.99
$1,099.99
Overall, there is a lot of laptop packed into this Nitro 5, with Wi-Fi 6 included, along with Gigabit Ethernet if you would rather run wired. There is a USB Type-C port with 3.2 Gen 2, and USB charging, and three Type-A ports. There is HDMI, a backlit keyboard, and more. For the entry price of just $669.99 USD, there is a lot of performance without a large investment of money. Let's check out the design and see how the Acer Nitro 5 fares with its new, tweaked profile.
Acer has tweaked the design of the Nitro 5 for this year, offering a cleaner look than the outgoing model. The 15.6-inch display offers a "narrow-bezel" design, although really that is only on the sides. For this kind of price, Acer is not going to be able to compete with the thinnest and lightest laptops out there, plus as a gaming-focused system, offering a bit more space for components and cooling is crucial. The chassis features an aluminum keyboard deck and aluminum top veneered to the plastic chassis. The display lid is quite flimsy, but the hinge looks and feels robust. The underside features four nice sturdy rubber feet, and lots of cooling, but the plastic feels inexpensive. If you are after an entry-level gaming laptop, you are always going to compromise something, and the chassis is one of the low-points of this device, even though it is a step up from the previous generation
15.6-inch laptops sometimes offer number pads included, often at the expense of the rest of the keyboard, and that is the case here as well. To fit a number pad you really need to step up to a 17.3-inch device, or better yet, a separate USB device if needed, as the arrangement is decidedly non-standard. The keyboard also features the power button, which is generally a poor design, but acceptable here since it is over the number pad and less likely to be accidentally pressed. The keys themselves are reasonably, with good resistance and travel. On the low-end system, there is only one color for the backlighting, although some models of the Nitro 5 do offer 4-zone RGB backlighting. Acer also does not activate the backlighting when using the trackpad, which is not ideal, since you can't activate the keyboard to see where the keys are in a dark room.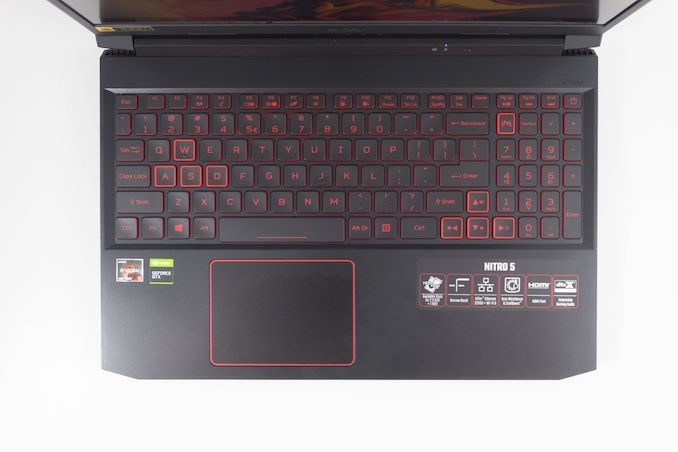 For the trackpad, Acer is using a plastic design with Precision Touchpad drivers. For a plastic touchpad, it is quite responsive, although not as nice to use as a glass trackpad on more premium products. If you were gaming on this system, you would likely want to hook up a USB mouse regardless.
For cooling, Acer has a quad-exhaust with intakes on the bottom and sides.


The left side offers up two USB 3.0 ports, a headset jack, and the RG-45 port, which is a half-height port that expands when needed to keep the design ethos intact. On the right, there is HDMI, along with a third USB 3.0 port, and the USB-Type C port. Although the number of ports are great, their placement is quite far forward in the chassis, which may be an issue for cable management depending on your setup. Acer has moved the barrel power connector to the back of the unit, which is great since it is easy to keep the power cord out of the way. It would have been nice to see that accompanied by some USB or video ports as well, in case you ever wanted to dock the laptop with rear connections, but once again, for a budget-focused design, you can not have everything.
Overall, the new design is similar to the previous one, with heavy use of plastics to keep costs down, and compared to more premium designs, such as Acer's Triton 500, you can clearly feel the impact of Acer targeting a lower price bracket, but if you wanted a gaming system on a budget, the correct place to save money would be the chassis design, so despite the shortcomings, they are expected, and a key factor in keeping the Nitro 5 in the price range it lives in.
AMD's Renoir platform has been a game-changer in the laptop space for the Santa Clara company. With the previous laptop platform, Picasso, AMD offered competitive,, but not class-leading performance, especially on their integrated GPU, but were let down by high platform power draw, which was a major hurdle to overcome in a battery-powered device. Also, Picasso featured the AMD Zen CPU cores, whereas AMD's desktop platform had moved to Zen 2. With the introduction of the AMD 4000 series laptop platform known as Renoir, AMD really delivered a triple-punch, moving to their newest 7 nm Zen 2 cores, as well as addressing their high idle power draw, and offering up to eight cores and sixteen threads in both their U-Series 15-Watt designs, and H / HS series 45-Watt / 35-Watt laptop processors. AMD went from "competitive, but" to class-leading overnight.
For a full deep-dive into the AMD 4000 platform, please check out Ian's launch-day review featuring the AMD Ryzen 9 4900HS.
Moving back to the Acer Nitro 5, Acer is offering two Renoir-based options, with the entry-level design featuring an AMD Ryzen 5 4600H, and the upgraded model moving to the Ryzen 7 4800H. Both are nominal 45-Watt TDP parts, with the Ryzen 5 offering six cores and twelve threads, from 3.0 to 4.0 GHz. The 4800H offers eight cores and sixteen threads, from 2.9 to 4.2 GHz. In our Ryzen 5 powered review unit, the processor is paired with 8 GB of DDR4 RAM in a single-channel configuration, which will somewhat impact CPU performance, but offers the owner an easier, less expensive option to upgrade to 16 GB in the future.
To see how the Acer Nitro 5 performs, it was run through our laptop benchmark suite. To compare the results to any device we have tested, please use our online Bench. As an interesting comparison we have included the ASUS ROG Zephyrus M15, powered by a six-core i7-10750H, with the same TDP and core count as the AMD Ryzen 5 4600H in the Acer Nitro 5, as well as the eight-core Ryzen 7 4700U powered Acer Swift 3, and some quad-core Ice Lake platforms with and without dedicated graphics. The comparison systems are not based on price – the Acer Nitro 5 is easily the most inexpensive device here with a dGPU – but on platforms, so please keep that in mind. Where possible, the ASUS Zephyrus G14, which was the launch platform for the Ryzen 4000 series, is also included, however Ian's CPU testing suite does not perfectly match the Laptop suite, so data is not available for all tests.
PCMark 10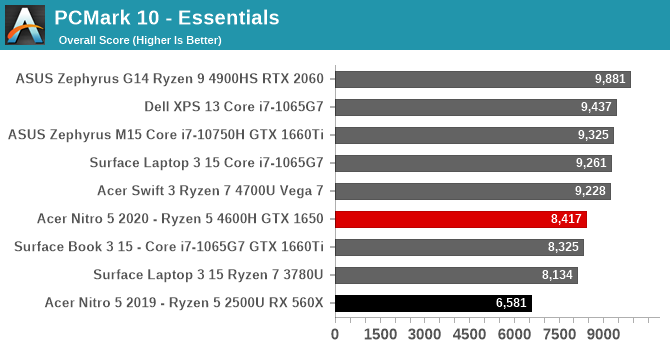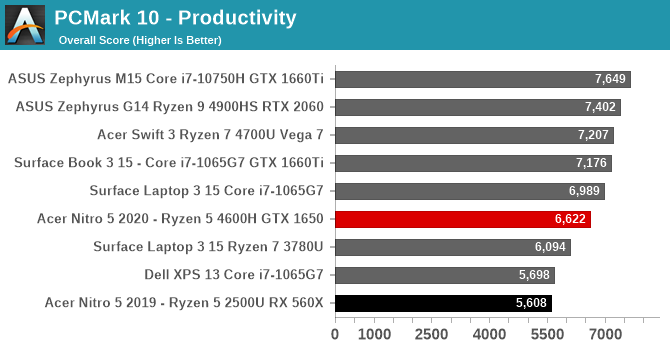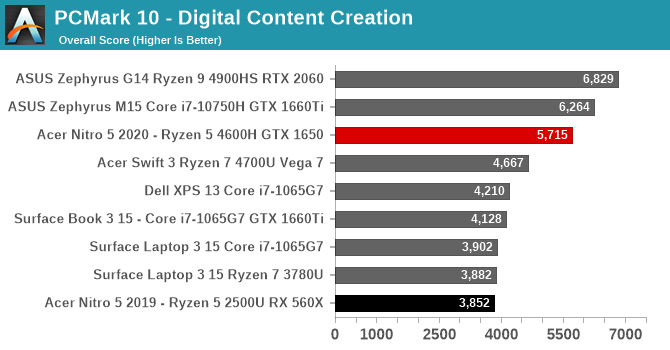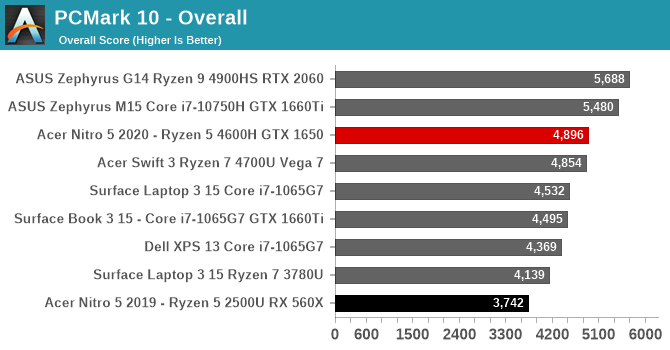 Offering a range of sub-tests, UL's PCMark 10 simulates real-world tasks for office productivity, digital content creation, and typical tasks a home-user may do such as web and video chats. The Acer Nitro 5 does very well here, although it can not quite match the 8-core Ryzen 7 4700U in many of the tests. The included GTX 1650 does propel it ahead in content creation, however. The ASUS M17, with a 5.0 GHz maximum frequency, does edge the Ryzen 5 4600H, and the large GTX 1660 Ti GPU also helps. However the ASUS Zephyrus G14 with the "35-Watt" Ryzen 9 4900HS and RTX 2060 is able to outshine the rest of the systems.
Cinebench R20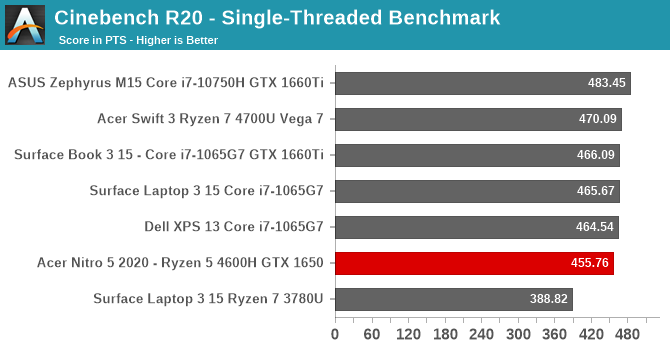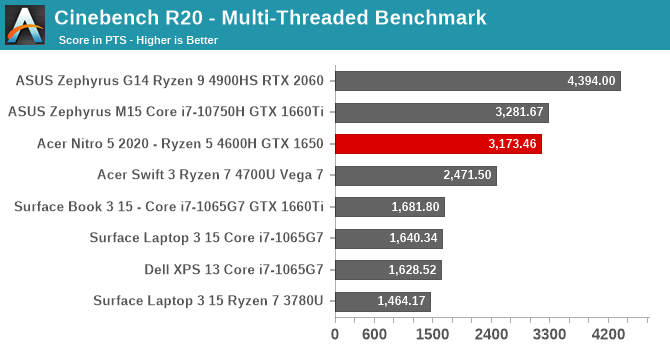 Cinebench is a pure compute workload, testing a CPU's execution resources without much else getting in the way, like memory. It favors fast frequencies, high IPC, and more cores on the multi-threaded version of the test. The slightly lower boost frequency of the Ryzen 5 4600H, peaking at only 4.0 GHz, holds the system back on the single-threaded results, but with six cores and twelve total threads, the Ryzen 5 competes well with the Core i7-10750H, and stretches its legs on the U-Series processors. The Ryzen 9 4900HS, with 8 cores, 16 threads, and a 4.3 GHz maximum turbo, easily outclasses other processors here.
Handbrake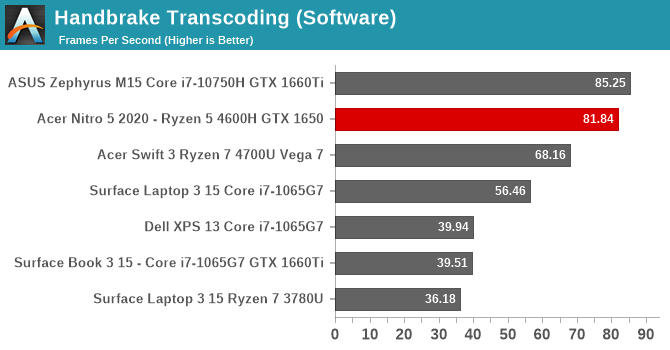 The newly added Handbrake benchmark leverages the CPU, integrated GPU, and discrete GPU if available to transcode video using likely the most popular transcoding tool around. As a much longer test, the TDP plays more of a factor here than on some of the previous results, and the Acer Nitro 5 does very well on this assessment. On pure CPU encoding, the Zen 2 cores can almost keep up with the much higher frequency Core i7-10750H. When using the integrated GPU built into Ryzen, performance is good, although not quite matching the Ryzen 7 4700U we tested in the Acer Swift 3, which despite the smaller TPD, offers a slightly larger iGPU. The GeForce GTX 1650 is faster again, if you need to transcode video in a hurry. Generally, the dedicated media blocks perform the job quicker, but not necessarily with the same quality as the software based encoder, which may factor into your decision on which one to leverage for a transcode job.
7-Zip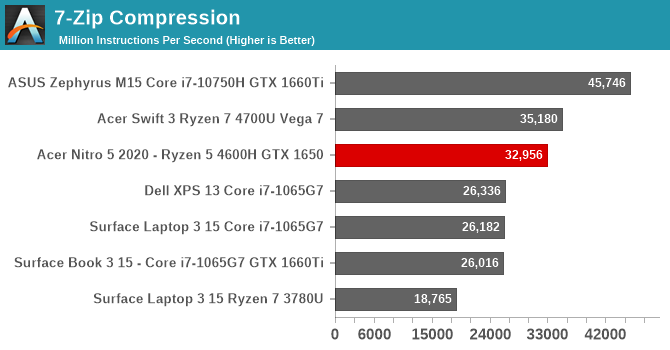 The very popular open-source file compression utility 7-Zip includes a built-in benchmark, showing the compression and decompression rates in MIPS. The Ryzen 5 can't quite hang with the Ryzen 7 4700U in compression, but the Zen 2 cores do very well in the decompression result.
Web Workloads
Measuring web performance is a factor of both the underlying hardware, as well as the browser, since most web workloads leverage scripting which is compiled just-in-time, so the browser plays a big factor in overall performance. To lock the systems to an even playing field, we have moved to the latest Chromium-based Microsoft Edge browser, and will be utilizing it going forward. We took the opportunity to move away from some of the older, outdated web tests, and are focusing on Speedometer 2.0, which is a DOM performance measurement from the Webkit team, and WebXPRT which is developed by Principled Technologies.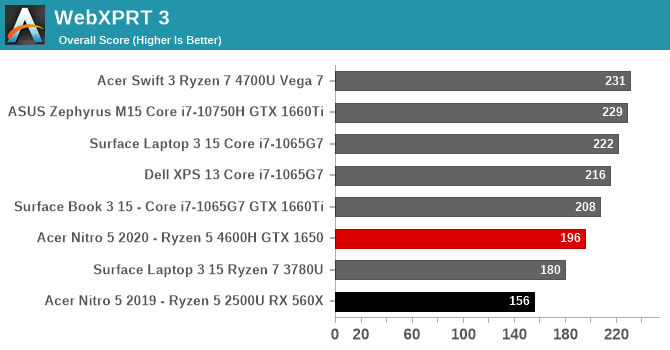 Interestingly, the 6-core, 12-thread Acer Nitro 5 was able to surpass the 8-core, 8-thread Ryzen 4700U in Speedometer, even with a small frequency deficit. WebXPRT, which really favors higher turbos and fast turbo activation, did not do as well on this system.
The Acer Nitro 5 review unit shipped with a 256 GB Western Digital SN530 drive, which is a PCIe 3.0 x4 NVMe drive. The Acer also offers an additional M.2 port, as well as a 2.5-inch SATA slot for additional expansion. As a low-cost device, the 256 GB drive is small, but adequate when you consider the rest of the internals, and expansion is possible, either via internal drives, or of course USB-based storage to hold a gaming library.
The PCMark 10 storage test uses traces of actual workloads to provide an overall resulting score, and is more useful than a straight up bandwidth test of the drive.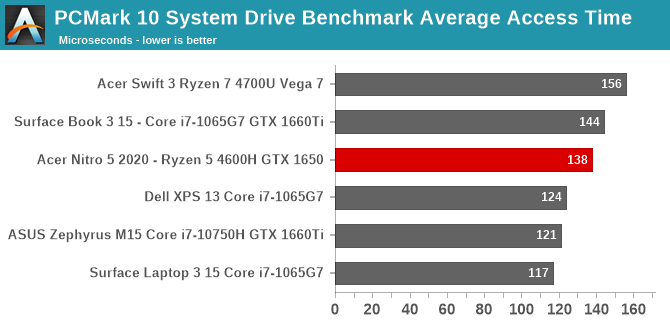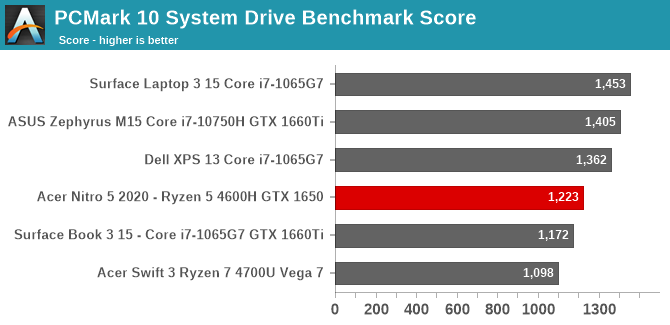 The drive itself, despite being installed in a low-cost device, holds up well against other devices we have tested that cost much more. A larger drive in a gaming system would be nice, due to the massive size of game installs in 2020, but a 256 GB system drive is still welcome since it is pure NVMe SSD.
Despite the low entry price, the Acer Nitro 5 features a proper GPU in the NVIDIA GTX 1650, and if you opt for the Ryzen 7 version, it ships with the GTX 1650 Ti. Both of these GPUs are part of NVIDIA's 2020 laptop GPU refresh, and are based on the Turing architecture, sans the tensor cores features on the RTX lineup of Turing cards. Although NVIDIA launched the GTX 1650 as having "up to" 1024 CUDA cores, the Acer Nitro 5 offers 896, with 4 GB of GDDR6 on a 128-bit bus. To get 1024, you would need to step up to the 1650 Ti, and then the 1660 Ti is half-again as big, with 1536 CUDA cores and a 192-bit memory bus, so that last card is a significant performance bump.
For the last several years, laptops have been hovering at or around the 1920×1080 resolution, with high-end GPUs unable to effectively push UHD resolutions in the laptop space, vendors have instead offered higher-refresh displays at 1920×1080 instead. Acer is offering up to 144 Hz, but the base model is a standard 60 Hz display, which, as you will see, is fine.
To see how the Acer Nitro 5 fares in gaming, we have tested it against our gaming laptop suite, starting with a couple of synthetic tests, and then moving on to proper games.
3DMark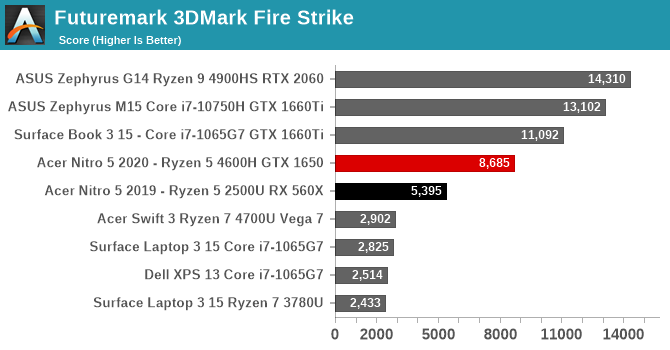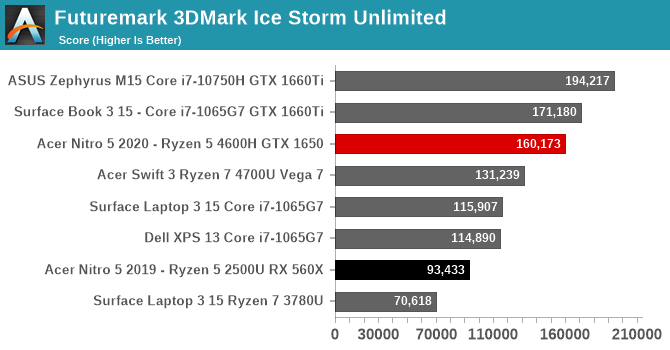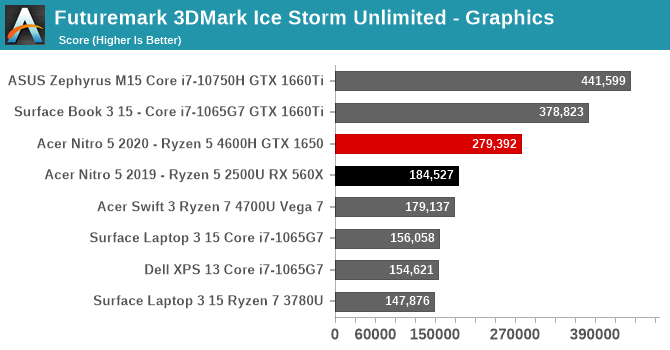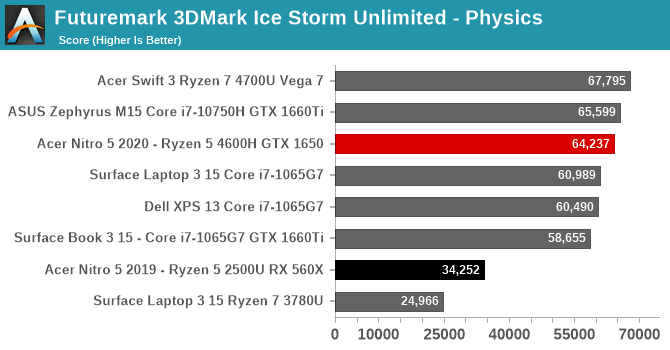 UL's 3DMark offers a variety of workloads, with Fire Strike being the most demanding on the GPU, and moving down from there. As the game is less demanding on the GPU, it becomes more CPU bound. Despite offering the "entry-level" GTX 1650 laptop GPU, there is still a large jump from the integrated GPUs in Ryzen 4000 and Ice Lake, which have both pushed the limits of integrated GPUs significantly in the last year. But a proper GPU, with its own power budget, and its own memory, just puts them to shame. The 1650 almost triples the Fire Strike score of the Ryzen 7 4700U.
GFXBench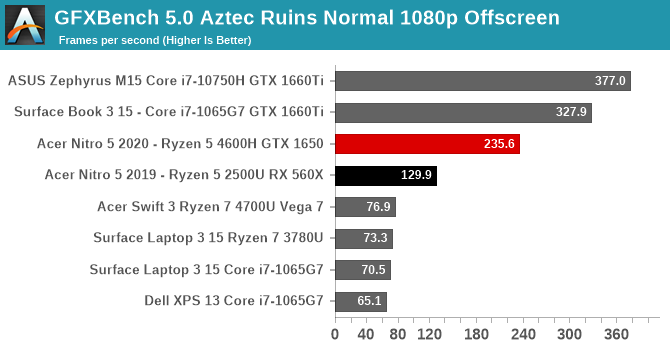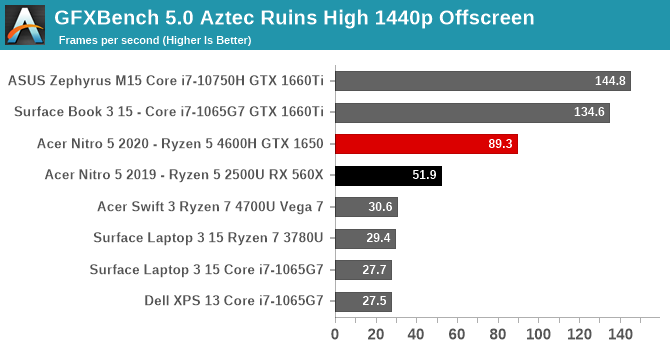 With version 5.0 of GFXBench, Kishonti introduced DirectX 12 workloads, which are also the same workloads available in their smartphone app. Although designed for smartphones and low-power PC GPUs, the 1440p Aztec High result especially is very demanding on integrated graphics, but the Acer Nitro 5 has no issues on either workload.
Tomb Raider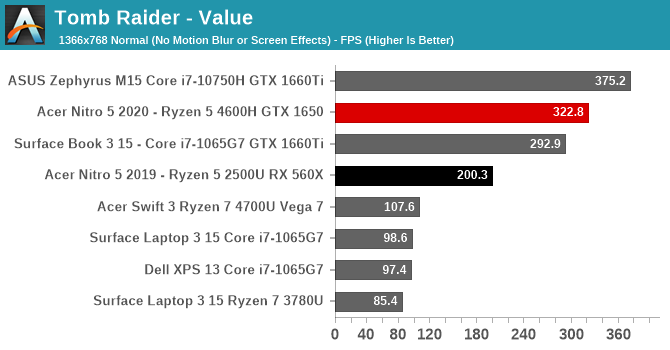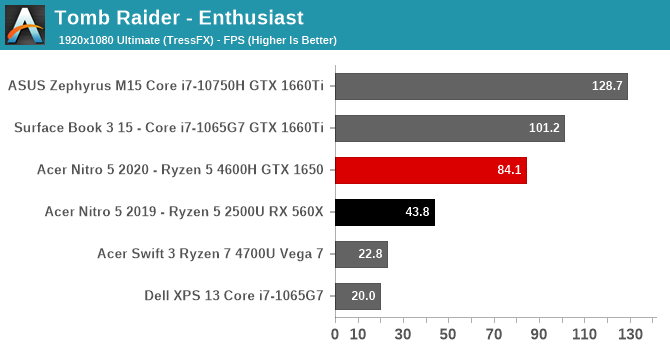 The original Tomb Raider reboot is still quite demanding on laptop-class GPUs, especially at our enthusiast-level settings at 1920×1080. The Acer Nitro 5 is able to handle this game very easily though, averaging almost 90 FPS even at maximum settings.
Rise of the Tomb Raider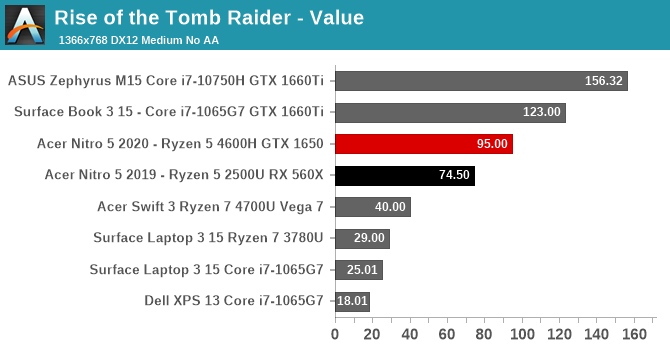 The second installment in the Tomb Raider reboot really amped up the graphics, and introduced DirectX 12 support. It can be punishing on mid-tier GPUs, and the Acer Nitro 5 handles the game fairly well, just under the 60 FPS threshold. With only a few minor tweaks with GeForce Experience, this game would also be very smooth.
Shadow of the Tomb Raider


The most recent installment is also, shockingly, the most demanding on the GPU, with the Acer Nitro 5 definitely playable, but likely with a few settings turned down to ease the burden slightly. This game is an example of where the 1660 Ti really shows its worth.
Strange Brigade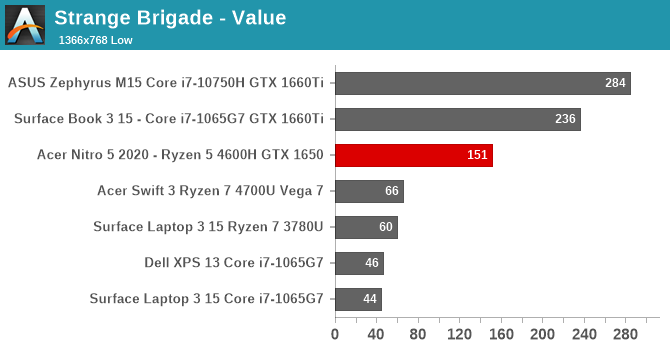 Offering both DirectX 12 and Vulcan options, this benchmark was run in the DirextX mode. Although the game scales down to integrated GPUs quite well, at maximum settings it can still cause a lot of stress on a discrete GPU. The Acer Nitro 5 is able to manage the 60 FPS average though.
Middle Earth: Shadow of War

Shadow of War is also a game with a wide dynamic range of playability, and the GTX 1650 in the Acer Nitro 5 does struggle here at maximum settings, achieving only 42 FPS average. It can still play at 1920×1080, but some graphical fidelity will have to be sacrificed.
F1 2019

Codemasters has been tweaking the F1 game for quite a few years now, and F1 2019 brought about DirectX 12 support. This racing came, based on the Formula 1 World Championship, has tended to be CPU bound in previous versions of the title, but the DirectX 12 appears to have helped with that somewhat. The Acer Nitro 5 can play this game at maximum settings, although just.
Far Cry 5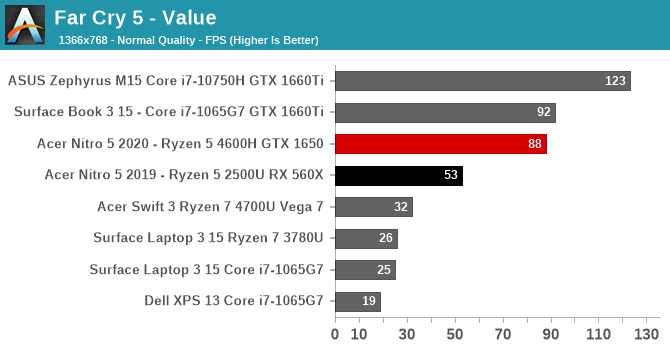 Ubisoft's popular Far Cry series is a game that can tend to be CPU bound, but on the entry-level gaming PC level that is not really the case. Acer's Nitro 5 is easily capable of playing Far Cry, albeit with a few settings dialed back slightly.
Gaming Conclusion: 1080p or Bust
What 2020 has taught us is many things, but on the laptop GPU side, we are at the point where even entry-level gaming systems can do a reasonable job at the 1920×1080 resolution almost all gaming laptops ship at. Acer offers a faster 144 Hz refresh rate on some iterations of the Nitro 5, but the base model ships with a 60 Hz panel, and that seems about right, since the GTX 1650 is not really capable of much more than that on most newer titles at 1920×1080. If you need a bit more grunt, Acer does offer the GTX 1650 Ti, coupled with Ryzen 7, but at a much higher price tag. The sweet spot for 1920×1080 right now is clearly the GTX 1660 Ti, which handled all the games tested without much fuss, but that's a much larger, more expensive, and more power-hungry GPU.
One of the weak spots on Acer's Nitro lineup has been the display in the past, so we will see how the new model fares. The base offering is a 15.6-inch 1920×1080 IPS display, offering a 60 Hz refresh rate, and on higher-tire models there is a 144 Hz offering available, although with the limited GPU offerings, that is likely overkill for this machine. There is no G-SYNC available either, so although 144 Hz displays are fantastic, the Acer Nitro 5 likely won't be able to achieve that kind of framerate at its native resolution anyway.
There is no touch support, so there is no reflective glass over the top of the display, so it works quite well in most environments. The resolution provides a relatively meagre 141 pixels-per-inch, but with the gaming focus, this is 100% the correct resolution to offer.
To see how the Acer Nitro 5's display performs, we test it using Portrail Display's Calman software suite with a custom workflow. Brightness and contrast measurements are done with the X-Rite i1Display Pro colorimeter, and color accuracy testing is done with the X-Rite i1 Pro 2 spectrophotometer.
Brightness and Contrast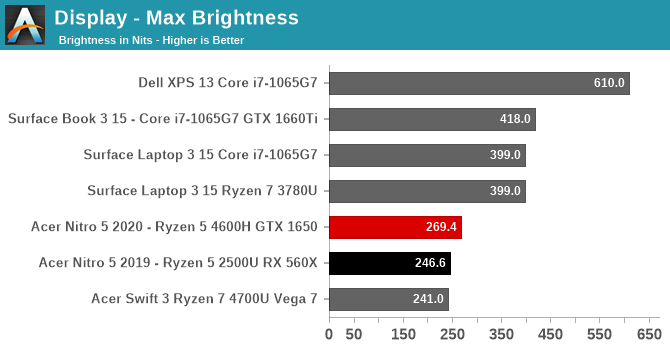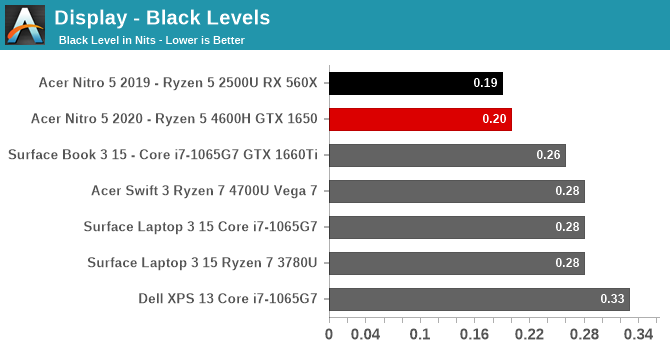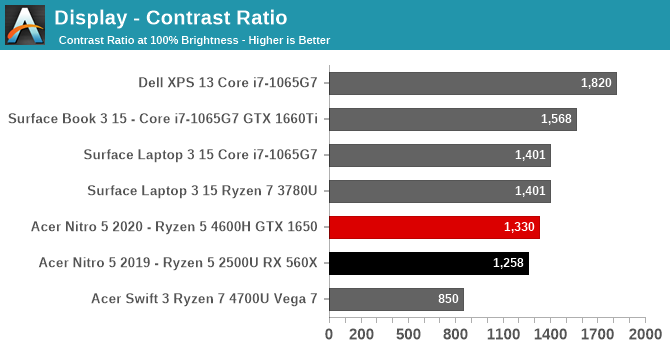 To hit a price target, one of the first areas generally cut is the display backlighting, and that is certainly the case here. At just 260 nits of peak brightness, the Acer Nitro 5 is one of the least-bright displays we have tested recently. That being said, it does offer relatively good black levels, so the overall contrast ratio is very solid at 1300:1.
Grayscale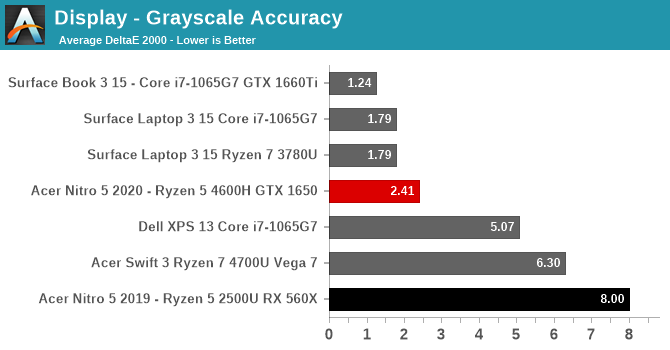 At 200 nits brightness, the grayscale was very impressive on the Nitro 5, with very even red, green, and blue coloring to the white levels. The overall result did not go over the 3.0 level at any point, and the average was just 2.4 dE2000, which is quite good.
Gamut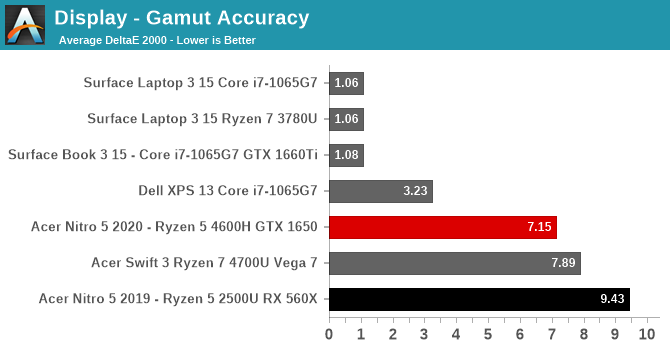 Unfortunately for the Acer Nitro 5, the good grayscale is not backed up by good color accuracy. The Nitro 5 backlighting is not only dim, it can not even get close to covering the entire sRGB color gamut. The blue values are very undersaturated at 100% levels, but red and green are both unable to hit the correct target either, so the secondary colors are quite far off the mark as well.
Saturation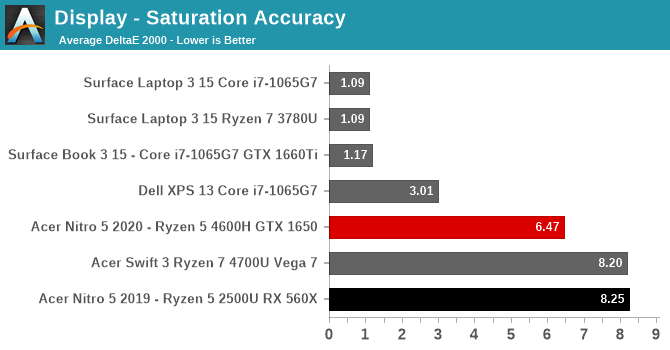 Gamut tests the color accuracy at 100% levels for the primary and secondary colors, and the saturation test does the same thing but at 4-bit steps from 0% to 100%. The blue levels are some of the worst results we have seen in years, with a peak error level of almost 17. For reference, error levels of 3.0 are considered accurate, and under 1.0 is considered impossible for the eye to distinguish.
Gretag Macbeth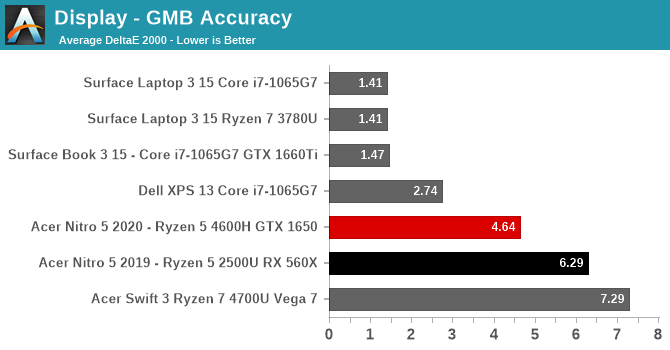 The Gretag Macbeth swatch tests not just the primary and secondary colors, but many others as well, including the important skin tones. With the display unable to achieve the full sRGB gamut, the GMB results are unsurprisingly poor. The average error level is helped by reasonable grayscale, but most of the other colors are quite far off.
Colorchecker
The colorchecker tests a sample of colors, and displays the target color on the bottom with the measured color on the top, to give a visual indication of the inaccuracy of the display. This is a relative result, as any errors in your own display will change the output, but it is still a handy way to more easily interpret the error levels shown above. It is not very pretty for the Acer Nitro 5.
Display Conclusion
Going into this review, there were not high hopes for the display. It is an area where Acer has found room to keep costs down in the past, and if we are being honest, it is an area where you expect less than ideal results in a budget-focused design. That being said, $300 iPads and $500 Surface tablets ship with full sRGB displays that are calibrated per-device. This display is fine for what it is. It is an IPS display, with good viewing angles, and at least on the review unit, good white values, but although some slack must be given Acer due to the tight budget on this device, it is still a bad display.
Although typical gaming systems are not generally known as road warriors, due to their high weight, and powerful internal components, on systems that include the ability to turn off the discrete GPU, such as the Acer Nitro 5, battery life can be fairly competitive.
Acer has only outfitted the Nitro 5 with a 51 Wh battery, which, considering the 15.6-inch chassis, is definitely on the small side, but battery size is only one half of the equation.
To see how the Acer Nitro 5 fares in runtime when not hooked to power, it was set to 200 nits brightness, and run down from 100% battery until it shut down on several different workloads.
Web Battery Life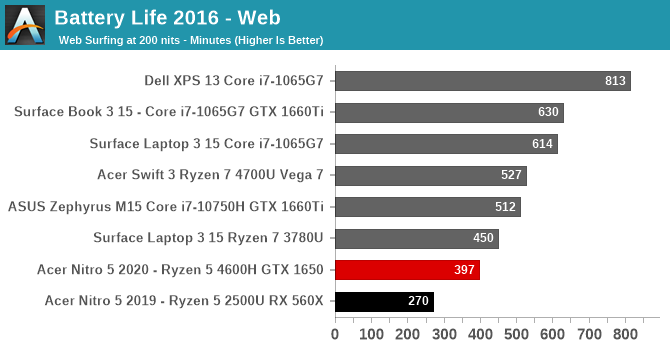 Our web battery life test is very demanding on the CPU, and as such can really drain the battery down compared to tests that are mostly idle. The Acer Nitro 5 achieved 397 minutes here, which is just over 6.5 hours. That is a far cry from the 12-15 hours we see on Ultrabooks, but still a solid time for a 45-Watt class gaming laptop.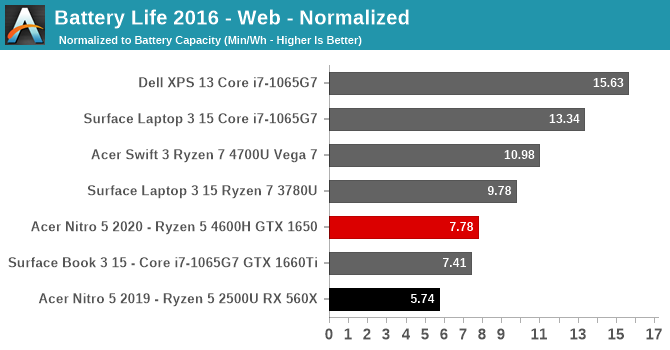 Looking at the normalized result, which removes the battery size from the equation, the Acer Nitro 5 gaming laptop does not manage to touch the smaller, lighter laptops in energy efficiency, but is not too far off either, despite the larger display and more powerful internals.
PCMark 10 Battery Modern Office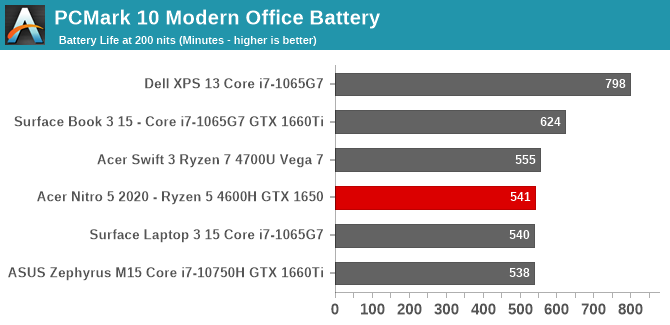 The PCMark 10 test leverages some of the sub-tests from their performance workloads and runs them in sequence. Each test is given ten minutes to complete, so if a system gets the work done quicker it earns extra idle time. This test is actually less demanding than our web workload, due to the idle time, and scores are generally a bit higher. The Acer Nitro 5 did very well on this test, achieving just a hair over nine hours.
Movie Playback
Generally, the least demanding task is video playback, since the video decode can be offloaded to efficient, fixed-function hardware in the CPU's media blocks. This is one area where AMD struggled in previous generations of the Ryzen laptop platform, but is another area where they have become very competitive. The Acer Nitro 5 managed almost exactly ten hours of runtime.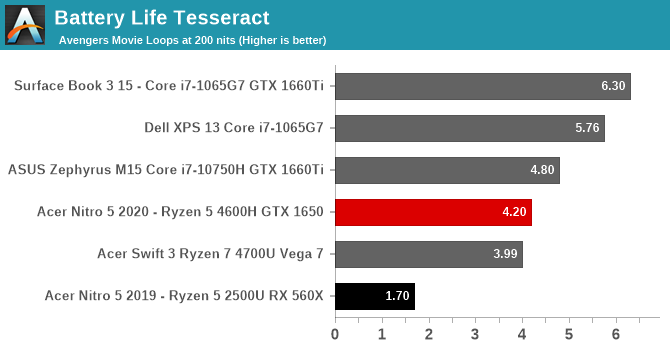 If you are wondering how many movies that is, our Tesseract score divides the movie runtime by the length of a long movie- in this case The Avengers, and the Acer was able to playback the equivalent of The Avengers over four times.
Acer ships the Nitro 5 with a 135-Watt AC adapter, providing power to the system as well as charging. It connects via a barrel connector on the rear of the device, and the connector itself feels quite robust. If there was a knock against it, it is easy to put the plug in, but not actually connect it as it takes an extra push to click it in, but that does secure it nicely.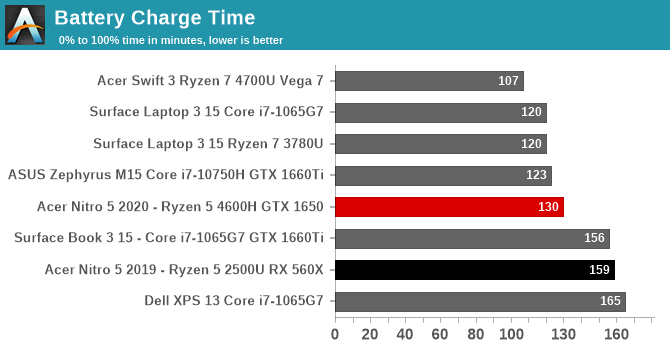 The system was able to go from 0% to 100% charge in about two hours, which is more or less average. Despite the high-power input, charging the battery at too high a rate would degrade the battery life.
In a somewhat sad state of affairs, in the PC space there is really only one good wireless adapter, and that is Intel. Although there are a few competitors, they tend to not offer the reliability of the Intel drivers, nor the performance. Intel continues to improve their wireless products every year, to integrated them into their new laptop platforms, so Intel offers the most current standards as well. Despite being a budget system, Acer has outfitted the Nitro 5 with the Intel AX200 network card, which is a Wi-Fi 6 adapter offering 160 MHz channel support and all of the other accoutrements that go along with Wi-Fi 6.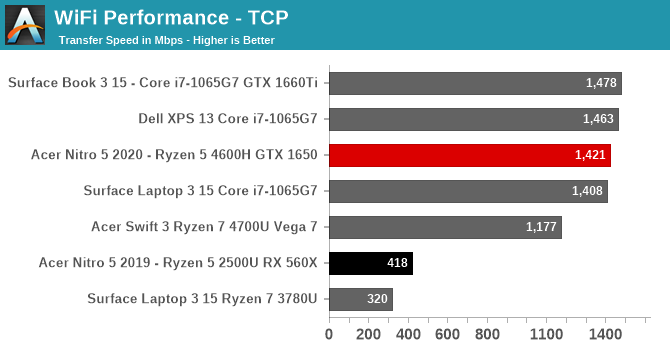 For speed, it is as good as anything on the market, offering over 1.4 Gbps peak transfer rate on the 2×2 card. Reliability was perfect, with the laptop never waking without network, or randomly disconnecting. This years Intel wireless continues to improve on the company's already large lead over the competition.
Acer's Nitro 5 feautres dts:X Ultra audio processing, as well as two speakers firing downward at the front of the laptop.

The speakers themselves are below-average in terms of sound quality, with very little bass, even for a laptop. The stereo separation is excellent though, and the speakers get reasonably loud, hitting about 75 dB(A) measured 1-inch over the trackpad.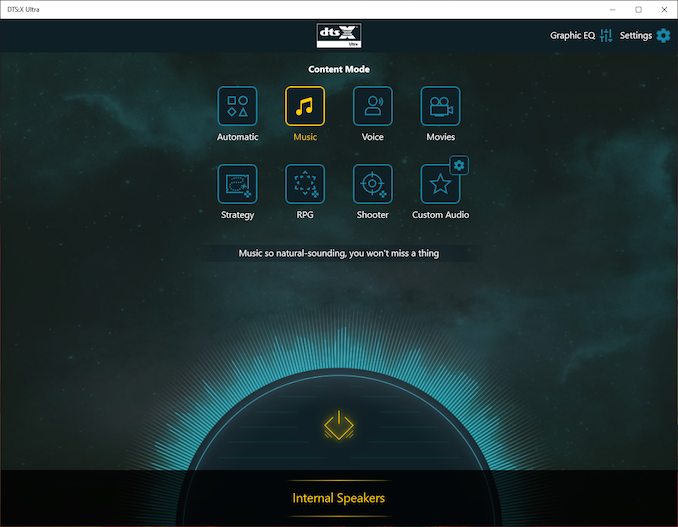 The dts:X software offers some nice functionality, with various pre-canned equalizer settings, as well as a graphical EQ option if you want to tweak it yourself. It is a simple, yet useful program, and is a nice inclusion.
Cooling is a key component of a gaming system, as no one wants to have GPU temperatures spike during a long gaming session causing the GPU frequency to drop. The Acer Nitro 5, as a 15.6-inch laptop, is a mid-sized gaming system, but at 5.3 lbs and almost an inch thick, there is quite a bit of mass and space to facilitate cooling. Acer has intakes placed on the bottom, and four exhaust vents placed on the rear and side of the system. There are two fans, and their speed can be controlled via  Acer's NitroSense software which offers a CoolBoost option to increase the fan speeds for better cooling, at the expense of increased noise.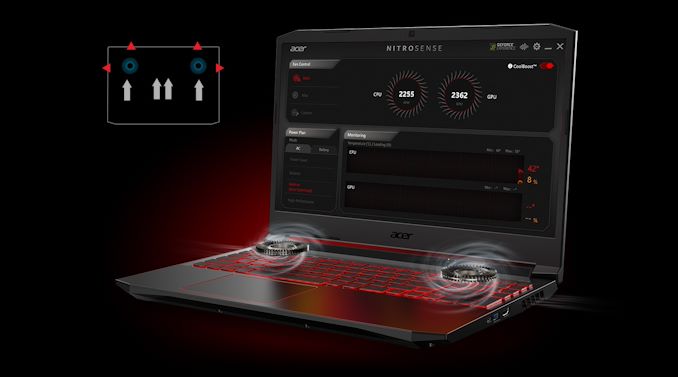 For our testing we left the fan speed set at auto, and enabled CoolBoost. At these settings, at idle the system was completely silent, but under load, noise was a factor with the system hitting about 53 dB(A) measured an inch over the trackpad.
To see how the system responded to load, first it was put under a CPU stress test using AIDA64.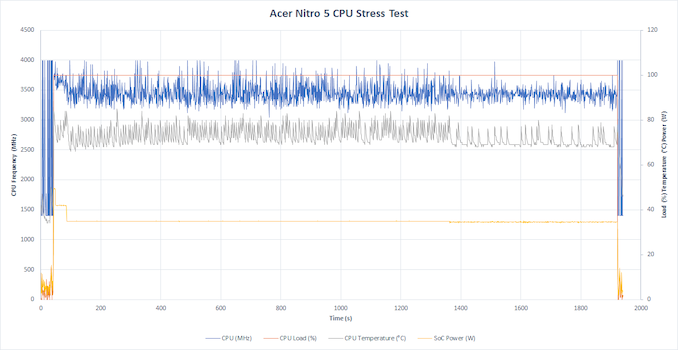 There was some fluctuations in CPU frequency, although not out of what seems normal on Ryzen 4000, with the system hitting 4.0 GHz peak, and a maximum power draw of the SoC of 50 Watts. But once the system moved past its peak power draw, it settled in right on 35 Watts for the duration of the test.
To see how the system handles gaming loads, it was again loaded up with Far Cry 5 for a long gaming session, with the GPU and CPU temperatures logged, as well as other GPU metrics.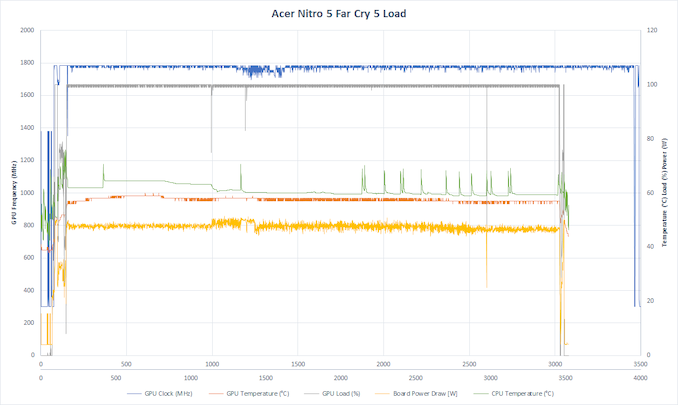 The result was about perfect, with almost flat lines across the graph. There was no reduction in performance even under 100% GPU load over long periods.
The noise levels were not excessive, although like most gaming laptops, under load it is loud enough that you would want to use closed-back headphones if possible. Overall, the cooling system was more than capable of handling the demands of the Ryzen 5 4600H and GTX 1650.
As a low-cost system, it perhaps should not be a huge surprise that the Acer Nitro 5 comes loaded with not just system utilities, but also some software that is less than necessary. The system ships with a Norton Antivirus trial, along with several ad-generating notification systems and a couple of links pre-bookmarked in the browser. None of the software is too difficult to remove if you do not want it, but just be aware that it is there.
There is of course also the necessary utilities like Acer's NitroSense already demonstrated above. Acer Care Center lets you check for device driver updates, and manage support, and works well.
Interestingly, there is the Killer Control Center, even though the default wireless adapter is the Intel AX200, so the Killer software is only there for the Ethernet connection.
It is also very interesting to see both the AMD Radeon Settings application and the NVIDIA GeForce software on the same system, but such is life when you have the Vega integrated GPU coupled with an NVIDIA discrete GPU.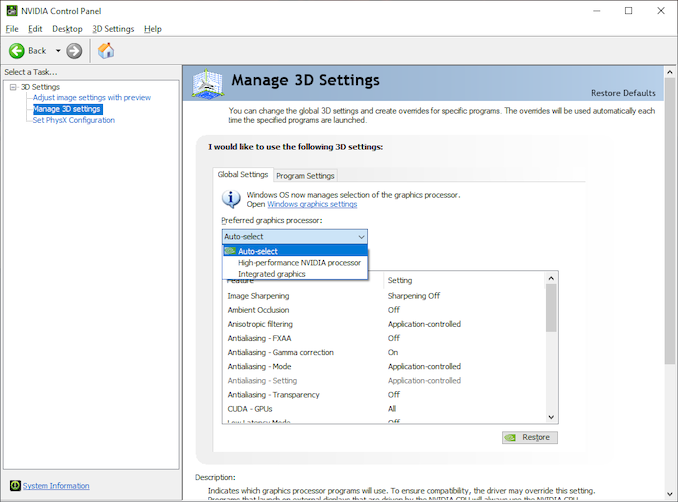 Overall, there is too much software, too much bloat, and too many unwanted pop-ups when the system is first set up. It is generally a sign that Acer needs to increase the margins on the hardware, but with the entry-level price of this system, it is somewhat forgivable, although still not enjoyable for the end-user.
So how much of a gaming laptop can you get for $669.99 USD? It turns out, you can get quite a bit. Acer's Nitro 5, with a refreshed look, and upgraded internals, offers a surprisingly competent gaming system for targeting 1920×1080. The combination of the Ryzen 5 4600H with NVIDIA's Turing-based GTX 1650 can handle most modern games at or near peak settings and still be playable at 1920×1080. On a few of the more demanding games, you may have to sacrifice the graphical fidelity to achieve the best framerate, but considering how little of your wallet you need to sacrifice, that is going to be an easy trade-off for many.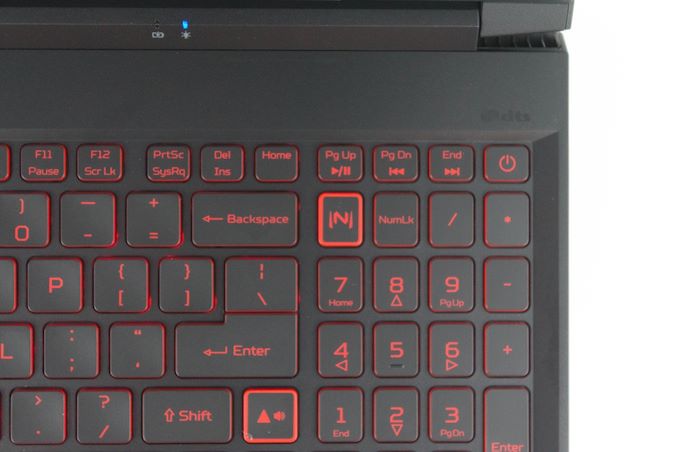 The new Nitro 5 design is a definite improvement over the older model. Gone is the faux carbon fibre, replaced by a cool to the touch metal top and keyboard deck. You will not be fooled into thinking this is a top-tier premium gaming system with the changes, but it does improve the looks and in-hand feel of the Nitro 5.
Acer has long been one of AMD's strongest partners, and that partnership has reaped some large benefits for Acer in 2020. AMD's Ryzen 4000 series laptop processors offer a tremendous value, with strong performance from the Zen 2 cores, and without the burden of the high idle power draw of past designs. Despite this device shipping with "only" the Ryzen 5, it is still a six-core, twelve-thread processor, and offers plenty of power for most tasks. Acer does sell this laptop with the Ryzen 7 as well, with an upgraded GPU, but for a significant price jump, so really the Ryzen 5 is a solid value. Some will lament the lack of dual-channel memory in the Nitro 5, but for a lot of consumers, it is going to be a more cost-effective way to upgrade to 16 GB if necessary, since they can simply add one SODIMM, rather than replace two. Since the Nitro 5 ships with a GPU with its own memory, the dual-channel is less important as well, since that really impacts the integrated graphics more than CPU compute.
NVIDIA's GTX 1650 is a really nice step up as the new entry point on low-cost laptops. In our tests, it was mostly able to maintain the 60 FPS mark in most games, although some tweaking may be required. The real sweet spot for 1080p gaming is the GTX 1660 Ti, but that card is much larger, more power hungry, and far more expensive, so for the cost difference, the 1650 really held its own.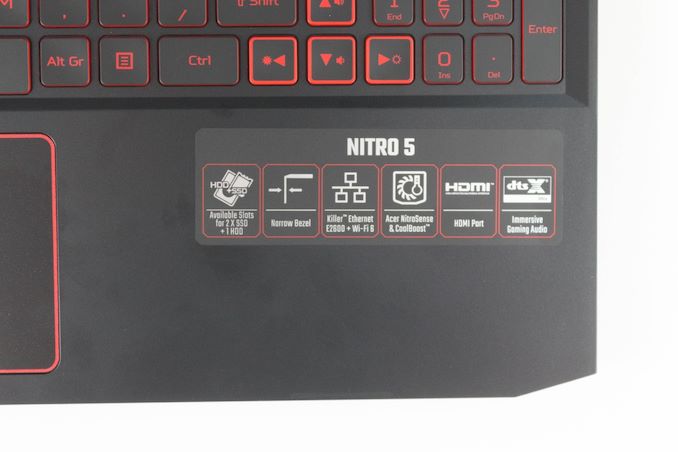 There is really not a lot missing on this system, despite the low entry price. It offers the current best Wi-Fi option, with the Intel AX200 Wi-Fi 6 NIC. There is USB Type-C, although no Thunderbolt support. There is Gigabit Ethernet, if you would prefer to run a wired connection, and there is enough USB to keep most people happy.
If there was a sore spot on the Nitro 5, it would be the less than stellar display. Although a 1920×1080 IPS panel, Acer has cost-cut the backlighting significantly, so the display does not reach even close to the sRGB color gamut. This was a concern on previous models of the Nitro 5 as well, but it has not been addressed. The higher-tier models of this laptop do offer a 144 Hz display, compared to the 60 Hz in the base model, and it is possible it is an overall better display, but it is also possible it offers the same poor backlighting and just a higher refresh rate, so don't count on that fixing anything.
The chassis is nice, but clearly inexpensive, since it is plastic. The display is mediocre at best. But, if you are looking for a gaming laptop and are on a serious budget, the Nitro 5 delivers where it matters. It offers good performance, ships with just enough RAM and storage, and offers the upgradability that is lacking in almost all thin and light notebooks. At $669.99 USD, the Acer Nitro 5 is definitely a great value.