In our series of Best CPU guides, here's the latest update to our recommended Gaming CPUs list. All numbers in the text are updated to reflect pricing at the time of writing. Numbers in graphs reflect MSRP.
Even though we're ever so close to the launch of the new Zen 3 processors from AMD in only a couple of weeks (November 5th), those prices are known, and users who want one of them are already sitting on their money waiting for a purchase. For everyone else, there's the AnandTech CPU Buyer's Guide, October edition.
On the whole, there are two obvious trends in the pricing this month.
Firstly, AMD is more expensive – we're seeing some of the popular models go up in price, which could mean that demand has increased ahead of Zen 3 launch, or stock levels are low. For some models however, price haven't changed much.
Secondly, Intel's 10th Gen Comet Lake is cheaper. We're seeing some of the family showing nice price drops, whereas most of the rest are at least a few dollars cheaper. Contrary to this, previous 9th Gen Coffee Lake processors are more expensive on average, even though they remain more popular than the 10th Gen Comet Lake. Users on those platforms might be upgrading to the best they can before a socket change, or rather prices of Comet Lake motherboards might still not be palatable.
Those looking for a bargain have a few options, whereas those looking for Zen 3 will have to wait just a little bit longer.
In preparation for this article, I go through all the major processor listings on Amazon and Newegg, comparing the best seller lists and pricing compared to the previous month. This is close to 100 processors / 200 prices, and there are always movers and shakers.
Intel at a Glance
Intel is still struggling to make headway on Amazon's top 10 best-seller list. For the second month in a row, we're only seeing one part from Intel even in that top 10 range, and this time around it is the Core i7-9700K, which amazingly has risen from #24 to #7. Despite the rise, the $290 processor is couple of dollars more expensive than our last guide.
The previous top sitter for Intel, the Core i5-9600K, has moved from #10 to #12, sitting at the same price of $200, but the positive point could be that Intel sits higher at #7 this month than it did last month at #10.
The top sitting Intel 10th Gen Comet Lake processor is again the Core i5-10400 at #12, staying steady at $180. A few of these Comet Processors are becoming more popular, with the Core i7-10700K moving from #27 to #16, a couple of dollars cheaper this month at $378.
However, two Comet Lake processors deserve special mention this month for quite drastic price drops.
The Intel Core i9-10900K sits on top of Intel's processor stack with its 5.3 GHz top turbo speed, and trying to find it for sale recently has been difficult or massively overpriced. In previous guides, we've seen prices north of $700 for the retail packaging, or $630 for the OEM versions with a shorter warranty. Because of the difficulty in binning enough 10900K processors, Intel even went as far as launching the i9-10850K to fill that gap which is slightly less aggressive. However, instead of $700 for the Core i9-10900K, we can find it at $550 via a third party seller on Newegg. This is roughly where we expect this chip to be priced when there is plenty of stock around. (By comparison, the Core i9-10850K is $480 this month direct from Amazon for 200 MHz lower.)
The other processor to highlight is the Core i5-10600KF. This is the version of the 10600K that doesn't have integrated graphics, and one would argue that it should be cheaper as a result. The 10600KF hasn't really been easy to find in the US, perhaps just because of the wide range of solutions that Intel offers, but this month we're finding it with a 30% discount, now $260 at Newegg. The regular 10600K, ranked #21 on Amazon's best seller list, is $275 by comparison.
We're also starting to see the Intel Core i3-10100F come to market, which was launched a couple of weeks ago. This part should be an easy four core / eight thread product for under $100 (equivalent to a Core i7-7700K only a few years ago), however stock in the US seems to be sporadic for now. We've found it at $127 at Newegg + $25 shipping from Japan, however the UK has it for as low as £79. It might take another couple of weeks for stock to filter to US retailers, assuming they get any at all – these sorts of parts seem to end up in Japan rather than the US.
Also of note, the Core i3-9100F, which was a great price last month at $78 at #14 on the best seller list, is 13% more expensive this time around at $88, and moves down to #22.
Price Options
[#] is Amazon Best-Seller Position
#
AMD
Price
AnandTech
#
Intel
Price
–
Ryzen 9 5950X
$799
$650+
[30]
Core i9-10900KF
$640
[25]
Ryzen 9 3950X
$710
–
–
–
–
Ryzen 9 5900X
$549
$500-$650
[32]
Core i9-10900K
$550
–
–
–
$450-$500
[26]
Core i9-10850K
$480
[17]
Ryzen 9 3900XT
$455
[29]
Core i9-10900
$470
–
Ryzen 7 5800X
$449
$400-$450
–
–
 
[4]
Ryzen 9 3900X
$440
–
Core i7-10700KF
$410
–
–
–
$350-$400
[38]
Core i9-9900K
$390
[28]
Ryzen 7 3800XT
$380
[14]
Core i9-9900KF
$380
–
–
–
[16]
Core i7-10700K
$378
[9]
Ryzen 7 3800X
$340
$300-$350
[35]
Core i7-10700
$320
[1]
Ryzen 7 3700X
$310
[33]
Core i7-9700KF
$319
–
Ryzen 5 5600X
$299
$250-$300
[7]
Core i7-9700K
$290
–
–
–
[21]
Core i5-10600K
$275
–
–
–
–
Core i5-10600KF
$260
–
–
–
[37]
Core i7-9700F
$260
[6]
Ryzen 5 3600X
$248
$200-$250
–
Core i5-10500
$245
[5]
Ryzen 5 3600XT
$240
–
–
 
–
–
–
–
Core i5-9600KF
$204
[3]
Ryzen 5 3600
$200
[12]
Core i5-9600K
$200
–
–
–
$150-$200
–
Core i3-10400F
$187
–
–
–
[13]
Core i3-10400
$180
[19]
Ryzen 5 2600X
$168
[20]
Core i5-9400
$168
[11]
Ryzen 5 3400G
$145
$100-$150
[18]
Core i5-9400F
$143
[2]
Ryzen 5 2600
$140
–
–
–
[10]
Ryzen 3 3100
$120
–
Core i3-10100F
$127
–
–
–
[15]
Core i3-10100
$115
[23]
Ryzen 3 3200G
$99
$40-$100
[43]
Core i3-9100
$90
–
Athlon 3000G
$99
[22]
Core i3-9100F
$88
–
–
–
–
Celeron G5420
$65
–
–
–
–
Celeron G5400
$65
Prices are the at the time of writing the best from Amazon or Newegg
AMD at a Glance
The best seller list is still laced with AMD's processors, with nine of the top 10 spots going to a variety of Ryzen 3000 and Ryzen 2000 products. The #1 spot this month goes to the Ryzen 7 3700X, moving up one despite being $15 more expensive at $310. The former number one, the Ryzen 5 3600, drops to #3 but is slightly cheaper this month at $200.
What users might find surprising is that the Ryzen 5 2600 is still very popular, sitting at #2, and 5% cheaper this month coming down from $149 to $140. The only real equivalent in Ryzen 3000 is the 3400G, a quad-core APU, at $145 (and #11). This suggests that going for more cores on the Zen+ architecture is preferred over Zen 2.
I will point out one of AMD's biggest drops however in the best seller list: The Ryzen 3 3200G, a fun entry level APU, went from #9 to #23, despite being roughly the same price at $100. The Ryzen 3 3300X still seems void in the US.
The biggest upset for AMD this month is the Ryzen 5 3600X. While it only drops from #3 to #6 on the best-seller list, the price has risen from $209 to $248, which is a considerable 19% jump. Some people might argue that the 5600X around the corner would be a better trajectory for those customers, but the 5600X has an SEP of $299, which is 50% more than what the 3600X was last month. Even without having performance numbers of the new hardware yet, this would be a considerable jump to consider. For $299 today, users could get the 3600XT at $240 with change, or jump to the 3700X for $310. There might also be an argument that the 3600 series recently featured on a popular YouTube channel as 'why is this Amazon's best seller', and hence stock is drained.
AMD Price Options: 3000XT vs 3000X
[#] is Amazon Best-Seller Position
3000XT
AnandTech
3000X
[16]
Ryzen 9 3900XT
$468
Ryzen 9
$430
Ryzen 9 3900X
[5]
[29]
Ryzen 7 3800XT
$384
Ryzen 7
$340
Ryzen 7 3800X
[6]
[7]
Ryzen 5 3600XT
$230
Ryzen 5
$209
Ryzen 3 3600X
[3]
Prices are the at the time of writing the best from Amazon
Either way, it's going to be interesting to see how these prices play out with AMD's new Ryzen 5000 processors. Strictly speaking, just because the new generation is faster, the rest of the processor line shouldn't increase in price because of that halo effect – those parts still perform the same they did. So it will be interesting to see what AMD does with stock levels, and how well they can fill the shelves with the new hardware.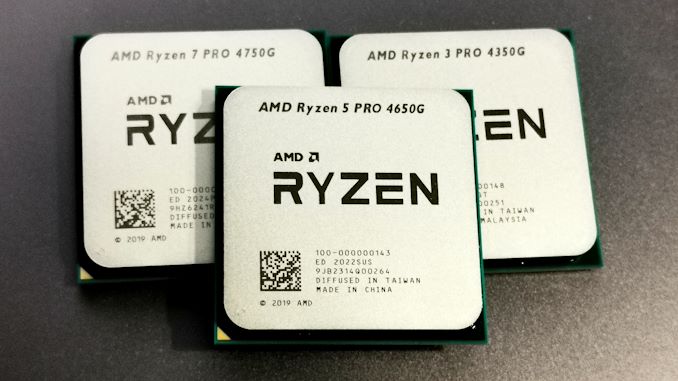 I will make half-a-mention for the Ryzen 4000 series APUs again, which are supposed to be for OEMs and pre-builds only. The top two still seem available as OEM parts on Newegg: $450 for the Ryzen 7 4750G and $320 for the Ryzen 5 4650G. These are 'OEM' parts, which usually means a limited one-year warranty, but based on the sellers location, this may be a caveat emptor situation. I'm not too sure that AMD intends to release these products properly to market, depending on how quickly AMD follows through with its next-gen APU platforms.
Sometimes choosing a CPU is hard. So we've got you covered. In our CPU Guides, we give you our pick of some of the best processors available, supplying data from our reviews. Our Best CPUs for Gaming guide targets most of the common system-build price points that typically pair a beefy graphics card with a capable processor, with the best models being suitable for streaming and encoding on the fly. We consider many factors in our recommendations, focusing mainly on gaming, put also including such considerations as power, future-proofing, and other features like PCIe and motherboard pricing.
AnandTech Gaming CPU Recommendations
October 2020
(Prices correct at time of writing)
Segment
Recommendation
 
AMD
Intel
The $1500 Gaming PC
Ryzen 7 3700X
$310
Core i5-10600KF
$260
The $1000 Gaming PC
Ryzen 5 2600X
$140
Core i5-9400F
$143
The $700 Gaming PC
–
–
Core i5-9100F
$88
The $500 Gaming PC
Ryzen 5 3400G
$145
–
–
Ryzen 3 3200G
$100
The $300 Gaming Potato
–
–
Pentium G4930
$40
Ones to Watch
AMD Zen 3
Intel Tiger Lake 8-core?
To see our Best CPUs for Workstations Guide, follow this link:
https://www.anandtech.com/show/11891/best-cpus-for-workstations
The majority of our recommendations aim to hit the performance/price curve just right, with a side nod to power consumption as well.
AMD Ryzen 7 3700X ($310) or
Intel Core i5-10600KF ($260)
For this month's guide, because the Intel Core i5-10600KF is a real nice price, we're pushing the price bracket back up to the ~$275 range.
The Intel Core i5-10600KF is a six core Comet Lake processor with 12 threads, a base frequency of 4.1 GHz and a turbo frequency of 4.8 GHz, and an all-core turbo of 4.5 GHz. The K means it's overclockable, and the F means that the integrated graphics is disabled, which shaves a few dollars of the cost of the chip compared to the non-F. It's along the same lines as the many generations of Intel 14nm CPUs that have come before it, and with only six cores, it shouldn't be breaching the 125 W barrier too heavily (our 10600K peaked at 131 W), allowing users to get a good cooler but still get great gaming performance.
The AMD Ryzen 7 3700X is the more expensive option at $310, however it is Amazon's #1 best-seller, and that's usually for a good reason: eight cores, sixteen threads, base frequency of 3.6 GHz and turbo of 4.4 GHz, but it only has a TDP of 65 W and peak power consumption in our test of 88 W, with AMD leveraging the 7nm manufacturing from TSMC. It also comes with faster memory support, and PCIe 4.0 when paired with an X570 motherboard, providing some element of future proofing.
Between the two CPUs in our CPU Gaming tests at 1080p Max, it comes out a dead heat with an overall average comparison of 1:1. For individual benchmarks, Intel wins 5:4 with 3 draws, but where AMD wins it tends to win bigger – up to 25% in Civilization 6. Intel's biggest win is 11% on Final Fantasy XV, and remains the cheaper processor. However the AMD will push through any additional non-gaming compute tasks you might run.
AMD Ryzen 5 2600 ($140) or
Intel Core i5-9400F ($143)
In our last guide, we suggested $180-$200 processors for this price point, such as the Ryzen 5 3600X. That processor is now $248, with the Ryzen 5 3600 now in that $200 role. With only $1000 of a full build, this segment should provide a 'good enough' CPU to power a super GPU, and so this time around, due to pricing, we're going to look at different options.
For AMD, I've selected the Ryzen 5 2600, at $140. It is Amazon's #2 best seller, and the reason it's doing well is because at this price point, it's become somewhat of a wasteland for AMD as users have to decide between having integrated graphics or more cores with the Ryzen 5 3400G at $145. With six cores and twelve threads, the Ryzen 5 2600 is still a strong processor and comes with a good in-the-box cooler to allow for more money to spent on other areas of the system. The B-series motherboard market is also very amenable to the Ryzen 5 2600, allowing a focused system more around the GPU than the CPU.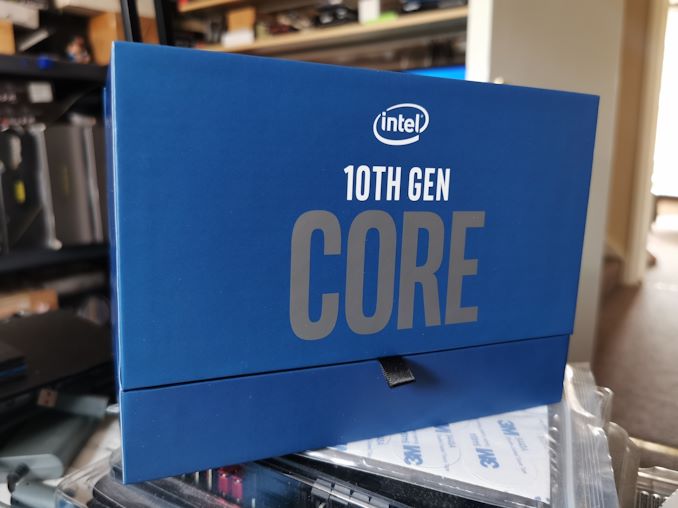 On Intel's side, previously we recommended the i5-10400, which still sits at $180, however the previous generation Core i5-9400F at $143 could arguably offer better value for money. It has six cores but doesn't have hyperthreading, ensuring more consistent performance for gaming threads not having to share cores, and no power loss from an enabled-but-unused integrated graphics. For this build, had it been available at its $99 MSRP, the Core i3-10100F might have been a more interesting option. That might be one to look out for over the next month if it comes to the US.
Intel Core i3-9100F ($88)
For our cheapest build that we'd put a discrete graphics card in, processor options aren't entirely that obvious. Last month, we recommended the 9100F at $78, however it has gone up to $88. The other option was something like the Ryzen 3 3100 at $115, but that is now $120. At that price, the AMD option makes sense if a user wants to pursue PCIe 4.0 later down the road, or can find a cheap A520 motherboard, however compared to Intel's offerings, it doesn't seem that superior.
Despite the price increase, the recommendation is the Intel Core i3-9100F. This quad core processor, with a base frequency of 3.6 GHz and a turbo of 4.2 GHz, easily enjoys the life of what would be a top tier option only three years ago. Found in a bundle with a motherboard and some memory or a cooler, the 9100F would easily slot in to a fun budget gaming system for eSports.
What I really wanted to recommend here was the Core i3 10100F, as would also come with Hyperthreading and shouldn't have been much more in cost to upgrade, but we're still waiting for it to come properly to the US market. When we can get hold of a sample, it's our intention to test it for this market.
AMD Ryzen 5 3400G ($145)
AMD Ryzen 3 3200G ($99)
Crossing down into the $500 system market and we really have gone into APU territory. At this price, users have the choice of an anemic CPU+GPU combo, or combining both into having a good solution with integrated graphics. The APU market is popular with pre-builds at this price, and for gaming, the only real option here is AMD. Intel's integrated graphics options for desktop do not come close.
For this recommendation, we have two AMD processors, depending on how much of the build needs to be CPU.
The Ryzen 5 3400G is AMD's most powerful consumer retail APU, with four Zen+ cores, hyperthreading, and the previous generation Vega 11 graphics, however what makes this less appealing is that the price for the APU has been highly variable. Anything from $125 up to $175 means that for this APU to be worthwhile, it has to be purchased at the right time. For a $500 machine, a Ryzen 5 3400G will allow the user to get some good memory, a nice SSD and motherboard, and hopefully a nice looking case and power supply.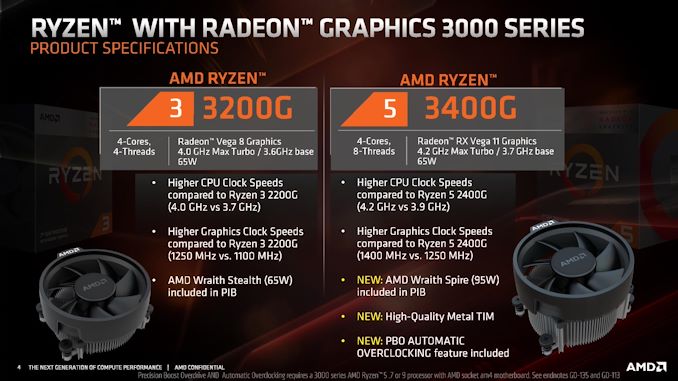 The alternative is the Ryzen 3 3200G, which does not have hyperthreading and only comes with Vega 8 graphics, however is only two thirds of the price. Depending on the games that a user plays, perhaps going for the 3200G and making sure you have a nice set of 16GB DDR4-3600 memory or an SSD is preferable so at least you can get the best out of the graphics, rather than being potentially bottlenecked elsewhere.
Both the 3400G and 3200G will also take a discrete graphics card should the opportunity presents itself.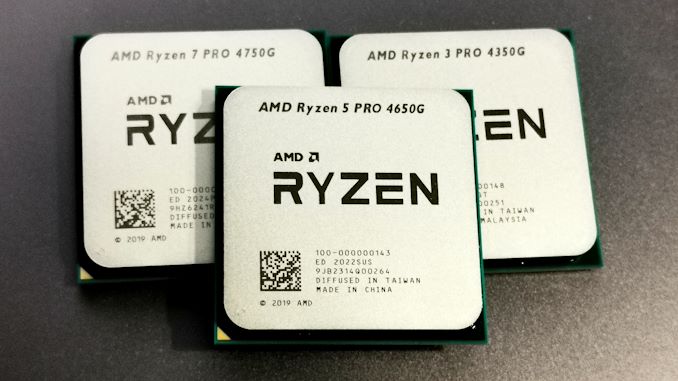 In the last guide, we also recommended the Ryzen 3 Pro 4350G, which we recently acquired for $167 before tax. If you can find one, these are on sale 'OEM' style, which means processor only with a limited warranty – a seller from Hong Kong on Newegg has the Ryzen 5/7 parts, but honoring that warranty might be tricky. Until AMD decides to release these as consumer parts with bundled coolers, the OEM pricing might not be completely worth it. We still have a review coming for you.
Intel Pentium G4930 ($40) – But Only if you REALLY Need It
There's no way around it here – in order to afford the bare minimum on motherboard, case, DRAM, and storage, it doesn't leave much options for a CPU, with probably $50 left at most. In this category we either have a range of Intel dual cores to choose from, or dual-core Athlons for better graphics.
In our last proper recommendation, we suggested users should look at AMD's unlocked 45 W Athlon 3000G, being bundled with a 65 W cooler, was $49, making it very appealing. However this time around the cheapest we can find it is for $99, the same price as the 3200G!. Because the Athlon 3000G is still based on last generation Zen cores, we're not sure what AMD plans to replace it with – perhaps we can get an Athlon 4000G equivalent with Zen 2, however it isn't clear when that will be, what the exact specifications are, or how it would perform.
The only real option here is from Intel. Intel offers the Celeron G4930 at $40, although this is a dual core CPU without hyperthreading and very low end graphics. It doesn't have AVX2, and it runs at a lower frequency to the 3000G. But at this time it really is the only processor under $60.
Intel does have the Comet Lake Celeron G5420 at $65, which sits at #42 on Amazon's top-seller list. Next up the chain is the i3-9100F at $88, however that does not have integrated graphics.
On The Horizon: Zen 3
In the last couple of quarters, we've had launches like Intel's Comet Lake desktop processors, secret APUs, and a wide array of motherboards. Next up would appear to be Zen 3.
AMD has market the date in our calendars, and on November 5th the four new Zen 3 Ryzen 5000 processors will come to market. AMD is promising a lot – performance leadership across the board, +19% IPC gains, and the lead in both single thread and multithreaded performance. On the face of it, these are bold claims made by AMD, and would put the company truly top of the table for performance for the first time in 10-15 years. They are so confident of the raw performance, suggested prices have increased by $50 compared to Ryzen 3000, however AMD still claims performance per dollar wins, with frequencies up to 4.9 GHz. The truth will be in the numbers, and users who have been waiting for Zen 3 will finally get that chance to experience its performance, whatever that might be.

On the Intel side, we are not expecting anything new for the desktop. The desktop platform is still based on 14 nm processors, and the launch of Comet Lake hardware earlier in the year is now the fifth variant of the Skylake design to be launched. Intel has not made a firm commitment as to when we will see 10 nm on the desktop, and all arrows point to the next processor like, Rocket Lake, will still be 14 nm, but with PCIe 4.0. We are expecting those processors sometime in 2020.
What might be on the cards at some point is an 8-core variant of Tiger Lake. We've covered Tiger Lake in detail at AnandTech – this is the latest quad-core mobile processor built on Intel's 10nm SuperFin process. As part of the details on the hardware during Architecture Day, it was clear that Intel would be set to release an eight core version; Intel double confirmed this in mid-September. I suspect that this 8-core processor will be mobile focused in the 45 W to 65 W TDP range, using BGA packaging, however with Xe-LP integrated graphics it seems ripe to be paired with Intel's Xe-LP discrete DG1 graphics card, which we might see in some pre-built offerings. If Intel wants to push Tiger Lake in a big way, then a series of really nice pre-built systems in that $700 market could be very tempting.
Our big CPU reviews for the last 12 months have covered all the launches so far, and are well worth a read.