Solid state storage might not have been the most exciting tech sector to follow in 2020, but it certainly had its fair share of new technologies arriving, consumer-friendly price drops, and a major corporate acquisition deal.
COVID-19 Impact on Supply and Demand
Going into 2020, most analysts were predicting that a shortage of NAND flash memory would develop and drive up SSD prices, especially in the second half of the year. The COVID-19 pandemic upended those predictions. Early on in the pandemic, it was anybody's guess whether supply or demand would be more strongly affected. By the middle of the year, it was clear that the fabs in Asia where most of the world's NAND flash is manufactured were able to weather the pandemic with no significant drop in manufacturing capacity.
The lifestyle shifts to work-from-home and online learning drove some demand for new PCs and increased server capacity for online services, but the broader economic impact of the pandemic largely outweighed those effects and hurt overall demand. The net effect is that, contrary to pre-pandemic predictions, SSD demand is low enough that the NAND flash market has an oversupply and prices are in decline. This is expected to continue through at least the first quarter of 2021 with a 10-15% drop in NAND flash memory prices. The impact on retail SSD prices will be somewhat dulled by the fact that supplies are tight for SSD controllers and some other components, which may push SSD manufacturers to focus a bit more on high-capacity high-end drives, especially datacenter drives.
Gaming Consoles Switch to NVMe
Perhaps the biggest shift in consumer storage this year was the arrival of gaming consoles built from the ground up to take advantage of solid state storage. Consoles generally establish the baseline hardware capabilities that games and game engines are designed to target. For over 15 years, this has meant that AAA games are designed to run off hard drives. Even as SSDs have become prevalent in gaming PCs, it has until recently been unthinkable for a game to list a SSD as part of its minimum system requirements. The PlayStation 5 and Xbox Series X have now raised the baseline storage performance from that of a mechanical hard drive to a NVMe SSD, and game developers are actively encouraged to take advantage that extra performance. Furthermore, the consoles include various other hardware features intended to complement the new console SSDs; we gave you the rundown on those features and their implications back in June.
So far, the console transition to NVMe storage has had little impact on the PC market or PC gaming—but the consoles have only been shipping for a short while, and game developers are still learning how to adapt to the new freedoms granted by fast storage. This console storage transition will be having more influence on PCs over the next few years. Microsoft is already working to adapt their new Xbox storage APIs into DirectStorage for Windows, and it won't be long before most AAA games require SSDs. For gaming PCs, including a NVMe SSD will be just as important as including a discrete GPU.
Read More: Storage Matters: Why Xbox and Playstation SSDs Usher In A New Era of Gaming
PCIe 4.0 Gaining Momentum
The transition to PCIe 4.0 started in the middle of 2019 with the debut of AMD's Ryzen 3000 processors. On the storage side of that transition, SSD controller vendor Phison led the way with their E16 controller. But in 2019 and most of 2020, PCIe 4.0 storage remained a niche market segment, only available on new high-end desktops and with SSDs that offered only marginal performance improvement over the best PCIe 3 drives but carried much higher price tags.
All of Phison's competitors decided to take their time with the PCIe 4.0 transition; 2020 was supposed to be the year that a new wave of gen4 SSD controllers arrived, fabbed on more advanced processes like TSMC's 12nm FinFET so that the full performance of a PCIe 4 x4 interface could be reached within a reasonable power budget. The COVID-19 pandemic contributed to delays here as well, and many new SSDs previewed at CES at the beginning of the year arrived late or are still missing. Samsung and Western Digital delivered their new in-house gen4 NVMe SSD controllers during the second half of the year, and SSDs using Phison's E18 controller hit the market at the end of November, just in time to catch the tail end of the holiday shopping season. Silicon Motion's entry-level gen4 controller also arrived this fall, but their high-end contender is not yet available. Planned gen4 controllers from Marvell are absent (though their NVMe controllers have all but vanished from the consumer SSD market anyways), and Innogrit's high-end NVMe controller only just showed up this week in the ADATA Gammix S70 that is currently sampling and should hit the shelves soon.
So while the PCIe gen4 transition is going more slowly than planned, it is still happening. PCIe 4.0 support is finally starting to creep into mobile platforms, which will help make it more mainstream. The PCIe 4.0 SSD options available today are significantly better than the first wave drives that were available a year ago, and the gen4 SSD market is starting to see enough competition to keep prices in check. PC gamers also have plenty of choices for high-end SSDs that match or exceed the performance of what's in the new gaming consoles.
Related Reading:
SATA In Decline
The SATA SSD market has been stagnant for several years, with very few major announcements of new SSD models or controllers. Most SSD vendors have taken to quietly updating the NAND inside their existing SATA models, so familiar names like the Crucial MX500 (launched in December 2017) are still nominally current. Samsung launched the 870 QVO with their second-generation QLC NAND, but the current EVO and PRO SATA models are still the 860 generation.
This year, it is clear that the SATA SSD market isn't just boring, but actually dying. When PC OEMs finally started to drop hard drives even from their low-end machines, they replaced them with NVMe SSDs rather than SATA. There are plenty of options for low-end NVMe SSDs, and they pretty much all outperform SATA SSDs for typical real-world use. The capacity advantage for SATA SSDs is now mostly gone: there are 8TB QLC and 4TB TLC options for both SATA and NVMe, though massive NVMe SSDs do still carry a price premium over SATA SSDs of similar capacity. Some major SSD vendors have already EOL'd their client OEM SATA SSDs. The SATA SSD market is collapsing in the same direction as the hard drive market: the list of use cases where SATA SSDs make sense is shrinking, and looks a lot like the list of use cases where hard drives still make sense. The biggest lingering advantage SATA SSDs have going forward is that a desktop or NAS usually has more SATA ports/bays than M.2 NVMe slots.
Since mechanical hard drives won't be disappearing in the foreseeable future, SATA SSDs can also stick around for a very long time, but increasingly as niche products rather than reasonable candidates for primary storage in a consumer PC. We don't recommend SATA SSDs for new PC builds, there aren't many PCs left that need a SATA SSD for an aftermarket upgrade, and SSDs in general are still too expensive to replace hard drives for consumer NAS and backup duty.
QLC NAND Enables 8TB Consumer SSDs
QLC NAND flash hit the market in 2018. This stores four bits of data per physical memory cell, rather than the three bits per cell of more mainstream TLC NAND flash memory. The general situation for consumer QLC SSDs isn't much different today from when they first showed up. Compared to TLC, QLC NAND is a bit cheaper, but sacrifices performance and write endurance. Those tradeoffs can make sense for an entry-level SSD, but it's not the only way to make a good affordable SSD. DRAMless SSDs with TLC NAND are still competitive at capacities up to 1TB, especially when using NVMe rather than SATA.
We're now two or three generations into the QLC era and QLC is making some inroads to the market, but it definitely isn't taking over—not even for entry-level consumer SSDs. Aside from product refreshes that replaced 64-layer QLC with 92/96L QLC, most of the action has been the introduction of new QLC product lines based around the Phison E12S NVMe controller, and a few using the Phison E16 PCIe 4.0 NVMe controller. These drives have raised the bar a bit for consumer QLC performance since they use 8-channel controllers rather than the 4-channel controllers used by most other low-end NVMe SSDs, and those controllers have also helped enable several 8TB M.2 NVMe products.
There are some indications that in 2021 we may see significant adoption of QLC by PC OEMs. So far, they have been wary of using QLC SSDs in part because they have to cover them as part of the whole system's warranty. Consumer QLC SSDs are no longer an unproven novelty, and OEMs can now secure multiple sources of QLC client SSDs. Uptake of QLC by PC OEMs may complicate the laptop buying process for consumers trying to avoid QLC drives, but on the other hand it should help finish pushing mechanical hard drives out of prebuilt PCs.
Related Reading:
Intel and Micron Put Their Shared Past Behind Them…
In 2018, Intel and Micron decided to end their long-running memory partnership, going their separate ways first for NAND flash development after their 96-layer node, and then for 3D XPoint memory after completing development of its second generation. The split was completed in 2019, and in 2020 we saw the first post-divorce developments from both players. Intel has introduced 144-layer 3D NAND as their follow-up to the 96L generation, with a variety of consumer and enterprise SSDs announced earlier this month.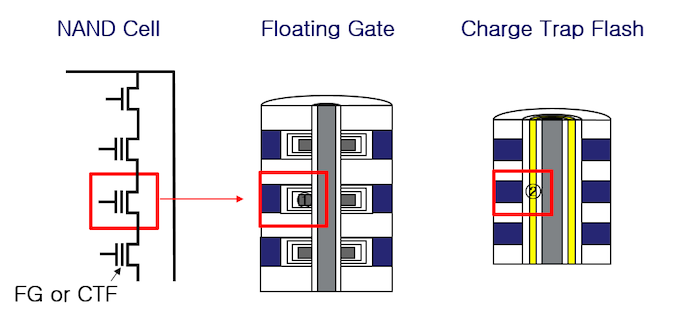 Micron used the breakup as the opportunity to make more significant changes, switching their 3D NAND design from a floating gate memory cell to a charge trap cell design with a replacement gate manufacturing process, much more similar to what everyone other than Intel has been doing since the transition from planar to 3D NAND. Micron initially made this switch with a 128L generation that was used as a low-volume trial, and quickly followed up with their recent announcement of a 176L generation. That has ostensibly already started shipping in some products, but Micron won't identify them and their 176L NAND won't really begin to have an impact on the SSD market until well into 2021.
… And Intel Makes a New Deal
After ending the Micron partnership, Intel's NAND and SSD business was the odd man out in the industry. They're the only player focused on 3D floating gate designs, and their product line is very strongly focused on the enterprise/datacenter SSD market, with consumer SSDs as more of an afterthought. They are also putting far more of an emphasis on QLC NAND than any other player in the SSD market: in May, they even confirmed that they would not be releasing any more consumer SSDs with TLC NAND. Some of this QLC focus is an attempt to promote their 3D XPoint-based Optane products for fast tier storage, but the fact remains that Intel's newly independent 3D NAND business is relatively small and specialized within the NAND industry.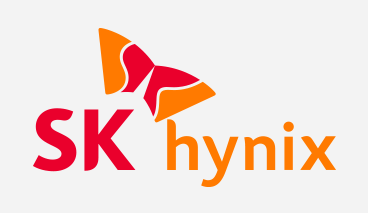 Given its new station in the market, it isn't too surprising that Intel's NAND business became the next acquisition target. In October, SK hynix and Intel announced a deal for SK hynix to purchase Intel's 3D NAND business and their NAND-based SSD product lines, leaving Intel with their Optane products as their only storage offerings. This acquisition will be an unusually long, drawn-out process with the final part of the transfer planned for March 2025. Once the deal gets regulatory approval (expected sometime in 2021, probably later in the year), SK hynix will get ownership of Intel's NAND fab and the SSD business and IP (eg. Intel's NVMe SSD controller designs). Meanwhile, Intel will retain their 3D NAND IP and the employees operating their NAND fab. The NAND IP and fab employees will be transferred at the end of the process, in 2025.
Neither company has commented on how this acquisition will affect their long-term technology roadmaps, but it's easy to imagine that by 2025 Intel's 3D floating gate may be a dead-end and SK hynix would switch the Intel fab in Dalian, China over to whatever charge trap based process the rest of the SK hynix NAND fabs are using at the time. Even though the differing 3D NAND technologies may not be practical to maintain in the long run, in the short term the SK hynix and Intel SSD businesses are quite complementary. They're two of the smaller players in the NAND market, but with relatively little overlap. SK hynix sells twice as many SSDs as Intel but lower total capacity in GB, so clearly SK hynix will be acquiring a much larger presence in the high-capacity enterprise SSD market—which is also the most profitable market segment. Meanwhile, SK hynix has recently become much more competitive for consumer SSDs after their first several generations of 3D NAND made them a perennial also-ran in the SSD market and left their 3D NAND mostly relegated to mobile (smartphone) storage and memory cards. The combined SK hynix + Intel NAND business is on track to have the second-largest market share in the NAND market.
Related Reading: SK Hynix to Buy Intel's NAND Memory Business For $9 Billion
More Layers And Faster Interfaces
As the major flash memory manufacturers roll out new generations of 3D NAND flash memory, we have seen some of both diversification and convergence of the technologies implemented by the various manufacturers. The layer counts for 3D NAND are starting to get a bit confusing: At the 96-layer node, Samsung stuck out with just 92 layers—they came up a bit short because they managed to avoid using string stacking in their manufacturing process. Beyond 96 layers, the roadmaps for layer count are all over the place. Kioxia and Western Digital announced 112L NAND at the beginning of 2020, but we haven't seen it hit the market yet. Intel jumped from 96L to 144L. Micron made a short stop at 128L before continuing on to 176L. SK hynix started shipping 128L and has also recently announced 176L. Samsung's 128L debuted with the 980 PRO. It takes months to over a year to get from a NAND manufacturer announcing a new node to sampling that NAND to ramping up production enough for it to appear in mass-market consumer products, so most of the consumer SSDs on the market today are still 96L models with some of the newer drives using 128L NAND. In 2021 we should see someone announce 200+ layer 3D NAND, but new products hitting the shelves will feature anywhere from 112 to 176 layers.
The layer count for 3D NAND is a decent indicator of each generation's density cost per GB, but another metric is becoming important: IO performance per die. The speed of IO between the NAND flash and the SSD controller can be a limiting factor for the drive's overall performance. For a PCIe 3.0 x4 SSD with an 8-channel controller, running each channel at 533MT/s with TLC NAND was sufficient to provide the ~3.5GB/s sequential read performance that saturates the PCIe link. Now that drives are moving to PCIe 4.0, both NAND and SSDs need to support higher IO speeds. There's also a trend toward using four-channel controllers for mainstream consumer SSDs and reserving 8-channel controllers for high-end consumer and entry-level datacenter drives, and this is also driving a need for higher IO speeds. We're now seeing most PCIe 4.0 SSD controllers supporting 1.2GT/s to 1.6GT/s IO speeds, with the latest NAND generations offering similar speeds. This big jump in per-die performance is how the SK hynix Gold P31 with a 4-channel controller was able to match the performance of other PCIe 3.0 SSDs with 8-channel controllers, while using far less power. NAND IO speeds will probably stall again for a generation or two after PCIe 4.0 goes mainstream, until PCIe 5.0 or later starts to catch on in the storage market.
Related Reading:
3D XPoint and SLC NAND Remain Niche Technologies
At the very high end of the SSD market and almost exclusively for top of the line enterprise SSDs, there are memory technology options aside from the QLC and TLC NAND used in mainstream SSDs. 3D XPoint memory is an alternative to NAND flash memory, and was developed by Intel and Micron. Micron has technically commercialized 3D XPoint with their limited-release X100 SSD, but otherwise Intel's Optane products are almost synonymous with 3D XPoint memory. Intel's first product to use second-generation 3D XPoint memory was formally announced earlier this month: the Optane SSD DC P5800X, replacing the first-generation P4800X. Intel has actually been sampling this for months, and they have let some independent performance numbers slip out that back up their impressive performance claims—but we still don't have a good idea when to expect widespread availability, or what pricing is like. Intel's other Optane products are still using the first-gen 3D XPoint memory, including the second generation of Optane DC Persistent Memory DIMMs that are usable with Cascade Lake and Ice Lake Xeons.
After Intel launched 3D XPoint memory, Samsung responded by bringing back SLC NAND flash memory in the form of their Z-NAND, a latency-optimized 48L 3D SLC NAND. We haven't heard anything new on that front since the 983 ZET two years ago, but Toshiba (now Kioxia) eventually announced their own low-latency 3D SLC memory: XL-FLASH. That memory started sampling this year and is starting to find its way into niche high-end enterprise SSDs from several brands. We have a sample of the DapuStor Haishen3-XL H3900 on our enterprise testbed.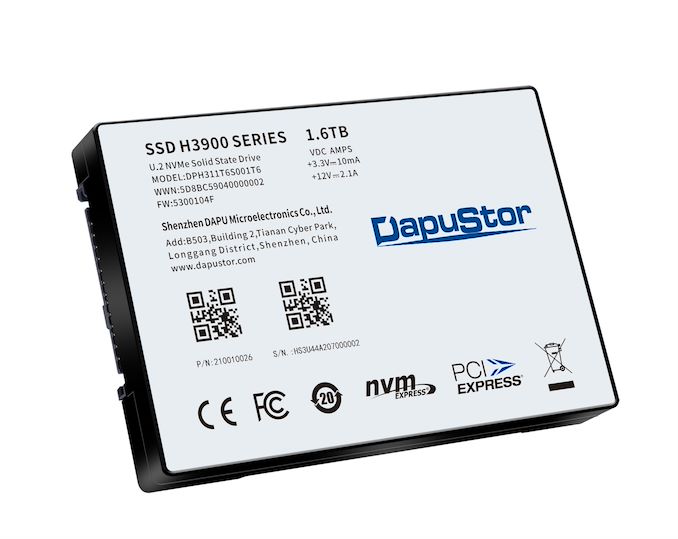 These high-end memories may sound like they offer exciting possibilities for high-end storage, but their impact on the market has been limited and very little has changed in the past year. Everyone is finding 3D TLC NAND to be fast enough for almost every purpose, and the niche for faster-than-TLC storage options will remain tiny. There are no revolutionary new memory technologies poised to shake up the market in the near future.
Related Reading:
NVMe 2.0: Coming Soon, And Already Partly Here
Work has been underway for over a year on version 2.0 of the NVMe specification, but despite the major version number bump it won't be bringing much revolutionary new technology. Instead, the spec is being reorganized to split it into more digestible components with separate documents for PCIe transports and NVMe over Fabrics transports, and different documents for each command set. The NVMe Working Group has been trying to ratify and publish new features without waiting to bundle them all up in the big spec releases, so we already have specs for two new command sets aside from the familiar hard drive-like block storage command set: Zoned Namespaces (ZNS) and Key-Value Namespaces. We covered the ZNS spec in depth earlier this year. It represents a significant change in the abstraction layer between flash memory and application software and allows software to structure its IO patterns in a much more flash-friendly manner, enabling better endurance and performance and lower hardware costs. The SSD industry has been exploring options along these lines for quite a while, including with several proposals for Open-Channel SSDs. With the ZNS spec, it looks like they have finally settled on the right balance for exposing the underlying hardware details without requiring too much software complexity, and lots of companies in the enterprise storage space are on board. Western Digital was the first to announce a ZNS SSD as a commercial product with their Ultrastar DC ZN540.
The other new command set—for Key-Value SSDs—is a subject we haven't covered in as much detail. Conceptually, it's pretty simple: instead of providing the traditional block storage interface with 512-byte or 4kB sectors, the SSD allows reading variable-length values identified by keys rather than logical block addresses (LBAs). This adds only a tiny bit more complexity to the Flash Translation Layer of a typical enterprise SSD, but allows it to offload almost all of the functionality of a key-value database store like RocksDB. As with ZNS SSDs, KV SSDs require significant changes to host software, but in turn offer benefits to performance and endurance. The KV SSD concept doesn't seem to be getting as much interest across the industry, but having it standardized opens the door to wider adoption.
Both of these major new NVMe features are at least initially going to be almost exclusively used by the major hyperscale cloud computing companies, because of the scope of software modifications required. As the necessary modifications roll out to common server application software, these storage features may catch on more broadly in the server market, but there's no easy path for them to make their way into the consumer storage market.
Related Reading: