It's been a couple of months now since Google announced the Pixel 5 – Unfortunately we didn't quite get to a timely review of the device due to other important industry coverage. Today I wanted to revisit the phone in a briefer format review, revisiting some important aspects of the phone such as performance, battery life, and add a few comments about the camera capabilities.
The Pixel 5 is a change of tactic for Google, with the company opting to go the route of a lower-cost "premium" or high mid-range component configuration, rather than setting up the Pixel 5 as an all-out flagship phone. Given the company's product release cadence over the years, always releasing new phones towards the end of the year, just around the corner of the spring next-gen releases. This schedule had always been a disadvantage for Pixel flagships, so maybe Google's change of strategy here to go for the mid-range is a more sensible approach.
2020 Google Pixels
 
Pixel 4a
Pixel 4a (5G)
Pixel 5
SoC
Snapdragon 730G

2x CA76 @ 2.2GHz
6x CA55 @ 1.8GHz

Adreno 618

Snapdragon 765G

1x CA76 @ 2.4GHz
1x CA76 @ 2.2GHz
6x CA55 @ 1.8GHz

Adreno 620

DRAM
6GB LPDDR4X
8GB LPDDR4X
Storage
128GB UFS 2.1
128GB
128GB
Display
5.81″ OLED
2340 x 1080 (19.5:9)
6.2″ OLED
2340 x 1080 (19.5:9)
6.0″ OLED
2340 x 1080 (19.5:9)

90Hz

Size
Height
144.0 mm
153.9 mm
144.7 mm
Width
69.4 mm
74.0 mm
70.4 mm
Depth
8.2 mm
8.2 mm
8.0 mm
Weight
143 grams
168g (sub-6)
171g (mmWave)
151g
Battery Capacity
3140mAh (typical)

​18W Fast Charging

3885mAh (typical)

​18W Fast Charging

4080mAh (typical)

18W Fast Charging

Wireless Charging
–
–
Yes
Rear Cameras
Main
12.2MP 1.4µm Dual Pixel PDAF
f/1.7 77° lens with OIS
Telephoto
–
–
–
Wide
–
16MP 1.0µm

f/2.2 107°
Ultra-Wide Angle

Extra
–
–
–
Front Camera
8MP 1.12µm
f/2.0 84° lens; fixed focus
I/O
USB-C
3.5mm headphone jack
USB-C
Wireless (local)
802.11ac Wave 2 Wi-Fi
Bluetooth 5.0 LE + NFC
Cellular
Snapdragon LTE
Integrated X15

(LTE Category 12/5)
DL = 600Mbps
UL = 150Mbps

Snapdragon 5G
Integrated X52

(LTE Category 18/13)
DL = 1200 Mbps
UL = 150 Mbps

(5G NR Sub-6 + mmWave*)
DL = 3700 Mbps
UL = 1600 Mbps

*excludes non-mmWave model of 4a(5G)
*excludes mmWave in non-US markets

Other Features
Dual Speakers
Dual Speakers
Dual Speakers
IP68 Rating 
Dual-SIM
1x nanoSIM + eSIM
Launch Price
$349 / 349£ / 349€
 
$499 / £499 / €499
$599* (mmWave)
$699* / £599 / €629
 
Starting off with the SoC, as we've discussed it over the last few months, the big difference for the new Pixel 5 is that it comes with a "premium" range Snapdragon 765 chipset from Qualcomm, rather than using the contemporary Snapdragon 865 flagship SoC. This is undoubtedly a cost-cutting measure for Google to be able to achieve this new price point of $699 / €629.
The SoC should still be plenty performance for every-day usages thanks to the two Cortex-A76 big cores, with one of them clocking up to 2.4GHz and the other one at 2.2GHz, however it's still going to be a notable downgrade compared to the flagship SoCs which employ both newer CPU cores as well as clocking them higher. The SoC's Adreno 620 GPU is also going to be a key factor in the general performance of the Pixel 5, making some big gaming performance compromises that we'll cover in more detail in the GPU section.
Google dons the Pixel 5 with 8GB of LPDDR4X memory and a singular storage option of 128GB, without any expandable storage.
The Pixel 5's front design adopts the similar uniform bezel design introduced with the lower-cost Pixel 4a, and is a departure from the chin and forehead style of the previous generations, also avoiding the usage of odd camera notches. Instead, we have an in-screen camera cut-out in the top left corner, which works quite well. It's definitely a much more modern design that we've seen in previous generation Pixel phones.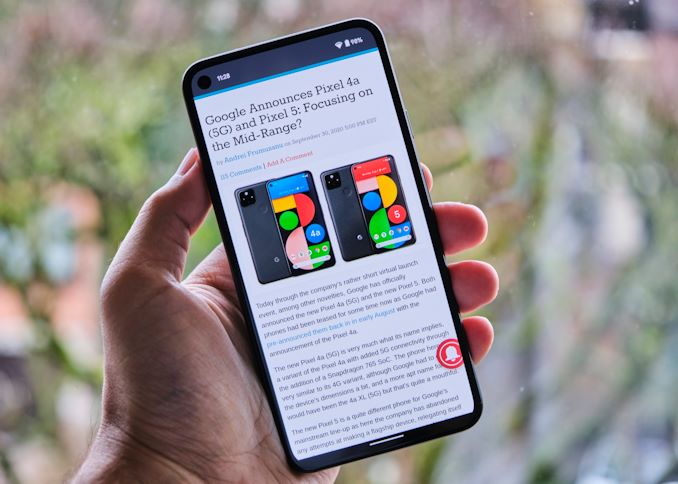 The actual display is a 2340 x 1080 OLED screen with a 90Hz refresh rate. This year, I've not seen any issues with the display panel as it's quite high quality even though the specifications aren't exactly up to par with 1440p 120Hz competitors.
At 6.0" diagonal and only 70.4mm phone width however, the 1080p resolution isn't an issue as the pixel density is very viable.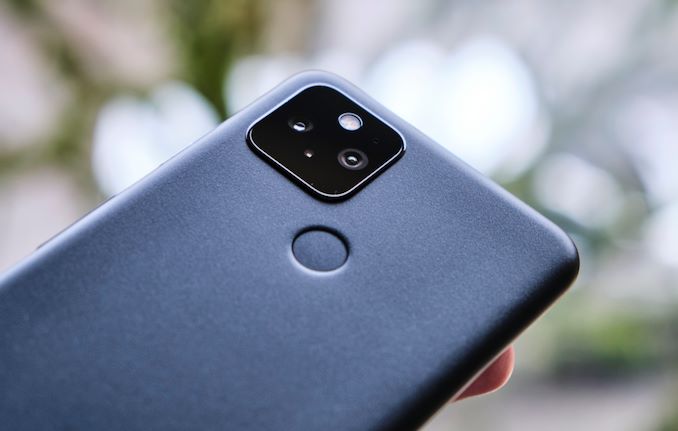 The camera setup on the Pixel 5 is quite simple, but Google made some important changes in the secondary module compared to last generation, replacing the dedicated telephoto module with an ultra-wide camera. It's always possible to pinch-to-zoom to get closer to your subject (although with quality drop), however it's not possible to pinch out to get a wider field of view if you don't have the camera hardware for it. This was a large criticism of the previous generation Pixel phones as they had been the only relevant devices in the market not actually using a UWA module. The camera here is a 16MP 1.0µm unit with an f/2.2 aperture and a 107° FoV – not the widest out there, but still plenty competitive and very usable.
The main camera module continues to be a 12.2MP 1.4µm sensor module with f/1.7 optics and OIS – it's the same module we've seen in the Pixel 4 and an overall camera formula we haven't seen changed in many generations of Pixel phones. Google this year advertised improvements in the HDR algorithms – although you can't say that the overall camera experience is as ground-breaking as it was a few years ago.
The one regard where the Pixel 5 really differentiates itself from almost any other contemporary phone in the market is its build materials and build-quality. Unlike the usual glass sandwiches of recent years, the Pixel 5 uses an aluminium unibody. It's not naked aluminium as it has a special plastic coating on it, which gives it a grippy feel, but also isn't exactly the same as a full plastic phone.
The special thing about the aluminium body is that Google still managed to employ wireless charging though a cut-out in the frame, which of course is invisible to the user due to the plastic coating on top of it.
Generally, I found the design of the Pixel 5 to be pretty good and it had excellent ergonomics. It's very rare to have good small phones nowadays, and at only 70.4mm width and 151g weight, the Pixel 5 does quite well to address this part of the market. Google opted not to release a Pixel 5 XL this year, so you don't really have a choice if you prefer a larger variant of the phone – you'd have to go with the Pixel 4a XL, or another competitor device.
The performance of Pixel phones has historically always been quite excellent due to Google's focus on providing an optimised software stack on top of the provided hardware. For the Pixel 5, this is also the case, and is actually more important than ever given the phone's not-quite-flagship SoC specifications. We've seen other Snapdragon 765 throughout last year – some were good, but others didn't quite feel as responsive, so let's see how the Pixel 5 fares.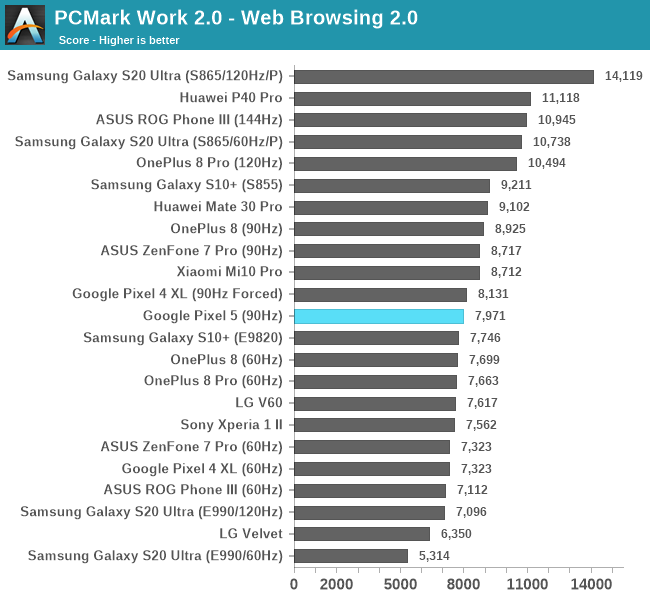 We're starting off with PCMark's web browsing test. In general, this test is more about a phone capability to maintain smooth animations without frame-drops, as most devices nowadays are frame-rate limited and bunch together in the charts depending on their refresh rates, with a few exceptions of some devices which have aggressive DVFS and scheduler settings.
The Pixel 5 here does well and ends up in the middle of the pack. It's actually a good showing and doesn't reveal that the phone has weaker hardware as some other Snapdragon 865 phones perform quite similarly.
The writing sub-test here does however showcase that the Pixel 5 uses inferior hardware. The test is amongst the most important in the PCMark suite as it has more heavy workloads which are more representative of general device performance and responsiveness. The Pixel 5 performs similar to the LG Velvet, which doesn't come as a surprise as both have the same SoC. This is notable below the pack of flagship SoC devices out there.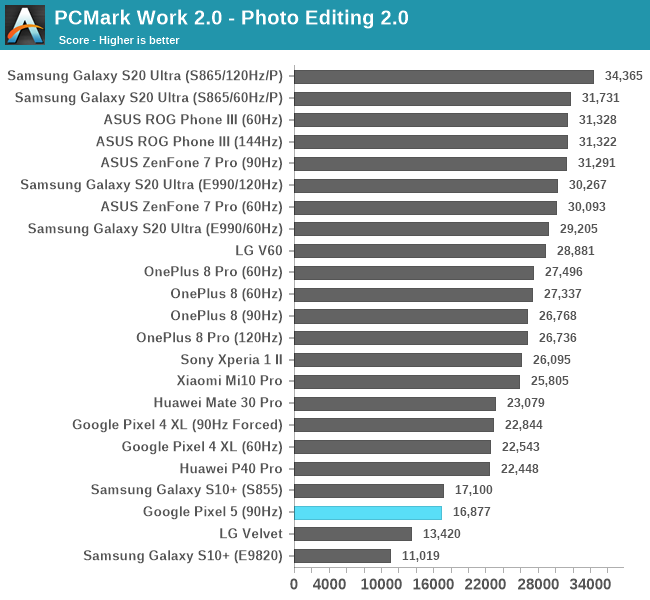 The photo editing test is accelerated via Renderscript libraries, and the weaker GPU of the Snapdragon 765 also comes into play as it doesn't have the computational throughput of its bigger siblings.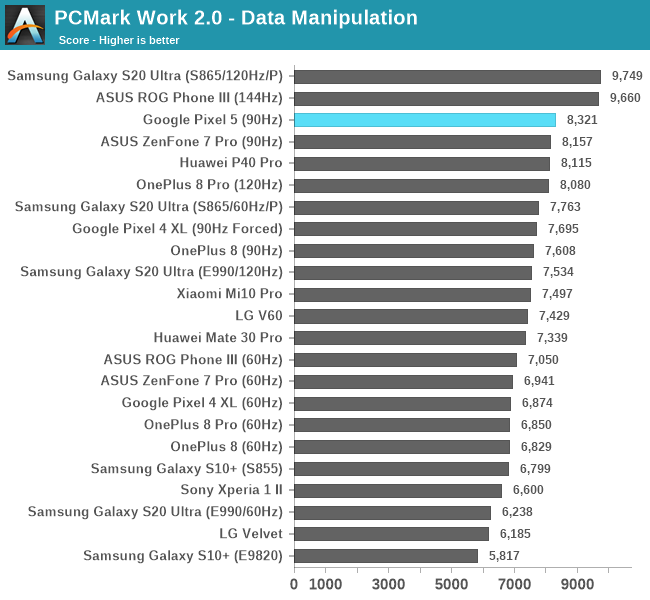 The data manipulation test is heavily animation bound and has a large single-thread component. We've seen this test to be quite sensitive to the way the CPUs are scheduling things around and some devices perform better in the test depending on their software tuning of the scheduler and DVFS algorithms. The Pixel 5 actually fares very well here, which is no surprise given Google's attention to detail of such things.
In the overall performance score of PCMark, the Pixel 5 fares adequately, and actually quite ahead of the LG Velvet, thanks to its better software tuning, but does fall behind flagship competition, including last year's Pixel 4.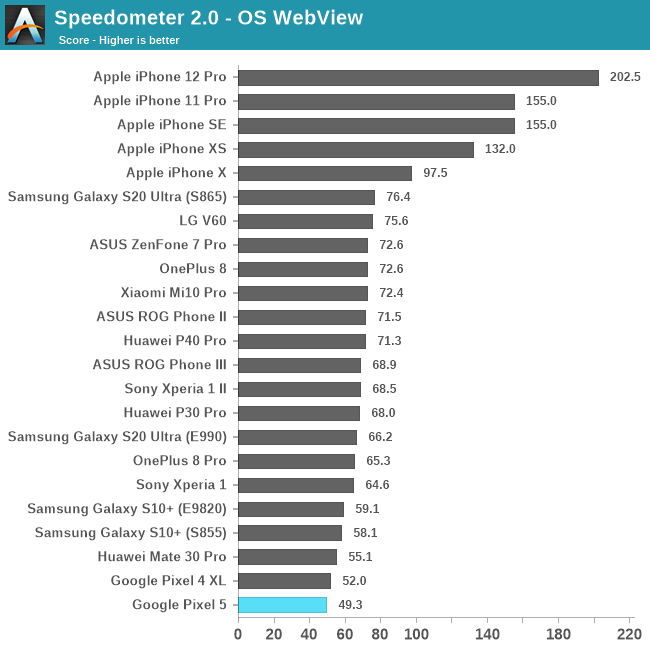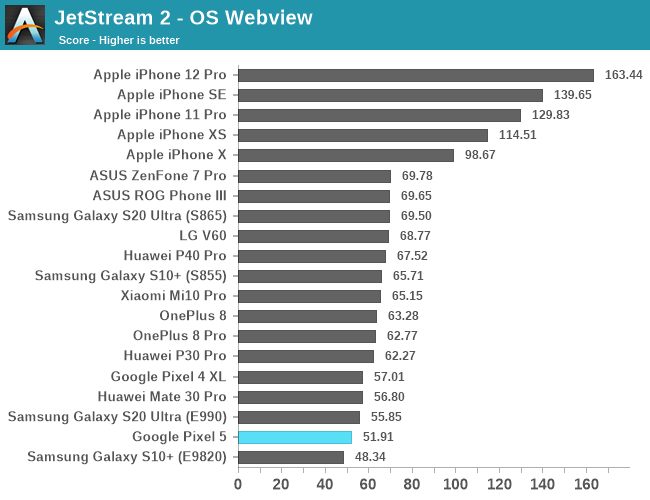 In the web-browsing tests, including both the JavaScript workloads as well as the more general purpose WebXPRT, the Pixel 5 falls to the bottom of the charts. This is unfortunately just a hardware disadvantage of the rather weaker CPUs of the Snapdragon 765.
Overall Performance & Experience
Overall, in subjective device experience, the Pixel 5 still remains a very snappy and responsive phone. There's a bit of a contradiction here as how to describe the phone – on one hand, Google's excellent software tuning means that there's very little lag for the phone, however the device's lack of more computational power does however show up if you're doing any heavier workloads, and here, it does become noticeable that it's not as powerful as other devices which employ flagship SoCs.
The most interesting comparison here is against the Pixel 4 with the Snapdragon 855 – the predecessor device many times actually does outperform and feels more performant than the newer Pixel 5, a reminder that there is quite a difference in this year's new product category that Google is aiming the phone at.
One larger negative of using a lower-end SoC such as the Snapdragon 765 versus a flagship design, is the fact that Qualcomm's Adreno GPU here is actually significantly weaker than you'd expect the "one tier" lower status of the SoC. The Adreno 620 is actually significantly smaller and lower performance compared to not only previous generation flagship SoCs, but actually even flagship SoCs even a few generations old. Last year we had seen the LG Velvet perform more like a Snapdragon 845 device, lagging substantially behind the competition. Let's see how the Pixel 5 performs: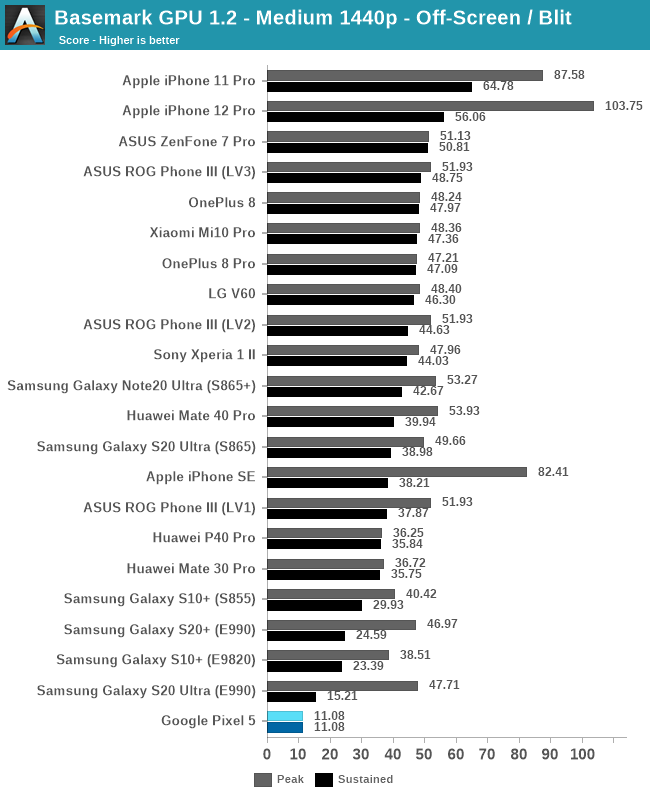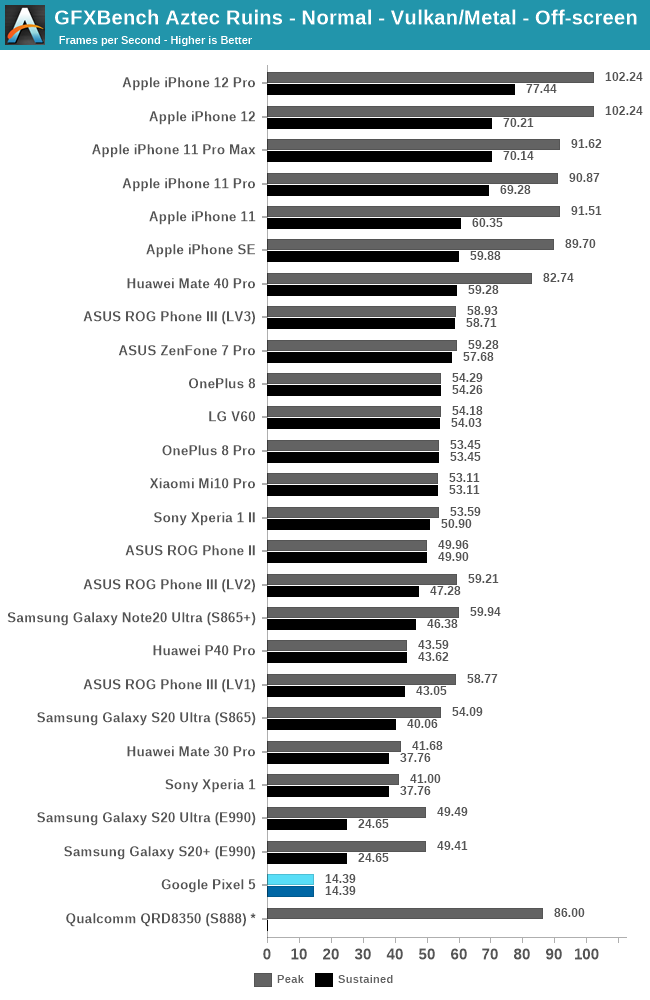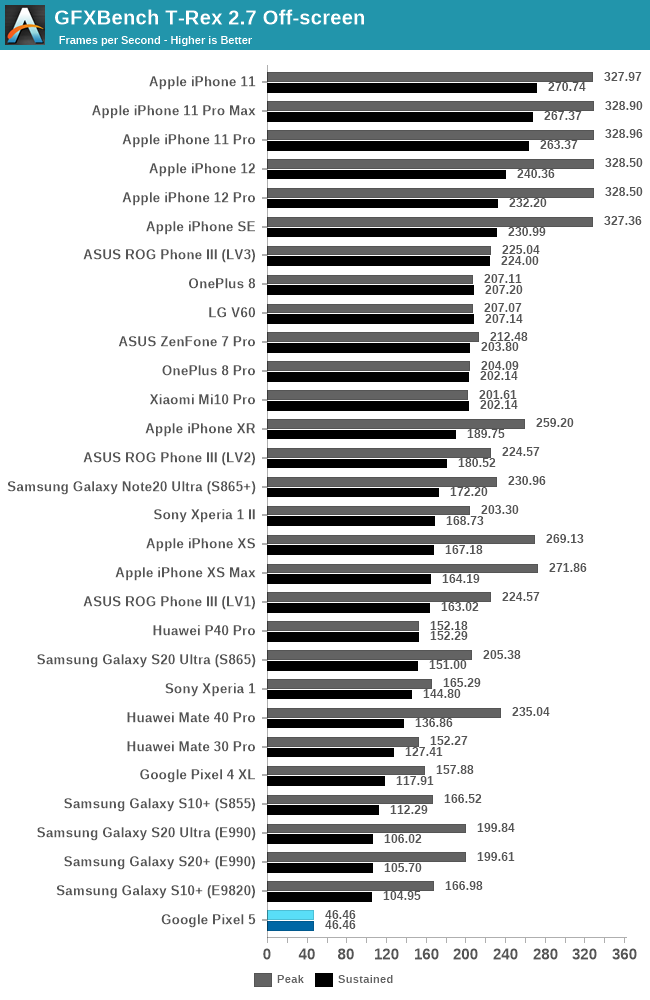 I'm not exactly sure what Google has done here to the Snapdragon 765, but something is definitely very different compared to other devices employing the same chipset. The Pixel 5 here posts significantly lower performance than a comparable LG Velvet or an OPPO Reno3 Pro 5G, with some of the scores even coming in at half performance. When I got the phone I initially thought this must be some firmware issue, but even now in January it's still the same.
Measuring power consumption of the phone, the SoC barely uses 1W of power under a 3D load (total device power minus idle), which is far less than what we saw of other Snapdragon 765 devices.
I have no idea as to why the Pixel 5 is set up this way, however the end result is that gaming performance is just horrible. If other Snapdragon 765 devices roughly matched the 845 in gaming, the Pixel 5 is only half of that. Playing a modern-AAA title like Genshin Impact on the phone is horrendous unless you set it to the lowest possible settings, and even then, it's not a good experience.
If you're looking for a decent gaming smartphone, the Pixel 5 is not it, and I recommend users to give it a wide berth.
Although the Pixel 5 is a small phone, Google still managed to with a rather large 4080mAh battery – which notable given the 151g weight of the device. Coupled with a 1080p 90Hz screen which seems to be of good quality, the Pixel 5 should do alright in the battery tests.
Indeed, in our web-browsing test, the Pixel 5 ended up lasting 12.5h, which is an excellent result for a device of this calibre. The phone seems to be significantly more efficient than the Pixel 4 XL last year, and it also does better than even some newer flagships this year which use less power-efficient displays.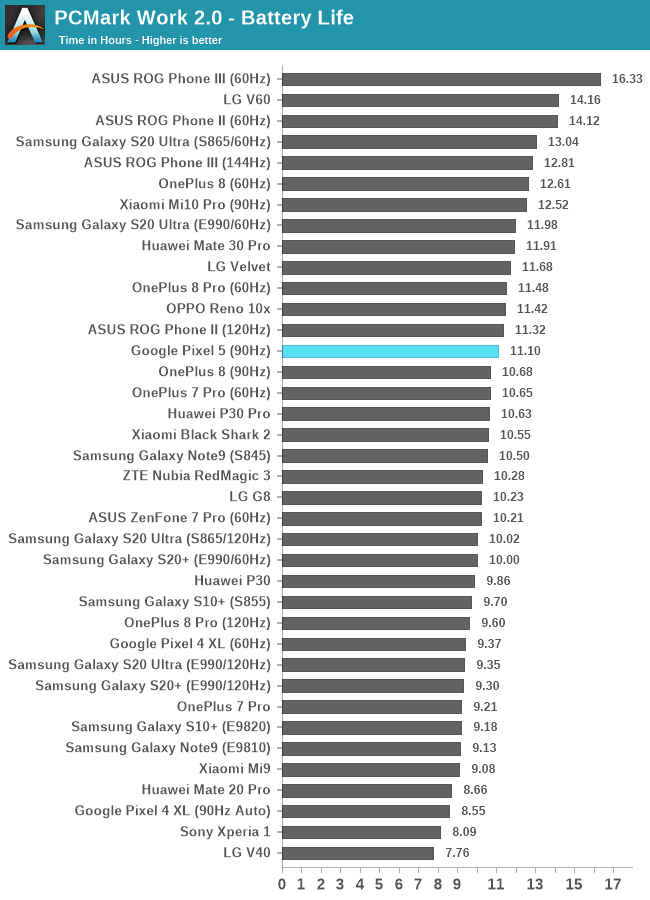 In the more SoC power dominant PCMark battery test, the Pixel 5 also does very well at 11.1h runtime. The similar-specced LG Velvet beats it, but only due to a larger battery as well as a 60Hz display.
In general, the Pixel 5 does very well in terms of battery life and it seems to be amongst the most power-optimised devices in the market – usually small phones have to compromise on battery life compared to their larger battery siblings, however the Pixel 5 here does not.
It's actually a stark contrast to last year's Pixel 4 devices which had large power consumption issues – whatever compromises Google had to make, such as a different SoC, dropping Project Soli, or just overall power optimisations, it seems to have worked well in favour of the Pixel 5.
I'm skipping the camera comparisons for this piece as it's out of the scope of the short-form review today (they are very time consuming!). We've included the Pixel 5 in low-light photography in recent reviews such as the iPhone 12 piece and we'll be publishing a more extensive camera investigation article in the coming weeks as well as the upcoming Galaxy S21 article coming soon, so I'll reserve myself to just posting camera samples and commentary of the Pixel 5 performance.
In daylight, where the Pixel 5 seems to perform better than its predecessors is seemingly in terms of colours and colour temperature. Whereas the Pixel 4 and previous iterations seemed to have had a tendency towards warmer colours, the Pixel 5 more often tends to get things in a more natural and correct colour – at least in my own subjective experience.
One area that's still prevalent in the Pixel processing is that I feel that it doesn't do as well in preserving highlights of textures, giving them a flatter look compared to what we're now seeing from the processing of the likes of Apple and Samsung.
The ultra-wide-angle module on the Pixel 5 is a definitive great addition to the phone and really augments the capture experience of this generation of Pixel phones, addressing a much lacklustre aspect of Google's devices last year. The optics of the UWA isn't as great as some of other competitors, but decent enough.
What is weird about the UWA is that although Google advertises as employing a 16MP sensor, the actual pictures coming out are sampled down to 12.2MP, matching the resolution of the main sensor. I'm not sure what the rationale is here, and I'm generally never a fan of this matching of resolution across different sensors in a phone as it never actually ends up in good quality results.
In low-light scenarios, the Pixel 5 is a bit of a mixed bag by today's standards. On one hand, Google's Night Sight computational photography mode is excellent in terms of bringing out light in very dark situations, but on the other hand the camera processing here doesn't seem to have changed much since the Pixel 3. Night Sight in this sense can be a two-edged sword – produces high quality low-light photos, but sometimes it overdoes it in terms of brightening a scene too much, it no longer being representative of the subject. Night Sight also has a particular tendency to grossly over-correct for colour-temperature, losing the actual ambience of a scene.
In scenarios where there's very low light, Google's aging camera hardware really cannot compete against the newer generation sensors from the competition, which by now have caught up or also even surpassed Google in computational photography.
Today's review of the Pixel 5 wasn't the usual full-fledged piece we'd dedicate to Google's year devices, with the goal of the piece more towards making sure we've covered the phone ahead of the flurry of new generation devices that are coming next week. That's a pretty stoic take to start the conclusion of the Pixel 5 with, but I think that's also the general correct conveyance of my thoughts on the device.
The Pixel 5 is generally a good phone. The highlights of the device are its unique build and materials, with the plastic-coated aluminium frame giving the phone a unique feel that's actually breath of fresh air in a market of glass sandwich phones. Google's approach and industrial design here I think are a success – both in terms of build materials and also the general simple but very functional design of the phone.
The device is a smaller form-factor, and most importantly very light-weight, something which is becoming increasingly rare in today's industry trends. The company also doesn't compromise on things such as battery capacity even though the Pixel 5 is of a diminutive stature, and the long battery life is actually also one of the highlights of the phone, addressing one of the important problems that had plagued the Pixel 4.
Performance of the Snapdragon 765 in every-day usage is good, and Google's software is plenty optimised and the device feels very responsive in lighter tasks, although the hardware disadvantages do appear in anything that's more demanding. The GPU performance in the Pixel 5 is atrocious – we can't really explain why the phone performs so much worse than other Snapdragon 765 devices, but if you're looking for a phone for any kind of 3D gaming, the Pixel 5 is not for you.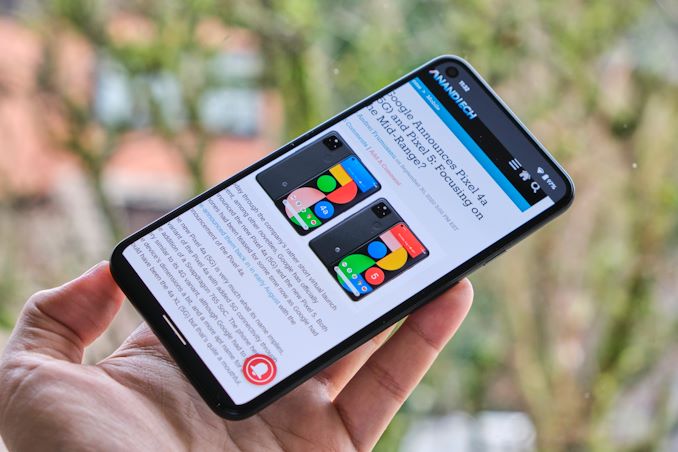 The camera experience on the Pixel 5 is good. Daylight pictures are competitive, and the new ultra-wide-angle module addresses a much-needed gap in experience in Google's Pixel line-up. Low-light photography is saved through Night Sight, however by today's standards there are superior camera experiences out there by the likes of Apple and Samsung.
Finally, there's the question of price and value, and that's where the Pixel 5 encounters some very large hurdles.
In the US, the Pixel 5 launched at $699 and that is still the price today. The problem here is that that's still quite steep compared to other newer competitive options, a Galaxy S20 FE now costs $599 and outperforms the Pixel 5 in nearly every aspect. The new upcoming Galaxy S21 launching at $799 also completes the pincer-attack from the high-end, not to mention the pressure Apple is putting onto the Android ecosystem with the newer $699 iPhone 12 mini and $799 iPhone 12. European users also see a similar situation, with the added issue that Google isn't even officially selling the Pixel 5 in many countries.
Furthermore, while the Pixel 5 is a good phone, it's not dramatically different to the Pixel 4a 5G. They have the same SoC, the same camera system, the 4a 5G actually gains a 3.5mm headphone jack, and only trades in the 90Hz screen and IP68 water resistance in return, for only $499. Yes, the mmWave version costs $599 there, but I really wonder if that's actually of any wise value in this product segment.
In the end, I still feel like Google's release schedule is handicapping the company's product lines. If the Pixel 5 had been released in early 2020, I think it would have had an easier time to rationalise itself. Being released in November, the phone really only had a couple of months opportunity to position itself in the market before getting crushed by the new spring generation refreshes – if one could argue that it had a competitive positioning at all at release.
I think Google overall did well with the direction they took with the Pixel 5, it was the wise choice to go for this product segment, however the company still needs to unbundle the Pixel release schedule with the Android release schedule, and try to further optimise the pricing of the phones. The Pixel 4a and Pixel 4a 5G are much better positioned devices, and probably a wiser purchase compared to the Pixel 5.