In our series of motherboard buyers guides, here's the latest update to our list of recommended AMD motherboards. All numbers in the text are updated to reflect pricing at the time of writing.
This month has been another hot one for AMD, with the announcement that its latest Zen 3 processors (Ryzen 5000) which will be available from November 5th. In anticipation of this release, numerous motherboard vendors have come forward such as ASUS to announce that Ryzen 5000 will be supported across the majority of its mainstream chipsets including X570 and B550, with X470 and B450 support coming in Q1 next year. With this launch likely to dominate much of furor over the next couple of months, here are our AMD motherboard picks for October 2020 which focuses specifically on 500-series models.
Looking at another highly competitive Q3 2020 and going into Q4 2020 for AMD, we highlight our best motherboard choices for October 2020 based on AMD models currently available. Both B550 and X570 dominate the selections with support for PCIe 4.0.
Looking for our best Intel motherboard choices? Head on over to our Intel Motherboard Buyers Guide instead!
AMD Motherboards Recommendations
October 2020
AnandTech
Motherboard
Amazon
Newegg
MSRP
Sweet Spot

ASUS ROG Strix B550-F Gaming Wi-Fi

$205
$205
$210
Value Choice
ASRock B550 Phantom Gaming 4/AC
$125
$125
–
Mini-ITX
GIGABYTE B550I Aorus Pro AX
$180
$180
$180
Money No Object
GIGABYTE X570 Aorus Xtreme
–
$700
$700
Our recommendations for motherboards are based entirely on my personal and professional opinion. There are notably a large number of different motherboards across the AMD chipsets including B450, X570 and more recently, B550, so I selected my top four picks based on the four market segments. Much of our attention is on consumer desktop boards (socket AM4), though we are well aware of the benefits of TRX40 and Threadripper. We may look to include a HEDT based segment going forward in future guides if there is interest from our readership to include it.
As Coronavirus restrictions begin to lift in certain regions, the pandemic is still causing an effect within the industry. The impact that the Coronavirus has had on pricing has been considered in the guide as well, with some fluctuation on hardware pricing already taking hold. Some boards from our previous picks (September 2020) have had stock issues, so we've adjusted our guide slightly to accommodate for this. It's also worth noting that B550 is generally considered the budget AM4 platform, but the pricing has been a little topsy-turvy with some boards reaching (and even surpassing) the prices of low-end X570 boards. AMD has also recently announced its entry-level A520 chipset, with some very price conscientious models to select from. All of these points have been taken into consideration in our October 2020 guide for the AMD selections.
Ryzen 5000 is Coming Soon
We also recently announced AMD's next-generation Zen 3 processors, the Ryzen 5000 series, which our resident CPU guru, Dr. Ian Cutress, has extrapolated and outlined here: AMD Ryzen 5000 and Zen 3 on Nov 5th: +19% IPC, Claims Best Gaming CPU. On paper, the new Zen 3 desktop processors look to pack a punch with higher turbo frequencies (4.9 GHz on the Ryzen 9 5950X), but a firmware update will be required on older models such as B450 and X470. Users that purchase one of the new Ryzen 5000 CPUs on November 5th and beyond can use the Processor Loan Boot Kit programme which AMD is running if they obtain a board without the required firmware.
For users looking for other options, we've also gone over multiple chipset families as well in the links below.
In our Best Sweet Spot, we've opted for a board with plenty of functionality and features, while also benefiting from PCIe 4.0. Boards based on the B550 chipset offer partial PCIe 4.0 support, with Ryzen CPUs driving both a single full-length PCIe x16 slot as well as a PCIe x4 M.2 slot at PCIe 4.0 speeds. One of the best B550 boards we've seen which we have reviewed to date is the ASUS ROG Strix B550-F Gaming WIFI, a higher-end B550 board that received our Recommended by AnandTech award.
You can read our full review here:
The ASUS ROG Strix B550-F Gaming Wi-Fi Motherboard Review: Premium Value
What makes it our pick over the other 500-series is its solid level of quality and performance offered at a very competitive price point. It includes two PCIe M.2 slots, with the top slot operating at PCIe 4.0 x4, and the second slot at PCIe 3.0 x4. It uses a full-length PCIe 4.0 x16 slot which is driven from the CPU at the top of the PCIe area, while the bottom full-length PCIe slot is electronically locked down to PCIe 3.0 x4, with three PCIe 3.0 x1 slots also controlled by the chipset. The ASUS model also benefits from a stacked rear panel with two USB 3.2 G2 ports (Type A/C), DisplayPort and HDMI video outputs (for use with APUs), as well as capability to install up to six fans.
The ASUS ROG Strix B550-F Gaming Wi-Fi includes an Intel-based networking pairing, with a premium 2.5 GbE Ethernet controller and Wi-Fi 6 interface. The onboard audio is also premium with ASUS's tweaked SupremeFX S1200A HD audio codec taking care of business. There are also four memory slots with support for up to DDR4-5100 which is impressive, with a maximum capacity of 128 GB. For a mid-range model, this is a stack of features, and considering similarly priced X570 models (sub $250) that include a similar controller set are non-existent, it puts the ASUS model in good standing. 
Touching more on the competition, thanks to a price reduction at Amazon, the B550-F Gaming Wi-Fi is $205, and at present is looking to be the best ATX sized AM4 option in this price range. The MSI B550 Gaming Carbon is more expensive with a similar feature set at $220, while the GIGABYTE B550 Aorus Pro AC can be had for around $190. Having seen the ASUS model on our test bench, and its superb performance in out of the box DPC latency, competitive CPU, and gaming performance. Looking forward to Zen 3, we tested the thermals of its efficiently designed power delivery, which sets the ROG Strix B550-F Gaming Wi-Fi as our mid-range pick.
In previous guides, the value options have all been B450 models, due to the more expensive B550 options being a bit too much for true 'value'. However, the B450 range seems to be reducing in stock, causing prices to increase, and so we've chosen ASRock's B550 Phantom Gaming 4/AC, which represents AM4's entry-level gaming series as well as PCIe 4.0.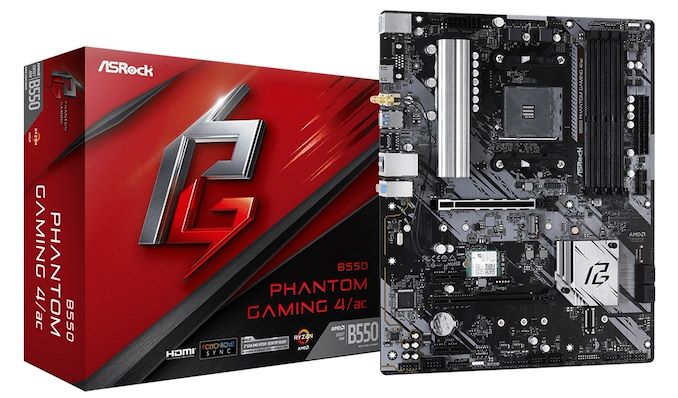 Even though it is one of the cheapest B550 boards, ASRock's B550 Phantom Gaming 4/AC offers a competitive entry-level feature set. The board comes with a PCIe 4.0 x4 M.2 slot, and augments that with four SATA ports, which is plenty of capacity for game storage. The top full-length PCIe 4.0 slot operates at x16, while the bottom slot is locked to PCIe 3.0 x4, which controlled by the chipset, along with two additional PCIe 3.0 x1 slots. For networking it's using a standard Realtek based Gigabit Ethernet controller, along with an Intel Wi-Fi 5 interface. It's pretty standard for an entry-level model that focuses more on overall support, than adding extra cost at the expense of premium controllers. The B550 Phantom Gaming 4/AC is also using a Realtek ALC1200 HD audio codec, but with just three 3.5 mm audio jacks on the rear panel, as well as a basic 8-phase power delivery.
The ASRock B550 Phantom Gaming 4/AC is currently available for $125 at both Amazon and Newegg, with a non-Wi-Fi version of the board available for a slightly lower price of $115. This adds some flexibility for users looking to save a little on a feature that might not be utilized. Otherwise, looking at the bigger picture, the majority of competition from the launch-wave of A520 boards are micro-ATX boards with limited expansion options. Meanwhile, the biggest competition from the X570 product stack is arguably ASRock's own X570 Phantom Gaming 4S model, which is currently available at Newegg for $140. This offers better future-proofing with more PCIe 4.0 support, as well as eight SATA ports, but it also includes a single M.2 slot and isn't with any wireless capabilities, so the B550 version gets our vote on price alone.
There are an impressive array of Mini-ITX AMD boards to choose from. Our pick for the best mini-ITX motherboard at present remains unchanged, and that is GIGABYTE B550I Aorus Pro AX. The Aorus Pro AX represents a solid premium offering, with official PCIe 4.0 support, two M.2 slots, a Realtek 2.5 G Ethernet controller, and an Intel Wi-Fi 6 interface, all at a solid price point. 
The GIGABYTE B550I Aorus Pro AX also includes four straight-angled SATA ports, with one PCIe 4.0 x4 M.2 slot, and an additional PCIe 3.0 x4 M.2 slot, with a full-length PCIe 4.0 x16 slot. In terms of power, the GIGABYTE B550I Aorus Pro AX has a direct 8-phase power delivery with eight premium Intersil ISL99390 90 A power stages and is controlled by an ISL229004 PWM controller. This is impressive not only for a mini-ITX motherboard, but one designed for the 'budget' B550 chipset. 
Focusing on connectivity, this board has dual HDMI 2.0 outputs as well as DisplayPort 1.4, a single Realtek RTL8125BG 2.5 GbE controlled Ethernet port, and an Intel AX200 Wi-Fi 6 interface. There are also plenty of USB ports to make use of, with one USB 3.2 G2 Type-C, one USB 3.2 G2 Type-A, and four USB 3.2 G1 Type-A ports, as well as a handily located Q-Flash firmware update button. In an upgrade to supported memory for B550, the B550I Aorus Pro AX also supports up to DDR4-5300 memory.
The GIGABYTE B550I Aorus Pro AX has an MSRP of $180 and is currently available at both Amazon and Newegg. On the whole, GIGABYTE's board has the right blend of premium features to be useful, while still coming in at a price under ASRock's $200 premium B550 ITX board, or ASUS's also-$200 B550 mini-ITX offering. Out of all of the AM4 mini-ITX models on the market, some X570 models include Thunderbolt 3 – notably the ASRock X570 Phantom Gaming-ITX/TB3 – but it does cost more with an MSRP of $240. Overall the GIGABYTE B550I Aorus Pro AX is our top mini-ITX pick out of all the AMD AM4 models when taking quality, feature set, and pricing into consideration.
GIGABYTE X570 Aorus Xtreme ($700 at Newegg)
We've had the chance to review and analyze quite a few X570 boards to date, but one of the standout boards that honed our interest during testing was the GIGABYTE X570 Aorus Xtreme, which is the only X570 board to include a passively-cooled chipset heatsink. So for our money is no object selection, there isn't a more well-rounded X570 flagship than GIGABYTE's board. What made the X570 Aorus Xtreme stand out, however, came in our power delivery thermal testing, which showed how far GIGABYTE has come in its power delivery implementation and design. With a true 14-phase power delivery for the CPU with the Infineon XDPE132G5C spearheading the design, we saw excellent performance, overclocking, and efficiency. This is perhaps more important for users looking to overclock the latest Ryzen 5000 processors which already come with pretty high boost clock speeds.
You can read our full review here:
The GIGABYTE X570 Aorus Xtreme Motherboard Review: Fanless AM4
The E-ATX board has a high-end feature set in line with its price. In terms of networking support, the board includes an Aquantia AQC107 10 G Ethernet controller, an Intel I211-AT Gigabit controller, and an Intel AX200 Wi-Fi 6 + BT 5.0 wireless interface. For storage, there are three PCIe 4.0 x4 slots and six SATA ports that support RAID 0, 1, and 10, as well as support for up to DDR4-4400 and 128 GB across four memory slots. A Realtek ALC1220-VB HD audio codec powers the rear panel audio, while an ESS Sabre 9218 DAC helps to bolster the quality of the front panel audio. 
The GIGABYTE X570 Aorus Xtreme also has dual BIOS support, which is handy for BIOS Flashback and allows one to be used for extreme overclocking, while the other could be used for more stable 24/7 settings. Focusing more on the Xtreme element, GIGABYTE also includes an overclockers toolkit with a power button, reset button, voltage measurement points for better accuracy, and an OC PEG power connector.
With a current price tag of $700 at Newegg, it's not a board for those with shallow pockets. It's also one of the best X570 and AM4 based models currently on the market from a performance perspective. For the few who can justify a $700 board, the GIGABYTE X570 Aorus Xtreme offers a robust premium feature set, looks good with its full cover thermal armor, and it offers highly efficient and reliable power delivery. In other words, it ticks the majority of boxes for both enthusiasts and gamers looking for a high-end foundation for a powerful gaming system.
There are other flagships such as the MSI MEG X570 Godlike ($700), and the ASUS ROG Crosshair VIII Formula ($700), but neither has a true 16-phase (14+2) power delivery design, and our testing shows its efficiency in reducing temperatures. Add the grunt of AMD's incoming Ryzen 9 5950X processor, it makes the GIGABYTE X570 Aorus Xtreme our money no object selection for team AMD models.
We've noticed that the X570 Aorus Extreme has been going in-and-out of stock recently, with it being a very day-to-day thing. For whatever reason, Amazon doesn't stock this model, only Newegg, and it may mean that GIGABYTE is moving stock around either for OEMs, or as a result of demand. This is fairly typical, moreso on high-end boards like this. Users interested in the board will have to act swiftly when it gets back in stock. Other regions might have different levels of success. Users wanting something like the X570 Aorus Xtreme but can't afford the cost might look towards the X570 Aorus Master, which for $350 has most of the features (changes in power delivery, armor, controllers), but still gives a competitive offering.