This year although we're not reporting from Hawaii, Qualcomm's Tech Summit is still happening in digital form, representing the company's most important launch event of the year as it showcases the new flagship products that will power next year's smartphones. Qualcomm yesterday announced the new Snapdragon 888 SoC and platform, and today we're going in-depth into the specifications and features of the new silicon design.
The Snapdragon 888 is a big leap for Qualcomm, so much so that they've veered off from their usual naming scheme increments this generation and even skipped the 87x series altogether. The 888 number is not there only for marketing purposes as it represents fortune and luck in Chinese, but the new SoC has some substantial generational changes that sets it apart from the usual yearly improvements of past.
Featuring the first ever implementation of a Cortex-X1 CPU core as its performance engine, new Cortex-A78 cores for efficiency, a massive +35% boost in GPU performance, a totally new DSP/NPU IP redesigned from the ground up, triple camera ISPs, integrated 5G modem, all manufactured on a new 5nm process node, the new Snapdragon 888 touches and updates almost every part of the SoC design with significant uplifts in performance and capabilities. There is a lot to cover, so let's go over the details piece by piece:
Qualcomm Snapdragon Flagship SoCs 2020-2021
SoC
Snapdragon 865

Snapdragon 888

CPU
1x Cortex-A77
@ 2.84GHz 1x512KB pL2

3x Cortex-A77
@ 2.42GHz 3x256KB pL2

4x Cortex-A55
@ 1.80GHz 4x128KB pL2

4MB sL3

1x Cortex-X1
@ 2.84GHz 1x1024KB pL2

3x Cortex-A78
@ 2.42GHz 3x512KB pL2

4x Cortex-A55
@ 1.80GHz 4x128KB pL2

4MB sL3

GPU
Adreno 650 @ 587 MHz
Adreno 660 @ ?MHz

+35% perf

DSP / NPU
Hexagon 698

15 TOPS AI
(Total CPU+GPU+HVX+Tensor)

Hexagon 780

26 TOPS AI
(Total CPU+GPU+HVX+Tensor)

Memory
Controller
4x 16-bit CH

@ 2133MHz LPDDR4X / 33.4GB/s
or
@ 2750MHz LPDDR5  /  44.0GB/s

3MB system level cache

4x 16-bit CH

@ 2133MHz LPDDR4X / 33.4GB/s
or
@ 3200MHz LPDDR5  /  51.2GB/s

3MB system level cache

ISP/Camera
Dual 14-bit Spectra 480 ISP

1x 200MP or 64MP with ZSL
or
2x 25MP with ZSL

4K video & 64MP burst capture

Triple 14-bit Spectra 580 ISP

1x 200MP or 84MP with ZSL
or
64+25MP with ZSL
or
3x 28MP with ZSL

4K video & 64MP burst capture

Encode/
Decode
8K30 / 4K120 10-bit H.265

Dolby Vision, HDR10+, HDR10, HLG

720p960 infinite recording

8K30 / 4K120 10-bit H.265

Dolby Vision, HDR10+, HDR10, HLG

720p960 infinite recording

Integrated Modem
none
(Paired with external X55 only)

(LTE Category 24/22)
DL = 2500 Mbps
7x20MHz CA, 1024-QAM
UL = 316 Mbps
3x20MHz CA, 256-QAM

(5G NR Sub-6 + mmWave)
DL = 7000 Mbps
UL = 3000 Mbps

X60 integrated

(LTE Category 24/22)
DL = 2500 Mbps
7x20MHz CA, 1024-QAM
UL = 316 Mbps
3x20MHz CA, 256-QAM

(5G NR Sub-6 + mmWave)
DL = 7500 Mbps
UL = 3000 Mbps

Mfc. Process
TSMC
7nm (N7P)
Samsung
5nm (5LPE)
Re-integration of the 5G modem into the SoC
The most important aspect for this year's design is the fact that Qualcomm is going back to an fully integrated modem design, contrasting last year's surprising choice of the Snapdragon 865 not containing any modem at all and having instead to rely on the external X55 modem.
Last year's rationale of going with an external modem was said to have been a practical one, stemming from the fact that 5G was still in its early stages and that many vendors had to make a lot of design efforts when designing their new handsets for 5G. A external 5G modem such as the X55 helped the 5G transition as it was available to vendors earlier than the Snapdragon 865 SoC itself, allowing them to design their RF systems before having access to the newest SoC.
This year, the market has evolved and is more mature, and Qualcomm chose to re-integrate the modem into the same silicon die as the SoC. The new X60 modem subsystem is the company's 3rd generation 5G design and brings new capabilities in terms of carrier aggregation and 5G frequency band interoperability.
The platform's reabsorption of the modem into the SoC die should signify better power efficiency, lower platform cost as well as lower PCB complexity for smartphone vendors.
2020 certainly was the year that 5G became a mainstream feature amongst device vendors, with essentially everybody adopting the new standard into their flagship and even mid-range devices. The new X60 modem will further mature the 5G experience by providing more flexibility to network operators in terms of frequency band support.
mmWave in particular has been a rather contentious aspect of 5G in 2020 as network deployments has been rather scarce and limited to US cities, with users reporting spotty reception with a larger impact on battery life. mmWave network expansion is progressing at a steady pace, and Qualcomm states that the new Snapdragon 888 platform completely solves the power efficiency concerns around mmWave usage. Hopefully 2021 will be the year where mmWave becomes a lot more useful and practical for users.
Whilst mmWave is expected to still be relatively niche for the vast majority of users, Sub-6GHz will be the workhorse of 5G, and here we're seeing rapid expansion and deployments in countries all over the world. The new X60's modem capability of allowing for carrier aggregation between FDD (Frequency Division Duplex, dedicated frequency bands between upload & download) and TDD (Time Division Duplex, upload & download in the same frequency band) means that network carriers will be able to mix and match more available Sub-6GHz spectrum together for even greater bandwidth.
DSS, or dynamic spectrum sharing, is also going to be a key technology enabling network operators to migrate existing LTE frequency bands to 5G NR dynamically based on the organic LTE/5G user demand – meaning that the frequency spectrum doesn't need to be segregated for each technology, thus allowing more actual usable bandwidth for both types of users in the first few years and consumers switch over to 5G-capable handsets.
Manufactured on Samsung 5nm / 5LPE
The new Snapdragon 888 is making the transition from 7nm to 5nm, but the new design doesn't merely make a process shift, it's also making a foundry shift. After being with TSMC for the 7nm generations of the Snapdragon 855 and Snapdragon 865, Qualcomm is now switching back to Samsung Foundry and their new 5LPE process node for the new Snapdragon 888.
Qualcomm in recent years had been dual-sourcing from both TSMC and Samsung depending on the SoC design and product range, but in the high-end flagship SoC segment the company seems to have always chosen the technologically superior node as it had larger implications for the competitiveness of those parts. N7 and N7P were clear winning choices for the S855 and S865 as Samsung's own 7LPP process was kind of late, and didn't seem to be quite as good as TSMC's variants. Qualcomm notably still used the 7LPP node on this year's Snapdragon 765 SoC which has seen a lot of success in the premium range of device designs, however we had noted earlier in the year that it didn't appear to be nearly as efficient as the TSMC-manufactured flagship SoC.
This year's choice of switching back to a Samsung process for the flagship SoC seems to be a vote of confidence in the new process node- as otherwise Qualcomm likely wouldn't have made the switch. Versus 7LPP, Samsung promises a 20% decrease in power consumption at the same performance, or a 10% increase in performance at the same power, together with a +-20% area reduction. How these figures will translate over to practical improvements for the new Snapdragon 888 remains to be seen.
Another rationale for the foundry switch could be manufacturing capacity. As Apple is eating up a lot of TSMC's early 5nm capacity with the A14 and M1, Qualcomm probably saw Samsung's 5LPE as the safer choice this year as the new Snapdragon 888 may be manufactured in the new dedicated EUV V1 line at Hwaesong.
It'll be hard to gauge the process node switch for this generation as we don't expect to see a similar design on TSMC's 5nm node – unless MediaTek somehow has a new Cortex-X1 SoC in the pipeline for next year.
Powered by Cortex-X1 and Cortex-A78 CPUs
The Snapdragon 888 is the first publicly announced SoC powered by the new Cortex-X1 and Cortex-A78 CPU IPs by Arm. The Cortex-X1 in particular is the first of a new generation of CPU IP by Arm that focuses on maximising performance at the cost of lesser power efficiency, while the Cortex-A78 being the same-generation design but which still prioritises a balance between performance, power and area.
The new X1 core, based on Arm's numbers, promised a +30% uplift in IPC over the last generation Cortex-A77 which was also deployed in the Snapdragon 865. Qualcomm advertises a 25% uplift over the Snapdragon 865, but that's likely due to a few configuration differences on the part of the new Snapdragon 888 compared to Arm's own internal figures.
The S888 continues to use a 1+3+4 CPU setup this generation, with the big difference being that instead of using the same CPU IP with a different physical implementation, the new 1+3 big cores are actually of different microarchitectures.
The "prime" performance core as Qualcomm likes to call it is the new Cortex-X1 design, clocking in at the same 2.84GHz as the Snapdragon 865's prime core. The new core is configured with the maximum 1MB of L2 cache.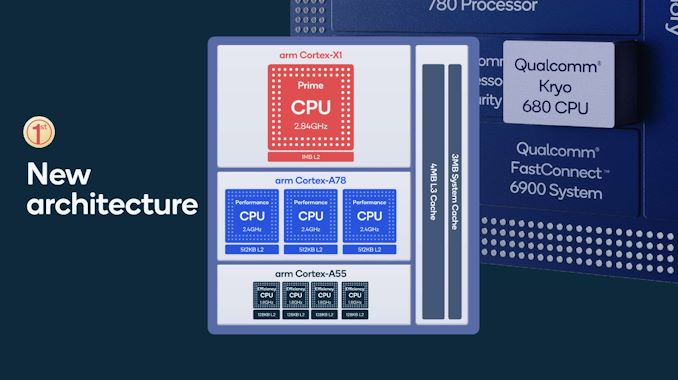 What stood out for me during our briefing of the new chip is that the clock frequency of the new design isn't all very aggressive at all. Qualcomm's 25% performance boost is in comparison to the vanilla Snapdragon 865 which also came at the same frequency. Compared to the Snapdragon 865+ which clocks in at 3.09GHz, this performance advantage should reduce to only 13%, which is less impressive.
Qualcomm's 25% generational boost is also less than Arm's advertised 30% as the new S888 continues to use a 4MB L3 cache for the CPU cluster, versus Arm's envisioned 8MB configuration for a high-end 5nm SoC with the new X1 cores. Qualcomm explained to us that this was simply a balance between cost, implementation effort, and diminishing returns of a higher cache configuration design.
What this all means is that there's a high chance that the Snapdragon 888 won't be holding the Android CPU performance crown next year if Samsung's next-gen Exynos SoC is even a little more aggressive in terms of clocks or cache configurations.
The high-performance X1 cores is joined by three Cortex-A78 cores clocking in at up to 2.4GHz, serving as the every-day workhorse CPUs for most computational tasks. In terms of cache, the new cores see their L2 doubled up from 256KB to 512KB.
One aspect I was interested in finding out is whether the new design still continues Qualcomm choice of fitting all the big cores together on a single voltage plane, which oddly enough, also seems to be the case for the new Snapdragon 888. This means that while the X1 and A78 cores can run at different frequencies, they're all powered by the minimum voltage of either operating frequency at any one time. Qualcomm explains that this is again a practical choice surrounding the design complexity of the power delivery system, particularly mentioning that the X1 core can take advantage of the increased capacitance available from the larger shared power plane. Whilst this has worked well for the Snapdragon 855 and 865, I wonder that given the new X1 core's increased performance and dynamic range, if the company isn't leaving further performance or efficiency gains on the table for the sake of lower power delivery design cost. It'll be interesting to see how other SoC vendors tackle their X1 implementations.
Finally, the big cores are again accompanied by four Cortex-A55 cores. This year the company yet again clocks them at 1.8GHz, which makes this the 4th generation SoC with an essentially identical configuration of little cores, which is a bit disappointing. Qualcomm can't do much here as there's simply a need for a new little core CPU IP, something which we'll hopefully see released next year in 2021 for 2022 SoCs.
Every year Qualcomm likes to talk about its new Hexagon DSPs, with the last few generations also adding to the table new Tensor Accelerators dedicated for ML inferencing. This year's Snapdragon 888 design also hypes up the new Hexagon 780 design, with the difference being that this time around the generational improvements are truly humongous.
The new Hexagon 780 accelerator IP truly deserves a large increment in its IP numbering scheme, as it's essentially a ground-up redesign of the company's existing DSP with scalar and vector execution engines, and the recent Tensor Accelerators. Previously all these execution engines were acting as discrete independent blocks within the Hexagon 600 series family, but that's now changed in the new IP design.
The new IP block fuses together all the scalar, tensor, and vector capabilities into a single monolithic IP, vastly increasing the performance and power efficiency of workloads that make a use of all the mixed capabilities of the design.
In terms of performance uplifts, scalar execution capabilities are said to be increased by 50%, while tensor execution throughput has doubled. The vector extension units seem to have remained the same this generation, but actual performance of workloads will still have been increased thanks to the new memory architecture of the new IP block.
Qualcomm states that they've increased the on-chip SRAM dedicated to the block 16-fold, allowing for larger machine-learning inference models to fit within the block's memory, greatly accelerating their performance. This larger memory pool also allows for coherency between the scalar, vector and tensor units, allowing for the vastly increased workload handoff time between the different execution engines. I asked about the actual size of this new memory, but the company wouldn't disclose any further details, just stating that it's significant.
The company's engineers were extremely hyped up about the new design, stating that the performance and flexibility of the new design is well beyond that of what other companies can achieve through disaggregated DSP and ML inference engines, sometimes even from different IP vendors.
The most important figure for the new design is the 3x performance per watt claim, which is just a massive generational improvement that you rarely see in the industry.
As is usual for Qualcomm, the company doesn't actually state the per-block performance increases, but instead opts to showcase an aggregate computational throughput figure shared amongst all of the SoC's IP blocks, including CPU, GPU, and the new Hexagon accelerator block. This new figure lands in at 26TOPs for the Snapdragon 888, which is 73% higher than the 15TOPs figure of the Snapdragon 865. Given that we've seen significant changes in all IP blocks this generation, I won't attempt a breakdown estimate as it's likely going to be wrong and off-the-mark anyhow.
The Adreno 660 – A 35% faster GPU
Amongst the improvements which lead up to that 26TOPs figure is a new vastly improved GPU in the form of the new Adreno 660.
Qualcomm still holds architectural details of their GPUs very close to their chest and thus doesn't go disclose very much about the new GPU design and what has actually changed, but one thing they did talk about is the addition of new mixed-precision dot product as well as FP16/FP32 wave matrix-multiply instructions, which allow the new GPU to increase AI performance by up to 43%.
We're also seeing the addition of variable rate shading (VRS) onto the Adreno GPU architecture, allowing for coarser pixel shading onto larger pixel blocks for object and screen areas which don't require as much detail or the native resolution shading wouldn't be noticeable. This is also a major feature that's being introduced in the console and new-generation PC graphics cards and GPUs, which should bring greater performance uplift for new gaming titles which take advantage of the new features. It's great to see Qualcomm bringing this to the mobile space along with the rest of the industry.
For graphics workloads, the new GPU is advertised as being able to increase performance by up to 35%, which is a very major generational performance leap.
Such a performance jump would actually signify that Qualcomm may very well regain the gaming performance crown this generation, having lost it to Apple's SoCs over the last two generations. Apple's latest A14 has seen rather conservative gains on the GPU side this year, so a 35% performance gain over the Snapdragon 865 should very much allow the new Snapdragon 888 to retake the leadership position.
A 35% performance increase with a 20% power efficiency increase would indicate that the new SoC would achieve the higher performance at cost of a little higher power consumption, but given the Snapdragon 865's excellent power characteristics of below 4W, Qualcomm does have a little leeway to increase power this generation.
3200MHz LPDDR5
The new Snapdragon 888 continues to use a hybrid memory controller able to use both LPDD4X up to 2133MHz, and also increases the frequency support for new LPDDR5 to 3200MHz (Or LPDDR5-6400).
For the Snapdragon 865 Qualcomm was rather unenthusiastic about the LPDDR5 switch, saying that it didn't bring all to great improvements to performance or power efficiency – something which we actually did test out and come to the same conclusion in our review of the two OnePlus 8 phones, where the LPDDR4X variant ended up being no slower and seemingly actually more efficient to us. Apple this year also kept on using LPDDR4X on their A14 and M1 SoCs – pointing out that the benefits aren't all that great.
For the Snadpragon 888 however, Qualcomm's engineers seemed more upbeat about LPDDR5 and the new SoC actually being able to utilise the increase memory bandwidth this generation. Without going into details, the company also stated that they've improved the overall design of the memory subsystem, improving aspects such as latency.
On the part of the memory subsystem, Qualcomm still employs a 3MB system-level-cache in front of the memory controllers, with the ability of all SoC IP blocks to take advantage of this cache.
Interestingly enough, during yesterday's keynote event, Qualcomm described themselves as a camera company, which is a funny way to see things, but actually somewhat makes sense given the large leaps in smartphone camera capture capabilities over the recent years.
The new Snapdragon 888 pushes the envelope in terms camera abilities by adding a whole new independent third ISP to the SoC, allowing the SoC to now run three independent camera modules concurrently, opening up new use cases for vendors and camera applications.
The new triple-ISP architecture now increases the overall pixel processing throughput by 35% to 2.7Gigapixels/s, allowing for concurrent usage of up to three 28MP sensors with zero shutter lag captures. Alternatively, you can use a combination of 64+25MP sensors with ZSL, or a single 84MP sensor with ZSL. There's still also support for ultra-high-resolution sensors up to 200MP, but image captures here don't support ZSL.
Allowing concurrent captures of three sensors now allows for the holy trifecta of ultra-wide-angle, wide-angle and telephoto modules to capture a scene at the same time, allowing for more interesting use-cases such as image stitching and image fusion to happen to seamlessly.
One interesting capability that Qualcomm was advertising is triple-stream 4K HDR video recording. That's a bit of an odd-ball use-case as I do wonder about the practical benefits, but I do at least hope that the new triple ISP system allows for more seamless switching and zooming in and out between the various camera modules during video recording.
Video recording capabilities this year don't seem to have changed, compared to the Snapdragon 865. This means 4K120 or 8K30 are still the peak capture modes, supporting also slow-motion of 720p960. Formats are also unchanged, with HEVC encoding in HDR formats such as HDR10+ or Dolby Vision being supported.
AV1 decoding didn't make the cut this year unfortunately, which means wide-spread adoption in mobile for the codec will be delayed for another year.
While the video encoding formats haven't changed, the image processing capabilities for HDR capture has. Thanks to the new ISPs and the raw performance throughput, the new Snapdragon 888 will be able to capture 4K HDR footage with the more advanced computational HDR processing being applied on each and every frame of the video.
Qualcomm claims that the new ISP in the Snapdragon 888 is the first to support new next-generation staggered HDR sensors.

Source: OmniVision
These are sensors that can have multiple rolling shutters, meaning sensor line readouts, active at the same time on the sensor. Instead of taking multiple exposures one at a time sequentially by scanning out the sensor matrix from start to finish, the sensor will start another exposure immediately after the completed line read-out, reducing the time in-between exposures greatly. This should allow for significant less motion ghosting between the exposures and a sharper resulting recombined HDR image capture than current generation sensors which only have a single active line readout on the sensor.
While we haven't actually heard of such sensors from Samsung or Sony yet, Qualcomm is adamant that we'll be seeing smartphones in 2021 employing this new technology.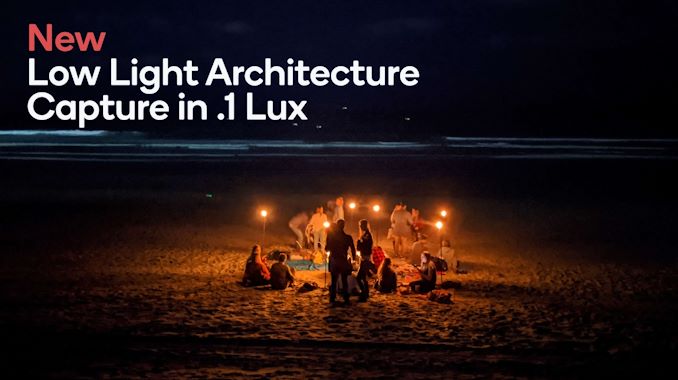 A further improvement for still-picture captures is the advancement of the new multi-frame noise reduction engines inside of the ISPs. It's said that the quality of the noise reduction has been improved this generation, allowing for even better low-light captures with the native capture mode (no computational photography).
The new Snapdragon 888 is overall a very impressive package from Qualcomm, advancing the most important areas for which today's smartphones are being used. 5G connectivity was the big new feature of 2020 SoCs and smartphones, and the new 888 platform represents the evolution and maturing of the new technologies that had been introduced in prior generations.
The big focus point of the Snapdragon 888 were clearly AI and cameras. The new Hexagon 780 IP block looks immensely impressive and to me seems like a major competitive advantage of the new SoC design – other vendors which aren't as vertically integrated with their accelerator IPs will have to respond to Qualcomm's new advancements as it seems like a major performance advantage that will be hard to mimic.
Today's flagship smartphones have diminished ways of differentiating themselves from one another, with the cameras still being the one aspect where vendors still have very different approaches to their designs. Qualcomm's push for a triple-ISP system in the Snapdragon 888 pushes the upper limits of what vendors will be able to do on their smartphones, allowing for a continued push for the smartphone camera ecosystem. Even for still-picture camera experiences, it seems that Qualcomm is expecting a more notable technology jump in 2021 as we see the introduction of new sensors and imaging techniques, enabled by the new SoC.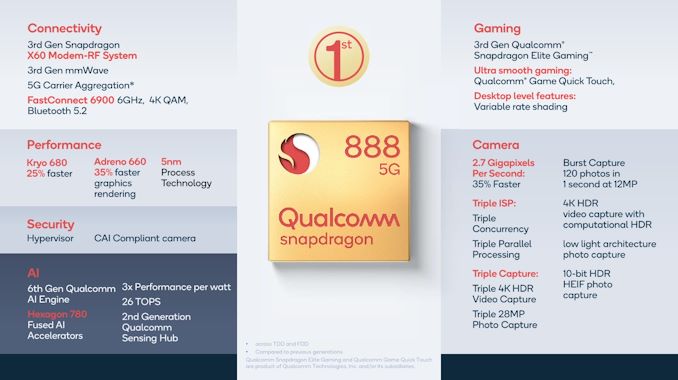 The new CPU configuration gives the new SoC a good uplift in performance, although it's admittedly less of a jump than I had hoped for this generation of Cortex-X1 designs, and I do think Qualcomm won't be able to retain the performance crown for this generation of Android-SoCs, with the performance gap against Apple's SoCs also narrowing less than we had hoped for.
On the GPU side, the new 35% performance uplift is extremely impressive. If Qualcomm is really able to maintain similar power figures this generation, it should allow the Snapdragon 888 to retake the performance crown in mobile, and actually retain it for the majority of 2021.
The new Snapdragon 888 to me looks like a continuation of Qualcomm's excellent execution over the last few years. Striking a balance between performance, power efficiency, and features is something that may be harder than it sounds, and Qualcomm's engineering teams here seem to be focused on being able to deliver the overall best package.
Much like the Snapdragon 865, and the last couple of generations of Snapdragon SoCs before it, I expect the new Snapdragon 888 to be an excellent foundation for 2021's flagship devices, and I'm looking forward to experience the new generation.
Related Reading: