It's been nearly 10 years since Arm had first announced the Armv8 architecture in October 2011, and it's been a quite eventful decade of computing as the instruction set architecture saw increased adoption through the mobile space to the server space, and now starting to become common in the consumer devices market such as laptops and upcoming desktop machines. Throughout the years, Arm has evolved the ISA with various updates and extensions to the architecture, some important, some maybe glanced over easily.
Today, as part of Arm's Vision Day event, the company is announcing the first details of the company's new Armv9 architecture, setting the foundation for what Arm hopes to be the computing platform for the next 300 billion chips in the next decade.
The big question that readers will likely be asking themselves is what exactly differentiates Armv9 to Armv8 to warrant such a large jump in the ISA nomenclature. Truthfully, from a purely ISA standpoint, v9 probably isn't an as fundamental jump as v8 was over v7, which had introduced a completely different execution mode and instruction set with AArch64, which had larger microarchitectural ramifications over AArch32 such as extended registers, 64-bit virtual address spaces and many more improvements.
Armv9 continues the usage of AArch64 as the baseline instruction set, however adds in a few very important extensions in its capabilities that warrants an increment in the architecture numbering, and probably allows Arm to also achieve a sort of software re-baselining of not only the new v9 features, but also the various v8 extensions we've seen released over the years.
The three new main pillars of Armv9 that Arm sees as the main goals of the new architecture are security, AI, and improved vector and DSP capabilities. Security is a very big topic for v9 and we'll go into the new details of the new extensions and features into more depth in a bit, but getting DSP and AI features out of the way first should be straightforward.
Probably the biggest new feature that is promised with new Armv9 compatible CPUs that will be immediately visible to developers and users is the baselining of SVE2 as a successor to NEON.
Scalable Vector Extensions, or SVE, in its first implementation was announced back in 2016 and implemented for the first time in Fujitsu's A64FX CPU cores, now powering the world's #1 supercomputer Fukagu in Japan. The problem with SVE was that this first iteration of the new variable vector length SIMD instruction set was rather limited in scope, and aimed more at HPC workloads, missing many of the more versatile instructions which still were covered by NEON.
SVE2 was announced back in April 2019, and looked to solve this issue by complementing the new scalable SIMD instruction set with the needed instructions to serve more varied DSP-like workloads that currently still use NEON.
The benefit of SVE and SVE2 beyond addition various modern SIMD capabilities is in their variable vector size, ranging from 128b to 2048b, allowing variable 128b granularity of vectors, irrespective of what the actual hardware is running on. Purely from a view of vector processing and programming, it means that a software developer would only ever have to compile his code once, and if in the future a CPU would come out with say native 512b SIMD execution pipelines, the code would be able to already take advantage of the full width of the units. Similarly, the same code would be able to run on more conservative designs with a lower hardware execution width capability, which is important to Arm as they design CPUs from IoT, to mobile, to datacentres. It also does this all whilst remaining within the 32b encoding space of the Arm architecture, whereas alternative implementations such as on x86 have to add on new extensions and instructions depending on vector size.
Machine learning is also seen as an important part of Armv9 as Arm sees more and more ML workloads to become common place in the next years. Running ML workloads on dedicated accelerators naturally will still be a requirement for anything that is performance or power efficiency critical, however there still will be vast new adoption of smaller scope ML workloads that will run on CPUs.
Matrix multiplication instructions are key here and will represent an important step in seeing larger adoption across the ecosystem as being a baseline feature of v9 CPUs.
Generally, I see SVE2 as probably the most important factor that would warrant the jump to a v9 nomenclature as it's a more definitive ISA feature that differentiates it from v8 CPUs in every-day usage, and that would warrant the software ecosystem to go and actually diverge from the existing v8 stack. That's actually become quite a problem for Arm in the server space as the software ecosystem is still baselining software packages on v8.0, which unfortunately is missing the all-important v8.1 Large System Extensions.
Having the whole software ecosystem move forward and being able to assume new v9 hardware has the capability of the new architectural extensions would help push things ahead, and probably solve some of the current situation.
However v9 isn't only about SVE2 and new instructions, it also has a very large focus on security, where we'll be seeing some more radical changes.
Over the last few years, we've seen security, and security breaches of hardware be at the forefront of news, with many vulnerabilities such as Spectre, Meltdown, and all of their sibling side-channel attacks showcasing that there's a fundamental need for a re-think of how to approach security. One way Arm wants to address this overarching issue is to re-architect how secure applications work with the introduction of the Arm Confidential Compute Architecture.
Before continuing, I want to warn that today's disclosures are merely high-level explanations of how the new CCA operates, with Arm saying more details on how exactly the new security mechanism works will be unveiled later this summer.
The goal of the CCA is to more from the current software stack situation where applications which are run on a device have to inherently trust the operating system and the hypervisor they are running on. The traditional model of security is built around the fact that the more privileged tiers of software are allowed to and are able to see into the execution of lower tiers, which can be an issue when the OS or the hypervisor is compromised in any way.
CCA introduces a new concept of dynamically creates "realms", which can be viewed as secured containerised execution environments that are completely opaque to the OS or hypervisor. The hypervisor would still exist, but be solely responsible for scheduling and resource allocation. The realms instead, would be managed by a new entity called the "realm manager", which is supposed to be a new piece of code roughly 1/10th the size of a hypervisor.
Applications within a realm would be able to "attest" a realm manager in order to determine that it can be trusted, which isn't possible with say a traditional hypervisor.
Arm didn't go into more depth of what exactly creates this separation between the realms and the non-secure world of the OS and hypervisors, but it did sound like hardware backed address spaces which cannot interact with each other.
The advantage of the usage of realms is that it vastly reduces the chain of trust of a given application running on a device, with the OS becoming largely transparent to security issues. Mission-critical applications that require supervisory controls would be able to run on any device as say opposed to today's situation where corporate or businesses require one to use dedicated devices with authorised software stacks.
Not new to v9 but rather introduced with v8.5, MTE or memory tagging extensions are aimed to help with two of the most persistent security issues in the world's software. Buffers overflows and use-after-free are continuing software design issues that have been part of software design for the past 50 years, and can take years for them to be identified or resolved. MTE is aimed at helping identify such issues by tagging pointers upon allocation and checking upon use.
Not directly related to v9, however tied into the technology roadmap of the upcoming v9 designs in the near future, Arm also made talked about some points regarding their projected performance of v9 designs in the next 2 years.
Arm talked about how the mobile space had seen performance increases of 2.4x (we're talking purely ISO-process design IPC here) of this year's X1 devices compared to the Cortex-A73 a few years ago in 2016.
Interestingly, Arm also talked about Neoverse V1 designs and how they're achieving 2.4x the performance of A72 class designs, and discloses that they are expecting the first V1 devices to he released later this year.
For the next-generation mobile IP cores, code-named Matterhorn and Makalu, the company is disclosing an aggregate expected 30% IPC gain across these two generations, excluding frequency or any other additional performance gains which could be reached by SoC designers. This actually represents a 14% generational increases across these two new designs, and as showcased in the performance curve in the slide, would indicate that improvements are slowing down relative to what Arm had managed over the past few years since the A76. Still, the company states that the rate of advancement is still well beyond the industry average – admittedly that is being dragged down by some players.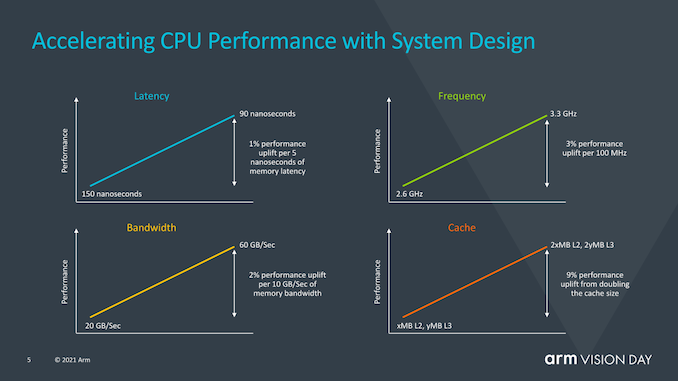 Oddly enough, Arm also included a slide that wanted to focus on the system-side impact on performance, rather than just CPU IP performance. Some of the figures presented here, such as 1% of performance per 5ns of memory latency have been figures that we had talked about extensively for a few generations now, but Arm here also points out that there's a whole generation of CPU performance that can be squeezed out if one focuses on improving various other aspects of an implementations by improving the memory path, increasing caches, or optimising frequency capabilities. I consider this to be a veiled shot at the current conservative approaches from SoC vendors which are not fully utilising the expected performance headroom of X1 cores, and subsequently also not reaching the expected performance projections of the new core.
Arm continues to see the CPU as the most versatile compute block for the future. While dedicated accelerators or GPUs will have their place, they have a hard time to address important points such as programmability, protection, pervasiveness (essentially ability to run them on any device), and proven abilities to work correctly. Currently, the compute ecosystem is extremely fragmented in how things are run, not only differing between device types, but also differing between device vendors and operating systems.
SVE2 and Matrix multiplication can vastly simplify the software ecosystem, and allow compute workloads to take a step forward with a more unified approach that will be able to run on any device in the future.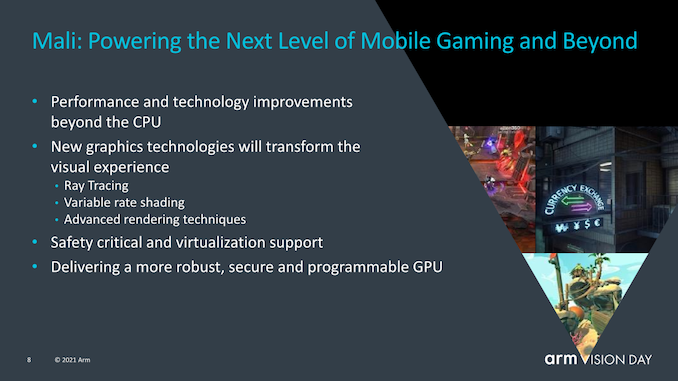 Lastly, Arm had a nugget of new information on the future of Mali GPUs, disclosing that the company is working on new technologies such as VRS and in particular Ray Tracing. The latter point is quite surprising to hear, and signals that the desktop and console ecosystem push by AMD's and Nvidia's introduction of RT is also expected to push the mobile GPU ecosystem towards RT.
Armv9 designs to be unveiled soon, devices in early 2022
Today's announcement came in an extremely high-level format, and we expect Arm to talk more about the various details of Armv9 and new features such as CCA in the company's usual yearly tech disclosures in the coming months.
In general, Armv9 appears to be a mix between a more fundamental ISA shift, which SVE2 can be seen as, and a general re-baselining for the software ecosystem to aggregate the last decade of v8 extensions, and build the foundation for the next decade of the Arm architecture.
Arm had already talked about the Neoverse V1 and N2 late last year, and I do expect the N2 at least to be eventually unveiled as a v9 design. Arm further discloses to expect more Armv9 CPU designs, likely the mobile-side Cortex-A78 and X1 successors, to be unveiled this year, with the new CPUs likely to have already been taped-in by the usual SoC vendors, and expected to be seen in commercial devices in early 2022.