Intel has now launched its latest 11th Generation Core processors for desktop. The highest performing of these is the Core i9-11900K, with 8 cores and 16 threads, and it does have some raw core advancements with an updated microarchitecture. These processors need appropriate motehrboards, and although we've seen Intel's Z590 and B560 models already filter into retail channels over the last couple of months, the time is now to start getting to grips with them. The first up for review is the ASRock Z590 Taichi, which currently sits as the brand's flagship model. Some of the Z590 Taichi's main features include dual Thunderbolt 4 Type-C, dual RJ45 including one 2.5 gigabit Ethernet, Intel's latest Wi-Fi 6E CNVi, and comes equipped with a large 14-phase power delivery. 
New DMI x8 Link, Better Memory Support
Back in January, we detailed and analyzed over 50 new Z590 models which are designed to benefit from an array of new features. This includes an improved direct media interface (DMI) link between the CPU and chipset (now x8 over x4) when paired with a new 11th Gen Core processor – users can have a 10th Gen Core processor, but it will be limited to x4. Intel Z590 now also includes better native memory support (DDR4-3200 on Z590 vs DDR4-2933 on Z490), as well as Intel's first official desktop platform to feature PCIe 4.0. Although PCIe 4.0 has been seen on AMD platforms for over a year, it's a solid statement from Intel as they look to regain its position as the king in the processor market.
The biggest difference between Intel's new Z590 chipset in regards to PCIe compared to AMD is that the chipset connection for Intel is still PCIe 3.0. All of the PCIe 4.0 support from Intel currently comes from the CPU, with up to 20 PCIe 4.0 lanes available from Rocket Lake's silicon – this can be divided in a couple of ways, including one full-length PCIe 4.0 x16 slot or two full-length PCIe 4.0 slots operating at x8/x8, with four available to high-speed PCIe 4.0 x4 NVMe storage drives. But it cannot be used for the chipset.
Other new features include native USB 3.2 G2x2 connectivity which in the past, has only been available to vendors through the use of additional controllers. Support for Intel's latest Wi-Fi 6E CNVi, as well as Intel's latest Thunderbolt 4 controller, all requires extra silicon in the chain and is a cost-add. All of these improvements can be seen across the majority of Z590 products, particularly on the mid-range to higher-end models.
Touching on higher-end Z590 models, the Z590 Taichi at the time of writing is ASRock's flagship model for Rocket Lake, with plenty of premium features that make the most of Intel's new refinements. Starting with the aesthetic, ASRock's Z590 Taichi has enabled a predominately black and sleek design, with armor covering the majority of the PCIe slot area, with ASRock's patent-pending graphics holder included in the packaging. The Taichi opts for its typical cogwheel-inspired design on the chipset heatisnk, and another cogwheel is on the rear panel cover – both include RGB LED lighting. Included in the accessories bundle is an additional power delivery cooling fan bracket mounting kit, for more aggressive cooling, as well as its patent-pending graphics card holder.
The second cogwheel, on the rear IO cover, is a mechnanical moving part, and the first time I've personally seen a mechanical moving part integrated into a motherboard.

The ASRock Z590 Taichi with its 'Patent Pending' VGA holder
One of the biggest additions to the 11th generation Core processors is PCIe 4.0 support, which the Taichi primarily adopts through two of its three full-length PCIe slots. The top two slots support PCIe 4.0 x16 and x8/x8, while the third full-length slot is locked to PCIe 3.0 x4. Intel's foray into PCIe 4.0 also includes storage, with one PCIe 4.0 x4 M.2 slot, and two PCIe 3.0 x4/SATA M.2 slots, and a total of eight SATA ports with support for RAID 0, 1, 5, and 10 arrays.
Other notable primary features of the ASRock Z590 Taichi include dual Thunderbolt 4 40 Gbps Type-C on the rear panel, which can transmit a video signal when using a processor with integrated graphics if a user is planning on using a compatible monitor with Thunderbolt support. ASRock also includes one HDMI video output offering support for Intel's integrated graphics. On the networking front, the Z590 Taichi includes premium 2.5 gigabit Ethernet, a secondary Gigabit Ethernet port, as well an Intel-based Killer branded Wi-Fi 6E CNVi. From a pure performance perspective, the Z590 Taichi can support up to DDR4-5000 memory out of the box, with a maximum capacity of 128 GB across its four available memory slots. 
Focusing on the performance, the Z590 Taichi was quite slow in terms of POST time, when compared to other models we've tested for comparison. Although we test DPC latency out of the box at default settings, the Taichi did well. When compared to others, the power consumption was a little bit higher. This could be down to the mechanics involved in the revolving cogwheel, as well as the included Thunderbolt 4 controller. In our CPU and gaming test suite, the Z590 Taichi showed competitive figures with not much separating it from other Z590 models on test.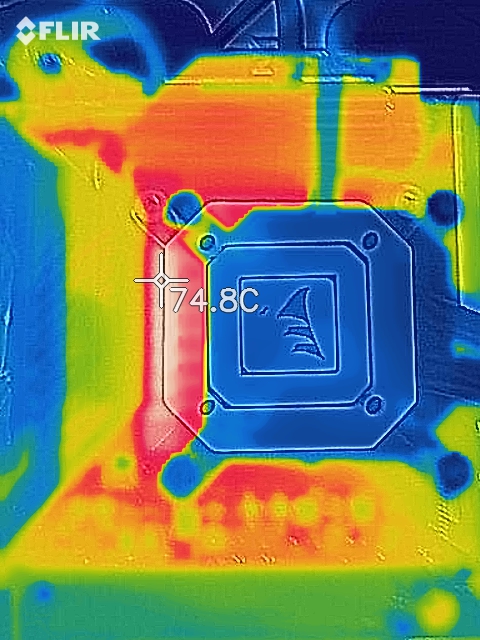 The ASRock Z590 Taichi undergoing VRM thermal testing
With Intel's Z590 chipset coming with official overclocking support, we overclocked the ASRock Z590 Taichi and saw some interesting behaviors. On the surface, we saw an increase in POV-Ray benchmark performance as we tested each frequency from 4.7 GHz to 5.3 GHz. We found our Core i9-11900K was only capable of 5.2 GHz all-cores, which is still impressive and provided plenty of performance. The increase in voltage also came with plenty of heat, and we managed to draw a maximum of 438 W from the wall, with very aggressive levels of VDroop control which meant more heat than was needed. We also tested the board's VRM thermals, and due to the actively cooled 14-phase power delivery, we saw warm operating temperatures, albeit very good performance when compared to other Z590 models we've tested so far
At the time of writing, the ASRock Z590 Taichi currently costs $430 at Newegg, which puts it in a similar price bracket to competing models such as the gaming-focused GIGABYTE Z590 Aorus Master ($410), and cheaper than MSI's MEG Z590 Ace with a price tag of $500. While all three models benefit from Intel's latest Wi-Fi 6E CNVI, the Taichi has more SATA ports (eight versus six) and includes dual Thunderbolt 4 Type-C, which the Aorus Master does not. Over the years, the ASRock Taichi has been a staple of its line-up and we're not sure if this will remain the comprehensive flagship over the coming months, but with 2.5 Gb Ethernet, Wi-Fi 6E, triple M.2 slots, and Thunderbolt 4, it seems to tick many boxes in its price point that other models do not.
Read on for our extended analysis.
The overall design of the Taichi series has followed a progressive trajectory over the last couple of years. Sitting now as one of ASRock's more premium models. the entire aesthetic has revolved around the use of cogwheels what the company itself dubs as the 'Philosophy of Infinite Potential'. For Z590, the Taichi moves to an all-black design, with a plain black PCB, black heatsinks, and primarily black PCIe slot armor. The Z590 Taichi has plenty of customizable RGB LED lighting, with four zones including two in the plastic rear panel cover, one area within the chipset heatsink, and along the right-hand side of the board which creates an under glow effect.
Dominating the lower section of the board is the PCIe slot area. The ASRock Z590 Taichi includes two full-length PCIe 4.0 slots that can operate at x16 and x8/x8, a third full-length slot electronically locked down to PCIe 3.0 x4, and a single PCIe 3.0 x1 slot. All three of the board's full-length slots include ASRock's Steel Slot reinforcement, with the PCIe armor blending in nicely with M.2 heatsinks. Touching on the storage, the Z590 Taichi includes one PCIe 4.0 x4 M.2 slot, and two PCIe 3.0 x4 M.2 slots that also support SATA. For SATA devices, ASRock includes a combined total of eight, with six powered by the chipset and two driven by an ASMedia ASM1061 SATA controller. As expected, the six SATA ports from the chipset support RAID 0, 1, 5, and 10 arrays. Below are the limitations on storage devices due to bandwidth sharing between slots/connectors:
M2_2, SATA3_0, and SATA 3_1 share bandwidth, if one is used, it disables the other two
M2_3, SATA3_4 and SATA3_5 and PCIE_4 share bandwidth. if one is used, it disables the other three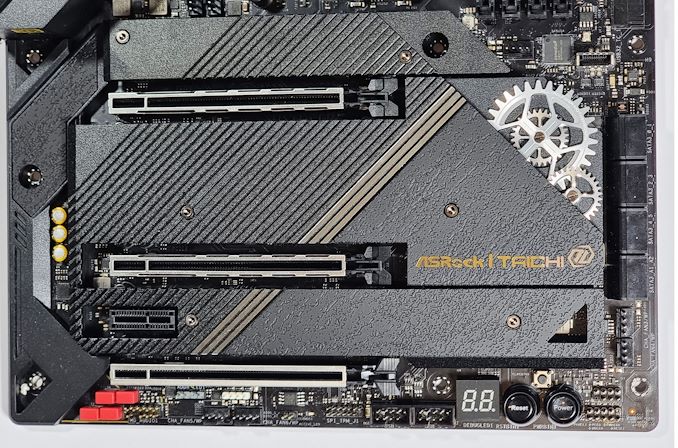 Along the bottom of the board towards the right-hand corner, there's a small overclockers toolkit which consists of a power button, a reset button, a two-digit LED debugger, and a small clear CMOS button. Around the board's edge is a total of eight 4-pin headers which include one for a CPU fan, one doubling up as a CPU fan and water pump header, and six for chassis fans. Other useful front panel headers include a single USB 3.2 G2x2 Type-C header, two USB 3.2 G1 Type-A headers (four ports), and two USB 2.0 headers (two ports).

The moving cogwheel built into the Z590 Taichi rear panel cover.
One of the new and interesting things about the Z590 Taichi's new design is that it has implemented a mechanical cogwheel into the rear panel cover. This can spin both clockwise and anti-clockwise with a stepping motor providing power and rotation to the cog. Within the firmware, users can adjust the time interval between the rotations, including 5, 10, 30, and 60-minute intervals, or of course switch it off altogether.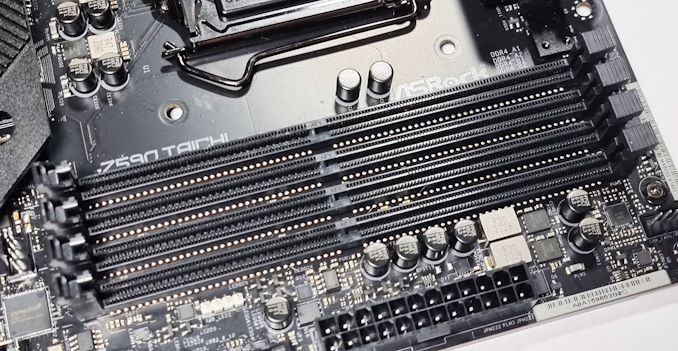 In the top right-hand corner, there are four memory slots in total, which include support for up to DDR4-5000 out of the box. This also includes support for up to 128 GB, with official support for non-ECC memory modules only. As with all of Intel's Z590 models, memory kits with Intel XMP 2.0 memory profiles are support.
The ASRock Z590 Taichi is using a premium 14-phase power delivery operating in a 6+2 configuration. The CPU section includes twelve Renesas ISL99390 90 A SPS power stages with six Reneasas ISL6617A doublers. ASRock includes two ISL99390 90 A SPS power stages for the SoC section, with a Renesas ISL69269 PWM controller operating in 6+2 mode. In addition to this, each physical power stage includes 90 A alloy inductors, with a total of fourteen present. Overall, the Z590 Taichi can deliver up to 1080 A of current on the CPU side, with two 8-pin 12 V ATX CPU power inputs delivering the power. Using doublers is a conventional way of adding in more operating phases which can effectively reduce the overall temperature with the aim of increasing thermal efficiency, without sacrificing too much in the way of VDroop and overall power efficiency.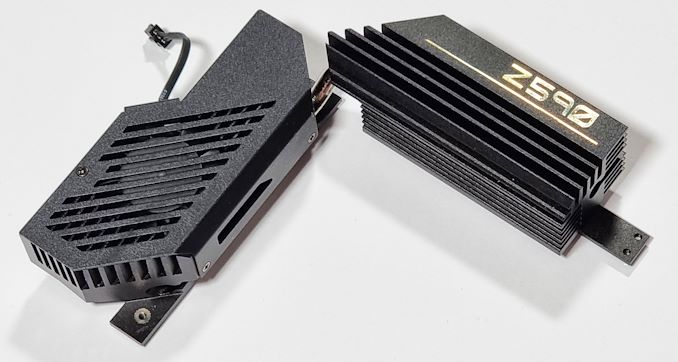 Cooling the power delivery is a large pair of heatsinks, which are interconnected via a large single heat pipe. Integrated into the CPU section is a small cooling fan, which makes the power delivery an actively cooled solution. ASRock includes a pair of brackets, one for a 3 cm fan without included in the bundle, as well as a 4 cm bracket for users wishing to add their own. This can be installed onto the end of the SoC area heatsink, with pre-installed mounting holes available to use.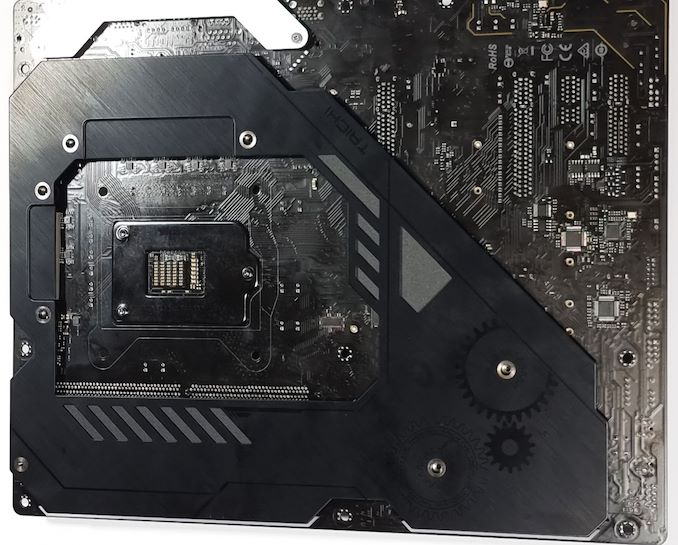 At the back of the board, the Z590 Taichi includes a half-cover backplate, which adds extra thermal properties to the back of the power delivery, as well as extra rigidity across the board. It's black, includes some Taichi cogwheel design, primarily behind the chipset heatsink, although the likelihood of seeing this within a system is slim in a conventional chassis.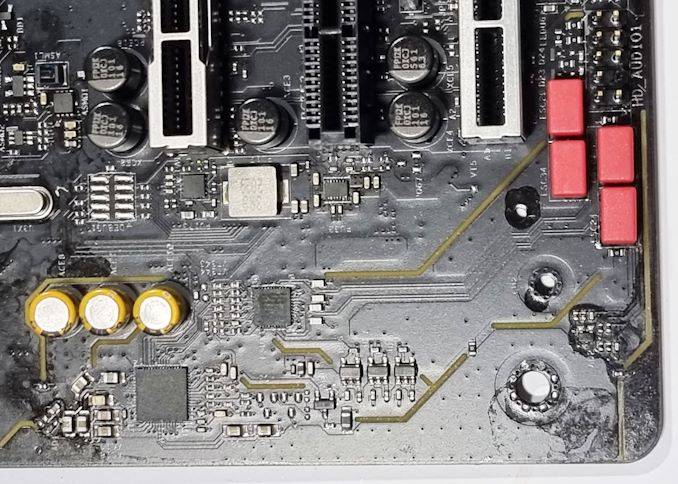 Looking at the onboard audio solution of the Z590 Taichi, ASRock is using a Realtek ALC1220 HD audio codec, with an assisting ESS Sabre 9218 DAC with an SNR of up to 130 dB, and supports headphones with an impedance of up to 600 ohms. Flanking the HD audio codec are three Japanese Gold Nichicon audio capacitors, with four WIMA audio capacitors located at the bottom. The audio PCB is separated from the rest of the board with a gold-colored separating line, which is designed to improve signal quality and reduce interference from the board's other electronic components.
On the rear panel is a good selection of input and output, including dual Thunderbolt 4 40 Gbps Type-C, which also provide support for compliant and compatible Thunderbolt monitors. What's interesting here though is that ASRock hasn't labeled these Type-C ports with the official TB4 logos. Other USB connectivity includes two USB 3.2 G2 Type-A, and four USB 3.2 G1 Type-A ports. For audio, there are five 3.5 mm audio jacks and S/PDIF optical output located in the center of the rear panel, which is all powered by a Realtek ALC1220 HD audio codec and ESS Sabre 9218 DAC pairing, with one HDMI 2.0 video output providing access to Intel's UHD integrated graphics. On the networking side of things, ASRock includes two RJ45 ports, one driven by a Killer E3100G 2.5 GbE and the other by an Intel I219-V Gigabit controller, with a Killer AX1675x Wi-Fi 6E CNVi. Finishing off the rear panel is a BIOS Flashback button.
The two USB 3.2 G1 Type-A ports located between the HDMI 2.0 and audio connectors, are what ASRock likes to call its 'Lightning Gaming Ports'. One port is designated for a keyboard and another for a mouse. ASRock says this is patent-pending, and what makes it unique is one that runs from a separate USB controller, an ASMedia ASM1042A. ASRock claims this to improve jitter latency, by reducing the amount of traffic across the USB controller.
What's in The Box
Included with the ASRock Z590 Taichi is a pretty comprehensive accessories bundle that features everything needed to get a system running out of the box. The package consists of an installation manual, three black SATA cables, two M.2 screw installation kits, as well as two Killer antenna AX1675x Wi-Fi 6E CNVi. One of the interesting additions is a USB 2.0 to 2 x Type-A header which allows users to add two USB 2.0 ports to the rear panel. This is something I haven't seen included with a motherboard for a long time.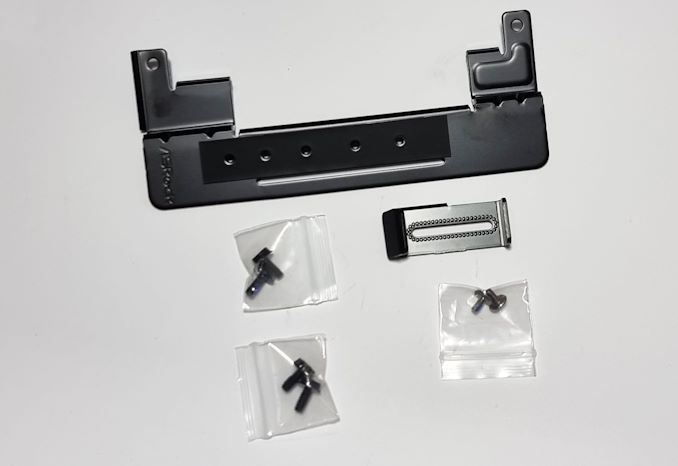 Also included in the accessories bundle is ASRock's patent-pending Graphics Card Holder. Designed to ease the burden and help eliminate sag on heavy graphics cards, this is supplied with ASRock's more mid-range and premium options. It has a sliding mechanism for easy installation, and all of the screws come supplied as well as mounting holes on the board.
Quick installation guide
Software installation guide
ASRock Taichi sticker sheet
ASRock Taichi postcard
2 x Killer AX1675x antenna
ASRock Torx screwdriver
2 x M.2 installation screw kits
2 x ASRock velcro cable ties
USB 2.0 to 2 x Type-A expansion card
3 x SATA 6 Gbps cables (black)
ASRock 3 cm VRM fan and bracket kit
ASRock GPU Holder
Going from its Z490 firmware to the latest Z590 firmware, ASRock hasn't made any noticeable changes to the user interface. This isn't a negative as ASRock's Taichi UEFI firmware is aesthetically pleasing, with a subtle black background with ASRock's cogwheel motifs. The GUI includes yellow primary menu text, with white variable text, a grey highlight when each variable is selected or hovered over to denote what is currently selected.
The ASRock Taichi firmware has two primary modes in which users can make changes, basic and advanced. The basic section includes relevant information about the CPU, DRAM, fan status, and boot priority. A  CPU temperature graph t that monitors how hot the CPU is running sits along the top, with an option below it to select between different CPU Fan settings. Users can also access more intricate functions, including Instant Flash, to update the board's firmware and an option to flash the firmware over the internet. The FAN-Tastic tuning section allows users to customize fan profiles via pre-defined presets or manually adjust fan curves for each of the board's eight 4-pin headers. 
Pressing the F6 key will cycle between the basic and advanced modes, and while the basic mode offers what it says on the tin, the advanced mode is where all of the board's customizable settings are located. The main menus, which are located along the top, include the OC Tweaker, the Advanced section, a Tool menu, an integrated H/W Monitor, Security options, Boot menu customizer, and the Exit menu. The OC Tweaker is where all of the board's power-related and overclocking settings are located. With new refinements to Intel's 14 nm ported Rocket Lake processors, including VF Curve adjustment, as well as new memory controller ratio settings. Users can also overclock the memory and make voltage adjustments, with the CPU, memory, and voltage settings featuring their own individual menus.
Other notable elements within the ASRock Z590 Taichi firmware include the Polychrome RGB tool, allowing users to customize the board's integrated RGB LEDs. However, the included ASRock Polychrome RGB software offers much better customization options. The Tool I/O Cover Gear Rotating option allows users to customize the mechanical stepping cogwheel built into the rear panel cover, a nice aesthetic feature. Overall the ASRock Z590 Taichi firmware is responsive and stable. However, we experienced a couple of memory-related issues on an earlier firmware version, which we hope will be rectified going forward.
Included with the ASRock Z590 Taichi is a basic yet highly functional set of software and applications. The most prominent of these is the ASRock A-Tuning software. Also included is ASRock's Polychrome RGB, where users can customize the look of the system and components such as graphics cards, peripherals, and RGB memory. The ASRock Live Update & App Store software allows users to update the board's drivers and software, although it is plagued with gambling app downloads which we aren't particularly keen on seeing. 
The ASRock A-Tuning software allows users to overclock the CPU and the base clock (BCLK) frequency. It includes various customizable voltage options, including DRAM voltage adjustment, although the software doesn't allow alterations to the memory frequency or latency timings. The A-Tuning software also includes the ASRock FAN-Tastic Tuning utility, allowing users to customize the fan curve profiles for each of the board's eight 4-pin headers. The System Info section displays a list of current and real-time frequencies, voltages, and fan speeds using its own integrated sensors to provide data. 
Other software suite applications include the ASRock XFast LAN utility, which allows users to monitor internet traffic bandwidth, create online budgets, and provide comparative ping statistics. Taking care of the audio software, ASRock uses the Nahimic 3 software, which provides multiple functionalities, including preset profiles based on different auditory scenarios such as music, movies, and gaming, with a digital static suppressor for microphones that pick up a lot of background noise. The ASRock Restart to UEFI software allows users to enter the board's firmware at the click of a button.
The ASRock Z590 Taichi is an ATX sized motherboard targeted at gamers and enthusiasts and currently sits at the top of the ASRock's Z590 models. It makes use of plenty of Intel's new features for Z590, including two full-length PCIe 4.0 slots which can operate at x16 and x8/x8, with a third full-length PCIe 3.0 x4 slot. ASRock also includes three M.2 slots, with the top slot operating at PCIe 4.0 x4 from the CPU, with two PCIe 3.0 x4/SATA drives driven by the chipset. For conventional storage devices, there's a total of eight SATA ports, with six from the chipset that includes support for RAID 0, 1, 5, and 10 arrays, while an ASMedia ASM1061 SATA controller powers the other two. A total of four memory slots are present, with support for up to DDR4-5000 out of the box, as well as support for up to 128 GB of capacity. Users looking to run big cooling setups will appreciate the eight 4-pin headers, with one dedicated to a CPU fan, one for a water pump/AIO pump, and six that can double up as either water cooling or chassis fan headers.
ASRock Z590 Taichi ATX Motherboard
Warranty Period
3 Years
Product Page
Link
Price
$430
Size
ATX
CPU Interface
LGA1200
Chipset
Intel Z590
Memory Slots (DDR4)
Four DDR4
Supporting 128 GB
Dual-Channel
Up to DDR4-5000
Video Outputs
1 x HDMI 2.0
2 x Thunderbolt 4 Type-C
Network Connectivity
Killer E3100G 2.5 GbE
Intel I219-V Gigabit
Killer AX1675x Wi-Fi 6E
Onboard Audio
Realtek ALC1220
ESS Sabre ES9218 DAC
PCIe Slots for Graphics (from CPU)
2 x PCIe 4.0 (x16, x8/x8)
PCIe Slots for Other (from PCH)
1 x PCIe 3.0 x4
Onboard SATA
Six, RAID 0/1/5/10 (Z590)
Two, ASMedia ASM1061
Onboard M.2
1 x PCIe 4.0 x4
2 x PCIe 3.0 x4/SATA
Thunderbolt 4 (40 Gbps)
2 x Type-C (Rear Panel
USB 3.2 (20 Gbps)
1 x USB Type-C (Header)

USB 3.2 (10 Gbps)

2 x USB Type-A (Rear panel)
USB 3.1 (5 Gbps)
4 x USB Type-A (Rear panel)
4 x USB Type-A (Two headers)
USB 2.0
4 x USB Type-A (Two headers)
Power Connectors
1 x 24-pin Motherboard
2 x 8-pin CPU
Fan Headers
1 x 4-pin CPU
1 x 4-pin Water Pump/chassis
6 x 4-pin Chassis
IO Panel
2 x Antenna Ports (Killer AX1675x)
1 x HDMI 2.0 output
2 x Thunderbolt 4 Type-C
2 x USB 3.2 G2 Type-A
4 x USB 3.2 G1 Type-A
1 x RJ45 (Killer)
1 x RJ45 (Intel)
1 x BIOS Flashback button
5 x 3.5 mm audio jacks (Realtek)
1 x S/PDIF Optical output (Realtek)
One of the latest features from Intel comes through its Maple Ridge Thunderbolt 4 controller, which is a feature on the ASRock Z590 Taichi. This means there are two Thunderbolt 4 40 Gbps Type-C ports on the rear panel, which can also be used to output video from compatible monitors. ASRock even includes a front panel USB 3.2 G2x2 Type-C header, although there aren't many chassis around which can support the full bandwidth available. Also on the rear panel is two USB 3.2 G2 Type-A, and four USB 3.2 G1 Type-A ports, with a Realtek ALC1220 HD codec and ESS Sabre ES9218 DAC combo taking care of the onboard audio. Interestingly, ASRock adopts Killer networking which is rebadged Intel controllers designed for gaming, with a Killer E3100G 2.5 GbE controller, a Killer AX1675x Wi-Fi 6E CNVi, and a secondary Intel I219-V Gigabit controller. 
Test Bed
With some of the nuances with Intel's Rocket Lake processors, our policy is to see if the system gives an automatic option to increase the power limits of the processor. If it does, we select the liquid cooling option. If it does not, we do not change the defaults. Adaptive Boost Technology is disabled by default.
Test Setup
Processor
Intel Core i9-11900K, 125 W, $374
8 Cores, 16 Threads 3.5 GHz (5.3 GHz Turbo)
Motherboard
ASRock Z590 Taichi (BIOS L1.41M)
Cooling
Corsair iCue H150i Elite Capellix 360 mm AIO
Power Supply
Corsair HX850 80Plus Platinum 850 W
Memory
G.Skill TridentZ DDR4-3200 CL 14-14-14-34 2T (2 x 8 GB)
Video Card
MSI GTX 1080 (1178/1279 Boost)
Hard Drive
Crucial MX300 1TB
Case
Corsair Crystal 680X
Operating System
Windows 10 Pro 64-bit: Build 20H2
We must also thank the following:
Hardware Providers for CPU and Motherboard Reviews
Sapphire RX 460 Nitro
MSI GTX 1080 Gaming X OC
Crucial MX200 +
MX500 SSDs
Corsair AX860i +
AX1200i PSUs
G.Skill RipjawsV,
SniperX, FlareX
Crucial Ballistix
DDR4
Silverstone
Coolers
Noctua
Coolers
Not all motherboards are created equal. On the face of it, they should all perform the same and differ only in the functionality they provide – however, this is not the case. The obvious pointers are power consumption, POST time and latency. This can come down to the manufacturing process and prowess, so these are tested.
For Z590 we are running using Windows 10 64-bit with the 20H2 update.
Power Consumption
Power consumption was tested on the system while in a single MSI GTX 1080 Gaming configuration with a wall meter connected to the power supply. Our power supply has ~75% efficiency > 50W, and 90%+ efficiency at 250W, suitable for both idle and multi-GPU loading. This method of power reading allows us to compare the power management of the UEFI and the board to supply components with power under load, and includes typical PSU losses due to efficiency. These are the real-world values that consumers may expect from a typical system (minus the monitor) using this motherboard.
While this method for power measurement may not be ideal, and you feel these numbers are not representative due to the high wattage power supply being used (we use the same PSU to remain consistent over a series of reviews, and the fact that some boards on our testbed get tested with three or four high powered GPUs), the important point to take away is the relationship between the numbers. These boards are all under the same conditions, and thus the differences between them should be easy to spot.
We're still early on testing, but this seems quite high compared to the other boards. The Taichi has that spinning cog, but also a Thunderbolt 4 controller and lots of power phases that might increase the power.
Non-UEFI POST Time
Different motherboards have different POST sequences before an operating system is initialized. A lot of this is dependent on the board itself, and POST boot time is determined by the controllers on board (and the sequence of how those extras are organized). As part of our testing, we look at the POST Boot Time using a stopwatch. This is the time from pressing the ON button on the computer to when Windows starts loading. (We discount Windows loading as it is highly variable given Windows specific features.)
DPC Latency
Deferred Procedure Call latency is a way in which Windows handles interrupt servicing. In order to wait for a processor to acknowledge the request, the system will queue all interrupt requests by priority. Critical interrupts will be handled as soon as possible, whereas lesser priority requests such as audio will be further down the line. If the audio device requires data, it will have to wait until the request is processed before the buffer is filled.
If the device drivers of higher priority components in a system are poorly implemented, this can cause delays in request scheduling and process time. This can lead to an empty audio buffer and characteristic audible pauses, pops and clicks. The DPC latency checker measures how much time is taken processing DPCs from driver invocation. The lower the value will result in better audio transfer at smaller buffer sizes. Results are measured in microseconds.
For our motherboard reviews, we use our short form testing method. These tests usually focus on if a motherboard is using MultiCore Turbo (the feature used to have maximum turbo on at all times, giving a frequency advantage), or if there are slight gains to be had from tweaking the firmware. We put the memory settings at the CPU manufacturers suggested frequency, making it very easy to see which motherboards have MCT enabled by default.
For Z590 we are running using Windows 10 64-bit with the 20H2 update.
Rendering – Blender 2.7b: 3D Creation Suite
A high profile rendering tool, Blender is open-source allowing for massive amounts of configurability, and is used by a number of high-profile animation studios worldwide. The organization recently released a Blender benchmark package, a couple of weeks after we had narrowed our Blender test for our new suite, however their test can take over an hour. For our results, we run one of the sub-tests in that suite through the command line – a standard 'bmw27' scene in CPU only mode, and measure the time to complete the render.
Rendering – POV-Ray 3.7.1: Ray Tracing
The Persistence of Vision Ray Tracer, or POV-Ray, is a freeware package for as the name suggests, ray tracing. It is a pure renderer, rather than modeling software, but the latest beta version contains a handy benchmark for stressing all processing threads on a platform. We have been using this test in motherboard reviews to test memory stability at various CPU speeds to good effect – if it passes the test, the IMC in the CPU is stable for a given CPU speed. As a CPU test, it runs for approximately 1-2 minutes on high-end platforms.
Rendering – Crysis CPU Render
One of the most oft used memes in computer gaming is 'Can It Run Crysis?'. The original 2007 game, built in the Crytek engine by Crytek, was heralded as a computationally complex title for the hardware at the time and several years after, suggesting that a user needed graphics hardware from the future in order to run it. Fast forward over a decade, and the game runs fairly easily on modern GPUs, but we can also apply the same concept to pure CPU rendering – can the CPU render Crysis? Since 64 core processors entered the market, one can dream. We built a benchmark to see whether the hardware can.
For this test, we're running Crysis' own GPU benchmark, but in CPU render mode. This is a 2000 frame test, which we run over a series of resolutions from 800×600 up to 1920×1080. For simplicity, we provide the 1080p test here.​
Rendering – Cinebench R23: link
Maxon's real-world and cross-platform Cinebench test suite has been a staple in benchmarking and rendering performance for many years. Its latest installment is the R23 version, which is based on its latest 23 code which uses updated compilers. It acts as a real-world system benchmark that incorporates common tasks and rendering workloads as opposed to less diverse benchmarks which only take measurements based on certain CPU functions. Cinebench R23 can also measure both single-threaded and multi-threaded performance.
Compression – WinRAR 5.60b3: link
Our WinRAR test from 2013 is updated to the latest version of WinRAR at the start of 2014. We compress a set of 2867 files across 320 folders totaling 1.52 GB in size – 95% of these files are small typical website files, and the rest (90% of the size) are small 30-second 720p videos.
3DPMv2.1 – 3D Movement Algorithm Test: link
3DPM is a self-penned benchmark, taking basic 3D movement algorithms used in Brownian Motion simulations and testing them for speed. High floating point performance, MHz, and IPC win in the single thread version, whereas the multithread version has to handle the threads and loves more cores. For a brief explanation of the platform agnostic coding behind this benchmark, see my forum post here.
One frequent request over the years has been for some form of molecular dynamics simulation. Molecular dynamics forms the basis of a lot of computational biology and chemistry when modeling specific molecules, enabling researchers to find low energy configurations or potential active binding sites, especially when looking at larger proteins. We're using the NAMD software here, or Nanoscale Molecular Dynamics, often cited for its parallel efficiency. Unfortunately the version we're using is limited to 64 threads on Windows, but we can still use it to analyze our processors. We're simulating the ApoA1 protein for 10 minutes, and reporting back the 'nanoseconds per day' that our processor can simulate. Molecular dynamics is so complex that yes, you can spend a day simply calculating a nanosecond of molecular movement.
For Z590 we are running using Windows 10 64-bit with the 20H2 update.
Civilization 6
Originally penned by Sid Meier and his team, the Civilization series of turn-based strategy games are a cult classic, and many an excuse for an all-nighter trying to get Gandhi to declare war on you due to an integer underflow. Truth be told I never actually played the first version, but I have played every edition from the second to the sixth, including the fourth as voiced by the late Leonard Nimoy, and it a game that is easy to pick up, but hard to master.
Benchmarking Civilization has always been somewhat of an oxymoron – for a turn based strategy game, the frame rate is not necessarily the important thing here and even in the right mood, something as low as 5 frames per second can be enough. With Civilization 6 however, Firaxis went hardcore on visual fidelity, trying to pull you into the game. As a result, Civilization can taxing on graphics and CPUs as we crank up the details, especially in DirectX 12.
Shadow of the Tomb Raider (DX12)
The latest instalment of the Tomb Raider franchise does less rising and lurks more in the shadows with Shadow of the Tomb Raider. As expected this action-adventure follows Lara Croft which is the main protagonist of the franchise as she muscles through the Mesoamerican and South American regions looking to stop a Mayan apocalyptic she herself unleashed. Shadow of the Tomb Raider is the direct sequel to the previous Rise of the Tomb Raider and was developed by Eidos Montreal and Crystal Dynamics and was published by Square Enix which hit shelves across multiple platforms in September 2018. This title effectively closes the Lara Croft Origins story and has received critical acclaims upon its release.
The integrated Shadow of the Tomb Raider benchmark is similar to that of the previous game Rise of the Tomb Raider, which we have used in our previous benchmarking suite. The newer Shadow of the Tomb Raider uses DirectX 11 and 12, with this particular title being touted as having one of the best implementations of DirectX 12 of any game released so far.
Strange Brigade (DX12)
Strange Brigade is based in 1903's Egypt and follows a story which is very similar to that of the Mummy film franchise. This particular third-person shooter is developed by Rebellion Developments which is more widely known for games such as the Sniper Elite and Alien vs Predator series. The game follows the hunt for Seteki the Witch Queen who has arose once again and the only 'troop' who can ultimately stop her. Gameplay is cooperative centric with a wide variety of different levels and many puzzles which need solving by the British colonial Secret Service agents sent to put an end to her reign of barbaric and brutality.
The game supports both the DirectX 12 and Vulkan APIs and houses its own built-in benchmark which offers various options up for customization including textures, anti-aliasing, reflections, draw distance and even allows users to enable or disable motion blur, ambient occlusion and tessellation among others. AMD has boasted previously that Strange Brigade is part of its Vulkan API implementation offering scalability for AMD multi-graphics card configurations. For our testing, we use the DirectX 12 benchmark.
Experience with the ASRock Z590 Taichi
Intel's latest Rocket Lake processors include plenty of benefits for novice and advanced users when it comes to overclocking. First of all, Intel has made further enhancements over its previous Comet Lake processors, which we had plenty of experience with for the majority of 2020. When overclocking with both Comet Lake and Rocket Lake, the core fundamentals remain much of the same, with Intel fine-tuning its secret sauce for the 11th gen K/KF series processors with its new Adaptive Boost Technology. Despite knowing the Intel specification to these limits with PL2 and Tau, we know motherboard vendors typically ignore these values implementing its own variations within the firmware, which generally go above and beyond what Intel deems appropriate. 
Another important fact to consider when doing any form of overclocking is making sure that adequate cooling methods are used. It would be ineffective to try and run an Intel Core i9-11900K at 5.1 GHz all-core on a basic sub $30 air cooler, and common sense is key here. To squeeze out those last extra bits of frequency generally require the biggest jumps in CPU VCore, which in turn hikes up the power demands, and more power equals more heat, which needs to be tamed effectively. 
Our experience with the ASRock Z590 Taichi when it came to overclocking was a pleasant one. In terms of usability, the ASRock Taichi UEFI firmware is simple to navigate, which is mainly down to the OC Tweaker section's organization. The three main variables for overclocking, including frequency, memory, and voltages, all sit within its own sections, making it easy to navigate and cumbersome for users to remember each value for each setting. To give an example of this, users that will be looking to overclock the CPU will need to frequent back and forth between the CPU configuration menu and voltage menus. 
Users looking to overclock the memory or benefit from Intel's latest enhancements to memory overclocking can find all of the relevant settings in the memory configuration submenu. Here users can enable X.M.P 2.0 memory profiles on compatible memory kits at the click of a button, although users looking to tweak memory manually will need to adjust the memory (DRAM) voltage in the voltage submenu. 
Overall depending on a user's preference, the ASRock Z590 Taichi firmware can be pleasing and infuriating at the same time. Having all the overclocking elements in separate submenus does tidy up the GUI and keep everything in its own place. For experienced overclockers, this won't be an issue, but to the more novice user who may be used to having the settings in a long list to help remember what they have set, it could provide a little headache. The Taichi UEFI firmware itself was responsive to both USB keyboard and mouse input, and it more than stable enough for launch.
Overclocking Methodology
Our standard overclocking methodology is as follows. We select the automatic overclock options and test for stability with POV-Ray and Prime95 to simulate high-end workloads. These stability tests aim to catch any immediate causes for memory or CPU errors.
For manual overclocks, based on the information gathered from the previous testing, start off at a nominal voltage and CPU multiplier, and the multiplier is increased until the stability tests are failed. The CPU voltage is increased gradually until the stability tests are passed. The process repeated until the motherboard reduces the multiplier automatically (due to safety protocol) or the CPU temperature reaches a stupidly high level (105ºC+). Our testbed is not in a case, which should push overclocks higher with fresher (cooler) air.
Overclocking Results

The ASRock Z590 Taichi is the first board we've overclocked with when using Intel's Core i9-11900K, and overall our experience was a positive one. Using our settings at default as the baseline, we know Rocket Lake runs warm, with a maximum temperature of 72ºC despite using one of Corsair's best 360 mm AIO coolers, the H150i Elite Capellix. Peak power draw also topped out at 332 W when running our POV-Ray benchmark, which is quite intensive on both the compute and memory elements. 
Running our testing at manual settings, we started out at 4.7 GHz all-core with 1.3 V on the CPU VCore, which equated to a CPU VCore load voltage of 1.331 V, which is around a 2.3% bump in voltage. When altering the CPU VCore variable within the firmware, it's worth noting that it automatically applies the Level 1 LLC profile, which is quite aggressive but also ensures there's enough voltage compensation available for voltage stuttering. Going up from 4.7 GHz to 5.2 GHz, which was the maximum overclock all-core we could achieve, performance in our POV-Ray benchmark increased, along with heat and power requirements. At 5.2 GHz, we managed to pull an impressive peak wattage of 438 W, which considering the i9-11900K is an eight-core CPU, is slightly concerning when directly compared to AMD's parts.
Overall the Z590 Taichi had adequate, albeit aggressive VDroop control, especially at 1.325 V in the firmware, which translated from between 1.388 and 1.404 V at full-load. Although this is slightly concerning behavior, we do expect ASRock to balance this out as its firmware matures over time.
A lot more focus has been put onto power delivery specifications and capabilities, not just by manufacturers, but as a result of users demands. In addition to the extra power benefits from things like overclocking, more efficient designs in power deliveries and cooling solutions aim to bring temperatures down. Although this isn't something most users ever need to worry about, certain enthusiasts are bringing more focus onto each boards power delivery. The more premium models tend to include bigger and higher-grade power deliveries, with bigger and more intricate heatsink designs, with some even providing water blocks on ranges such as the ASUS ROG Maximus Formula series, and the ASRock Aqua.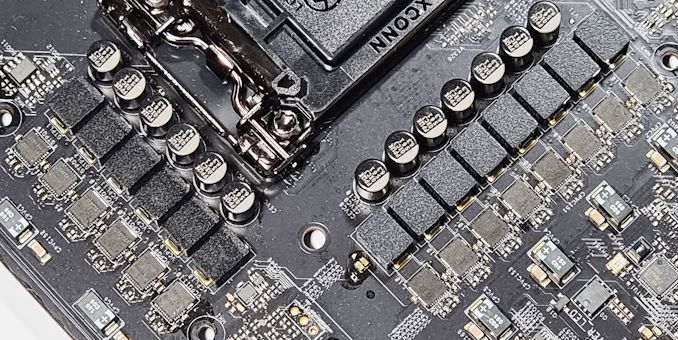 The 14-phase power delivery on the ASRock Z590 Taichi (operating in 6+2)
Testing Methodology
Our method of testing out if the power delivery and its heatsink are effective at dissipating heat, is by running an intensely heavy CPU workload for a prolonged method of time. We apply an overclock which is deemed safe and at the maximum that the silicon on our testbed processor allows. We then run the Prime95 with AVX2 enabled under a torture test for an hour at the maximum stable overclock we can which puts insane pressure on the processor. We collect our data via three different methods which include the following:
Taking a thermal image from a birds-eye view after an hour with a Flir Pro thermal imaging camera
Securing two probes on to the rear of the PCB, right underneath CPU VCore section of the power delivery for better parity in case a probe reports a faulty reading
Taking a reading of the VRM temperature from the sensor reading within the HWInfo monitoring application
The reason for using three different methods is that some sensors can read inaccurate temperatures, which can give very erratic results for users looking to gauge whether an overclock is too much pressure for the power delivery handle. With using a probe on the rear, it can also show the efficiency of the power stages and heatsinks as a wide margin between the probe and sensor temperature can show that the heatsink is dissipating heat and that the design is working, or that the internal sensor is massively wrong. To ensure our probe was accurate before testing, I binned 10 and selected the most accurate (within 1c of the actual temperature) for better parity in our testing.
To recreate a real-world testing scenario, the system is built into a conventional desktop chassis which is widely available. This is to show and alleviate issues when testing on open testbeds which we have done previously, which allows natural airflow to flow over the power delivery heatsinks. It provides a better comparison for the end-user and allows us to mitigate issues where heatsinks have been designed with airflow in mind, and those that have not. The idea of a heatsink is to allow effective dissipation of heat and not act as an insulator, with much more focus from consumers over the last couple of years on power delivery componentry and performance than in previous years.
For thermal image, we use a Flir One camera as it gives a good indication of where the heat is generated around the socket area, as some designs use different configurations and an evenly spread power delivery with good components will usually generate less heat. Manufacturers who use inefficient heatsinks and cheap out on power delivery components should run hotter than those who have invested. Of course, a $700 flagship motherboard is likely to outperform a cheaper $100 model under the same testing conditions, but it is still worth testing to see which vendors are doing things correctly. 
Thermal Analysis Results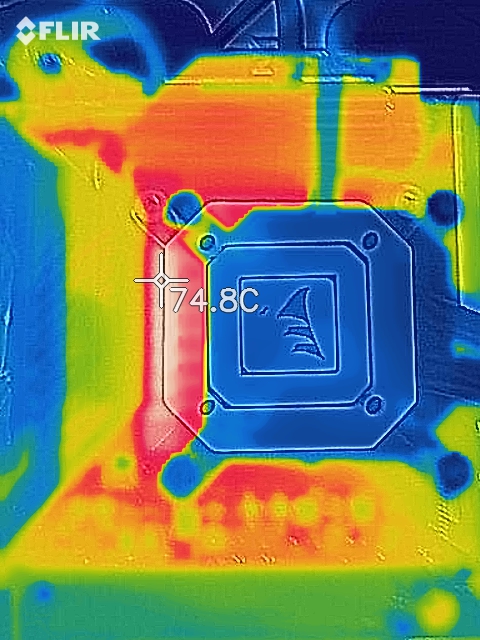 We measured 74.8ºC on the hottest part of the CPU socket during our testing
The ASRock Z590 Taichi is using a 14-phase power delivery which is operating in 6+2 mode. The CPU section includes twelve Renesas ISL99390 90 A smart power stages, which are doubled up with six ISL6617A doublers. For the SoC section, ASRock is using two ISL99390 90 A smart power stages which are operating independently. Controlling the power delivery is a Renesas ISL69269 PWM controller, which combined with the 12-phase for the CPU operating at 6/6, can deliver a whopping maximum of 1080 A to the processor. The power delivery is cooled by an active design, which includes dual heatsinks which are interconnected by a single heat-pipe. ASRock includes a secondary 3 cm cooling fan and brackets to enhance the thermal capabilities of the VRM, but we have opted not to use this for our VRM thermal testing. 


*We believe the ASRock Z590 Steel Legend WIFI 6E has a faulty VRM sensor which topped out at 66ºC
We're still making our way through our review stack, which we will update when we add more boards in the coming week. Looking at our current set of thermal VRM results for the Z590 Taichi, our results show the power delivery to run warm, but still well within the power deliveries' official specification, with a readout of 68ºC from the board's integrated sensor. As this is an active cooling solution due to a fan integrated into the rear panel cover and sitting just above the heatsink on the CPU section, it's currently hard to gauge the overall thermal efficiency of ASRock's cooling method.
Comparing it directly to the GIGABYTE Z590 Aorus Master which is passively cooled, we can see that the Taichi thermals are 10ºC cooler overall, which shows the power stages are being cooled effectively. As the area around the CPU socket is hotter than the actual power delivery, a lot of this can be put down to the heat of the processor which hovered around 100ºC+. 
While the onus is still out there whether or not Intel's 11th gen Rocket Lake processors represent a worthwhile purchase over its Comet Lake options, we know the Z590 chipset is superior to the Z490 chipset in many ways. It's all good and well Intel implementing lots of new features if motherboard vendors aren't going to capitalize on it. It seems as ASRock has done just that as the Z590 Taichi ticks a lot of boxes and uses multiple elements of the new design, with PCIe 4.0 support with Rocket Lake's processors, as well as networking improvements and overall design implementations.
One of the more unique additions to the Taichi design is a rotating cogwheel located in the rear panel cover. This can be customized in the firmware, and it provides a nice visual look. It operates via an internal stepping motor, and we didn't observe this to produce any unsavory noise. Compared to the ASRock Z490 Taichi, the new Z590 Taichi is using an all-black aesthetic with PCIe slot armor which looks clean and is more compatible with other components than other unconventional color schemes we've seen over the years. The Taichi also has plenty of integrated and customizable RGB LEDs to play around with.
With a more generalized approach than its gaming-focused models, the ASRock Z590 Taichi looks to cater to many different market segments including enthusiasts, gaming, content creator, and the general user. There's no denying that the power delivery is highly capable of overclocking, while content creators and professionals will appreciate the dual Thunderbolt 4 Type-C connectivity on the rear panel. Other notable features include triple PCIe M.2, with one fast PCIe 4.0 x4 M.2 slot and two supporting PCIe 3.0 and SATA drives, with eight SATA ports in total. There is some bandwidth sharing going on between the M.2 slots and SATA ports which is commonplace, but the more expensive NVMe PCIe storage drives ultimately offer better storage performance.
Other connectivity options on the rear panel include two USB 3.2 G2 Type-A, and four USB 3.2 G1 Type-A, with plenty of extra ports made available through the use of front panel headers. This also includes a single USB 3.2 G2x2 Type-C header which is now natively supported by the Z590 chipset. Also present is a BIOS Flashback button which is handy for updating the board's firmware at a press of a button, although it's still relatively easy to do with the UEFI firmware. The audio array is also premium with a Realtek ALC1220 HD audio codec and ESS Sabre 9218 DAC providing superior support for high impedance headphones, which are presented via five 3.5 mm audio jacks and S/PDIF optical output. For networking, the Z590 Taichi includes one Killer E3100G 2.5 GbE controller, with a secondary RJ45 port powered by an Intel I219-V Gigabit controller. The board's wireless capabilities come from an Intel-based Killer AX1675x Wi-Fi 6E CNVi. 
In our performance testing and comparing the Taichi against other Z590 models we've tested so far, we saw really competitive performance in both compute and gaming benchmarks. In our system tests, the ASRock Z590 Taichi performed well with a respectable result in our DPC latency testing, although we did see higher than normal POST times and power. The Windows 10 operating system is quite a fast boot OS compared to previous versions, and we were disappointed with POST times on the Taichi. We expect this to be rectified as the firmware matures.
When performing our overclock testing, we did see pretty aggressive levels of VDroop when comparing defined voltage in the firmware to what we experienced at load. When under an aggressive load for a sustained period of time, we observed good thermal performance from the board's actively cooled power delivery heatsink, and ASRock does include an additional 3 cm fan and mounting brackets to further enhance the cooling properties.
Final Thoughts
The ASRock Z590 Taichi is available at Newegg (at the time of writing) for $430 which is a very good price considering all of the board's available features. It has a subtle and clean design, with plenty of user-customizable elements such as RGB LEDs and the new moving cogwheel which adds a new dimension to motherboards in general. We highlighted in our previous Z490 Taichi review that more metal instead of plastic could be used, and despite the rear panel cover remaining plastic, the PCIe slot armor is now metal and has a more overall premium feel to it.
The ASRock Z590 Taichi despite its high price tag offers lots of premium features such as Thunderbolt 4, 2.5 GbE networking, and the new Wi-Fi 6E CNVi. This makes it a very attractive model to users looking for a comprehensive and usable package, without paying the price of a $1000 flagship.