The roll-out of PCIe 4.0 support to consumer NVMe SSDs has been a long, drawn-out process so far, but it is progressing. Two waves of high-end SSDs have now hit the market, and last year we saw several brands introduce QLC-based SSDs using the now-outdated first-wave Gen4 SSD controller from Phison. More recently, PCIe 4.0 support has arrived for the mainstream mid-range market segment thanks to the ADATA XPG Gammix S50 Lite, based on the Silicon Motion SM2267 controller and TLC NAND flash memory.
The ADATA S50 Lite uses Silicon Motion's first PCie 4.0 SSD controller: the SM2267. Opting to start small, Silicon Motion has launched their mainstream SSD controller first, while their upcoming (overdue?) SM2264 will eventually be filling the high-end role.
To that end, the SM2267 serves Silicon Motion's lineup as a smaller, cheaper design aimed at mainstream consumer use cases. To accomplish this, Silicon Motion has built the SM2267 on a tried-and-true (and cheap) 28nm process and equipped the controller with 4 NAND channels, as opposed to the 12nm (or smaller) 8-channel controllers that are used in the latest high-end drives. This does limit maximum performance, but it also helps to keep costs in check, something that's especially useful during the current chip crunch.
Intel's recently-launched third generation QLC SSD (the Intel SSD 670p) uses a close relative of this controller; the SM2265 is an Intel-commissioned derivative of the SM2267 that lacks PCIe 4.0 support, but is otherwise identical in all the important ways. As we'll see from the S50 Lite's performance, the Intel 670p isn't missing out on much without that Gen4 support.
As for the subject of today's review, the ADATA XPG Gammix S50 Lite and its SM2267 controller is part of a growing trend of mainstream NVMe SSDs moving to 4-channel controllers rather than 8 channels. The capacity of individual NAND flash memory dies has grown to the point that an 8-channel controller is not necessary to get 2TB of flash connected, and the IO speed of recent generations of NAND flash is fast enough that a newer four-channel controller can match the performance of older 8-channel designs. This was first demonstrated to great effect by the SK hynix Gold P31. On paper, the Gammix S50 Lite promises more or less the same thing: performance that matches or slightly exceeds what we see from high-end PCIe Gen3 SSDs also using TLC NAND, despite working with half as many NAND channels.
ADATA XPG Gammix S50 Lite Specifications
Capacity
512 GB
1 TB
2 TB
Form Factor
M.2 2280 double-sided with heatsink
Interface
PCIe 4 x4, NVMe 1.4
Controller
Silicon Motion SM2267
NAND Flash
Intel/Micron 96L TLC
DRAM
DDR4
Sequential Read (MB/s)
3800
3900
Sequential Write (MB/s)
2800
3200
Random Read IOPS (4kB)
191k
380k
490k
Random Write IOPS (4kB)
510k
540k
Warranty
5 years
Write Endurance
370 TB
0.4 DWPD
740 TB
0.4 DWPD
1480 TB
0.4 DWPD
Retail Price
 
$139.99
(14¢/GB)
$235.99
(12¢/GB)
ADATA equips the S50 Lite with a fairly thick heatspreader, and like most of their Gammix SSDs, that heatspreader comes already attached to the drive rather than packaged separately as with their SX series drives. Instead of using their typical thermal paste, this heatspreader is attached with what is by far the most tenacious thermal tape we've ever encountered. It is reinforced with a tight-woven stiff fabric and the adhesive was strong enough that removing the heatspreader without permanently damaging the drive required copious use of solvents instead of just a bit of gentle prying.
So while we had originally speculated that the SM2267 controller might allow the S50 Lite to be the first Gen4 SSD suitable for laptop usage (hoping for similar power efficiency to the SK hynix Gold P31), this heatspreader plus the double-sided design means the S50 Lite will be a challenge to fit into some notebooks.
The SM2267 controller actually has a slightly higher pin count than the older 8-channel SM2262(EN) controllers, but the SM2267 uses denser packaging to fit in the same footprint as their earlier 4-channel SM2263 controller. The resulting PCB layout is not at all crowded, and could have easily been made into a single-sided design like the Intel 670p, had ADATA wanted to stack 16 NAND dies per package. Any future drives that use the DRAMless SM2267XT variant certainly should be single-sided.
Our 2TB S50 Lite sample is equipped with 1GB of DDR4 DRAM—half as much as we would typically expect from a mainstream or high-end SSD. As the high-end has moved on to PCIe Gen4, we have seen an increasing number of mid-range or low-end NVMe SSDs cut back from the usual 1GB per 1TB ratio of DRAM to NAND, and with the S50 Lite that trend has crossed over to Gen4. Having half or a fourth of the usual DRAM is nowhere near as serious a handicap as an entirely DRAMless SSD design, and will generally only make a difference for very storage-intense usage with heavy multitasking—workloads that are a bit beyond the intended use case for a drive like the S50 Lite.
Also noteworthy about the S50 Lite is that ADATA announced and published specs for a 512GB model, but we've only seen the 1TB and 2TB models hit the market.
The Competition
ADATA's original Gammix S50 was a Phison E16 drive: their first flagship Gen4 drive and part of the first wave of consumer Gen4 SSDs. That has since been superseded by the Gammix S70, and the S50 Lite slots into a lower position in their product stack. Standing in for the various Phison E16 TLC drives, we have test results from the Seagate FireCuda 520. We also have the Corsair MP600 CORE representing the Phison E16 QLC drive family.
Other PCIe Gen4 drives in this review include the WD Black SN850 and Samsung 980 PRO—both high-end models that are significantly more expensive.
The rest of the drives included in this review are a variety of more mainstream PCIe Gen3 SSDs and some relatively low-end NVMe options. Highlights include the Intel 670p (almost the same controller, but with QLC), the HP EX950 and Kingston KC2500 using the previous-generation SM2262EN controller, and Microcenter's Inland Premium representing the current crop of Phison E12S drives with TLC NAND and a reduced DRAM ratio.
Our AnandTech Storage Bench tests are traces (recordings) of real-world IO patterns that are replayed onto the drives under test. The Destroyer is the longest and most difficult phase of our consumer SSD test suite. For more details, please see the overview of our 2021 Consumer SSD Benchmark Suite.
On The Destroyer, ADATA's S50 Lite offers similar overall performance to good PCIe Gen3 drives and the early Gen4 drives based on the Phison E16 controller. The power consumption is also similar to the Phison E16 drives, which is a bit disappointing since the S50 Lite's SM2267 controller is just a four-channel design, which should save a bit of power.
The ATSB Heavy test is much shorter overall than The Destroyer, but is still fairly write-intensive. We run this test twice: first on a mostly-empty drive, and again on a completely full drive to show the worst-case performance.
As with The Destroyer, we see the S50 Lite's performance on the Heavy test falling in the same general range as the top PCIe Gen3 drives, and it is clearly slower than top of the line Gen4 drives. The S50 Lite also has somewhat disappointing performance on the full-drive test runs, with higher write latencies than we'd like to see from a TLC drive. Power efficiency continues to be poor, though it is within the normal range for high-performance drives.
The ATSB Light test represents ordinary everyday usage that doesn't put much strain on a SSD. Low queue depths, short bursts of IO and a short overall test duration mean this should be easy for any SSD. But running it a second time on a full drive shows how even storage-light workloads can be affected by SSD performance degradation.
On the Light test, the S50 Lite appropriately does well, with slightly better overall performance than any of the PCIe Gen3 drives, and decent full-drive performance with no concerning latency scores.
The PCMark 10 Storage benchmarks are IO trace based tests similar to our own ATSB tests. For more details, please see the overview of our 2021 Consumer SSD Benchmark Suite.
The ADATA S50 Lite underperforms on all three of the PCMark 10 Storage tests. The most important comparison here is probably the Intel 670p, which uses basically the same controller and theoretically inferior QLC NAND. But the 670p's firmware is tuned so that it gets the most benefit out of its SLC cache on all three of these tests, which clearly isn't happening for the S50 Lite.
Our burst IO tests operate at queue depth 1 and perform several short data transfers interspersed with idle time. The random read and write tests consist of 32 bursts of up to 64MB each. The sequential read and write tests use eight bursts of up to 128MB each. For more details, please see the overview of our 2021 Consumer SSD Benchmark Suite.
The ADATA XPG Gammix S50 Lite performs well on most of the burst IO tests, especially when the test is confined to a narrow range of the drive so that it won't overflow the SLC and DRAM caches. When the test ranges over 80% of the drive, the S50 Lite's write speeds are much lower (due to less available SLC cache) and the random read performance is also a bit lower (due to insufficient DRAM).
Our sustained IO tests exercise a range of queue depths and transfer more data than the burst IO tests, but still have limits to keep the duration somewhat realistic. The primary scores we report are focused on the low queue depths that make up the bulk of consumer storage workloads. For more details, please see the overview of our 2021 Consumer SSD Benchmark Suite.
Adding in some slightly higher queue depths and longer test durations doesn't substantially change how the S50 Lite ranks. Its peak performance is still competitive with the best PCIe Gen3 drives, but as the drive fills up and the locality of the workload drops, it loses more performance than those 8-channel Gen3 drives with the full amount of DRAM.
The power efficiency score on these tests generally look better for the S50 Lite than the energy usage scores from the ATSB tests. Its efficiency is generally at least middle-of-the-road except in the situations where performance starts seriously dropping.
Random Read
Random Write
Sequential Read
Sequential Write
Looking across the full range of queue depths shows the same performance patterns for the S50 Lite continuing and amplifying. Except on the sequential read test, the S50 Lite shows huge performance disparities between the narrow 32GB range test runs and those that cover 80% of the drive. The lower DRAM ratio is a handicap on the random read test, and the SLC cache often overflows when testing writes against an 80% full drive. But when the tests are only covering a small slice of the drive, the S50 Lite shows good performance scaling that is comparable to the best gen3 drives.
This test illustrates how drives with higher throughput don't always offer better IO latency and Quality of Service (QoS), and that latency often gets much worse when a drive is pushed to its limits. This test is more intense than real-world consumer workloads and the results can be a bit noisy, but large differences that show up clearly on a log scale plot are meaningful. For more details, please see the overview of our 2021 Consumer SSD Benchmark Suite.
The ADATA S50 Lite starts out with decent random read latency at low loads, but the 99th percentile latencies climb quite a bit during the early part of the test. The S50 Lite ultimately fails to make it to the high IOPS range we expect from such a drive, and instead loses control of its latency around 150k IOPS—behavior that's more fitting of a QLC drive.
Our benchmark suite includes a variety of tests that are less about replicating any real-world IO patterns, and more about exposing the inner workings of a drive with narrowly-focused tests. Many of these tests will show exaggerated differences between drives, and for the most part that should not be taken as a sign that one drive will be drastically faster for real-world usage. These tests are about satisfying curiosity, and are not good measures of overall drive performance. For more details, please see the overview of our 2021 Consumer SSD Benchmark Suite.
Pass 1
Pass 2
The ADATA XPG Gammix S50 Lite shows an almost QLC-like performance drop when the SLC cache runs out after about 300GB: it falls down to SATA speeds. But even though its post-cache write speed is half of what we're used to seeing from TLC drives (most of which use controllers with 8 channels rather than 4), the S50 Lite still has a big lead over the two QLC drives in this bunch.
On the second pass of filling the drive, the S50 Lite's SLC cache is good for only about 14GB and the post-cache performance is much less consistent, with frequent drops below 100MB/s and spikes back up to SLC speeds around 3GB/s.
The S50 Lite has excellent random read latency for smaller working sets, beating all but two of the drives in this bunch. But the consequences of having only 1GB of DRAM for a 2TB drive show up at the end of the test, where the random read performance falls off sharply once the reads span the entire drive rather than just a small slice.
Random Read
Random Write
Sequential Read
Sequential Write
The S50 Lite offers the same random read IOPS for all the IO block sizes from 512 bytes up to 4kB, but when testing random writes there's a clear preference for 4kB block sizes rather than anything smaller. Rather surprisingly, sequential reads with 4kB block sizes are far slower than for slightly smaller or larger block sizes; it would appear that the drive assumes 4kB reads will be random IO, and skips whatever caching or prefetching is active when using other block sizes.
For details on our mixed IO tests, please see the overview of our 2021 Consumer SSD Benchmark Suite.
The ADATA XPG Gammix S50 Lite has mediocre overall performance on the mixed random IO test and comes in last place among this batch of drives for the mixed sequential IO test. These results aren't too surprising at this point; the mixed IO tests are both conducted on a mostly-full drive without restricting the test to a narrow slice of the drive, and we've already seen that these conditions bring out the worst in the S50 Lite.
Mixed Random IO
Mixed Sequential IO
On the mixed random IO test, the S50 Lite is at least fairly consistent; once the workload has more than about 30% writes there isn't much change in the performance. By contrast, the mixed sequential IO test results are a mess, with performance bouncing around with no clear pattern. SLC cache overflow is probably the primary factor here, but it ends up being less consistent than the results from the sustained sequential write test. The fact that we're testing four independent streams of sequential IO is probably also a very poor match for the kind of IO patterns this drive is tuned for.
Real-world client storage workloads leave SSDs idle most of the time, so the active power measurements presented earlier in this review only account for a small part of what determines a drive's suitability for battery-powered use. Especially under light use, the power efficiency of a SSD is determined mostly be how well it can save power when idle.
For many NVMe SSDs, the closely related matter of thermal management can also be important. M.2 SSDs can concentrate a lot of power in a very small space. They may also be used in locations with high ambient temperatures and poor cooling, such as tucked under a GPU on a desktop motherboard, or in a poorly-ventilated notebook.
ADATA XPG Gammix S50 Lite
NVMe Power and Thermal Management Features
Controller
Silicon Motion SM2267
Firmware
82A7T92C
NVMe
Version
Feature
Status
1.0
Number of operational (active) power states
3
1.1
Number of non-operational (idle) power states
2
Autonomous Power State Transition (APST)
Supported
1.2
Warning Temperature
75 °C
Critical Temperature
80 °C
1.3
Host Controlled Thermal Management
Supported
 Non-Operational Power State Permissive Mode
Not Supported
The S50 Lite supports the most common NVMe power management features, including low-power idle states that are supposed to have quick transition latencies. The maximum power of 9W in the full-power state is a fairly conservative figure; if the drive ever actually draws that much, it's only for very short intervals.
ADATA XPG Gammix S50 Lite
NVMe Power States
Controller
Silicon Motion SM2267
Firmware
82A7T92C
Power
State
Maximum
Power
Active/Idle
Entry
Latency
Exit
Latency
PS 0
9.0 W
Active
–
–
PS 1
4.6 W
Active
–
–
PS 2
3.8 W
Active
–
–
PS 3
45 mW
Idle
2 ms
2 ms
PS 4
4 mW
Idle
15 ms
15 ms
Note that the above tables reflect only the information provided by the drive to the OS. The power and latency numbers are often very conservative estimates, but they are what the OS uses to determine which idle states to use and how long to wait before dropping to a deeper idle state.
SATA SSDs are tested with SATA link power management disabled to measure their active idle power draw, and with it enabled for the deeper idle power consumption score and the idle wake-up latency test. Our testbed, like any ordinary desktop system, cannot trigger the deepest DevSleep idle state.
Idle power management for NVMe SSDs is far more complicated than for SATA SSDs. NVMe SSDs can support several different idle power states, and through the Autonomous Power State Transition (APST) feature the operating system can set a drive's policy for when to drop down to a lower power state. There is typically a tradeoff in that lower-power states take longer to enter and wake up from, so the choice about what power states to use may differ for desktop and notebooks, and depending on which NVMe driver is in use. Additionally, there are multiple degrees of PCIe link power savings possible through Active State Power Management (APSM).
We report three idle power measurements. Active idle is representative of a typical desktop, where none of the advanced PCIe link or NVMe power saving features are enabled and the drive is immediately ready to process new commands. Our Desktop Idle number represents what can usually be expected from a desktop system that is configured to enable SATA link power management, PCIe ASPM and NVMe APST, but where the lowest PCIe L1.2 link power states are not available. The Laptop Idle number represents the maximum power savings possible with all the NVMe and PCIe power management features in use—usually the default for a battery-powered system but rarely achievable on a desktop even after changing BIOS and OS settings. Since we don't have a way to enable SATA DevSleep on any of our testbeds, SATA drives are omitted from the Laptop Idle charts.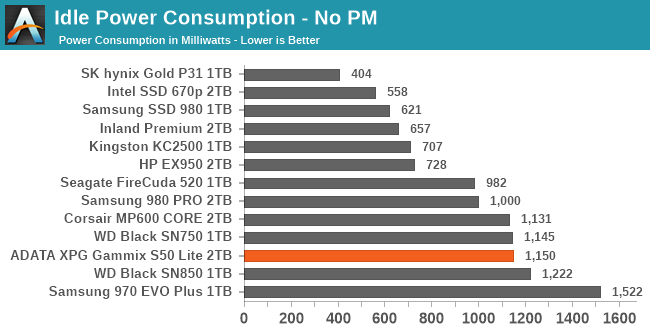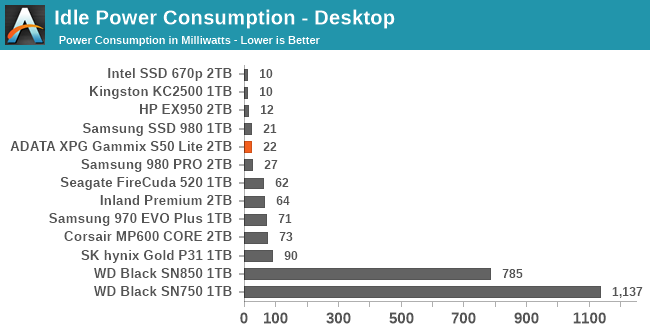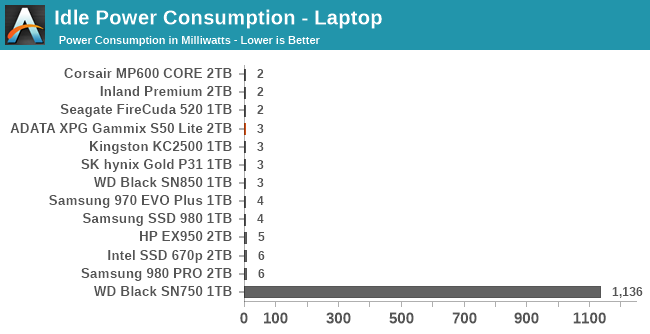 The S50 Lite is one of the more power-hungry drives when idle power management is disabled, drawing over 1W. But the low-power idle states are working well, unlike what we saw with the Intel SSD 670p that uses a close relative of this SM2267 controller. (We're still working with Silicon Motion to figure out that bug.) It also appears that Silicon Motion has moderately improved the real-world wake-up latencies, which are surprisingly high for the SM2262EN drives. The competition shows that there's still room for Silicon Motion to provide an order of magnitude improvement here, and we'd like to see the SMI controllers start living up to the transition times advertised by their firmware.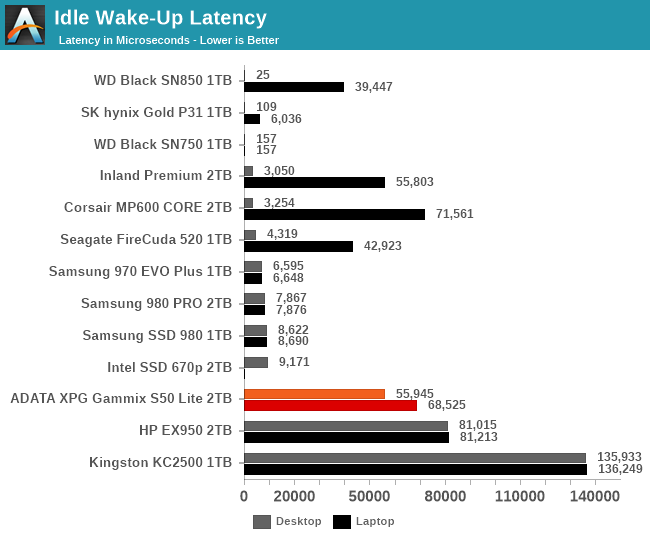 The ADATA XPG Gammix S50 Lite is the first SSD of its kind: a PCIe Gen4 NVMe SSD aimed at the mid-range mainstream segment of the consumer SSD market. Most Gen4 SSDs on the market were designed to go after the high end space, though the earliest such examples have now effectively been pushed down to mid-range by the arrival of a second wave of even faster Gen4 drives. By aiming for a more mainstream (and less expensive) role, the S50 Lite doesn't even try to make full use of the bandwidth offered by PCIe Gen4, and at its best it can only use a little bit of the extra speed over PCIe Gen3.

In fact, the S50 Lite is best understood by almost completely ignoring the fact that it supports PCIe Gen4; that feature can be viewed as simply a side-effect of the S50 Lite being a fairly modern design, so of course it should support the current IO standards. At heart, the S50 Lite is designed to be an affordable mainstream drive with the same general performance that required a high-end drive two or three years ago.
The S50 Lite is built around Silicon Motion's SM2267, their first PCIe Gen4 controller and the smaller, cheaper member of what is planned to be a broader family of Gen4 SSD controllers. We had originally hoped that SM2267 would allow drives like the S50 Lite to follow in the footsteps of the SK hynix Gold P31, bringing the benefits of a thoroughly modern 4-channel NVMe SSD to a broader audience. But the SM2267 only gets halfway there: it provides most of the performance we expect from a high-end 8-channel Gen3 drive, but since it's still a 28nm part we don't see the astounding power efficiency advantages that SK hynix delivered.
The S50 Lite also doesn't include the full amount of DRAM that high-end NVMe drives use, which hurts its performance on some heavier workloads. But that's more acceptable these days, since users with such workloads should be moving on to today's high-end Gen4 drives. (Side note: if ADATA is equipping the 1TB model with the same 1GB of DRAM that our 2TB sample gets, then the 1TB model probably avoids some of these performance pitfalls.) The result is that the SM2267 controller should be seen more as a reduced-cost replacement for the SM2262 family, and drives like the S50 Lite are aiming for a slightly lower market position than something like the SK hynix Gold P31.
Given the choice between the S50 Lite's nominal support for PCIe Gen4, or a well-rounded Gen3 drive, the answer is clear. Gen4 support on its own does not make a drive better, and there are plenty for Gen3 drives that offer better real-world performance and efficiency than the S50 Lite. In addition to the relative paucity of DRAM, the S50 Lite also suffers from small SLC cache sizes when the drive is mostly full. The fact that the S50 Lite supports a PCIe Gen4 host interface is almost completely irrelevant: at best it's barely able to exceed Gen3 performance, and it's unlikely to be used in systems providing a Gen4 x2 slot (which are likely to use even cheaper SSDs). It's good to see that SMI can ship a Gen4-capable controller, but the high-end SM2264 controller that we're still waiting for is the one that actually needs the Gen4 interface.
The pricing for the Gammix S50 Lite is unimpressive but also unsurprising. The drive has a bit of bling and can advertise PCIe Gen4 support, so it ends up priced close to the Gen3 drives from top-tier brands like SK hynix and WD, though with less of a premium on the 2TB capacity. It is at least clearly cheaper than the high-end Gen4 drives with 8-channel controllers, even the older Phison E16 models. Still, there are dozens of brands selling Phison E12S or SM2262EN-based Gen3 drives that will have equivalent or better real-world performance to the S50 Lite, but are more affordable. The cheapest of those models come with shorter 3-year warranties, which may not be worth the savings to some consumers.