Phison kicked off the transition to PCIe 4.0 for storage in 2019, and dominated the high-end SSD market for over a year with the only available PCIe 4.0 solution. There are now several competing PCIe 4.0 NVMe SSDs and controllers that handily outperform the Phison E16, but Phison has stayed competitive by bringing out a second-generation PCIe 4.0 controller, the E18. Today we're looking at one of many drives built around that controller: the Inland Performance Plus 2TB.
The Inland brand is owned by the parent company of American retailer Micro Center. Most or all Inland-branded SSDs are simply Phison reference designs with little or no customization beyond cosmetics. Inland SSDs are frequently great value options—especially for Micro Center's in-store only deals, but even their online prices tend to be very competitive. Part of the discount comes from their tendency toward shorter warranty periods: the Inland Performance Plus has only a three year warranty despite being a high-end flagship model. Fortunately, the total write endurance rating is the same as competing drives that carry five year warranties, and the SSD hardware itself is identical to other brands selling the same SSD reference design under different heatsinks and labels.
As part of the second wave of PCIe 4.0 SSD controllers, the Phison E18 aims to use substantially all of the performance available from the PCIe 4.0 x4 interface: sequential transfers up to around 7.4 GB/s and random IO up to about 1M IOPS. Hitting that level of performance while staying within M.2 power delivery and thermal dissipation limits required migrating to 12nm FinFET fabrication from the cheaper 28nm widely used by PCIe 3.0 SSD controllers and by the Phison E16. But even so, the Phison E18 can draw more power than the E16 controller because the increase in performance is so large. Competition for the Phison E18 includes in-house controllers used in the latest flagship consumer SSDs from Samsung and Western Digital, newcomer Innogrit's IG5236 Rainier controller, and Silicon Motion's upcoming SM2264 controller.
Phison High-End NVMe SSD Controller Comparsion
 
E12
E16
E18
Manufacturing Process
28 nm
12 nm
CPU Cores
2x Cortex R5
3x Cortex R5
Error Correction
3rd Gen LDPC
4th Gen LDPC
DRAM
DDR3/4
DDR4
DDR4, LPDDR4
Host Interface
PCIe 3.0 x4
PCIe 4.0 x4
NVMe Version
NVMe 1.3
NVMe 1.4
NAND Channels,
Interface Speed
8 ch,
667 MT/s
8 ch,
800 MT/s
8 ch,
1600 MT/s
Max Capacity
16 TB
16 TB
16 TB
Sequential Read
3.4 GB/s
5.0 GB/s
7.4 GB/s
Sequential Write
3.2 GB/s
4.4 GB/s
7.0 GB/s
4KB Random Read IOPS
700k
750k
1M IOPS
4KB Random Write IOPS
600k
750k
1M IOPS
Controller Power
2.1 W
2.6 W
3.0 W
Sampling
Q2 2018
Q1 2019
Q1 2020
Retail SSD Availability
Q4 2018
Q3 2019
Q4 2020
The Inland Performance Plus does not quite hit the theoretical limits of the Phison E18 controller. The 1TB model is clearly handicapped on some performance metrics compared to the 2TB model, but even the latter is only rated for 7GB/s sequential reads and 650-700k IOPS instead of 7.4GB/s and 1M IOPS. This mostly comes down to the Inland Performance Plus and other current E18 drives using 96L TLC NAND with 1200MT/s IO between the NAND and the controller, while the E18 can support up to 1600MT/s IO. A new round of E18-based products will start hitting the market soon using Micron 176L TLC that operates with the higher IO speed and should bring some other performance and efficiency improvements. We expect some of these new drives to be announced at Computex next month.
Inland Performance Plus
SSD Specifications
Capacity
1 TB
2 TB
Form Factor
M.2 2280 PCIe 4.0 x4
Controller
Phison E18
NAND Flash
Micron 96L 3D TLC
Sequential Read (GB/s)
7.0
7.0
Sequential Write (GB/s)
5.5
6.85
Random Read IOPS (4kB)
350k
650k
Random Write IOPS (4kB)
700k
700k
Warranty
3 years
Write Endurance
700 TB
0.6 DWPD
1400 TB
0.6 DWPD
Retail Price (In Store Only)
$189.99
(19¢/GB)
$379.99
(19¢/GB)
Like most drives using the Phison E18 controller, the Inland Performance Plus comes with a fairly substantial heatsink installed. The controller package is small enough to share space with a DRAM package and four NAND packages on the front of the PCB, which means there's a lot of heat concentrated in a small area. (The Inland Performance Plus also has DRAM and NAND on the back of the PCB.) PCIe 4.0 has barely started showing up in laptops and using the full performance of a drive like the Inland Performance Plus requires more power than most laptops are able to sink away from their M.2 slots, so it's reasonable to regard this drive as pretty much desktop-only.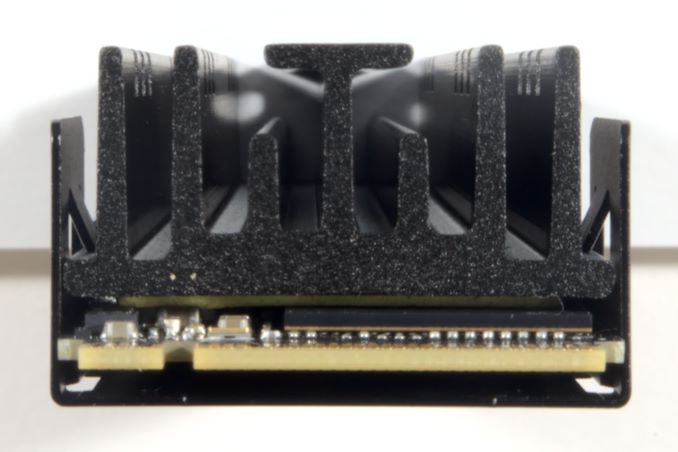 The Competition
The most important competitors for the Inland Performance Plus are other Phison E18 drives and the current flagship PCIe 4.0 drives from Samsung and Western Digital. We have fresh results in this review for the Samsung 980 PRO, retested with the latest 3B2QGXA7 firmware. We've also included results from some older top of the line drives: the Intel Optane 905P and Samsung 970 PRO (their last consumer NVMe drive to use MLC NAND), and the Silicon Power US70 representing the first wave of PCIe 4.0 drives that used the Phison E16 controller.
| | | | |
| --- | --- | --- | --- |
| WD Black SN850 | PCIe 4.0 x4 | WD Custom G1 | 96L TLC |
| Samsung 980 PRO | PCIe 4.0 x4 | Samsung Elpis | 128L TLC |
| Silicon Power US70 | PCIe 4.0 x4 | Phison E16 | 96L TLC |
| Intel Optane SSD 905P | PCIe 3.0 x4 | Intel Custom | 3D XPoint G1 |
| Samsung 970 PRO | PCIe 3.0 x4 | Samsung Phoenix | 64L MLC |
The rest of the drives included in this review are more mainstream models, mostly PCIe 3.0 drives, some with four-channel controllers instead of the usual eight for the high-end, and even a few with QLC NAND. This includes the Inland Premium, which is based on the Phison E12S and TLC NAND.
| | | | |
| --- | --- | --- | --- |
| Inland Premium | PCIe 3.0 x4 | Phison E12S | 96L TLC |
| SK hynix Gold P31 | PCIe 3.0 x4 | SK hynix Custom (4ch) | 128L TLC |
| Samsung 970 EVO Plus | PCIe 3.0 x4 | Samsung Phoenix | 92L TLC |
| WD Black SN750 | PCIe 3.0 x4 | WD Custom G1 | 64L TLC |
| HP EX950 | PCIe 3.0 x4 | SM2262EN | 64L TLC |
| Kingston KC2500 | PCIe 3.0 x4 | SM2262EN | 96L TLC |
| Intel SSD 670p | PCIe 3.0 x4 | SM2265 (4ch) | 144L QLC |
| ADATA Gammix S50 Lite | PCIe 4.0 x4 | SM2267 (4ch) | 96L TLC |
| Corsair MP600 CORE | PCIe 4.0 x4 | Phison E16 | 96L QLC |
Our AnandTech Storage Bench tests are traces (recordings) of real-world IO patterns that are replayed onto the drives under test. The Destroyer is the longest and most difficult phase of our consumer SSD test suite. For more details, please see the overview of our 2021 Consumer SSD Benchmark Suite.
The Inland Performance Plus delivers excellent overall performance on The Destroyer, but the WD Black SN850 beats it on almost every subscore. The best result from the E18 drive is with write latency, where it is the clear leader in average latency and a close second in 99th percentile latency. The energy efficiency of the Inland Performance Plus is poor—common for high-end drives, but Samsung and especially WD are better here.
The ATSB Heavy test is much shorter overall than The Destroyer, but is still fairly write-intensive. We run this test twice: first on a mostly-empty drive, and again on a completely full drive to show the worst-case performance.
On the Heavy test, the Inland Performance Plus delivers great performance, though again it falls short of the WD Black SN850. It's also only a small improvement over the Phison E16-based Silicon Power US70, and several of the best Gen3 drives end up with better performance when testing against a full drive. The Performance Plus is also one of the most power-hungry drives on this test, again requiring almost 50% more energy to finish the tests than the WD Black SN850.
The ATSB Light test represents ordinary everyday usage that doesn't put much strain on a SSD. Low queue depths, short bursts of IO and a short overall test duration mean this should be easy for any SSD. But running it a second time on a full drive shows how even storage-light workloads can be affected by SSD performance degradation.
The Inland Performance Plus manages a first-place finish for overall performance on the Light test, but it's only a hair faster than the Phison E16 drive or the WD Black SN850—and the WD Black has significantly better performance on the full-drive test run. The Performance Plus also doesn't quite manage first place on most of the latency subscores, and it shows a larger full-drive penalty to the write latency scores than most other high-end drives. The Inland Performance Plus is also in last place for energy usage.
The PCMark 10 Storage benchmarks are IO trace based tests similar to our own ATSB tests. For more details, please see the overview of our 2021 Consumer SSD Benchmark Suite.
The Inland Performance Plus provides decent but not chart-topping performance on the PCMark 10 Storage tests. For the Full System Drive and Quick System Drive tests it is not able to outperform some of the faster Silicon Motion-based NVMe drives that usually provide lower random read latency than Phison drives. On the Data Drive test that is more focused on sequential IO, several older Phison drives provide better performance, suggesting that the firmware for the E18 is tuned more for general real-world performance rather than exclusively trying to maximize simple benchmark scores—but we'd still like to see a controller this powerful consistently beating its predecessors on all kinds of workloads.
Our burst IO tests operate at queue depth 1 and perform several short data transfers interspersed with idle time. The random read and write tests consist of 32 bursts of up to 64MB each. The sequential read and write tests use eight bursts of up to 128MB each. For more details, please see the overview of our 2021 Consumer SSD Benchmark Suite.
On the QD1 burst IO tests, the Inland Performance Plus tops the charts for both random and sequential writes, though in the latter case performance drops quite a lot when the drive is mostly full. Random read performance is merely average, and sequential reads are disappointingly in last place.
Our sustained IO tests exercise a range of queue depths and transfer more data than the burst IO tests, but still have limits to keep the duration somewhat realistic. The primary scores we report are focused on the low queue depths that make up the bulk of consumer storage workloads. For more details, please see the overview of our 2021 Consumer SSD Benchmark Suite.
On the longer IO tests that bring in some higher queue depths, the Performance Plus loses its first-place spot for random writes to the WD Black SN850, but it hangs on to first place for sequential writes. For both random and sequential reads it manages to improve its standings slightly, but the sequential read performance remains disappointing. Power efficiency isn't great on any of these four tests, but it's decent for sequential writes and more or less matches the flagship Gen4 drives from WD and Samsung.
Random Read
Random Write
Sequential Read
Sequential Write
The Inland Performance Plus does eventually reach top-tier performance for sequential reads, but it requires higher queue depths than the 980 PRO or SN850. For sequential writes, it has taken a clear lead by QD4 and maintains higher performance than any of the other drives can hit, with only a slight drop at the end of the test suggesting that the SLC cache might be starting to run out.
For random reads and writes, the Performance Plus simply doesn't scale up as high as its competitors, even with very large queue depths. The Samsung 980 PRO's maximum random write speeds are well beyond what any other drive hits, and for random reads the WD Black SN850 has a similarly large lead over the competition.
This test illustrates how drives with higher throughput don't always offer better IO latency and Quality of Service (QoS), and that latency often gets much worse when a drive is pushed to its limits. This test is more intense than real-world consumer workloads and the results can be a bit noisy, but large differences that show up clearly on a log scale plot are meaningful. For more details, please see the overview of our 2021 Consumer SSD Benchmark Suite.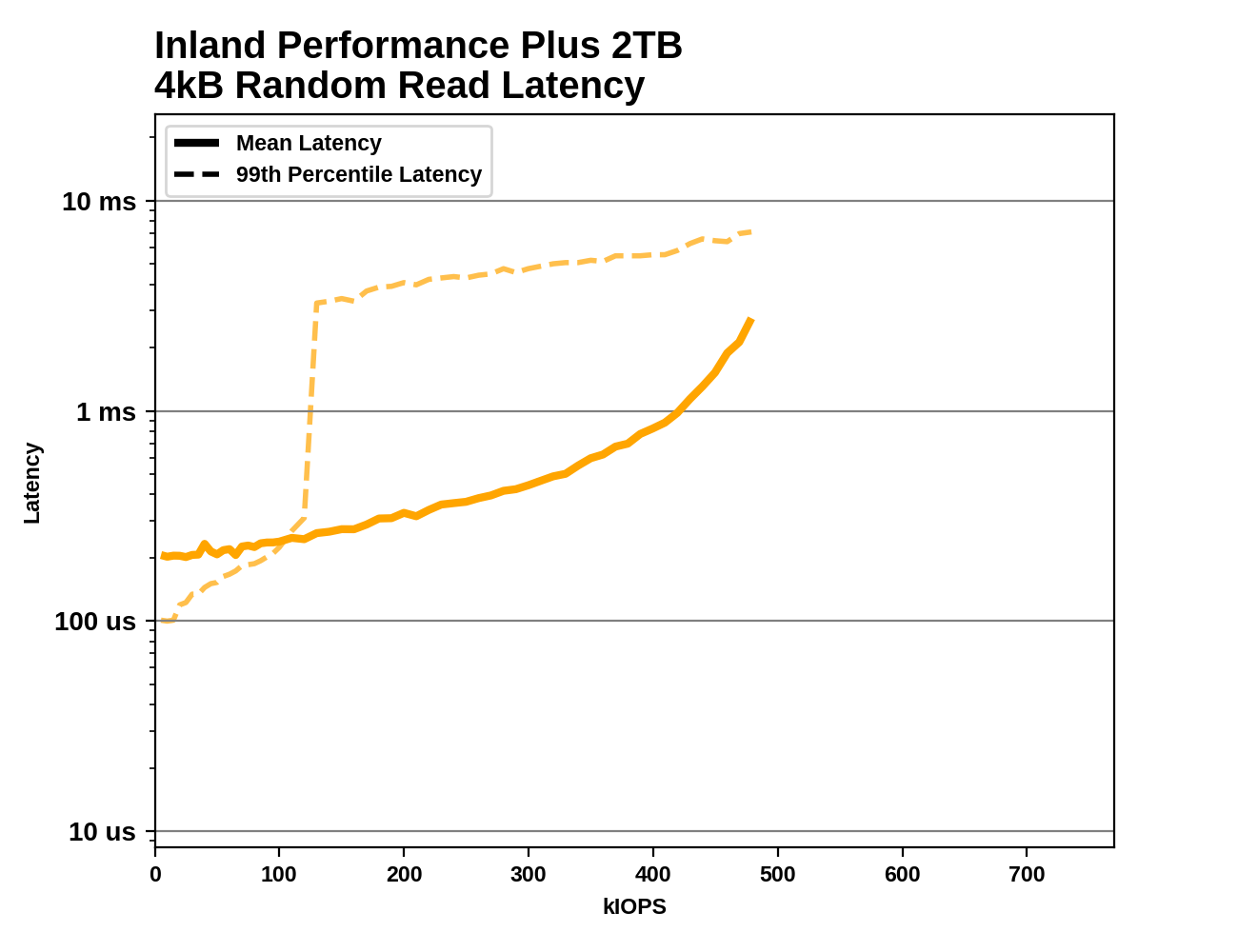 At low rates, the mean latency from the Inland Performance Plus is actually higher than the 99th percentile latency, indicating there's a small number of extremely high-latency IOs skewing the average. The median latency starts at a very respectable 63µs, but the highest latency measured at low rates is close to 70ms—three orders of magnitude slower. This looks like the drive might be stalling while waking up from a sleep state, which it shouldn't even be entering given the minimal idle time between test phases. Above 120k IOPS, the 99th percentile latency jumps up to the millisecond range, which should only happen to a drive this high-end when it's pretty close to its maximum throughput. The Performance Plus does achieve respectable throughput that is a clear improvement over the Phison E16, but compared to WD and Samsung flagships the E18 drive is slower and has some mildly concerning performance quirks.
Our benchmark suite includes a variety of tests that are less about replicating any real-world IO patterns, and more about exposing the inner workings of a drive with narrowly-focused tests. Many of these tests will show exaggerated differences between drives, and for the most part that should not be taken as a sign that one drive will be drastically faster for real-world usage. These tests are about satisfying curiosity, and are not good measures of overall drive performance. For more details, please see the overview of our 2021 Consumer SSD Benchmark Suite.
Pass 1
Pass 2
The SLC write cache on the 2TB Inland Performance Plus lasts for about 225GB on first pass (about the same cache size as 980 PRO, but a bit faster), and about 55GB on the second pass when the drive is already full. Performance during each phase of filling the drive is quite consistent, with the only significant variability showing up after the drive is 80% full. Sequential write performance during the SLC cache phase is higher than any other drive we've tested to date.
The post-cache performance is a bit slower than the fastest TLC drives, but overall average throughput is comparable to other top TLC drives. The Inland Performance Plus is still significantly slower than the MLC and Optane drives that didn't need a caching layer, but one or two more generational improvements in NAND performance may be enough to overcome that difference.
As expected from a high-end drive with a full-sized DRAM buffer, the random read latency from the Inland Performance Plus is nearly constant regardless of the working set size. There's a slight drop in performance when random reads are covering the entire range of the drive, but it's smaller than the drop we see from drives that skimp on DRAM.
Random Read
Random Write
Sequential Read
Sequential Write
There are no big surprises from testing the Inland Performance Plus with varying block sizes. The Phison E18 controller has no problem handling block sizes smaller than 4kB. The random write results are a little rough especially when testing the drive at 80% full, but it's hardly the only drive to have SLC cache troubles here. Like many other drives, the sequential read performance doesn't scale smoothly with the larger block sizes, and the drive really needs a larger queue depth or very large block size to deliver great sequential read performance. 
For details on our mixed IO tests, please see the overview of our 2021 Consumer SSD Benchmark Suite.
The Inland Performance Plus with the Phison E18 controller sets a new record for performance on our mixed sequential IO test, and it provides pretty good power efficiency on that test. It has somewhat disappointing performance on the mixed random IO test, with a few Gen3 TLC drives delivering better performance, and most of the 8-channel TLC drives delivering better efficiency.
Mixed Random IO
Mixed Sequential IO
On the sequential IO test, the Inland Performance Plus is a bit slow to start when the workload is very read-heavy, but quickly ramps up to about 6GB/s. Like many drives, performance is low to begin with as these drives aren't exactly optimized for juggling several parallel streams of sequential reads. Once the workload has shifted to include a significant amount of writes, caching makes things easier for the drives to manage and performance tends to improve. The E18 controller makes that transition early and with as big a performance gain as any drive, and things hold relatively steady around 6GB/s through the rest of the test.
On the random IO test, the Performance Plus is less consistent. After the typical initial performance drop that comes from adding the first bit of writes to the mix, the Performance Plus generally keeps slowing down but there's quite a bit of variability. The higher power consumption during phases where performance is lower indicates that there's background work to clean up the SLC cache interfering with benchmark performance. Things settle down during the last third of the test.
Real-world client storage workloads leave SSDs idle most of the time, so the active power measurements presented earlier in this review only account for a small part of what determines a drive's suitability for battery-powered use. Especially under light use, the power efficiency of a SSD is determined mostly be how well it can save power when idle.
For many NVMe SSDs, the closely related matter of thermal management can also be important. M.2 SSDs can concentrate a lot of power in a very small space. They may also be used in locations with high ambient temperatures and poor cooling, such as tucked under a GPU on a desktop motherboard, or in a poorly-ventilated notebook.
Inland Performance Plus 2TB
NVMe Power and Thermal Management Features
Controller
Phison E18
Firmware
EIFM21.1
NVMe
Version
Feature
Status
1.0
Number of operational (active) power states
3
1.1
Number of non-operational (idle) power states
2
Autonomous Power State Transition (APST)
Supported
1.2
Warning Temperature
70 °C
Critical Temperature
110 °C
1.3
Host Controlled Thermal Management
Supported
 Non-Operational Power State Permissive Mode
Supported
The Phison E18 as used in the Inland Performance Plus supports the full range of NVMe power and thermal management features, but with the somewhat implausible 110 °C critical temperature threshold. The deepest idle power state also claims only a 30% reduction in power at the cost of much higher entry and exit latencies. Fortunately, as shown below the lowest idle power state saves a lot more power than indicated by this firmware information.
Inland Performance Plus 2TB
NVMe Power States
Controller
Phison E18
Firmware
EIFM21.1
Power
State
Maximum
Power
Active/Idle
Entry
Latency
Exit
Latency
PS 0
8.8 W
Active
–
–
PS 1
7.1 W
Active
–
–
PS 2
5.2 W
Active
–
–
PS 3
62 mW
Idle
2 ms
2 ms
PS 4
44 mW
Idle
25 ms
25 ms
Note that the above tables reflect only the information provided by the drive to the OS. The power and latency numbers are often very conservative estimates, but they are what the OS uses to determine which idle states to use and how long to wait before dropping to a deeper idle state.
SATA SSDs are tested with SATA link power management disabled to measure their active idle power draw, and with it enabled for the deeper idle power consumption score and the idle wake-up latency test. Our testbed, like any ordinary desktop system, cannot trigger the deepest DevSleep idle state.
Idle power management for NVMe SSDs is far more complicated than for SATA SSDs. NVMe SSDs can support several different idle power states, and through the Autonomous Power State Transition (APST) feature the operating system can set a drive's policy for when to drop down to a lower power state. There is typically a tradeoff in that lower-power states take longer to enter and wake up from, so the choice about what power states to use may differ for desktop and notebooks, and depending on which NVMe driver is in use. Additionally, there are multiple degrees of PCIe link power savings possible through Active State Power Management (APSM).
We report three idle power measurements. Active idle is representative of a typical desktop, where none of the advanced PCIe link or NVMe power saving features are enabled and the drive is immediately ready to process new commands. Our Desktop Idle number represents what can usually be expected from a desktop system that is configured to enable SATA link power management, PCIe ASPM and NVMe APST, but where the lowest PCIe L1.2 link power states are not available. The Laptop Idle number represents the maximum power savings possible with all the NVMe and PCIe power management features in use—usually the default for a battery-powered system but rarely achievable on a desktop even after changing BIOS and OS settings. Since we don't have a way to enable SATA DevSleep on any of our testbeds, SATA drives are omitted from the Laptop Idle charts.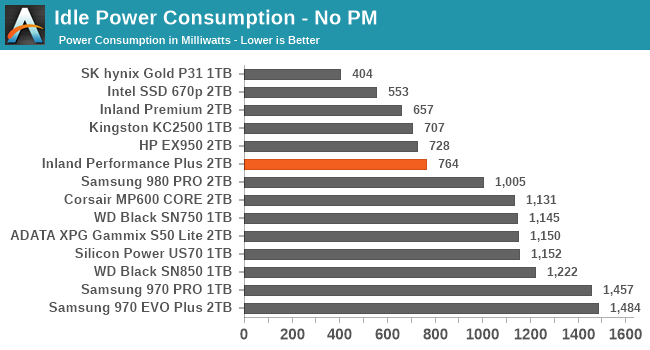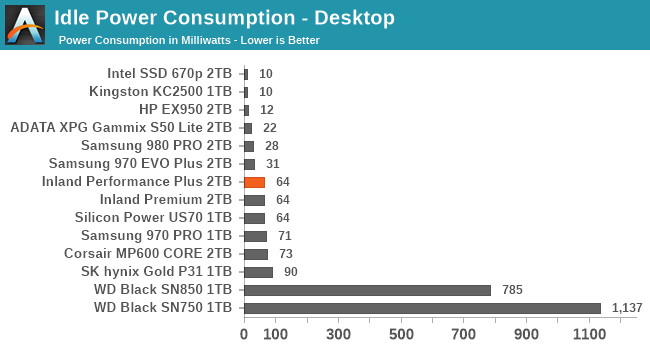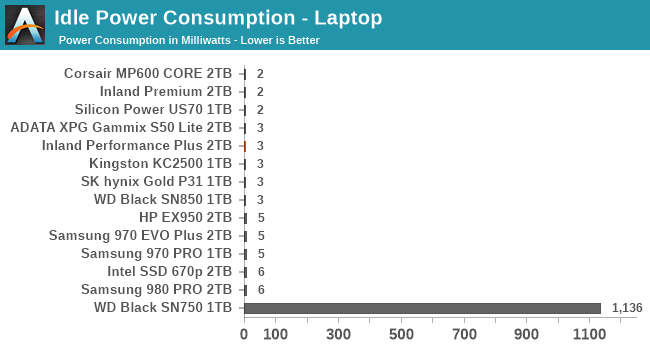 The active idle power from the E18 drive is well under 1W, a clear improvement over other Gen4 drives and many of the top-performing Gen3 drives (note: all Gen4 drives are operating at Gen3 speeds during this test, because we can't get idle power management working properly on our Gen4 testbeds; on a Gen4 system we expect active idle power to be a bit higher). The desktop idle almost exactly matches what the drive claims, and lowest laptop idle power is great at just 3mW.
Unfortunately, wake-up times are a bit slow: wake-up from the desktop idle state is already 44ms and wake-up from the laptop idle state is a whopping 371ms, which is enough to cause noticeable delays if this power state is used frequently by the OS.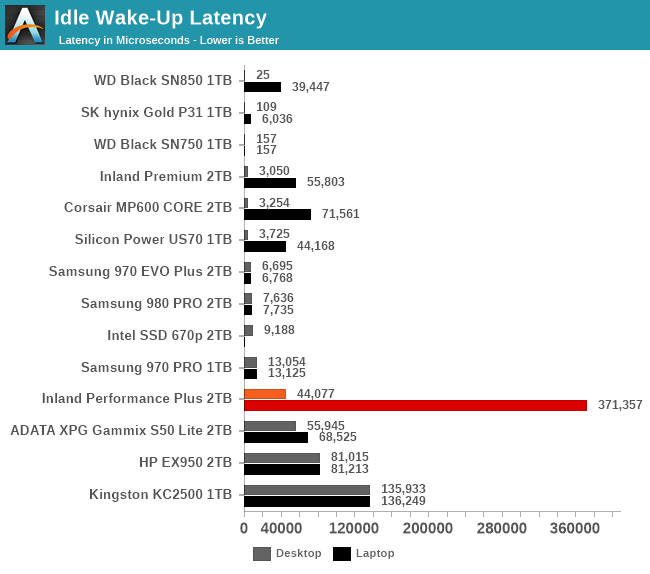 With drives like the Inland Performance Plus, Phison's E18 controller has kept them in competition for the consumer SSD performance crown. The Inland Performance Plus is an extremely fast drive that sets a few new performance records, but more often it ends up tied or slightly slower than a competing PCIe 4.0 flagship SSD. The difference between this drive and other top PCIe 4.0 drives like the WD Black SN850 would not be noticeable during real-world usage, so the question of which one is fastest is more about bragging rights than tangible benefits.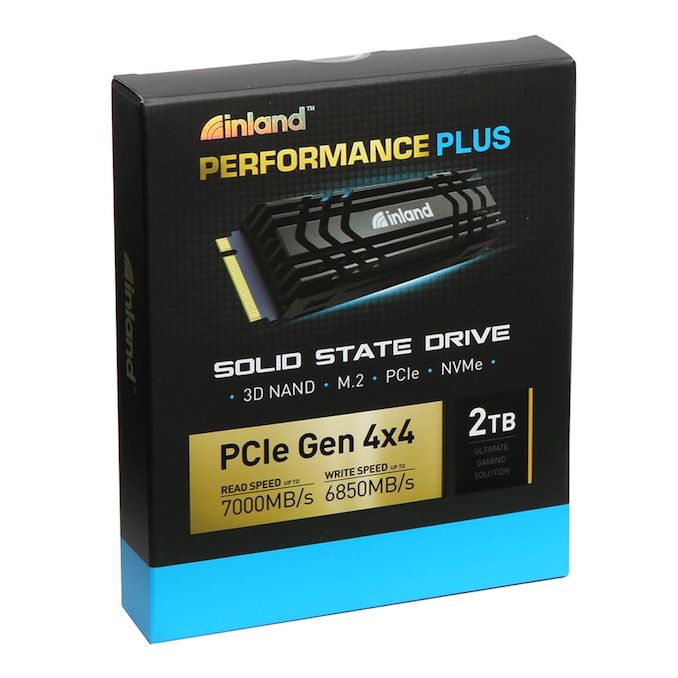 Phison is the only company already on their second generation of PCIe 4.0 controllers, but they still have some room for improvement. The Inland Performance Plus consistently had high power consumption and poor efficiency during our testing. It's not completely out of line for a high-end drive that needs to prioritize performance over power efficiency, but the bar is being raised by the in-house controllers from several of the major NAND manufacturers. A second round of Phison E18-based products will be coming to market soon using Micron's 176L TLC rather than the current 96L TLC, and that should enable slightly improved performance and power efficiency. It might be enough to bump the new E18 drives into first place on more performance tests, and will definitely help keep this market segment highly competitive.
Our most difficult (and least realistic) tests revealed that the Inland Performance Plus and the Phison E18 controller and firmware also have some difficulties with performance consistency, for random read latency and for write performance where the SLC caching behavior occasionally leaves something to be desired. These aren't serious performance problems, but they are blemishes that we would prefer not to have on top-tier products. Firmware improvements may be able to help these issues, but a lot of the brands selling Phison drives aren't very good about making firmware updates available to end users.
Micro Center's in store only pricing for the Inland Performance Plus makes it the cheapest Phison E18 drive on the market, though Sabrent's more widely available Rocket 4 Plus is only $10 more for the 1TB model. With the exception of the Inland, most of the E18 drives seem to be priced at or above where the other second-wave PCIe 4.0 flagships are. The cheapest of the new PCIe 4.0 flagships is ADATA's Gammix S70 using Innogrit's controller. The older Phison E16 drives with TLC NAND are starting to get harder to find, but some such as the Sabrent Rocket 4.0 are a good mid-point between the latest top of the line drives and mainstream PCIe 3.0 drives.
For consumers with access to Micro Center's in-store pricing, the Inland Performance Plus is a reasonable choice since it's a bit cheaper than the flagships from Samsung and WD—but keep in mind that Micro Center is only offering a three year warranty rather than the usual five. For everyone else who has to deal with the online prices on other brands' Phison E18 drives, going for the WD Black SN850 instead makes more sense, especially for the 2TB models. The WD Black has more consistent performance and substantially less heat output.
However, all of the high-end PCIe 4.0 drives still carry a very steep price premium over even the best PCIe 3.0 drives. Recent increases in retail SSD prices have affected mainstream models more than the premium PCIe 4.0 drives, but the price gap is going to remain pretty wide. Those more mainstream models still provide almost as much real-world performance and a wider range of capacity options. Until a more compelling use case for PCIe 4.0 performance shows up, saving $50-100 by sticking with PCIe 3.0 storage seems like a great way to deal with high prices on other PC components.