Today, we're taking a closer look at a somewhat particular device, the new ZTE Axon 30 Ultra. The phone had been launched in the US back in early June, a fact that is alone somewhat remarkable for the relatively more restrictive North American market. While ZTE over the last few years had taken a more subdued position in the mobile market, in particular having a large set-back with US regulators back in 2018, this year it seems the company is back on track and providing products as interesting as ever.
The Axon 30 Ultra is quite a departure from past ZTE devices: particularly on the product positioning, design, and features of the phone. Featuring a new flagship Snapdragon 888 chip, it's a larger step-up from the premium range Axon 20 5G. Featuring the "Ultra" denomination ZTE here is also trying to mimic the Samsung flagship device naming, although while the Axon 30 Ultra doesn't really feature every single specification deemed worthy of an "Ultra" name, it also comes at a vastly more reduced price point of $749 – a price point that is particularly more interesting for US readers given the sheer lack of alternatives in the market.
ZTE Axon 30 Ultra
 
Axon 30 Ultra
SoC
Qualcomm Snapdragon 888 
1x Cortex-X1 @ 2.84GHz
3x Cortex-A78 @ 2.42GHz
4x Cortex-A55 @ 1.80GHz

Adreno 660 @ 840MHz

DRAM
8/12 GB LPDDR5
Storage
128/256GB UFS 3.1
Display
6.67″ AMOLED
2400 x 1080 (20:9)
144Hz

300Hz Touch

Size
Height
161.53 mm
Width
72.96 mm
Depth
8.0 mm
Weight
188 grams
Battery Capacity
4600mAh

65W charging (PD3.0)

Wireless Charging
–
Rear Cameras
Wide
64MP IMX686
0.8µm pixels (1.6µm 4:1 16MP)

f/1.6 w/OIS
26mm eq.

Main

64MP GW3




0.7µm pixels (1.4µm 4:1 16MP)

f/1.9
35mm eq.

Ultra-wide

64MP GW3




0.7µm pixels (1.4µm 4:1 16MP)

f/2.2
13mm eq.

Telephoto
8MP

f/3.4 w/OIS
(Periscope design)
120mm eq.

Front Camera
16MP
f/2.5
I/O
USB-C 3.1
Wireless (local)
802.11ax WiFi-6E
Bluetooth 5.2 LE + NFC
Other Features
Dual Speakers
Under-screen optical fingerprint sensor
Dual-SIM
Dual nanoSIM
Launch Price
8GB+128GB: $749 / £649 / €749
12GB+256GB: $849 / £739 / €849
In terms of specifications, the Axon 30 Ultra features Qualcomm's Snapdragon 888 which puts the phone in the top-performing flagship category, and we expect the device to largely perform the same as many of the other alternatives in the market. It comes with either 8 or 12GB of LPDDR5 RAM and either 128GB or 256GB of UFS 3.1 storage options – there is no expandable storage available.
The display of the Axon 30 Ultra is both high-performance, but also not quite top of the line as we've seen from other vendors. ZTE chose to remain with a lower 2400 x 1080 resolution with the 6.67" display – which is a step below that of other 1440p alternatives such as from Samsung, Xiaomi or OnePlus/OPPO. ZTE however does include high refresh rate and manages to push things up to 144Hz, along with a 300Hz touch sampling rate. It's somewhat of a similar approach ASUS takes on the ROG phones, and the lower resolution will be more efficient given that it doesn't feature any newer advanced display technologies.
At 6.67" and a body footprint of 161.5 x 72.96mm, the Axon 30 Ultra is considerably smaller than other "Ultra" phones in the market, and actually fits within what I consider myself a sweet-spot between large screen and still good one-handed device handling.
The phone actually still features a 4600mAh battery which is just a little less than other big phones, however ZTE managed to keep the weight down at a reasonable 188g, again something that I really appreciate and is immediately noticeable when coming from other contemporary phones.
The phone features both curved front display glass as well as a curved back glass which makes for very good ergonomics and the phone feels smaller than it is because of it. It's still a very "edgy" phone in that the metal frame sticks out a bit on the sides of the phone, and the top and bottom faces are flat – it's a design aspect that sometimes works and sometimes doesn't, but in this case, I think it was well implemented and gives the phone a better solid grip.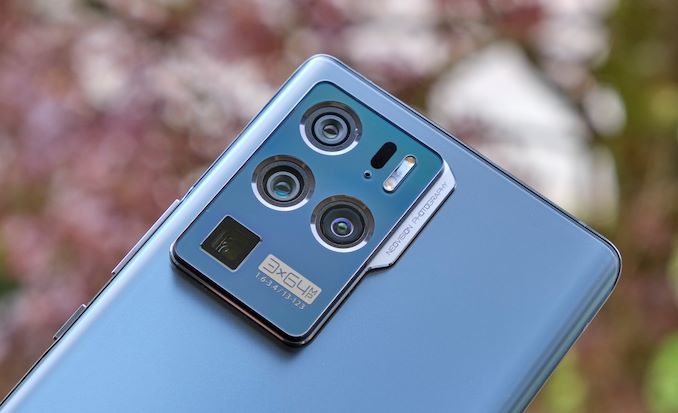 ZTE Axon 30 Ultra Cameras
 
Optics
Sensor
 
35mm
eq. FL
FoV
(H/V/D)
Aperture
OIS
Resolution
Pixel
Pitch
Pixel
Res.
Sensor
Size
Ultra-Wide
13.85
102.6°
86.4°
114.8°
f/2.2
✗
64.2M native
(9248 x 6944)

16.0M binned
(4624 x 3472)

0.7µm

1.4µm

40.0″

79.9″

1 / 1.98″
6.47mm x 4.86mm
31.46mm²
Main (Wide)
26.11
67.1°
52.9°
79.3°
f/1.6
✓
64.2M native
(9248 x 6944)

16.0M binned
(4624 x 3472)

0.8µm

1.6µm

26.1″

52.2″

1 / 1.73″
7.39mm x 5.55mm
41.09mm²
2nd Main
31.45
57.7°
44.9°
69.1°
f/1.9
✗
64.2M native
(9248 x 6944)

16.0M binned
(4624 x 3472)

0.7µm

1.4µm

22.4″

44.9″

1 / 1.98″
6.47mm x 4.86mm
31.46mm²
2nd Telephoto
123.1
16.01°
12.04°
19.94°
f/4.9
✓
7.99M native
(3264 x 2448)

16.0M scaled
(4624 x 3472)

1.0µm
17.7″
1 / 3.92″
3.26mm x 2.44mm
7.99mm²
The camera setup on the Axon 30 Ultra quite interesting, with a unique camera setup: the ultra-wide, main (wide), and a S21-like secondary wide-angle unit featuring all 64MP sensor, alongside a small periscope telephoto module.
The ultra-wide and the secondary wide-angle feature 64.2MP quad-Bayer sensors that bin down to 16MP in regular shots. These are 0.7µm pixels and thus the sensors aren't actually that large in terms of their 1/1.98" formats, and we'd generally want to keep them in their binned down mode most of the time. The ultra-wide has 13.85mm eq. optics with f/2.2, while the secondary wide has 31.45mm eq. f/1.9 optics. The latter is quite unusual – it's similar to the S21's secondary, but due to the quad-Bayer setup and the lack of OIS, isn't quite as useful. ZTE calls this a portrait lens, though it's a quite shorter focal length than what we're used to for portrait photography.
The main camera is also 64.2MP, though this is a larger sensor with 0.8µm pixels and a 1/1.73" format. It still bins down to 16MP for regular shots, and features OIS with 26.11mm eq. optics with f/1.6 aperture.
Finally, the telephoto module is a tiny 8MP sensor with 1.0µm pixels. As a 1/3.92" format as only 7.99mm² area it's quite small, but the optics have a long 123.1mm focal length, although the aperture is also dark at f/4.9.
Usually we see vendors employ "dummy" sensors in order to bloat up their camera module count, but here ZTE does employ four functional modules, and that second wide-angle module is definitely interesting in what it tries to achieve.
Generally, the ZTE Axon 30 Ultra comes with excellent build quality that's exceptionally solid and premium feeling, along with a design that, while not out of the ordinary, is very ergonomic and works well for the phone. Generally it's also the "smaller" form-factor which makes the device stand out, being a more reasonable 73mm width along with being lighter than the competition.
Featuring a Snapdragon 888 as well as a 144Hz screen extremely fast touch response, we expect the Axon 30 Ultra to perform admirably, and that's generally indeed what you should see on the phone.
In the PCMark Web browsing test, the Axon 30 Ultra is actually amongst the most aggressive devices on the market right now, certainly amongst S888 phones.
The writing sub-test which is most representative of general UI responsiveness, we see the Axon 30 Ultra fare well in the charts although it's not the most aggressive.
In the photo editing and data manipulation tests it's also quite middle of the line, but still featuring great performance.
The end score lands the phone in the middle of the pack amongst other Snapdragon 888 phones which is still great.
Also, I'd like to mention that while testing the phone I unfortunately discovered that ZTE is cheating in PCMark; the OS detects the application and pegs the CPU frequencies to maximum, which naturally in results in absurdly high scores that are unrealistic. This is more of a classic case of a more blatant benchmark cheating which tends to be common with the more misguided vendors. The scores publish here bypass the detection and are representative of general application performance.
Web Browser Performance
In the web browser performance tests, the Axon 30 Ultra performs excellently and is amongst the fastest Snapdragon 888 devices out there.
Overall, the performance of the Axon 30 Ultra is excellent and is amongst one of the best in the current market. The software stack seems to work as well as any other good implementation, and the phone's hardware in terms of a high refresh rate screen and low input touch response result in very fluid and responsive experiences.
I'd like to note here that in regards to the phone 144Hz refresh rate mode isn't exactly much of an advantage over the 120Hz mode, beyond the increased power consumption, it's actually quite hard to tell the difference to 120Hz so I can't claim that it's of any practical advantage to the phone beyond going that extra inch in terms of marketing features.
As with many devices nowadays where long-term gaming performance isn't necessarily dictated by the SoC, but also by the thermal dissipation and temperature thresholds that a vendor configures their devices to reach. We haven't really had the experience of a ZTE flagship in a few years here so it'll be interesting to see how they handle things:
Starting off with Basemark GPU, the Axon 30 Ultra actually fares quite well in relation to other Snapdragon 888 devices, reaching long term sustained figures that are above the norm in regards to performance.
The increased performance of the Axon 30 Ultra is generally represented across the board, where the sustained performance is above that of other devices in the market. The explanation here is simply that ZTE allows the phone to reach higher thermal levels as other devices, reaching peak skin temperatures of around 45-46°C. The SoC still naturally has to throttle from its unsustainable +9W peak performance states and thus there's a 25-30% degradation depending on workloads, but the phone remains one of the more aggressive in the market right now.
Generally, you should expect a good gaming experience from the Axon 30 Ultra.
The display on the Axon 30 Ultra is a 6.67" 2400 x 1080 AMOLED that goes up to 144Hz refresh rate. ZTE doesn't have any special claims about the display beyond that it also supports 10-bit colour depth, so we don't expect any newer display technology such as modern emitters or more efficient backplane materials.
Design wise, the display is great and has also very good viewing angles. The 1080p resolution is stretching things a bit thin at this size and people buying the phone will have to keep this in mind – personally I don't find it quite enough due to my habit of doing lots of reading in the evening with the phone close to my face, but many other people with more general usage at hand held distances will be plenty satisfied with the density.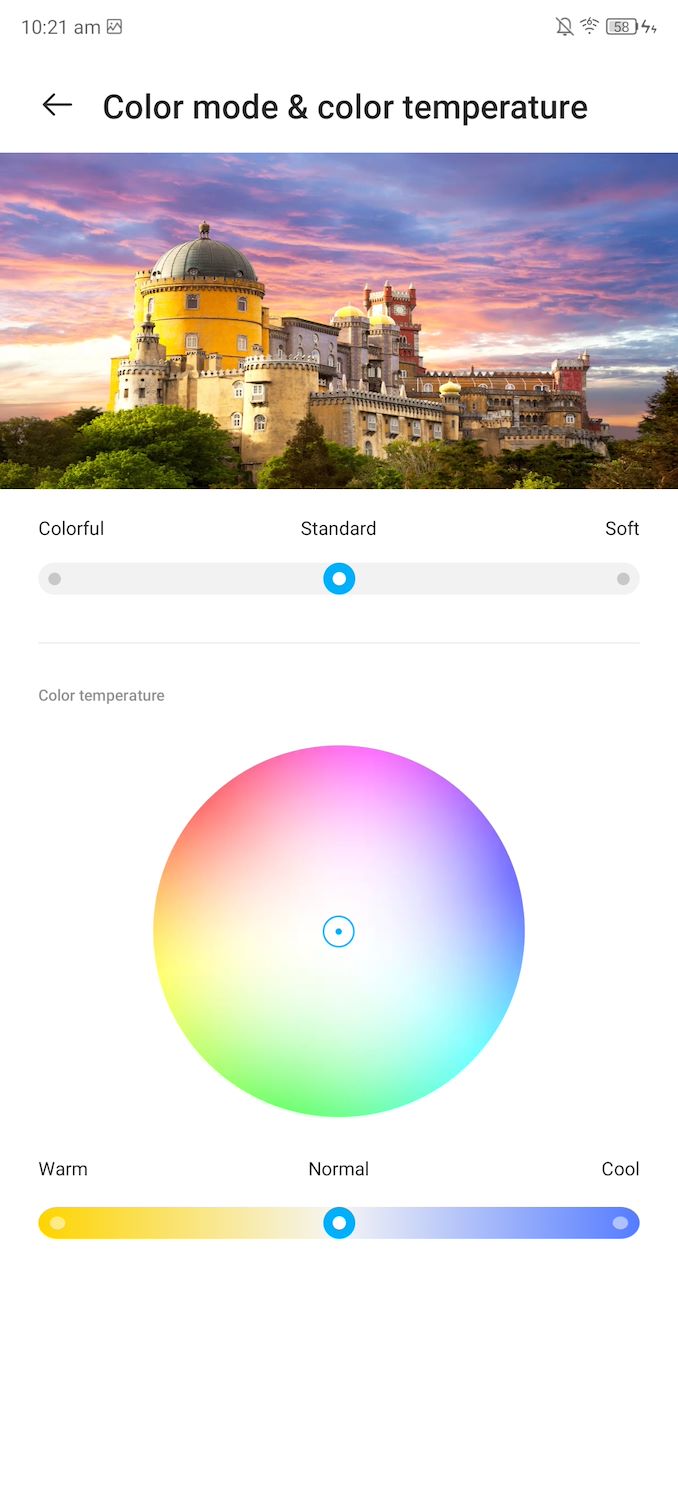 In terms of colour calibration options for the display, ZTE's myOS gives you a more simplistic settings menu: The top slider of "Colourful", "Standard" and "Soft" change the colour gamut between something that exceeds the P3 colourspace but below that of BT2020, a P3 gamut calibration, and an sRGB gamut calibration. For our testing we're using the "Soft"/sRGB calibration for testing.
Additionally, ZTE gives us a colour wheel and colour temperature slider, more on this in a bit.
We move on to the display calibration and fundamental display measurements of the Axon 30 Ultra screen. As always, we thank X-Rite and SpecraCal, as our measurements are performed with an X-Rite i1Pro 2 spectrophotometer, with the exception of black levels which are measured with an i1Display Pro colorimeter. Data is collected and examined using Portrait Display's CalMAN software.
In terms of brightness, while the phone is in line with other industry devices in manual brightness, coming in at 484 nits full screen white, its actual auto brightness boost levels aren't too convincing as they only reach 606 nits, which is below that of flagship devices of the last few years. It's still a bright display, but won't be competitive in very bright sunlit scenarios.
In the greyscale results, the out of the box default mode of the phone is pretty bad as it veers off to very blueish tones, with 6949K whites and average colour temperatures of 6715K across the levels.
Furthermore, the gamma curve also isn't very consistent at all in our 50% window 50% APL test patterns, with non-linear results. Both the colour inaccuracy and the gamma error result in quite bad results in terms of the dEITP figures.
Usually, we don't publish review calibrations as vendor's controls makes things incredibly hard to replicate – this is also the case here with ZTE: the margin for hitting that exact spot that I've used for accurate colour temperature is very hard to hit on the Axon 30 Ultra as the colour wheel has some large implementation bugs that result in very different results when the selector is just a few pixels apart on the outer rim of the colour wheel. Still, generally hitting that area gave me the best results on our device.
The custom setting nearly eliminates all colour errors and we get near perfect whites at 6523K. The gamma error unfortunately is still there but we can't do much about it.
Portrait Displays CalMAN
In the default settings the error rates are extremely high due to the offset white point.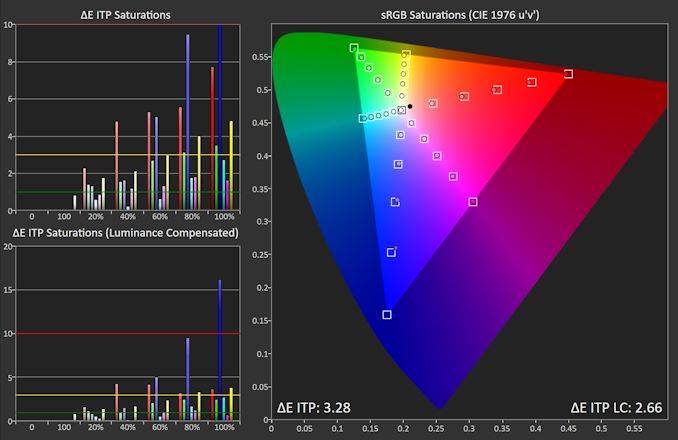 Portrait Displays CalMAN
In our custom white point, we're able to get pretty good results, although we see that blues and yellow are off-hue by a larger margin and this has a larger impact on the overall error rate. This is something that can't be corrected with the given controls.
Here's the GMB results at the default "Neutral" white point in the Soft profile.
And our custom white point calibration, which dramatically improves the error rates, at least as far as possible.
Overall, the display of the Axon 30 Ultra is relatively mediocre by flagship standards. While viewing angles are good, it doesn't reach the brightness of the competition. Furthermore, ZTE's colour calibration out of the box is amongst one of the worst we've seen in recent years, having no way to pre-set a somewhat accurate white point. Luckily, I was able to calibrate it manually to a reasonable colour balance, but that's not something that should be left up to customers to do.
In terms of battery life, the Axon 30 Ultra features a 4600mAh battery. Combined with the lower resolution 1080p screen, in theory we should be seeing quite good results out of the phone, but there's also the fact that it has a more power hungry Snapdragon 888 powering it, so results could end up anywhere.
In the 60Hz web browsing results, the Axon 30 Ultra ends up in a very disappointing spot at 11.76 hours. I say it's disappointing because of the juxtaposition to the Mi 11 which has the exact same battery capacity, the same SoC, but features a 1440p 120Hz display. At 60Hz, in theory the Axon 30 Ultra should have been able to outlast the Mi 11, but yet it only does so by a few minutes which is far below expectations.
One of the biggest mysteries in this year's flagship devices continues to be abnormally high baseline power consumption characteristics of almost all non-Samsung non-Apple phones, and the Axon 30 Ultra also suffers from such, dragging down its overall device efficiency.
I had looking into the base power consumption of the 144Hz mode, and the mode had a large delta compared to the 120Hz mode. ZTE even goes so far to say in the display settings that the 144Hz mode drains battery significantly faster. Given the negatives and very little positives to use the mode over the 120Hz mode, I see no reason for people to ever chose it.
At 120Hz, the Axon 30 Ultra naturally incurs an efficiency hit, and again here the most interesting comparison is against the Mi 11 – which this time actually lasts longer than the Axon, which is sad given that the phone is driving a higher resolution display.
In PCMark, the Axon 30 Ultra does averagely good. Oddly enough here it manages to beat the Mi 11 more consistently as it becomes less display power bound in the test.
Generally speaking, the Axon 30 Ultra should have average to good battery life. The phone does not have the latest generation components such as a power efficient display to compete against more expensive competitor devices, but it's also not outright bad and generally in line with what we've seen with gen-1 or gen-2 phones.
The camera setup of the Axon 30 Ultra is quite peculiar and special, in that it doesn't really match anything else in the market right now. As with the other recent reviews, we dove deeper into the phone's camera several weeks ago in our much more extensive flagship camera review article, so for a lot more samples and discussion, I'd recommend reading that piece: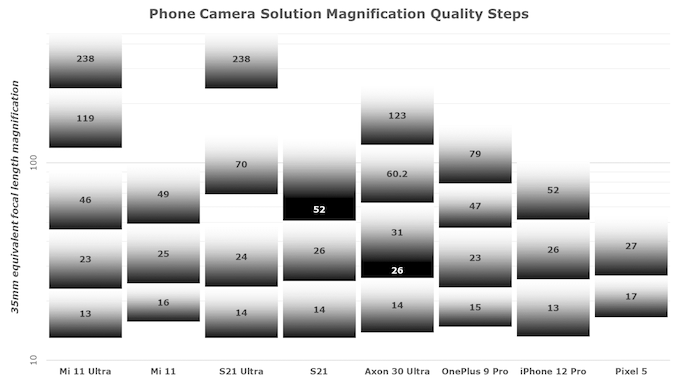 The one thing that makes the Axon 30 Ultra quite weird from other phones is the fact that it has a secondary wide-angle lens with a focal range of 31mm – just a little bit longer than the 26mm equivalent "main" camera sensor. ZTE calls this module a "portrait" lens, although it really doesn't have the equivalent focal range of a typical portrait lens at >50mm.
Except for the 8MP telephoto module, all other modules on the Axon 30 Ultra are 64MP quad-Bayer units that bin down to 16MP, so it's actually generally a little above the normal 12MP results you'd see from contemporary phones.

 [ Axon 30 Ultra      ] 
[ Mi 11 Ultra      ]  [ Mi 11      ]
[ S21U(S) ] [ S21U(E) ]
[ OnePlus 9 Pro ]
[ S21(E) ] [ iPhone 12 Pro ] [ Pixel 5 ]
[ X-T30 (     ) (       ) ]
In our full camera review article, the one thing that stood our about the Axon 30 Ultra is that the phone's camera processing is punching quite above its weight compared to many other flagship devices in the market, resulting in quite natural looking tone curves through most scenarios.
The phone's telephoto module which has a 5x optical module at a 123mm equivalent focal length allows for quite competitive zoomed in shots, notably higher quality than any other phone that doesn't have a periscope optics camera setup. While it doesn't compete with the much larger S20/S21 Ultra or the Mi 11 Ultra's models, it offers something that's above the norm.

[ Axon 30 Ultra    ] 
[ Mi 11 Ultra    ]  [ Mi 11    ]
[ S21U(S) ] [ S21U(E) ]
[ OnePlus 9 Pro ] 
[ S21(E) ] [ iPhone 12 Pro ] [ Pixel 5 ]
[ X-T30 (     ) ]
In terms of HDR, although the camera does have a hardware disadvantage due to the higher resolution, ZTE's processing was most of the time able to get quite good results. While never being the best, it tended always to get colour temperature right and keep a more lifelike representation of shadows and highlights. The one weakness that tends to creep in is that the phone sometimes feels a little washed out and lacking in colour saturation.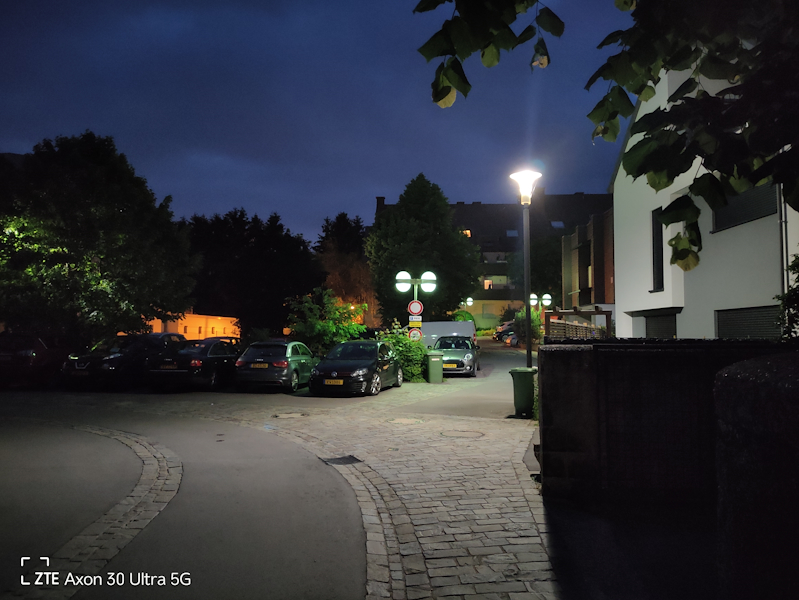 [ Axon 30 Ultra    –    ] 
[ Mi 11 Ultra    –    ]  [ Mi 11    –   ]
[ S21(E)    –    ]
[ S21U(S)  – ] [ S21U(E)  – ]
[ OnePlus 9 Pro  – ] 
[ iPhone 12 Pro ] [ Pixel 5  – ]
[ X-T30 (   ) ]
In low-light scenarios, the Axon 30 Ultra's sensor struggle quite a bit, but the phone does have a night mode that is able to recover light. While the phone's cameras are usable in this mode, the processing tends very much flatten out textures completely which represents the phone biggest weakness in low-light. Because of this, it's only really an average performer.
Overall Camera Conclusion
The ZTE Axon 30 Ultra was actually a quite surprising camera experience for me because the device had a unique type of processing in daylight shots that appeared extremely natural and most of the time very much competitive with a lot of the flagship cameras out there in the market. While texture details weren't always great, colour accuracy and HDR tone mapping was generally great, which is quite weird as that's always the aspects that are the hardest to get right in a camera system.
In low-light, the phone isn't quite as competitive as the night mode processing literally falls flat in terms of textures, I hope ZTE can somehow improve the algorithm and achieve better results in the future.
Hardware-wise, it's a very versatile shooter, however as much as ZTE tries to rationalise the secondary 31mm camera module, the practical uses just aren't there – the main camera module has a much superior sensor and OIS, and the focal range difference is so minor that I wish this module just weren't there at all.
Overall, the Axon 30 Ultra is a surprisingly capable shooter. While it's definitely not at the levels of the best of what we see from the competition, it has aspects where it can very much hold its own weight, and results in a very usable camera experience in this price segment.
This review of the ZTE Axon 30 Ultra follows quite a few years of rather bad times for the company – it's actually probably the vendor's first "outright" flagship device in quite some time. In times where the competition is in a strong position, it's actually hard to carve yourself out a niche in the market. What makes ZTE stand out here is the fact that they are one of the only major Chinese vendors that are actually active and officially offering and supporting devices for the North American and US market, so most of my rationale and focus will surround the phone's competitiveness in those markets.
Starting off with the design and form-factor, the fact that ZTE is going for a more "middle" sized device is already opening up to a larger audience than other alternatives that are bigger or heavier. At 73mm width and 188g it's in my personal sweet-spot – and noticeable smaller than other "Ultra" phones in the market.
The build quality of the phone is excellent and was amongst one of the first impressions of the phone when opening up out of the box, and remains through to today. The ergonomics are a mix of curved glass both on the front and back, yet still with some noticeable edges on the side frame to allow for a more notable grip compared to fully seamless curved phones – sometimes this can feel cheap but here ZTE does manage to do it feeling purposeful.
The display of the Axon 30 Ultra, while high-refresh rate at up to 144Hz, is generally mid-range in all other aspects. Its characteristics are more akin to a flagship from 2-3 years ago, not competing in power efficiency or brightness of today's competitors. At 1080p it's also lower resolution than most 2021 alternatives – but then again, it's also coming at a lower price point.
Performance of the Axon 30 Ultra keeps up with any flagship device in 2021, and ZTE implements the Snapdragon 888 well in fully exposing the maximum performance of the chip. GPU performance is actually among one of the best amongst S888 devices because ZTE does allow the phone to get a little it hotter than the general norm – but not to the point that it overheats.
Battery life of the Axon 30 Ultra is good – although by 2021 standards it misses the mark compared to other flagships due a less efficient display.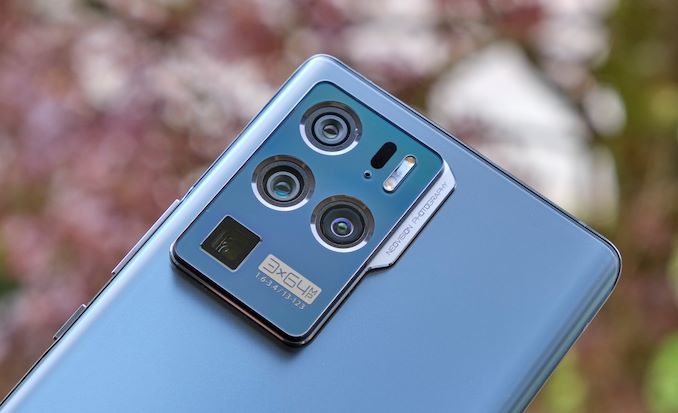 The cameras of the Axon 30 Ultra were the most surprising aspect for me for the device. I didn't know much what to expect, but was actually positively surprised by the phone daylight performance: good colours, competitive details, and in general a HDR implementation that many times punches well above its weight when comparing to other vendors.
The hardware is generally solid; however, the phone could have done without that 31mm secondary wide-angle module as its practical benefits are generally non-existent. Otherwise, the ultra-wide, main module, and smaller periscope telephoto are quite good competitors, although naturally they get outshone by some of the more expensive competition alternatives.
The biggest weakness is low-light, where although the phone's night mode makes things visible, the flat image results are generally just off-putting.
A $/€749 Sweet-Spot?
The Axon 30 Ultra comes at a price point of $749 in the US and 749€ in Europe. At this price, the nearest competitors are the Galaxy S21 and the OnePlus 9. The S21 is a very different form-factor phone, so not exactly quite the same comparison device, you'd have to compare it to the S21+, which at currently $899 and 1049€ is far outpricing the Axon 30 Ultra. The $729 (currently at $659) OnePlus 9 would be a more valid comparison in terms of price and device type; while we don't have that phone, the Axon 30 Ultra should have a much more flexible camera system. For the US market, that's pretty much it in terms of comparisons, and that generally favours the Axon and ZTE as there's just not much else in terms of other alternatives at this price point in terms of flagship performance phones.
In Europe, the Mi 11 and OnePlus 9 Pro can be had at 700€/799€ so the Axon 30 Ultra isn't that interesting anymore given its inferior display and worse low-light performance.
The one wildcard and area of concern for ZTE is the company's track record in terms of software. While my experience on myOS on the Axon 30 Ultra has been fine and the phone received a couple of software updates since I got it, generally it would be wise to go into considering the phone with low expectations for much future significant udpates.
In general, the Axon 30 Ultra was overly positive for me, and was a breath of fresh air in the flagship landscape. While the phone has weaknesses, it's priced quite fairly, so it makes me look forward to ZTE's next iteration.