Today Xiaomi is announcing three new devices – the 11T, the 11T Pro and the 11 Lite 5G NE. We've had the first two in for review for a bit now and are able to give some first-hand experiences with the phones today.
The Xiaomi 11T series – which by the way isn't called anymore "Mi" in the name, it's literally just "Xiaomi 11T" now, are supposed to be additions to the company's flagship line-up, but coming in at lower price points. We had reviewed the Mi 11 back in March and the big brother, the Mi 11 Ultra in July, so make sure to read those pieces as the 11T series fits into the line-up, albeit being different.
What defines the 11T series is the fact that they're slightly lower priced and more budget than the original Mi 11, notably on the display side which has now been reduced to a 1080p panel. Build quality is also different, and finally, we're seeing a different set of SoC options depending on whether you get the regular 11T or the higher-end 11T Pro.
Xiaomi 11T Series
 
Mi 11T
Mi 11T Pro
SoC
MediaTek Dimensity 1200
1x Cortex-A78 @ 3.00GHz
3x Cortex-A78 @ 2.60GHz
4x Cortex-A55 @ 2.00GHz

Mali-G77MP9

Qualcomm Snapdragon 888 
1x Cortex-X1 @ 2.84GHz
3x Cortex-A78 @ 2.42GHz
4x Cortex-A55 @ 1.80GHz

Adreno 660 @ 840MHz

DRAM
8GB LPDDR5-6400
8/12GB LPDDR5-6400
Display
6.67″ AMOLED
2400 x 1080

120Hz Refresh

480Hz Touch
HDR10+ / 10-bit panel

Size
Height
164.1mm
Width
76.9mm
Depth
8.8mm
Weight
203g
204g
Battery Capacity
5000mAh (Typical)

67W Charging

5000mAh (Typical)

120W Charging

Wireless Charging
–
–
Rear Cameras
Main
108MP HM2 1/1.3″ 0.7µm
4:1 Binning to 27MP / 1.4µm

f/1.75
24mm eq.

Telephoto
5MP (Macro only)

f/2.4
48mm eq.

Extra
Telephoto
–
Ultra-Wide
8MP

f/2.2
120° FoV

Extra
–
Front Camera
16MP

f/2.45

Storage
128/256GB
I/O
USB-C
Wireless (local)
802.11 (Wifi 6),
Bluetooth 5.2
Cellular
4G + 5G NR NSA+SA Sub-6GHz
Special Features
Under-screen fingerprint sensor
Full-range stereo speakers
IR Blaster
Splash, Water, Dust Resistance
No rating
Dual-SIM
2x nano-SIM
Launch OS
Android 11 w/ MIUI
Android 11 w/ MIUI
Launch Price
8+128GB: 499€
8+256GB: 549€
 
8+128GB: 649€
8+256GB: 699€
12+256GB: 749€
Starting off with the SoCs, the two 11T devices are absolutely interesting phones as besides the usual Samsung Galaxy devices each year who are powered by Snapdragon and Exynos SoCs, Xiaomi is employing a similar strategy here with the 11T series in dual-sourcing both from Qualcomm and from MediaTek.
The regular 11T is powered by the MediaTek Dimensity 1200 "Ultra" – we're not sure what the Ultra here stands for but it seems it's related to a high clocked NPU – there are no differences on the CPU clocks. The SoC features a Cortex-A78 at up to 3.00GHz, three A78's at 2.60GHz, and four A55's at 2.00GHz. The GPU is a MaliG77MP9, although we can't confirm the frequency. This is MediaTek's highest end chip at this moment in time, so it's quite interesting. What also makes it special is that it's on TSMC's 6nm process node, and it's the first chip we've had in our hands on this node.
The Snapdragon 888 needs no introduction, and that's what's powering the 11T Pro. There are a few oddities with the chip though, which we'll cover in the system performance section, but the way Xiaomi is configuring the chip isn't quite flagship level in terms of behaviour.
What's very exciting about the two devices with differing SoCs is that both phones are otherwise absolutely identical in specifications. It's essentially the same phone, just with a different SoC, and different charging capabilities. For apples-to-apples chipset comparisons, it rarely gets better than this, though we'll see that there are behavioural discrepancies.
The back of the phone is relatively generic with its glass back. One thing to note here is that the phone is a bit more on the wider side at 76.9mm. Weight is reasonable at 203-204g due to the 5000mAh battery.
In general, the build quality and design of the phone isn't quite as attractive and sleek as what we saw on the Mi 11, and it does feel like a slightly cheaper / lower end model in the Mi 11 flagship series.
On the camera side of things, Xiaomi is employing a 108MP sensor, but this is not the HMX that was found in the Mi 11 but rather the smaller HM2 sensor which uses 0.7µm pixels compared to 0.8µm on the sibling.  The optics are 24mm equivalent focal length at f/1.75 aperture, but without OIS.
There's a 5MP telephoto module but this is only used for macro shots, it can't be used for any actual zooming in.
Finally, there's a basic 8MP ultra-wide with f/2.2 and 120° field of view – it's really basic. In general, the whole camera setup is simple and Xiaomi doesn't give it too great specifications.

Xiaomi is focusing around fast-charging in these devices, notably the 11T Pro comes with a 120W charger. It performs as advertised; however, we'll be talking about the topic in more depth in the review.
The 11T starts at 499€, which is quite reasonable, and the 11T Pro starts at 649€ – which is actually quite steep given that one can have the Mi 11 for around 715€ nowadays, the phone would have to somehow rationalise itself in its differentiations compared to its series sibling.
The comparison of the Snapdragon 888 to the Dimensity 1200 is interesting as we don't tend to get to compare MediaTek devices very often. In theory, the Snapdragon has much more oompf to it given its higher performance X1 core, but things also depend on software.
In PCMark, as expected, the Qualcomm powered 11T Pro has no issues in performing quite ahead of the MediaTek powered 11T. It seems that the SoC as well as software stack allows for more aggressive responsiveness on the larger SoC – which is to be expected.
When it comes to the web tests, we also see the 11T Pro easily outperform the 11T, by quite some significant margins even.
What's a bit weird here is that both devices are actually performing below expectations, and here is where things get very shady:
The Snapdragon 888 in the 11T Pro in these benchmarks is never using the Cortex-X1 cores of the SoC. Instead, pretty much the totality of the tests is being performed on the 2.41GHz A78 cores. If this sounds familiar to you, it's because we saw some kind of similar behaviour on the OnePlus 9 Pro.
What's happening on the 11T Pro is that indeed it seems any anonymous workload on the phone is mostly unable to be scheduled on the X1 cores, unless there's multiple threads which causes spill-over. Without CPU affinity in my SPEC harness, the load gets also scheduled on the A78 cores. If I limit it to just the X1 core, it only goes up to 2.15GHz. In GeekBench, the ST workloads do go up to 2.84GHz even in an anonymised variant of the test, however in the MT load the X1 cores again are limited to 2.15GHz. The X1 cores are still being used here and there in scenarios such as opening apps, but otherwise rarely so.
I can't really tell if it's extreme battery optimisation or not, but it's quite aggressive and the Snapdragon 888 here is definitely handicapped in terms of behaviour.
On the MediaTek Dimensity 1200, the chip fares normally in steady state workloads, however in more interactive workloads such as the above web tests, the DVFS and scheduling behaviour is all over the place with the chip not consistently having the workload on the performance core. I'm also seeing bursts of the other cores needlessly going up in frequency. In general, we don't have too much experience with MediaTek's latest software stack, so this would require a bit more investigation, but generally, the phone doesn't perform quite as well as the raw CPU performance would indicate.
Both phones are fluid at 120Hz, and the 11T Pro is still very responsive, however the 11T doesn't feel quite as fast.
On the GPU side of things, it's again a very interesting to match up the Snapdragon 888 versus the Dimensity 1200. The Snapdragon should dominate in peak performance, however sustained is another question.
Unfortunately, the 11T Pro here is again a Snapdragon Xiaomi device like many that we've seen in the past – the issue here being is that the phone just outright doesn't throttle at all. In anonymous applications, the phone will go full power no matter the temperature until at some point it'll give out an overheating warning.
The MediaTek 11T also didn't throttle at all, and although the phone reached 47°C at least it didn't give off any overheating warning.
Lately I've been spoofing our workloads as popular games, specifically Genshin Impact, given it's the most popular and most demanding real world gaming title out there. Benchmarking the game itself is hard because of the dynamic resolution and differing graphics settings depending on devices, but spoofing a standardised workload as the game work well to showcase representative gaming performance.
Unfortunately, this experiment here showcases Xiaomi's shenanigans:
First off with the MediaTek 11T: the anonymous test doesn't throttle at all and peak and sustained performance figures are essentially the same, with the chip actually faring quite well here in sustained performance, not accounting for the hot phone.
In the Genshin spoofed test, the device has drastically lower thermal behaviour, and throttles at lot quicker to lower performance states. He phone was generally only 39°C warm which was very good.
On the Snapdragon 11T Pro, there's quite the shocking revelation; the phone is outright capping peak performance, gutting it to otherwise the sustained performance levels of the anonymous version (before the overheating warning).
Thermals of the phone here are excellent at only around 37°C peak skin temperatures. Generally, the prolonged gaming performance here isn't changed as the both end up at the same level.
The problem with this "optimisation" is of course that it's completely misleading the benchmarks. If real games are actually severely limited in GPU frequency and performance, then this should also be represented in benchmarks for transparency.
I'm very exhausted by these mechanisms and opaque mechanisms, because most other reviewers will likely not catch them, which is likely Xiaomi's goal. It's a crap industry behaviour that needs to be abolished.
I'm skipping over the rest of the benchmarks here as it's not even worth showcasing.
Battery comparisons between the 11T and the 11T Pro are again very interesting given the fact that we have to identical devices, only differing between each other in terms of SoC employed.
As noted in the earlier sections, there are a few differences in CPU behaviour, particularly the 11T Pro really not using the Cortex-X1 cores of the Snapdragon 888 too much. However, the 2.41GHz A78's of the Snapdragon 888 are only 5% slower than the 3GHz A78 of the Dimensity 1200 – due to Qualcomm's larger CPU and system caches, and better memory latency. So in terms of performance, as we noted before, the Snapdragon 888 11T Pro should still exceed that of the 11T, so it'll be still somewhat valid comparison even without the X1 cores.
In the web browsing tests, the results couldn't be more different, and the discrepancy between both phones frankly shocked me.
The 11T with the MediaTek SoC only managed to get 57-60% of the battery life of the Snapdragon 11T Pro. Again, I have to emphasise that these two devices are otherwise identical – same battery capacity, and same screen, and I haven't been able to measure any difference in power between the two phones at the same screen brightness. What this means, is that the delta here seems to be related to the SoC.
In PCMark as well, the 11T is only showcasing 58-61% of the longevity of the 11T Pro, all whilst showcasing worse performance numbers.
The results for the 11T both in the web test and in PCMark are just abysmal. I did run power analysis on all the CPUs in SPEC, and yes, the Snapdragon 888 is quite a lot more energy efficient than the Dimensity 1200, however not to a degree to actually end up with such a large battery life discrepancy – at least not that I would assume.
The 11T was noticeably warmer than the 11T Pro in the battery tests, which is kind of obvious given that it evidently uses more power. For me, the MediaTek powered 11T is dead in the water, as the results here are just too bad.
The 11T Pro's battery life was good, and what surprised me the most is that it's the only non-Samsung Snapdragon 888 phone that didn't exhibit terrible baseline power consumption. I'm not sure what to attribute this to, but it ends up with quite good results, though still lagging behind the S21 Ultra with its much more efficient display.
Xiaomi is focusing the PR of the Mi 11T series on the fast-charging capabilities. Notably, the 11T Pro comes with a 120W fast charger:
It's a USB-A connector on the power brick, and we can see that to achieve 120W the phone uses 20V and 6A transmission. The 6A is the rather special part as this requires a special thicker cable that's included – otherwise any other generic cable will not allow to these kinds of power levels.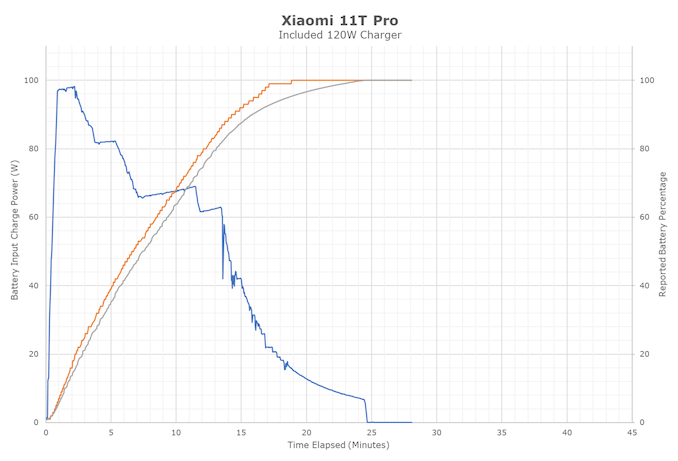 In terms of charging, we can see that the actual charge power into the phone reaches around 97W. The brick at the wall consumed up to 115W – keep that in mind when reading about fast-charging marketing claims, it's mostly always the at the wall figure that's being advertised.
The 97W figure only works up to around 20% charge, after which it goes down in steps to 80W to around 40%, 65-70W to 70%, and then gradually down to 6W. It's notable that the phone doesn't really do any trickle-charging at all. 0-100% happens in 25 minutes.
The regular 11T comes with a 67W charger, 20V at 3.25A. Peak power is around 49W in terms of charging the battery. It's in general less aggressive, with 0-100% in 41 minutes.
Xiaomi made a few claims about the charging system a extract of the latest PR:
Xiaomi's first smartphone to launch globally with the company's proprietary 120W Xiaomi HyperCharge technology. The industry-leading technology will enable a 100% charge in just 17 minutes*, giving creators more time to keep up with their creativity and minimize downtime by ensuring a full day use. This is achieved through innovative technologies such  as dual charge pumps, dual-cell battery structure, MTW, Graphene application on Li-ion battery and Mi-FC technology. The safety of the battery is guaranteed by a TÜV Rheinland Safe Fast-Charge System Certification, 34 charging and battery safety features, real-time temperature monitoring and other measures
Notably, we had a few questions about the claims. First of all, the 17 minute claim is generally bogus – while yes, the phone does showcase a 100% status after around 17 minutes, which we reproduced, it actually doesn't stop until around 25 minutes, when it reaches a true 100% figure. This is called fuzzy logic battery percentage reporting, and is generally used as a psychological incentive to not let your phone charge to 100% – almost every vendor out there does this, some to much worse discrepancies than showcased here.
We had sent Xiaomi a set of questions about 4 weeks ago, and gotten some answers only 2 days ago:
Q. Can we document the 34 safety features features?

A. Battery: High temperature charging/discharging protection, Low temperature charging/discharging protection, High current charging threshold management, Double overcharge protection, Overcurrent charging/discharging protection, Short circuit protection, Over-discharge protection, Battery safety encryption; 

Circuit: Watch Dog, USB input over voltage protection, USB input under voltage protection, USB input overcurrent protection, Main charger Vout over voltage protection, Window under voltage protection, Window over voltage protection, Reverse current protection, Overheating shutdown protection, SMB VBAT protection, IBAT OCP protection, 2:1 input OVP protection, 2:1 output OVP protection, Battery monitoring system, Jeita charging protection, CC time out protection, PPS attach protection, PD authentication protection, Overheating NTC IC protection;

Charger: Short circuit protection, Overcurrent protection and overvoltage protection, Under voltage protection, Over-temperature protection, Cable encryption protection, Lightning protection, Electrostatic protection. 
I questioned about the 34 charging features, and got an extensive list back as an answer. Generally, all these features are very much generic mechanisms that can be found in almost any smartphone, and are fundamental to any charge system, with only a few specific ones related to the serial battery charging being in any way special here.
Q. – What does up to 800 cycles mean? What are the criteria for this figure? Usually there's always some specification such as "retain up to 80% charge after 800 cycles".

– How were the charging cycles tested? What was the depth of charge of the battery (from which percentage start of charge to which percentage stop of charge) – are these partial of full charge cycles? 

– How much more is the battery degraded compared to regular charging speeds? Does Xiaomi have any data to share in regards to battery health?

A. […] The battery can obviously handle way more than just 800 cycles. You are absolutely right, the idea here is that it will maintain 80% of its capacity after 800 charging cycles, which is roughly two years before you'll notice any real difference. For most smartphones that number stands at only 500 cycles. The testing conditions are simple, we test the batteries under room temperature charging and discharging it thousands of times to make sure that the battery is able to retain most of its capacity.
In the initial PR a few weeks ago the 80% figure wasn't mentioned, hence why I asked about the 800 cycles number.
In general, the issue we've been having with a lot of vendors is that we are having a lot of issue in getting anybody to actually specify the exact details of the test environment of these charge cycle tests and results.
In particular, I'm asking about the depth of charge of the test – a cycle can either be a full 0-100% charge, or it can also be 5 40-60% charges, in battery terminology, both of those count as a full cycle, however the 0-100% cycle will put significantly more stress and degrade the battery a lot more than the 5x 40-60% cycles.
Xiaomi here also isn't very clear in their answer and didn't address the question. Particularly, they talk about "most smartphones" only able to achieve 500 cycles, however, most smartphones don't have 120W charging, so it can't possibly be a valid comparison.
Xiaomi also notes that the battery is tested under "lab conditions" – this was also a topic of kerfuffle we've had with OPPO last year as the company kept producing questionable test results without any context of test methodology.
Usually, these battery stress tests are done via industrial battery charge/discharge capacity testers, meaning they are testing merely the battery cell, outside of the phone – a very important distinction compared to actual phone charge cycle stress testing.
Q Follow-up. – Can I get a clarification as whether this means that the batteries are being tested externally, outside of the phone, or if this means that the phone itself is being charged and discharged with the 120W system?.
I followed-up with the above question for clarification. This was also a stickling point with OPPO last year, as they would refuse to answer that the advertised charge cycles and capacity retention was actually tested with the advertised fast-charging system. I haven't had a response from Xiaomi yet on the matter, however this was extremely close to the embargo time, I'll make sure to follow up if they do respond.
Q. For the TÜV certification – we've had similar claims from other OEMs, but the issue was that the certification doesn't have any public test methodology documented, nor are the exact results ever published. It is our understanding that this certification only essentially checks that the device doesn't result in any hazardous situation, but doesn't test things like battery health. Any more information is helpful."

A.Correct, the TÜV and other battery safety certifications are mainly focused on battery safety, and not on battery health.

However, at Xiaomi we use laboratory cycle verification, third-party laboratory tests, and ORT verification methods to ensure that the battery cycle life meets the highest standards.
Finally, I asked about clarification about the TÜV certifications. This was also a stress point in an interaction with OPPO last year, as they were trying to portray that the TÜV certification actually is testing battery degradation. Documents sent to me at the time were clear that they were completely unrelated to the fast-charge system.
Xiaomi deserves credit here to properly dismissing that notion and confirming that the TÜV certification is only related to safety – as in, they test that the charger or phone don't blow up. Battery health and degradation is unrelated to the (non-public) test-procedures and certification.
Unfortunately, it's been extremely hard to get a clear non-evasive answer from any vendors out there that promotes such extreme fast-charging systems. Xiaomi here also wasn't able to produce any kind of convincing evidence that would argument that the 120W charging system doesn't notably impact battery degradation.
We're in the process of writing up a more dedicated and general fast-charging article that focuses on real data, and the actual latest science on fast charging. There is an incredible amount of misinformation, misconceptions, and outright falsehoods that are floating out there that we want to address.
Today's review was little smaller in scope, notably missing some things such as display evaluation (it's good), or cameras, however we got the visit the core aspects of the two Xiaomi 11T devices.
The two phones are fundamentally the same, but also couldn't be any more different in terms of their conclusions;
In terms of design, the devices do market themselves as more budget friendly options compared to the Mi 11. The compromises that were made in design is a blockier form-factor, notably exchanging a curved screen with a lower-resolution flat one, although 120Hz is still there. The build quality of the phones is still good, but not reaching the level of ergonomics we've seen on the Mi 11. It's also in general a larger footprint phone, wider than the Mi 11.
In terms of performance, both phones are good. The 11T Pro, virtue of the Snapdragon 888, is quite snappier and more responsive than the 11T with the MediaTek Dimensity 1200. There are some questionable performance abnormalities for the phones. The 11T Pro handicaps the X1 cores of the Snapdragon quite a bit, and it ends up being unused in a lot of scenarios, notably such as web browsing. The 11T has weird scheduling which also tends to affect its performance to below that of what we expect from the D1200 chip.
On the GPU side, these are the most misbehaving Xiaomi phones to date. In actual gaming titles, performance is ok and thermals are excellent, but Xiaomi only does so in a very opaque manner as there's very misleading benchmark performance and thermal throttling settings (there's no throttling!).
In terms of battery life, the 11T Pro does well and is a good implementation for a 5000mAh phone, getting good results.
The 11T on the other hand, is a complete disaster, and ended up being one of the worse battery results of any device we've had out there, reaching only 60% of the longevity of the 11T Pro. This is just perplexing given that the phones are otherwise identical, and points out to large issues with the MediaTek platform.
Fast-charging has been a PR centre-point for the phones, particularly the 120W 11T Pro. Yes, it's the fastest charging device on the market, however we are unconvinced of the claims that it doesn't impact battery longevity. We'll address the topic in a dedicated article soon, but it's shocking at how misleading the companies have become in this regard.
In terms of recommendations and price; at 499€, the 11T is still a device that I would recommend to avoid due to the abysmal battery results. There's not much more to say to that.
The 11T Pro starts at 649€ – it's a much better device, but its pricing isn't quite as aggressive as what I had expected from Xiaomi. For only around 50€ more, you can get the Mi 11, which has a much nicer screen, better camera, and although you lose a bit on battery life, it's a very hard choice to make. There is also the Mi 11i, a phone that is essentially identical to the 11T Pro and comes in at 599€. Xiaomi here is its own toughest competitor in terms of price and value, so I wonder why they felt the need to make the 11T Pro, besides for showcasing 120W charging.
The 11T series is a bit weird. The 11T is a failed device in my view, and the 11T Pro doesn't differentiate itself enough from Xiaomi's own other line-up.