Here is the latest update to our list of recommended Intel motherboards in our series of motherboards buyers guides. All numbers in the text are updated to reflect pricing at the time of writing.
The month of November has been a busy one for Intel, as the long-awaited release of its 12th generation Alder Lake processors launched and has since made its way into retail channels. Not only this, but it paved the way for a range of new Z690 models, and the majority with support for the latest DDR5 memory, PCIe 5.0, with more premium features than ever before. Thereare  also a good number of DDR4 supported boards too. While there's still some 'value' to be had from Intel's previous 11th generation processors, with some tasty deals available on Newegg, we've considered all of Intel's currently available platforms for this month. The Z690 chipset might be here and now, but it's time to see how many make it into our picks for November 2021 in our latest Intel motherboard buyers guide.
Here are our choices in the motherboard market for Intel. For AMD recommendations, head on over to our AMD guide. This is updated monthly just like our Intel motherboard buyers guide.
Intel Motherboards Recommendations
Holiday 2021
Segment
Motherboard
Amazon
Newegg
MSRP
Price vs Features
MSI Pro Z690-A WIFI (DDR5)
–
$240
$250
Value
ASUS ROG Strix B560-A Gaming Wi-Fi
$178
$180
$160
Mini-ITX
ASRock Z490 Phantom Gaming-ITX/TB3
–
$235
$280
Money No Object
GIGABYTE Z690 Aorus Xtreme
–
$900
$900
Our recommendations for motherboards are based entirely on personal and professional opinions. There are notably many different motherboards across the Intel chipsets including the latest Z690 chipset for 12th generation processors, with pre-existing 11/10th gen options including Z590, B560, Z490, and the B460 chipsets,  Some of our choices and options here are also limited by what stock is available. 
Over the next couple of months, we'll be reviewing and analyzing what the Z690 motherboards have to offer, including both DDR5 and DDR4 variations. As we get to grips with Alder Lake and Z690, we'll be able to make some more informed choices in comparison to what we've selected for now. Rest assured, all of the picks selected are my personal and professional choices, options I would be willing to spend my hard-earned money on.
While we typically make a micro-ATX sized selection in our Intel guide, we've omitted to make one for this month. The main reason for this is that there aren't that many (if any) micro-ATX models currently available to buy at retail from what little amount of Z690 models actually fit this. We did consider going back for an 11th generation selection (Z590/B560), but looking at the current pricing, they are either not available or the price has risen to levels beyond what we could typically recommend.
MSI Pro Z690-A WIFI (DDR5) (N/A at Amazon/$240 at Newegg)
While performance is subjective to the overall hardware configuration of a system, the motherboard is undoubtedly the gateway to unlocking all of the new features. There are many Z690 models to consider, but for November, one board that piques my interest is from MSI, the Pro Z690-A WIFI (DDR5) to be exact. Now while the aesthetic might not be the typical quintessential gaming-themed motherboard, it's got everything needed to get gamers off the ground with a decent feature set, and it has an equally attractive price point.
Some of the MSI Pro Z690-A WIFI's most notable features include Intel's latest Wi-Fi 6E CNVi with an Intel I225-V 2.5 GbE controller. Coupled with support for up to three PCIe 4.0 x4 M.2, one PCIe 3.0 x4 M.2, and six SATA ports, it has everything a gamer could need ranging from super-fast NVMe or even conventional hard drives for game storage. One of the biggest advancements of opting for Alder Lake is that it has plenty of varied PCIe support, including one full-length PCIe 5.0 x16 slot, two full-length PCIe 3.0 slots operating at x4/x1, with an additional and smaller PCIe 3.0 x1 slot. Perhaps the most important addition to Z690 is support for the latest DDR5 memory, with the MSI Pro Z690-A WIFI supporting DDR5-6400 out of the box, with a combined capacity of up to 128 GB across four memory slots.
The MSI Pro Z690-A WIFI can be currently purchased for $240 at Newegg at the time of writing, although not all of the Z690 stock has made its way onto Amazon at present. Even though $240 is considered 'cheap' for a Z690 model with DDR5 support, most of the boards are so over-engineered that a model such as this will still give you all the performance benefits of the 12th generation Intel chips, but with more budget to spend on DDR5 memory, storage, and perhaps if you're lucky a graphics card; stock permitting of course.
Gamers on a budget will appreciate the feature set, while all the performance benefits of Alder Lake can be unleashed with the MSI Pro Z690-A WIFI, and this makes it our pick for gamers. MSI even has a non-Wi-Fi enabled version of this model for a lower price of $220, if gaming over wireless just isn't suitable for you.
The term 'value' can be taken any different ways, as it can be related to budget but with plenty of quality, or it can be relative to how much money is available and the cheapest option possible. The prices of high-end motherboards have increased over the years, even more so with the release of Z690 – I remember when a high-end board would cost $175! But today the top chipsets start at that price, and so we pivot to a more budget friendly solution designed for Intel's 11th generation of processors. Although we could have considered one of the entry-level Z690 models for our value pick, we're reverting to Intel's 11th generation options, with the ASUS ROG Strix B560-A Gaming Wi-Fi.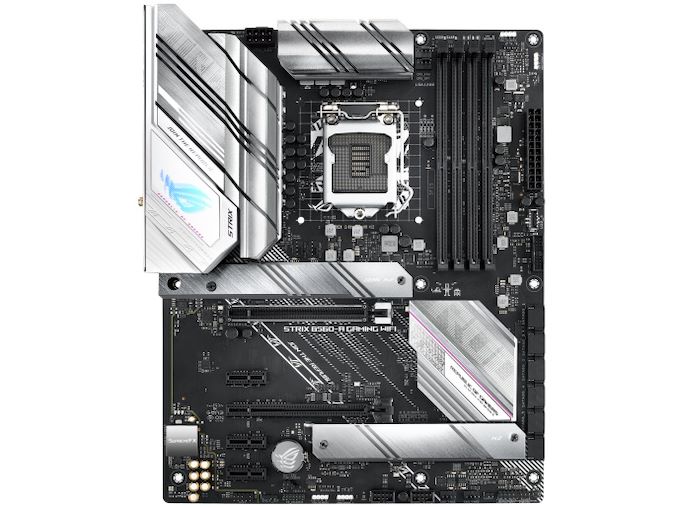 Some of the board's main features include a Realtek RTL8125 2.5 GbE controller and Intel's AX200 Wi-Fi 6 CNVi, one PCIe 4.0 x4 M.2, and another PCIe 3.0 x4/SATA M.2 slot. It includes six SATA ports with RAID 0, 1, 5, and 10 support, and can accommodate up to 128 GB of DDR4-5000 memory which is impressive for a budget model. When used with Intel's Rocket Lake processors, it offers support for PCIe 4.0 devices, including one full-length PCIe 4.0 x16 slot, with one full-length PCIe 3.0 x4 and three PCIe 3.0 x1 slots allowing for various types of expansion cards to be installed.
For audio, ASUS is using a premium SupremeFX S1220A HD audio codec, and connectivity is also impressive for the price with one USB 3.2 G2x2 Type-C, one USB 3.2 G2 Type-A, two USB 3.2 G1 Type-A, and four USB 2.0 ports. The Strix B560-A Gaming Wi-Fi also benefits from a BIOS Flashback button which means users can update the board's firmware to the latest BIOS with power to the board and a USB flash drive, while an HDMI and DisplayPort video output pairing allows users to use Intel's integrated UHD graphics.
The ASUS ROG Strix B560-A Gaming Wi-Fi is currently available to buy for $178 at Amazon and $180 at Newegg. Given the included feature set, it represents exceptional value for users planning on using 11th or 10th Gen Intel desktop processors. Other boards in a similar price range are the MSI MAG B560 Torpedo ($180) and the ASRock Z590 Pro4 ($185), but the ASUS not only has better quality audio but has better networking support.
Despite not being a premium chipset such as Z690 or Z590, the feature set of the ASUS makes it a decent alternative for users on a budget, but those that want to benefit from premium features and PCIe 4.0. Sure there is no support for PCIe 5.0 and less native PCIe 4.0 support than Z690, but for the price, it's a solid motherboard all around.
ASRock Z490 Phantom Gaming-ITX/TB3 ($N/A at Amazon/$300 at Newegg)
There are just six Z690 mini-ITX models for the launch of Alder Lake, with around the same number of Z590 mini-ITX models to select from for small form factor enthusiasts and gamers. Given that some of the Z690 models look a little overpriced, with one to still be announced (MSI MEG Z690I Unify), two are above the $400 mark, and only one with a pretty reasonable price. But instead we have decided to look back to an old favorite that has had a decent price reduction, the ASRock Z490 Phantom Gaming-ITX/TB3, but it still has a solid array of features, albeit on Intel's 11th generation and 10th generation Z490 platform.
Out of the small handful of available mini-ITX motherboards for any of Intel's previous two generations (12th and 11th), not many include Thunderbolt connectivity on the rear panel: here we get Thunderbolt 3. It also includes a Realtek RTL8125BG 2.5 GbE Ethernet controller and Intel AX201 Wi-Fi 6 interface pairing for the networking, as well as supporting up to two PCIe 3.0 x4 M.2 drives, one on the front and another slot on the rear.
Also on the rear panel are five 3.5 mm audio jacks and S/PDIF optical output powered by a premium Realtek ALC1220 HD audio codec and three USB 3.2 G2 Type-A and two USB 3.2 G1 Type-A ports. A handily located clear CMOS button is featured in the middle of the rear panel, with a PS/2 keyboard and mouse combo port, and two video outputs including a DisplayPort and HDMI pairing, although the Thunderbolt 3 Type-C port can also output video. The ASRock also supports up to DDR4-4666 officially, with a maximum capacity of up to 64 GB across two memory slots. In addition to the two PCIe 3.0 x4 M.2 slots are four SATA ports with support for RAID 0, 1, 5, and 10 arrays.
The Z490 Phantom Gaming-ITX/TB3 has an MSRP of $280 and is currently available at Newegg for $235, which is the lowest price we've seen this model for. There's just not that much available right now on Z690 mini-ITX models, none that would be worth recommending for the price anyway.  The ASRock Z490 Phantom Gaming-ITX/TB3 is a cracking mini-ITX board with plenty of premium features such as Thunderbolt 3, and support for PCIe 4.0, so it gets our vote if users are willing to go down the route of Intel's 11th generation processors.
This is likely to change before the end of the year as more potential mini-ITX models are unveiled such as MSI's MEG Z690I Unify, which on paper looks like a winner. The rest of the Z690 ITX stack looks a little overpriced for what they offer at the moment, and that's why we've gone with the Z490 Phantom Gaming-ITX/TB3.
GIGABYTE Z690 Aorus Xtreme (N/A at Amazon/$900 at Newegg)
When not having to worry about budget and opting for what is considered the best money can buy, there are plenty of solid contenders. We have seen some top-tier premium flagship models over the last couple of years on Z590, Z490, and even Z390, but the latest Z690 chipset has taken things to the next level. Our pick for November could be classed as 'Xtreme", with GIGABYTE's Z690 Aorus Xtreme taking our top spot this month.
The GIGABYTE Z690 Aorus Xtreme is everything a flagship could be and then some, with a premium aesthetic, decked out head to toe in armor and coverings, even down to the two-digit LED debugger receding into the armor in the top right-hand corner. Everything has been detailed to look as spectacular as the feature set it boasts. GIGABYTE even includes an OLED screen into the memory slot cover, with an advertised 23-phase (20+1+2) direct power delivery with the latest 105 A power stages.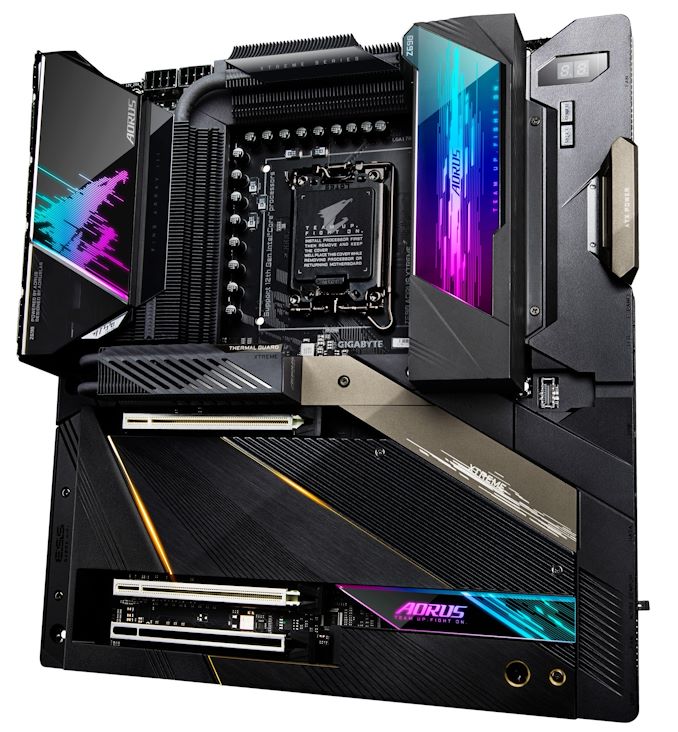 Looking at the primary feature set of the GIGABYTE Z690 Aorus Xtreme, it has three full-length PCIe slots, two with support for PCIe 5.0 operating at either x16 or x8/x8, with the third slot electronically locked do PCIe 3.0 x4. There's plenty of storage support with four PCIe 4.0 x4 M.2 slots, but just four SATA ports. It seems as though GIGABYTE has gone for a less is more approach, although none of the current Z690 flagship models feature more than six, even though the chipset actually supports up to eight. In terms of memory, the Xtreme supports the latest DDR5 memory, with speeds of up to DDR5-6400 out of the box, and a combined capacity of up to 128 GB across four slots. 
When it comes to networking, GIGABYTE has decked the Z690 Xtreme out with two Ethernet ports, one of which is fed by a Marvel AQtion AQC113C 10 GbE controller, with the other port running from an Intel I225-V 2.5 GbE controller. GIGABYTE is also making the most of the inclusion of native Wi-Fi 6E support through the chipset, with Intel's AX210 Wi-Fi 6E CNVi adding both wireless and BT 5.2 support.
Touching on connectivity, the Z690 Aorus Xtreme has dual Thunderbolt 4 Type-C ports on the rear panel, with an impressive ten USB 3.2 G2 Type-A ports on the rear panel; users needn't worry about running out of ports to plug USB devices into with this board. Onboard audio support is slightly different from a conventional model, with the Z690 Aorus Xtreme opting to use an ESS Sabe ES9280AC DAC chip, with two supplementary ES9080 chips acting as the main driving force behind the two 3.5 mm connectors.
The GIGABYTE Z690 Aorus Xtreme has an MSRP of $900, and as such is currently available to buy at Newegg for the same price. The term value isn't something you can ever associate with a flagship model, because you typically get the best of everything. This includes networking, storage, and features, and the Z690 Aorus Xtreme delivers on pretty much everything. Some users may argue that four SATA isn't acceptable for a board costing $900, but I believe it's a fair trade-off to make considering everything else is premium.
Other Z690 flagships in its sights include the ASUS ROG Maximus Z690 Extreme ($1100), and the currently unannounced MSI MEG Z690 Godlike, which we expect to hear about imminently. If we had to buy a top-tier flagship out of what's currently available, the GIGABYTE Z690 Aorus Xtreme would be where our money goes. 
Intel Alder Lake and Z690
For those looking for all the Z690 motherboards, we've compiled details on over 50 DDR5 supported models, and over 30 DDR4 supported models. All of our current and key Intel Alder Lake content can be found below:
Intel Rocket Lake and Z590
For those looking for Z590 models, we've compiled details on over 50 of them in our Z590 motherboard overview. We've also taken a look at over 30 budget-focused B560 models too:
Our review of Intel's 11th Generation Rocket Lake processors is also available to read:
For users looking for other options, we've also gone over multiple chipset families as well in the links below.
Z690: Reviews Coming Soon
We are currently preparing to start work on a number of Z690 motherboard reviews leading up until the end of the year. If there is any models you think we should review, let us know in the comments below.