At CES this year, Intel officially announced its expanded Alder Lake processor lineup, including the performance-laptop focused H-Series chips, which traditionally fit in the 45-Watt range. For the last several processor generations, Intel has started their roll-outs with the low-power laptop parts, and then expanded the range up to and including desktop processors; but for Alder Lake they have flipped this on its head. Instead, Intel first launched desktop processors, such as the Core i9-12900K, and then moved down the range, with the performance notebook processors coming second, and the low-power processors coming later.
Intel 12th Gen Core Alder Lake-H
AnandTech
Cores
P+E
E-Core
Base
E-Core
Turbo
P-Core
Base
P-Core
Turbo
Base
W
Turbo
W
i9-12900HK
6+8
1800
3800
2500
5000
45
115
i9-12900H
6+8
1800
3800
2500
5000
45
115
i7-12800H
6+8
1800
3700
2400
4800
45
115
i7-12700H
6+8
1700
3500
2300
4700
45
115
i7-12650H
6+4
1700
3500
2300
4700
45
115
i5-12600H
4+8
2000
3300
2700
4500
45
95
i5-12500H
4+8
1800
3300
2500
4500
45
95
i5-12450H
4+4
1500
3300
2000
4400
45
95
Today, we finally get to take a look at the 12th generation H-Series processors and see how they stack up to not only Intel's previous 11th generation Tiger Lake platform, but also AMD's Ryzen 5000 Mobile series. If you've not yet taken a look at the initial Alder Lake desktop processor review, definitely check that out since Alder Lake is a big departure from Intel's traditional CPU design. Featuring a new hybrid CPU design with performance (P-cores) and efficiency cores (E-cores), the new design is more characteristic of what you would see in a smartphone platform, except Intel's efficiency cores offer almost Skylake levels of performance and should not be disregarded.
Combined with Windows 11, Intel is hoping to improve multi-tasking performance with not only more cores, but also with Windows 11 being able to park jobs that are not in the foreground on the efficiency cores, leaving the performance cores available for the user to avoid system responsiveness problems even when the system is heavily loaded.
The Test System – MSI Raider GE76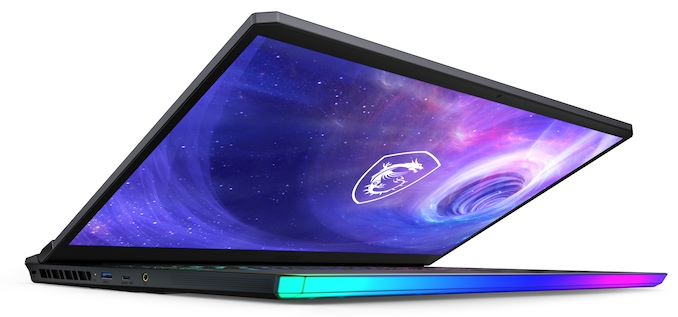 Intel is putting its best foot forward, as expected, by supplying the MSI Raider GE76 system for performance testing. This 17-inch desktop-replacement machine is nearly always at the top of all notebook performance comparisons, and for 2022, MSI has kept the chassis the same, save for adding in Alder Lake as well as the latest NVIDIA RTX 3080 Ti Laptop GPU. We recently reviewed the Tiger Lake version of this notebook so if you want to learn more about the device, please check that review out. The Tiger Lake version was the fastest notebook we had ever tested, so expectations are high with the new Alder Lake refresh. We will be covering some of the same aspects here as well.
And for those that follow MSI, be aware that for 2022 they are moving the laptop name ahead of the model number, so it is now the Raider GE76, whereas last year it was the GE76 Raider.
MSI Raider GE76 Alder Lake
Component
As Tested
CPU
Intel Core i9-12900HK
6 x P-Core, 8 x E-Core, 20 Threads
85 W TDP
GPU
NVIDIA RTX 3080 Ti for Laptops
7424 CUDA Cores
16GB GDDR6 (16Gbps)
RAM
2 x 16GB DDR5-4800
Display
17.3-inch 1920×1080 360 Hz
Storage
2 x Samsung PM9A1 1 TB NVMe PCIe 4.0
Networking
Killer AX1675 Wi-Fi 6E
Killer E3100G Ethernet
I/O
1 x Thunderbolt 4
3 x USB 3.2 Gen 2 Type-A
1 x USB 3.2 Gen2 Type-C
1 x HDMI 2.1
1 x Mini DisplayPort 1.4
SD Card Reader
Headset jack
Keyboard
Steelseries per-key RGB Anti-Ghost
Audio/Video
1080p Webcam
2 x 2W + 2 x 1W Speakers
Battery
99.9 Wh Battery
330 W AC Adapter
Dimensions
15.63 x 11.18 x 1.02 inches
Weight
8.8 lbs
Price (USD)
$3600 USD with single SSD
MSI checks all the boxes for 2022. Featuring the Core i9-12900HK, 32 GB of DDR5-4800 memory, the newest NVIDIA RTX 3080 Ti Laptop GPU, and not one but two Samsung PM9A1 1 TB NVMe PCIe 4.0 drives. MSI has improved their cooling solution for 2022 with a new Phase Change thermal pad as well, allowing the system to wick heat away from the hot components into the cooling system with even more efficiency.
The Core i9-12900HK Processor
At the top of the Alder Lake laptop product stack is the Core i9-12900HK processor. It features six of the new Golden Cove P-cores and eight of the new Gracemont E-cores. The P-Core can turbo up to 5 GHz, while the E-Core caps out at 3.8 GHz. The processor has a nominal TDP of 45 Watts – though in the case of our Raider, the TDP appears to be set closer to 75 Watts out of the box – with a peak turbo draw of up to 115 Watts. It offers up to eight lanes of PCIe 4.0 for graphics and two sets of four PCIe 4.0 lanes for storage, along with an additional twelve PCIe 3.0 lanes.
One of the big changes for Alder Lake-H is that Intel has taken a page from the design for their U/Y/P series chips and moved the formerly separate PCH on to the processor package itself. This essentially reduces Alder Lake-H to a single-chip solution, as like its other mobile brethren, no external silicon is required to provide necessary I/O functionality. By reducing ADL-H to a single chip, this will allow for smaller form factor designs, as well as reducing the footprint that needs to be cooled.
The new processor can support up to 64 GB of memory, and supports DDR5-4800, LPDDR5-5200, DDR4-3200, and LPDDR4-4267. There are a plethora of PCIe lanes available with eight PCIe 4.0 lanes for graphics, two sets of four PCIe 4.0 lanes for storage, and an additional twelve PCIe 3.0 lanes. It can't quite match a desktop processor and chipset, and the laptop processors do not have support for PCIe 5.0 yet unlike their desktop counterparts, but it is still a significant amount of expansion available. There is also support for up to four Thunderbolt 4 ports for external I/O.
On the graphics front, the Core i9-12900HK offers Intel Iris Xe graphics with 96 Execution Units on tap with a peak GPU frequency of 1.45 GHz. This is a big step up in terms of integrated graphics from the Tiger Lake H-Series, which only provided 32 Execution Units of Intel UHD graphics. Laptop buyers will be unlikely to find the H-Series where it is not paired with a dedicated graphics card, but it is nice to see that the latest Alder Lake lineup does get access to the top-tier graphics regardless.
For 2022, MSI has not updated the underlying chassis for the new Alder Lake product, and as such our review of the GE76 Raider from 2021 with Tiger Lake does not fundamentally change in terms of chassis design and cooling. This is still a big, relatively heavy desktop-replacement system. It features an aluminum surface where you will be touching it, and a polycarbonate base.
MSI generally builds a very solid product, and for 2022 they have upgraded the cooling with a new phase-change thermal pad which allows them to wick heat away from the processor and GPU quicker, without some of the negatives of a pure-liquid thermal compound and crystallization that can occur.
The system offers a per-key RGB backlit keyboard from SteelSeries. There is a 1080p webcam as well, and the system now offers an AI-based setting to let the system automatically switch the power levels for the user without having to manually do it, although the manual options are still there. MSI has updated their Silent mode to now leverage the microphones on the system to match the noise floor of the room, which lets them extract more power from the processor, and more fan speed, while still being inaudible.
The Raider GE76 offers lots of connectivity, including a single Thunderbolt 4 port, an additional USB Type-C port, and several USB Type-A ports. There is also a SD card reader which is still convenient when uploading from a camera.
The system offers Wi-Fi 6E support thanks to the Killer AX1675 Wi-Fi adapter, and also includes the Killer E3100G 2.5 Gbps Ethernet adapter.
MSI offers a range of display options, with a 1920×1080 144 Hz panel on their least expensive Raider GE76, a 1920×1080 360 Hz panel which is in the sampled unit, a 2560×1440 240 Hz panel, and a 3840×2160 120 Hz offering.
On our Tiger Lake sample we reviewed late last year, the display accuracy was not up to par with typical MSI offerings. Thankfully that appears to have been a one-off, which we do see from time to time even on devices that are hardware calibrated at the factory. MSI does allow you to use a built-in tool to calibrate the display, but you do need a supported colorimeter.
Thanks to Portrait Displays for the use of their Calman software so we can continue to accurately measure displays for our reviews.
As you can see, the color accuracy of this sample is much improved over the Tiger Lake model from last year that we received.
Brightness and Contrast
Grayscale
Gamut
Saturation
Gretag Macbeth
The MSI Raider GE76 is a fantastic test bed for Intel's Alder Lake system, with a powerful cooling system, and a great build quality.
With the new hybrid CPU design available in Alder Lake there are now 20 threads available. The system features six P-Core, and each P-Core offers simultaneous multithreading with two threads per core, meaning there are twelve threads available on the P-Cores. The E-Cores are single-threaded only, and there are eight E-Cores. The new Thread Director from Intel coupled with Windows 11's thread scheduler is aware of the cores being high-performance and low-performance and will tend to assign work accordingly; but if the system is not busy and the workload is in the foreground and multi-threaded, it will schedule threads across all 20 cores if needed. If an active task is moved to the background by the user, by either minimizing the task or opening another workload, the background task is allocated to the E-Cores and the P-Cores are prioritized for user-focused work.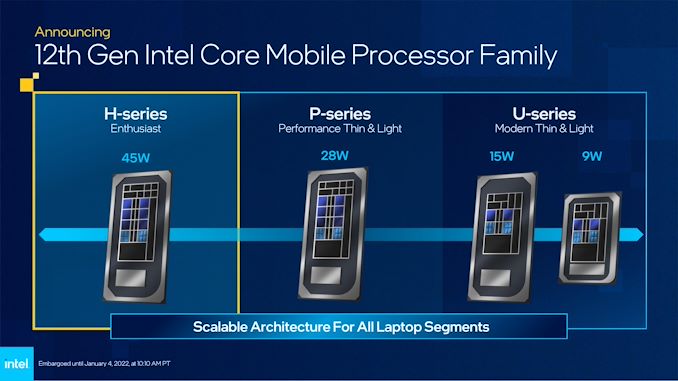 This means that even on a heavily loaded system, system responsiveness should be maintained, and although the user will not have their full system performance available, the P-Cores will be prioritized for active workloads instead of background tasks. For our standard performance testing, benchmarks are always run as the only active task so that the results are representative, but for this review we will also cover some multi-tasking scenarios in a bit.
To test system performance, the system was set to dedicated graphics mode since this is the way most Desktop Replacement systems will be run, and the MSI laptop was set to its maximum performance setting.
PCMark 10
UL's PCMark is a full-system benchmark which not only measures CPU performance, but also memory, storage, and graphics. It is being included as a reference since we always include it in laptop reviews, but be aware that the MSI Raider GE76 now offers the RTX 3080L Ti GPU, which is a step above the RTX 3080L found in the 2021 MSI GE76 Raider. As with all laptop testing, it is almost impossible to have a completely apples to apples comparison. The Raider GE76 also ships with much faster DDR5-4800 memory, an advantage of the Alder Lake platform.
That being said, the new Alder Lake system is by far the quickest notebook we have ever tested on PCMark 10. Some of that is CPU, and some is GPU, and some is memory, and some is storage. As was said at the start, Intel is putting their best foot forward, and it is hard to blame them.
Cinebench R20
Always a popular benchmark due to its ease of use and ability to set the test to be single-threaded or multi-threaded, Cinebench is more of a pure CPU test since it does not leverage the GPU at all and is not very memory intensive.
Tiger Lake had a small single-threaded performance lead over the latest Ryzen processors, and Alder Lake simply smashes both of them. The single-threaded performance uplift is seriously impressive.
On the multi-threaded side, AMD's better power efficiency with Ryzen allowed them to pull ahead in the past, but now that Alder Lake features 20 threads compared to 16 in the Ryzen 9 5900HX, the Core i9-12900HK pulls well in front with all threads loaded. This is despite it having only twelve threads of performance cores, so the eight E-Cores are definitely pulling their weight here.
Handbrake
Probably the most popular transcoding tool around, Handbrake has support for software-based transcoding as well has hardware-based with support for AMD's VCE, NVIDIA's NVENC and Intel QuickSync. We test by doing a transcode of a 1080p Blu-Ray rip to 720p with the same quality settings for all encoders. For most transcoding, software transcoding tends to yield the best quality, however the specialty hardware can often complete the task in less time.
As a heavily multithreaded task, AMD's Cezanne platform was our previous champ here, but Alder Lake demolishes the previous results. The new Golden Cove / Gracemont combination offers an almost 30% uptick compared to Tiger Lake in the same chassis. If you peek down to the Hardware transcode graph, you will see that the new Alder Lake platform is actually quicker at this particular test than the QuickSync was on Tiger Lake. Very impressive.
Speaking of hardware transcoding, Intel's QuickSync does get a bump over Tiger Lake's implementation, but perhaps unsurprisingly they are smashed by the NVIDIA encoders in the big graphics cards installed in the MSI Raider systems.
7-Zip
Despite a massive uplift in compression speed in the Core i9-12900HK, Intel isn't quite able to wrestle the decompression crown away from AMD's Ryzen 9 5900HX, although it is much, much closer than it was before.
Web Tests
Although web performance is an integral part of most people's lives now, testing web performance is both testing the CPU performance as well as the browser's scripting engine. As such, to be as consistent as possible, all web benchmarks are run on the current version of Microsoft Edge, which is based on the Chromium web browser. However, updates to the browser which happen very frequently could impact performance, so any results we have in our database are snapshots from the time that laptop was reviewed. For now, with the decommissioning of several popular browser benchmarks, we are focusing on Speedometer 2.0 from Webkit, and WebXPRT 3 from Principled Technologies. WebXPRT 4 is in preview now, and once it launches, we will take a look at it for future reviews.
Web performance is often dependent on single-threaded performance, as well as how quickly a processor can ramp up to maximum performance. Both AMD and Intel have made big improvements in how quickly their processors can boost to their maximum frequency, as well as how many steps there are on the way.
With Intel's hefty increase in single-threaded performance with the Golden Cove CPU architecture it should be no surprise to see them at the top. How far they are in front though is very impressive.
System Performance Summary
Wow is a good word to summarize. Intel's newest Alder Lake with its new hybrid design, featuring both Golden Cove and Gracemont CPU cores, delivers a substantial increase in performance over their outgoing Tiger Lake platform. With six P-Cores and eight E-Cores, the new Core i9-12900HK offers an impressive twenty threads. With dissimilar performance of the threads, extra legwork was needed to be done to correctly distribute workloads to the right cores, but Intel has done that with their Thread Director system which is integrated into Windows 11.
Intel has squarely thrown the ball back into AMD's court. Intel now lead in CPU performance by a substantial margin, and Intel's Iris Xe graphics also delivers more performance than the current Vega GPU in Ryzen 5000. This is a potent combination.
Intel's H-Series processors slot into the 45-Watt class, and have been a staple in performance laptops for years. But with Alder Lake, Intel is now specifying both a base power – what we used to consider Thermal Design Power (TDP) – and maximum turbo power, which has also existed for a long time, but was never formally provided. In theory, a processor would get up to its maximum boost power, which we called Power Level 2 (PL2), and then after a certain amount of time, it would go down to its base power, which we called Power Level 1 (PL1).
That model has been thrown out the window in recent years though. Although the numbers are still relevant, what both AMD and Intel allow manufacturers to do is almost treat their mobile processors as their desktop counterparts. As long as you can cool it, you can realistically throw as much power at the processor as you want, as long as you don't exceed PL2.
In the thin and light notebook segment, that could mean a normal 15-Watt processor will run at 23 Watts sustained when the user puts the device in its highest performance mode, while in a battery saving or silent mode, the processor will still allow short bursts up to its PL2, but then quickly settle down to its PL1 level to avoid excess battery drain and noise.
In the H-Series, that still happens as well. But thanks to the larger cooling systems, especially in a system like the MSI Raider GE76 that Intel has provided, the cooling system can handle far more than the PL1, so in the interests of performance, the processor is run well over 45 Watts.
Performing a stress test on the MSI Raider GE76 proves this point very well. When the system is in its maximum performance mode, the processor initially ramps up to an almost insane 110 Watts for a brief moment, and then settles in at a still high 85 Watts for sustained operation.
In its balanced mode, the system brings PL1 down to around 75 Watts, which is still well over the 45-Watt base rating of this processor. Performance will be slightly lower, but so will the noise.
In the Silent mode, MSI drops the power level way down to just 30 Watts, so performance will be impacted significantly, although power consumption grows at a far faster rate than performance, so you don't lose as much performance as you may think. To see just how big of a drop that is, Cinebench R20 was run in Silent Mode. The result was 3494 versus 6869 in the maximum performance mode. That is 49% less performance for 65% less power, and it is actually less power than that as well because MSI disables the PL2 completely in Silent mode, meaning the device peaks at just 30 Watts instead of 110 Watts.
Cinebench runs pretty quickly, so even in Balanced mode the processor is still closer to PL2 than PL1 by the time the test is finished, which is why the scores are so close. On a longer benchmark the difference would be increased, but not significantly, since the sustained power level is similar between the top two modes. If you need that last few percentage points of performance, and do not mind the increased noise, it is available.
Intel and MSI are not the only two to play around with power levels. Pretty much every performance notebook will have some sort of setting to change the power levels and noise. The ASUS G513QY with the AMD Ryzen 9 5900HX has a similar system, and it also draws around 85 Watts in its maximum performance mode on a 45-Watt processor. Really, it comes down to cooling. If you have sufficient cooling, you can extract more performance. The downside is often noise, although that is also dependent on the cooling system design and the size of the notebook.
One of the key ideas around Alder Lake is that it offers six P-Cores and eight E-Cores. Windows 11's thread scheduler should take advantage of the E-Cores to move intensive workloads to when that task gets moved to the background in Windows, and as such system responsiveness should be improved. Seat of the pants impressions confirm this. With a heavy load running, the system stays responsive. Apps continue to open quickly, and the in-app performance is still quite strong.
To give a more analytical look at the difference, a test was created to simulate a workload where an intensive task was shuffled to the background, and then several apps were run in the foreground and the performance measured. To achieve this, Handbrake was set to transcode a long 1080p video to 720p using the x264 software encoder. Then, that task was shuffled to the background, and both PCMark 10's Modern Office test suite was run, as well as Cinebench R20. Performance was measured for PCMark 10, Cinebench, and Handbrake to get a feel for how the system was handling the intense load.
This test was then replicated on the ASUS G513QY with AMD's Ryzen 5900HX and Radeon RX 6800M, as well as a MSI system with the Intel Core i9-11980HK and RTX 3060. The absolute results are not the main concern, but rather the percentage changes from running the tests individually. PCMark 10, as an example, leverages the CPU, GPU, memory, and storage, so it is a good example of a real-world test, but the GPU performance is significantly different on these three systems. Ideally, we would be able to keep all the components the same except the CPU, but we must work with what is available, unlike with desktops. That is why Cinebench was also tested, since it is purely a CPU test and does not leverage the other subsystems like memory or storage.
The results are very interesting and prove that Intel's new Thread Director, coupled with Windows 11, makes a big difference in terms of usability. On PCMark 10, all the systems dropped in performance the smallest percentage, as this test is not just about the CPU, but the Alder Lake Core i9-12900HK dropped the least, with an overall result that was 82.6% of the original unloaded result. The Tiger Lake system was only able to achieve 61.9% of its original result, while the AMD system fared better at 75%.
Cinebench though was a different story, with both the Ryzen 9 5900HX and the Tiger Lake i9-11980HK only able to achieve about 16% of their original result, whereas the new Alder Lake system was still able to net 38.4% of its original score while the system was using every single core to transcode a video.
With Handbrake running in the background, all the systems were slower to transcode, but both the AMD 5900HX and Intel i9-11980HK, thanks to not being able to de-prioritize the background task, finished the transcode with a frames per second average of about 88% of the unloaded transcode would have achieved. The new Alder Lake system could only average 83% of its original frames per second, because that task was deprioritized by Thread Director to free up additional resources for the foreground jobs. That made a sizable difference on the net for all the jobs, especially Cinebench.
The new Thread Director and hybrid design is a big win for usability. No longer does an active task feel like it bogs down the system, leaving the user with an unresponsive computer to deal with. Even with the CPU running at 100% load, active tasks feel quick and net performance is very impressive. Although the Alder Lake system did give up the most performance on the background task, it was only an additional 4% over the Tiger Lake system, while at the same time achieving a much higher result on the foreground task. On Cinebench, the Alder Lake system scored 3.6 times higher than the Tiger Lake platform, while still achieving a transcode that was 1.37 times faster. It is very impressive.
With gaming, there are two camps. With the focus on e-Sports, lower resolution gaming with ultra high framerates is often the key. That is why MSI offers a 360 Hz refresh rate 1920×1080 display in the Raider GE76 that was supplied for testing. If you are after the lowest latency this is a sizable difference over a standard 60 Hz display. The other camp prefers resolution, although ultimately everyone would likely prefer to have both. Unfortunately, current graphics cards for notebooks are still barely able to handle 3840×2160 UHD gaming, although NVIDIA has just released the RTX 3080 Ti for Laptops, which is installed in this test system.
As the focus of this article is on the new Alder Lake processor, the gaming focus needs to be at 1920×1080 where the GPU is the smallest bottleneck, but the Raider GE76 was also connected to a UHD display for additional testing. The CPU will have the biggest impact at 1920×1080, whereas the GPU will be the sole bottleneck at 3840×2160. Let's start with some synthetics, then move on to gaming tests.
We have recently added some new games to our testing suite, as well as testing at UHD, but since all our review laptops are returned to the manufacturer, there is no way to backfill the data. If a laptop is missing from a result that means it was never tested on that game or resolution.
3DMark
UL's 3DMark has a variety of graphics tests available to match up with different power devices. We've begun the transition to the latest DirectX 12 Time Spy test but will also continue testing the older tests to keep the database current.
The new Raider GE76 is significantly ahead in both Time Spy and Fire Strike, thanks to the new Alder Lake processor and RTX 3080L Ti.
GFXBench
GFXBench offers DirectX 12 versions of Aztec Ruins in both 2560×1440 as well as 1920×1080 resolutions. Although this test is designed for smartphones and low-end PCs, we will include it here since it was run. All of the systems do very well here, although the new Alder Lake system is again in the lead.
Tomb Raider
The original reboot of Tomb Raider can still be a challenge for lower-powered laptops, but not the Raider GE76.
Rise of the Tomb Raider
Although much more demanding than the first game in the rebooted franchise, and featuring DirectX 12 support, Rise of the Tomb Raider is not a huge challenge to this system at 1920×1080.
Shadow of the Tomb Raider
The latest installment is even more demanding, and we capture UHD results as well now for gaming laptops. The Alder Lake system has a sizable lead at 1920×1080 and is able to achieve over 60 FPS average at UHD Ultra.
Strange Brigade
Strange Brigade is not a very demanding game at low settings, allowing it to achieve reasonable framerates on even integrated graphics. The powerful gaming systems can run this at UHD without too much issue.
Shadow of War
At 1920×1080 the Alder Lake system has a commanding lead. As this is an older game that is being phased out, UHD results are not available.
Borderlands 3
The new Alder Lake system has a slight advantage at 1920×1080 but is almost identical to the previous generation GE76 at UHD.
Assassin's Creed: Valhalla
Again, the Alder Lake system has a reasonable lead at 1920×1080, and a smaller lead at 3840×2160.
F1 2021
Codemasters F1 series tends to be more CPU bound than some of the other games, so the Alder Lake system can stretch its legs a bit more here at FHD resolutions. At UHD, it is GPU bound.
Far Cry 5
Far Cry is also a title that is more CPU bound than most, and the Alder Lake system can pull ahead here as well.
Godfall
Unlike the other games, the previous generation GE76 Raider with Tiger Lake and RTX 3080L achieves a small win here, but it is likely within the margin of error.
Gaming Performance Summary
With the fastest CPU and the fastest GPU, it should be no surprise that the Raider GE76 system Intel shipped is incredibly potent for gaming. At the lower resolution of 1920×1080 the extra CPU power helps to stretch ahead a bit. At UHD though, where it is GPU bound, unsurprisingly it is not a huge impact on average framerates.
Built on what Intel now calls Intel 7, the new Alder Lake processors do not get a completely new foundry node to reduce power consumption. The idea of having P-Cores and E-Cores though is an interesting one for the laptop space, as in theory the E-Cores could lower power consumption quite a bit. However, that discussion will need to likely wait for the thin and light notebooks to arrive with U-Series and P-Series processors as a H-Series device with a massive RTX 3080L Ti GPU, DDR5-4800, multiple PCIe 4.0 SSDs, and a 360 Hz display are not going to be a showcase for power efficiency of a processor.
As always, our battery life tests have the display set to 200 nits brightness and the system set in its most efficient mode.
Web Battery
Our first test shows that the Raider GE76, despite a 99.9 Wh battery, performs very poorly if used as a portable computer. Thankfully it is not really intended to be used this way, as it is big and heavy to carry around, but the regression over the outgoing Tiger Lake model is clear. What is also very clear is how much better AMD is able to power-gate its large discrete GPU compared to NVIDIA, as the AMD gaming system dominates in the battery life tests.
The normalized results remove the battery size from the equation and drops the new Raider GE76 to the bottom of the results. There are several variables, so it is difficult to pinpoint exactly what is causing the power consumption regression, but likely DDR5-4800 is a part of it.
PCMark Modern Office Battery
The PCMark test will run a series of workloads in a ten-minute window, and if a device finishes the work quicker, it is able to idle for a larger percentage of the ten minutes, which probably assists the new Alder Lake system here as it is overall a more performant device compared to the outgoing Tiger Lake laptop.
Movie Playback
The battery life regression is even more pronounced in the battery life playback time. Clearly there is a significant amount of passive power draw in this system.
Looking at the Tesseract score, which divide the movie playback time by the length of the movie The Avengers shows that you would run out of juice halfway through your third viewing.
Battery Life Summary
In a word the battery life could be summed up as "unimpressive". The Raider GE76 is not an ideal test bed to determine CPU efficiency under load since the underlying power draw is significant. To see how Alder Lake compares we will have to wait for more power efficient platforms to get more meaningful results.
Unlike with the desktop counterpart for Alder Lake, the laptop variants are limited to "just" PCIe 4.0 storage. The Raider GE76 offers support for two of them, and the system shipped with two Samsung PM9A1 PCIe 4.0 drives at 1 TB each.
The drive performance is class leading, with the highest results we have ever achieved in the PCMark Full System Drive test.
Intel has been consistent over the last several years to bring their low-power processors to market first, and then move towards the higher-performance platforms and desktops. With the laptop market being the majority of sales, this has made a lot of sense, but it most certainly has left the desktop crowd at a disadvantage. With Alder Lake, Intel has flipped that around completely by launching the desktop products first, and are now just moving down to high-performance laptops, and then finally low-power notebooks. The Core i9-12900HK at the heart of the MSI Raider GE76 is our first taste of Alder Lake in a portable system, and it tastes delicious.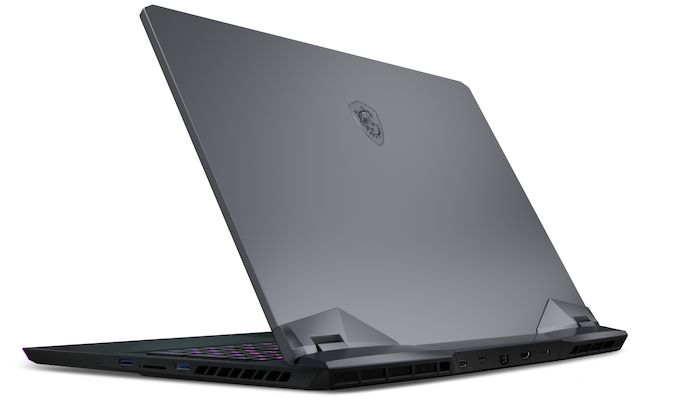 The new hybrid CPU design delivers in multiple ways. Outright performance easily exceeds everything else on the market. The new Golden Cove P-Cores offer a significant uplift in terms of instructions-per-clock (IPC) and allow Intel to regain the single-thread performance crown. Having twenty threads available in a laptop processor also gives Intel the multi-threaded performance lead.
Perhaps the most impressive result though is Intel's Thread Director, which provides very impressive system responsiveness even when the system is at 100% CPU load. Tasks that are being done in the background are still done quickly, but no longer at the expense of the user, and without having to manually adjust thread priority. This is a major win.
The supplied MSI Raider GE76 with the i9-12900HK and GeForce RTX 3080 Ti for Laptops also showcased increased gaming performance, although the increases were more subtle than the system performance results. At 1920×1080, the Alder Lake system almost universally provided a reasonable uptick in gaming performance, although the 3080L Ti GPU did not significantly move the yardstick at UHD resolutions.
Intel has also been able to integrate the CPU and chipset into one package for the 12th generation H-Series processors, and that System-on-Chip provides a lot of connectivity and expansion options, as well as compatibility with four different memory choices in DDR4, DDR5, LPDDR4, and LPDDR5. There is support for four Thunderbolt 4 controllers, as well as two by four lanes of PCIe 4.0 for storage, and another eight lanes for graphics and an additional twelve lanes of PCIe 3.0. Intel now also includes Iris Xe-LP graphics in their H-Series, with the full 96 Execution Units on tap with the Core i9-12900HK.
The one downside from sampling the MSI Raider GE76 was that it's a laptop designed to show off Alder Lake at its best with regards to performance, but at the expense of more mobile-friendly matters such as portability, energy efficiency, and battery life. Case in point: despite having the largest possible battery allowed in a notebook at 99.9 Wh, the base system power draw of the Raider was significant, making battery life poor and masking any changes that would have been a result of the CPU. Intel is aiming Alder Lake-H at everything from luggable desktop replacements such as the Raider to 14-inch ultraportable laptops, so there is a second side to Alder Lake that we've still yet to see. Once more laptops start shipping – especially the U-Series with LPDDR5 – we should get a much better feel for how the hybrid CPU design does when the device is running off the battery.
Thankfully, the lack of battery life was really the only negative for the MSI Raider GE76. It offers plenty of cooling, a great display, and offers the most potent laptop GPU on the market. The Tiger Lake version was the quickest laptop we had tested, but the new Alder Lake one takes things to another level. It is simply one of the best gaming notebooks on the market right now, and it's easy to see why Intel picked this laptop to show off the performance capabilities of Alder Lake-H.
Alder Lake appears to be a significant step forward for Intel, with commanding single-threaded performance, exceptional multi-threaded performance, and the benefits of Thread Director to increase system responsiveness. Alder Lake was a step forward for desktops, but likely an even larger step forward for notebook computers. Intel has delivered tremendous performance across the board and the gap is not even close. 2022 is shaping up to be an exciting year again.