Over the years, motherboard manufacturers have consistently pushed the limits on top-end motherboards with striking designs and PCBs filled to the brim with the latest controllers and feature sets. Although these typically come with a high price premium, these 'flagships' represent the latest components, designed to operate the fastest processors to deliver leading-edge performance while offering the best controllers available at the time of manufacture.
One such model is the GIGABYTE Z790 Aorus Xtreme, which is the direct successor to the Z690 Aorus Xtreme, and boasts a premium feature set, including support for DDR5-8000 memory, dual Thunderbolt 4 Type-C, as well as 10 GbE and Wi-Fi 6E connectivity. Sitting at the top of GIGABYTE's Z790 range of motherboards, the Z790 Aorus Xtreme is designed for Intel's 13th (and 12th) generation Core series processors, and as such, benefits from advancements such as PCIe 5.0, native USB 3.2 G2x2 connectivity through a front panel header, and 10 x USB 3.2 G2 Type-A ports directly located on the back panel.
In a market with a massive choice of motherboards, the GIGABYTE Z790 Aorus Xtreme has plenty of bells and whistles and appeals to users looking for the best motherboard designs and technology. Despite not being cheap, GIGABYTE, over the last couple of generations on both AMD and Intel chipsets, has offered good levels of value while offering solid performance levels. Today we're taking a closer look at the Z790 Aorus Xtreme to see how it stacks up against other LGA1700 motherboards with our Intel Core i9-13900K and if there's any value to be had amid the solid and premium feature set offered by GIGABYTE.
With plenty of options for users and catering to all budgets, GIGABYTE has a diverse choice of Z790/LGA1700 motherboards to suit a specific user's needs. For the entry-level and more typical desktop systems, GIGABYTE's UD or Ultra Durable series offer a solid yet simplistic set of features acting as an entry point onto Intel's 13th/12th Gen Core series, while for content creators, GIGABYTE also offers a number of Aero branded models which focus more on premium connectivity and networking options.
The GIGABYTE Aorus series primarily targets gamers but consolidates all of the best features and controller sets into many offerings from the mid-range to the high-end, and the GIGABYTE Z790 Aorus Xtreme falls into the latter category. Sitting at the top of GIGABYTE's Z790 motherboard stack, the Z790 Aorus Xtreme has all of the best controller sets and features that GIGABYTE has to offer, including a blend of some features to make cable management easier for users, as well as a large and powerful power delivery designed to run Intel's 13th and 12th Gen Core series processors to their limits.
Looking closer at the GIGABYTE Z790 Aorus Xtreme motherboard, it has a large E-ATX-sized PCB, allowing GIGABYTE to implement more controllers and features onto the board itself. Looking at an overall view of the board from a birds-eye view, the Z790 Aorus Xtreme is predominately covered by waves of Aorus-inspired armor, which also includes a large metal chipset and PCIe armor cover across the center of the PCIe slot area, as well as a large rear panel cover. Interestingly, the rear panel cover features a 2.8-inch digital LCD monitor, which displays real-time system information such as CPU temperature, CPU clock speed, memory clock speed, and VRM temperatures. Typically a feature on high-end premium models such as this, the LCD display is a nice touch, but it does require a chassis with a clear windowed side panel to take advantage of this.
Touching more on GIGABYTE's implementation of cable management, the Z790 Aorus Xtreme, all around the edging of the board, features right-angled headers, connectors, and power inputs. Designed to allow users to plug a cable in at a right angle, this makes it easier as the cables don't directly stick out and can seamlessly be directed through the grommets within a chassis for a more uniform and less cluttered look. GIGABYTE also includes PCIe and M.2 EZ-latches, meaning PCIe and M.2 drives are easily installed and re-installed into the chassis at the tap of a switch or the flick of a thumb.
Removing the large metal mid-plate across the middle of the PCIe slot area and the CPU drive PCIe 5.0 x4 M.2 slot reveals the bulk of the board's M.2 slot array. The plate itself acts as a large PCIe M.2 heatsink for the three central PCIe 4.0 x4 M.2 slots, as well as a cover for the chipset heatsink. In total, the GIGABYTE Z790 Aorus Xtreme has five M.2 slots, with one PCIe 5.0 x4 fed from the CPU as mentioned with a large heatsink covering it, three PCIe 4.0 x4 M.2 slots sandwiched in between the top two full-length PCIe slots, and one PCIe 4.0 x4/SATA M.2 located below the chipset heatsink. For SATA, GIGABYTE includes four right-angled SATA ports which are capable of supporting RAID 0, 1, 5, and 10 arrays.
Regarding PCIe slot support, interestingly, GIGABYTE opts for just one full-length PCIe 5.0 x16 slot, with two full-length PCIe 3.0 slots operating at x4 and x1. Having fewer PCIe 5.0 lanes designated to full-length slots provides benefits and disadvantages, but given many aftermarket PCIe add-on cards can't use the immense bandwidth of PCIe 5.0 at present other than NVMe SSDs, the bandwidth, and the subsequent lanes can be directed to other areas such as controllers. Other users may argue that having two full-length PCIe 5.0 slots can deliver extra lanes to faster PCIe M.2 storage devices through a multi-M.2 slot adapter, but with five M.2 slots integrated onto the board, there's still plenty of scope for storage here.
Focusing on the power delivery on the Z790 Aorus Xtreme, GIGABYTE has gone for a large 20+1-phase design, with premium componentry expected from a board of this caliber. For the CPU, GIGABYTE has included 20 x Renesas RAA22010540 105 A smart power stages, which operate in a teamed configuration and are driven by a Renesas RAA229131 PWM controller. There's also a single RAA22010540 150 A power stage for the SoC. Interestingly, GIGABYTE has employed a teamed setup for the VRM and not a full 20-phase direct configuration, but the output equates to a maximum of 2100 A for the CPU to play with, which is overkill.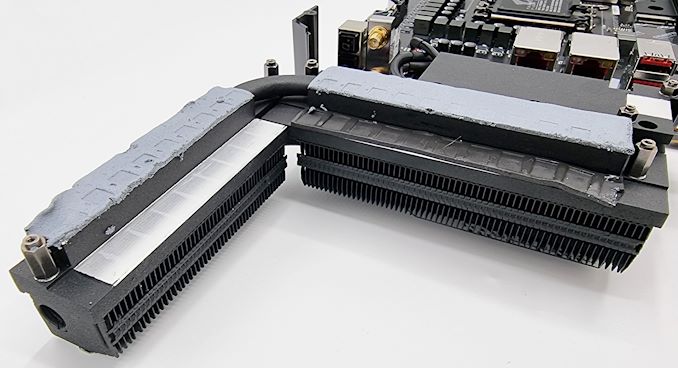 Keeping the power delivery cool is a very large pair of heatsinks interconnected by a single 8 mm thick heat pipe with a nanocarbon-coated fin array. GIGABYTE claims that using a 22-micrometer thick nanocarbon coating on the thins can reduce VRM temperatures by up to 10%. Looking at the indentations within the 12 W/mk thermal pads used by GIGABYTE, the heatsink makes good contact with the majority of the power stages and chokes, which is a good indicator that contact and thermal dissipation should be, in theory, optimal.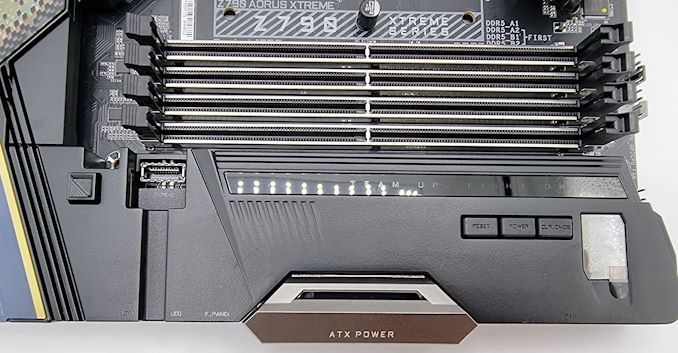 On the premium Z790 motherboards such as this, we typically see support for much faster memory, and the Z790 Aorus Xtreme is no exception. GIGABYTE supports up to DDR5-8000 (OC) memory in a dual channel (1DPC) configuration, with up to 192 GB supported across four slots. The slots feature a one-sided latch mechanism to install the DRAM, and CPU cooler support, especially of the air-cooled variety, depends on the height of the DRAM being used.
Spearheading the onboard audio solution on the Z790 Aorus Xtreme is a Realtek ALC4082 HD audio codec with an ESS Sabre ES9280AC DAC and two ESS E9080 DAC chips. As it stands, this is one of the most high-end integrated audio solutions we've seen on a motherboard outside of those bundled with an external PCIe sound card. Although the Realtek ALC4082 HD audio codec and ESS DACs aren't complimented with any EMI shielding, GIGABYTE does cover the audio PCB with a thin sheet of metal armor, so despite no EMI shielding to speak of, it at least looks nice and clean to look at.

On the rear panel of the GIGABYTE Z790 Aorus Xtreme is a wide variety of premium connectivity and networking available for users to sink their teeth into. Starting with the most premium input and output, GIGABYTE includes a Thunderbolt 4 controller, which includes two Type-C connectors that can double up as DisplayPort inputs for compatible displays. Other USB connectivity includes ten USB 3.2 G2 Type-A ports, while the Realtek ALC4082 and the three ESS DACs drive the two 3.5 mm audio jacks and S/PDIF optical output.
The networking array on the Z790 Aorus Xtreme is high-end, with one Marvell AQtion AQC107 10 GbE controller, a second Ethernet port powered by an Intel I225-V 2.5 GbE controller, while a Killer AX1690 Wi-Fi 6E CNVi provides both 6 GHz band access and support for BT 5.3 devices.
As is when looking at a flagship motherboard such as the GIGABYTE Z790 Aorus Xtreme, these do come with a typically higher price tag than conventional mid-range motherboards. Despite the additional cost, these are offset by featuring premium controllers such as 10 GbE, Thunderbolt 4, and more bells and whistles. As of its initial launch, the GIGABYTE Z790 Aorus Xtreme costs $800, which aligns with current pricing depending on the retailer of choice. As such, as with stock level fluctuations, prices may vary. Compared to the competition, MSI's flagship MEG Z790 Godlike has similar high-level features but costs $1200, while ASUS's flagship, the ROG Maximus Z790 Extreme, is also feature-rich and equally costly at $999.
At present, and not including ASRock's Z790 Taichi and Taichi Cararra (<$500), which are their top-tier Z790 boards, they are technically devout of being a true flagship or halo model, the GIGABYTE Z790 Aorus Xtreme is currently the cheapest flagship Z790 board at the time of writing. Even coming with a high price of $800, the pricing is almost certainly subjective, and on paper, the GIGABYTE Z790 Aorus Xtreme is a very high-end example utilizing much of what Intel's Z790 chipset has to offer.
Of course, as we like to say, performance is the key element (along with features) in which users purchase motherboards, as well as pricing and how much value can be had from any particular motherboard. With that being said, read on for our extended analysis.
Having seen GIGABYTE's UEFI BIOS many times, the firmware on GIGABYTE Z790 Aorus Xtreme hasn't changed much from previous generations, especially not in terms of the overall theme. The GUI on GIGABYTE's UEFI firmware has Aorus-styled grey and orange highlighting along the top and white text, easily visible on the predominantly black background. Like other vendors, GIGABYTE has two primary BIOS modes for users to select. The first time a user initially boots into the firmware, it brings up the 'easy Mode,' while more advanced users looking to overclock and make other adjustments can press F2 to switch to the 'advanced mode.'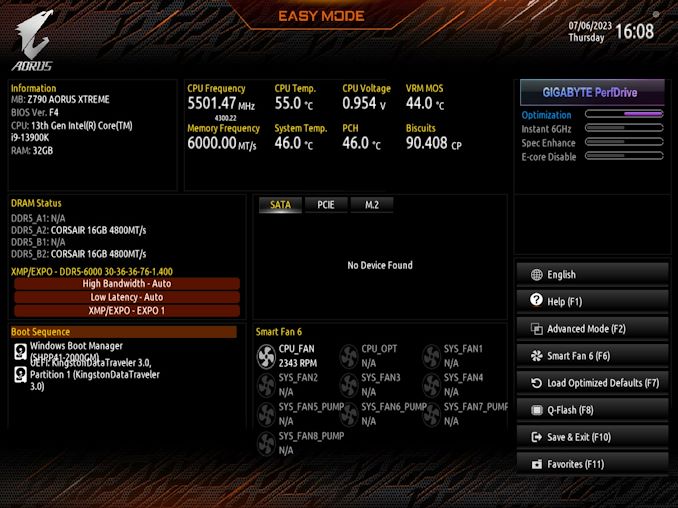 Starting with The 'easy mode' is very similar in functionality to other vendor's implementations, such as ASRock. Cramming quite a lot into one primary splash screen, users can enable XMP or AMD's EXPO profiles on supported memory and change the boot sequence by clicking, dragging, and reordering at will. Users can also access GIGABYTE-specific optimizations, including an Instant 6 GHz profile, disabling E-cores, as well as accessing Smart Fan (F6), Q-Flash (F8), and the advanced mode (F2) by pressing the relevant hotkeys.
Entering the advanced section of the firmware, users looking to overclock their processors will find all the relevant settings within the Tweaker area. The GIGABYTE Z790 Aorus Xtreme is an enthusiast-level flagship so users can customize many CPU voltages, memory latency, power, and integrated graphics settings. GIGABYTE also offers a few profiles for users to overclock the CPU, including a gaming profile and an Instant 6 GHz profile. However, we wouldn't recommend using this unless a user has at least custom water cooling, as Intel's Core i9-13900K does hit thermal limits even on a premium AIO cooler.
Users looking to enable XMP profiles can do so quickly enough, and all of the Intel Z790 boards we've tested so far also support memory with AMD's EXPO profiles. There are extensive memory tweaking options with lots of latency settings, including primary, secondary, and tertiary values, all able to be customized.
Overall, the GIGABYTE UEFI firmware is easy to use and responsive to our USB keyboard and mouse. It has many customizable settings for users to change, and there are plenty of avenues available to increase overall system performance, including extensive memory tweaking options, as well as plenty of options for overclocking both the P and E-cores on Intel's Raptor Lake (13th Gen) and Alder Lake (12th Gen) processors.
Supplied with the Z790 Aorus Xtreme motherboard is a unified software bundle that revolves around the GIGABYTE Control Center application. Acting as a plexus hub for all of GIGABYTE's software utilities, the Control Center includes FAN Control, GIGABYTE's RGB Fusion, and EasyTune, which has now been rebranded as 'Performance' within the utility.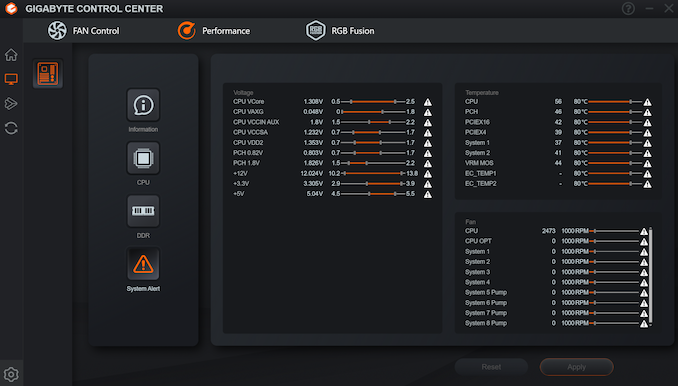 Perhaps the performance section is the most helpful part for enthusiasts within the GIGABYTE Control Center software. This area allows users to overclock their processors within Windows. It has many options available, including CPU core clock ratio modification and many voltage options for users to customize. Users can also modify and set more aggressive power limits and load-line calibration settings.
Overall, GIGABYTE's Control Center is a convenient application, and we like that GIGABYTE has gone for a more uniform solution to streamline all key applications into one place. Users aren't limited to just overclocking, but users can customize the board's RGB LED lighting, as well as sync them across peripherals and compatible chassis fans. Users can create customized fan profiles or go with GIGABYTE's predefined settings.
The GIGABYTE Z790 Aorus Xtreme is a premium flagship E-ATX motherboard, which sits at the top of GIGABYTE's LGA1700 motherboard stack. GIGABYTE's Aorus brand typically caters to gamers and enthusiasts, but the Z790 Xtreme leans more towards the enthusiast scale in terms of features. Some of these features include one full-length PCIe 5.0 x16 slot and two full-length PCIe 3.0 slots that can operate at x4/x1.
As expected on a premium motherboard, GIGABYTE includes a large array of PCIe M.2 storage capabilities, including one PCIe 5.0 x4 M.2 slot, three PCIe 4.0 x4 M.2 slots, and one PCIe 4.0 x4/SATA M.2 slot. For conventional drives, four SATA ports support RAID 0, 1, 5, and 10 arrays. In the top right-hand corner of the board are four memory slots capable of supporting up to DDR5-8000 (1DPC) and a total combined capacity of up to 192 GB.
Cooling support consists of ten 4-pin headers, one designated for a CPU fan, one for a water pump, four hybrid chassis and water pump 4-pin headers, and four for chassis fans.
GIGABYTE Z790 Aorus Xtreme Motherboard
Warranty Period
3 Years
Product Page
Link
Price (MSRP/Amazon)
$799 (MSRP)
Size
E-ATX
CPU Interface
LGA1700
Chipset
Intel Z790
Memory Slots (DDR4)
Four DDR5
Supporting 192 GB
Dual-Channel
Up to DDR5-8000 OC (1R+1DPC)
Video Outputs
2 x Thunderbolt 4 (Type-C)
Network Connectivity
1 x Marvell AQtion AQC107 10 GbE
1 x Intel I225-V 2.5 GbE
Killer AX1690 Wi-Fi 6E
Onboard Audio
Realtek ALC4082
ESS ES9280AC DAC
2 x ESS ES9080 Chips
PCIe Slots for Graphics (from CPU)
1 x PCIe 5.0 x16 (x16 or x8)
PCIe Slots for Other (from PCH)
1 x PCIe 3.0 x4
1 x PCIe 3.0 x1
Onboard SATA
Four, RAID 0/1/5/10
Onboard M.2
1 x PCIe 5.0 x4
3 x PCIe 4.0 x4
1 x PCIe 4.0 x4/SATA
Onboard U.2
N/A

Thunderbolt 4 (40 Gbps)

2 x Type-C
USB 3.2 (20 Gbps)
1 x USB Type-C (Front panel)

USB 3.2 (10 Gbps)

10 x USB Type-A (Rear panel)
USB 3.2 (5 Gbps)
4 x USB Type-A (Two headers)
USB 2.0
4 x USB Type-A (Two headers)
Power Connectors
1 x 24-pin Motherboard
2 x 8-pin CPU
Fan Headers
1 x 4-pin CPU
1 x 4-pin Water pump
4 x 4-pin Chassis/Water pump
4 x 4-pin Chassis
IO Panel
2 x Antenna Ports (Killer)
2 x Thunderbolt 4 Type-C
10 x USB 3.2 G2 Type-A
1 x RJ45 (Marvell)
1 x RJ45 (Intel)
2 x 3.5 mm Audio jacks (ESS)
1 x S/PDIF Optical output (ESS)
Focusing on connectivity, the Z790 Aorus Xtreme has various inputs and outputs on the rear panel. This includes two Thunderbolt 4 Type-C ports, which double up as DisplayPorts, and ten USB 3.2 G2 Type-A ports. Users can utilize a further USB 3.2 G2x2 Type-C port, four USB 3.2 G2 Type-A ports, and four USB 3.2 G1 Type-A ports through internal headers around the motherboard's edges. Also featured on the rear panel are two 3.5 mm audio jacks and an S/PDIF optical output powered by a Realtel ALC4082 HD audio codec and three ESS Sabre DAC chips.
The GIGABYTE Z790 Aorus Xtreme also has a premium networking array, which is spearheaded by a Marvell AQtion AQC107 10 GbE controller, with a second RJ45 port powered by an Intel I225-V 2.5 GbE controller. The board also has wireless capabilities through a Killer AX1690 Wi-Fi 6E CNVi, which supports BT 5.3 devices.
Test Bed
With some of the nuances with Intel's Raptor Lake processors, including the use of P and E-cores, our policy is to see if the system gives an automatic option to increase the power limits of the processor. If it does, we select the liquid cooling option. If it does not, we do not change the defaults.
Test Setup
Processor
Intel Core i9-13900K, 125 W, $589
8P + 16E Cores, 24 Threads 3.0 GHz (5.8 GHz P-Core Turbo)
Motherboard
GIGABYTE Z790 Aorus Xtreme (BIOS F4)
Cooling
EKWB EK-AIO Elite 360 D-RGB 360mm
Power Supply
Corsair HX850 80Plus Platinum 850 W
Memory
Corsair Dominator Platinum RGB DDR5-6000 CL30 (2 x 16 GB)
Video Card
AMD Radeon RX 6950 XT, 31.0.12019
Hard Drive
SK Hynix Platinum P41 2TB PCIe 4.0
Case
Open Benchtable OBT V2
Operating System
Windows 11 22H2
We must also thank the following:
Hardware Providers for CPU and Motherboard Reviews
Sapphire RX 460 Nitro
MSI GTX 1080 Gaming X OC
Crucial MX200 +
MX500 SSDs
Corsair AX860i +
AX1200i PSUs
G.Skill RipjawsV,
SniperX, FlareX
Crucial Ballistix
DDR4
Silverstone
Coolers
Noctua
Coolers
Not all motherboards are created equal. On the face of it, they should all perform the same and differ only in the functionality they provide – however, this is not the case. The obvious pointers are power consumption, POST time and latency. This can come down to the manufacturing process and prowess, so these are tested.
For Z790 we are running using Windows 11 64-bit with the 22H2 update.
Power Consumption
In previous motherboard reviews, we focused on the overall system power, and while sometimes useful, it doesn't paint the full picture. Motherboards can vary in power, but users with more M.2 SSDs, more devices plugged into the motherboard, and additional PCIe devices such as capture cards or sound cards will experience variances in power consumption.
For our motherboard reviews going forward, we're going to be focusing on power draw explicitly from the CPU, as in real-world situations, the processor is the de-facto part of the system that will display variance in power; the graphics card will also draw power, but with so many different models of the graphics card, these values will vary massively. To capture CPU power draw from each motherboard tested, we will be using ElmorLabs PMD-USB power measurement device, which directly plugs into the 8-pin ATX EPS 12 V CPU power connectors, and lets us directly measure the power being fed into the CPU via the power delivery from the power supply.
Ideally, lower values are better, especially with Intel's 13th and 12th Gen Core processors. The other factor is, of course, performance, which goes hand in hand with power consumption depending on the workload and the amount of CPU processing being utilized on the cores. At idle, the lower value is best, but some motherboard vendors are more aggressive on voltages, and more voltage = more heat and higher power consumption.
At idle values, we are measuring the value while the system has settled down, and for load power, we're measuring the average peak value over the course of the 10-minute CB23 MT run. This is because while power-hungry at full-load, processors can sometimes spike for a second or two and as such, can skew peak results, hence why we take the average value.
Starting with CPU package power in an idle state, the GIGABYTE Z790 Aorus Xtreme was the most economical out of the LGA1700 boards we've tested so far with our Core i9-13900K. We measured an OS idle reading of 3.7 W, which is around half a watt less than the ASRock Z790 LiveMixer. 
Focusing on the full-load average, the Z790 Aorus Xtreme averaged 271.6 W over a 10-minute loop of the CineBench R23 MT benchmark. This means, on average, it used around 4.5% less power than the ASRock Z790 Taichi Carrara at full load.
Non-UEFI POST Time
Different motherboards have different POST sequences before an operating system is initialized. A lot of this depends on the board itself, and POST boot time is determined by the controllers on board (and the sequence of how those extras are organized). We look at the POST Boot Time using a stopwatch as part of our testing. This is the time from pressing the ON button on the computer to when Windows starts loading. (We discount Windows loading as it is highly variable given Windows-specific features.)
Measuring UEFI post times into Windows 11, the GIGABYTE Z790 Aorus Xtreme took 22.6 seconds to boot into Windows from system power-up. Things that can increase booting times include additional controllers such as Thunderbolt 4, CPU and memory initialization times, and of course, storage. While the Z790 Aorus Xtreme is not a slow booter, this can be attributed to the number of premium controllers installed onto the board.
DPC Latency
Deferred Procedure Call latency is a way in which Windows handles interrupt servicing. In order to wait for a processor to acknowledge the request, the system will queue all interrupt requests by priority. Critical interrupts will be handled as soon as possible, whereas lesser priority requests such as audio will be further down the line. If the audio device requires data, it will have to wait until the request is processed before the buffer is filled.
If the device drivers of higher priority components in a system are poorly implemented, this can cause delays in request scheduling and process time. This can lead to an empty audio buffer and characteristic audible pauses, pops, and clicks. The DPC latency checker measures how much time is taken processing DPCs from driver invocation. The lower the value will result in better audio transfer at smaller buffer sizes. Results are measured in microseconds.
We measure DPC latency out of the box without tweaks or customizations within Windows. The GIGABYTE Z790 Aorus Xtreme managed a latency reading of 135.7 microseconds, which isn't the best we've seen but is more than capable for audio/DAW workloads and applications.
For our motherboard reviews, we use our short form testing method. These tests usually focus on if a motherboard is using MultiCore Turbo (the feature used to have maximum turbo on at all times, giving a frequency advantage), or if there are slight gains to be had from tweaking the firmware. We put the memory settings at the CPU manufacturers suggested frequency, making it very easy to see which motherboards have MCT enabled by default.
For Z790 we are running using Windows 11 64-bit with the 22H2 update.
Rendering – Blender 3.5
Rendering – Crysis CPU Render
Rendering – Cinebench R23
Synthetic – GeekBench 5
Compression – WinRAR 5.90
3D Movement Algorithm Test – 3DPMv2.1
Although there wasn't too much difference in performance between the Z790 motherboards tested, the GIGABYTE Z790 Aorus Xtreme is the only board tested so far to break the 40K mark in Cinebench R23 MT. We observed no CPU performance anomalies, and the board is competitive in performance compared to the other boards we've tested.
When it comes to testing motherboards, much of the performance between most of the boards tested with the same processor such as the Intel Core i9-13900K, is fairly similar. The main reason we're testing gaming performance in our motherboard reviews is to see if there are any anomalies. There are also occasions on platforms where some vendors will 'overcharge' performance by implementing Multi-Core Enhancement (MCE). This can alter performance far beyond what processor vendors such as AMD and Intel set as their default values.
For Z790 we are running using Windows 11 64-bit with the 22H2 update.
F1 2022: 1080p Ultra Settings
F1 2022: 4K High Settings
Total War: Warhammer 3: 1080p Ultra Settings
Total War: Warhammer 3: 4K High Settings
Focusing on gaming performance, the GIGABYTE Z790 Aorus Xtreme was competitive with other LGA1700 motherboards we've tested.
One of the most requested elements of our motherboard reviews revolves around the power delivery and its componentry. Aside from the quality of the components and its capability for overclocking to push out higher clock speeds which in turn improves performance, is the thermal capability of the cooling solutions implemented by manufacturers. While almost always fine for users running processors at default settings, the cooling capability of the VRMs isn't something that users should worry too much about, but for those looking to squeeze out extra performance from the CPU via overclocking, this puts extra pressure on the power delivery and in turn, generates extra heat.
Given how fast Intel and AMD's processors are at default turbo clock speeds, overclocking is becoming less and less relevant. Of course, a sub-section of the audience still likes to overclock, with some competition on the fabled HWBot competition platform. There are more models of motherboards than ever before, which often include fancy heatsinks on premium models with better cooling designs, heftier chunks of metal, and in some cases, even water blocks.

The 21-phase (20+1) power delivery on the GIGABYTE Z790 Aorus Xtreme
Testing Methodology
Our testing method is to determine whether the power delivery and heatsink effectively dissipate heat. We do this by running a realistic yet still heavy CPU workload for a prolonged period of time. While we previously applied a set overclock deemed safe. For Intel's Raptor Lake (13th Gen Core series), we're using Intel's Speed Optimizer (ISO 2.0) to determine the maximum clocks and voltages. We then run Cinebench R23 MT on a loop for an hour, putting a realistic and pressured load on the processor. We collect our data via three different methods, which include the following:
Taking a thermal image from a birds-eye view after an hour with a Flir Pro thermal imaging camera
Securing two probes onto the rear of the PCB, right underneath CPU VCore section of the power delivery for better parity in case a probe reports a faulty reading
Taking a reading of the VRM temperature from the sensor reading within the HWInfo monitoring application
The reason for using three different methods is that some sensors can read inaccurate temperatures, which can give very erratic results for users looking to gauge whether an overclock is too much pressure for the power delivery handle. With using a probe on the rear, it can also show the efficiency of the power stages and heatsinks as a wide margin between the probe and sensor temperature can show that the heatsink is dissipating heat and that the design is working or that the internal sensor is massively wrong. To ensure our probe was accurate before testing, I binned 10 and selected the most accurate (within 1c of the actual temperature) for better parity in our testing.
For thermal imaging, we use a Flir One camera to indicate where the heat is generated around the socket area, as some designs use different configurations, and an evenly spread power delivery with good components will usually generate less heat. Manufacturers who use inefficient heatsinks and cheap out on power delivery components should run hotter than those who have invested. Of course, a $700 flagship motherboard will likely outperform a cheaper $100 model under the same testing conditions, but it is still worth testing to see which vendors are doing things correctly. 
Thermal Analysis Results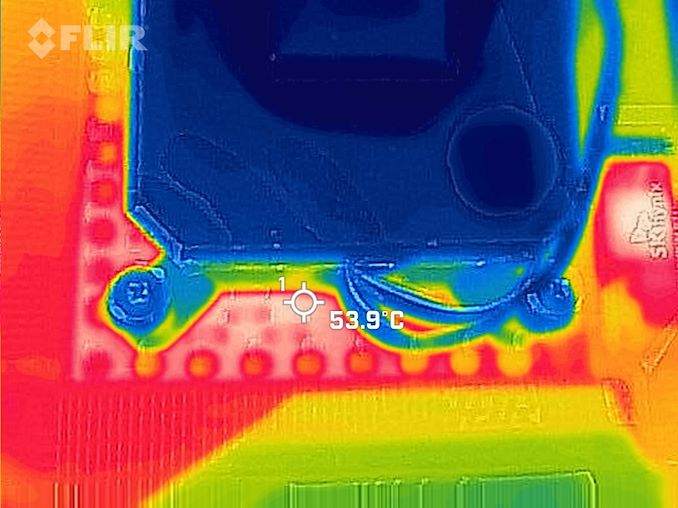 We measured 53.9ºC on the hottest part of the CPU socket during our testing (ISO 2.0)
The GIGABYTE Z790 Aorus Xtreme has a large 20+1 power delivery for the CPU and SoC, with premium components throughout. The CPU section consists of 20 x Renesas RAA22010540 105 A smart power stages operating in a teamed configuration and is driven by a Renesas RAA229131 PWM controller. The SoC section has a single RAA22010540 105 A power stage. Cooling the power delivery is a large dual heatsink configuration that is interconnected by a single 8 mm thick heat pipe. This board uses a passively cooled heatsink design without fans or cooling aids other than the 22-micrometer thick nanocarbon coating on the heatsink fins.
Focusing on our thermal VRM testing results, the GIGABYTE Z790 Aorus Xtreme was the coolest board we have tested, despite having a passively cooled heatsink design. We observed a temperature of 52°C from the internal VRM sensor, while our pair of K-type thermal probes measured temperatures of 52 and 55°C, respectively. Going off of the integrated sensor, this was around 3°C cooler than the ASRock Z790 Taichi Carrara, which is an actively cooled heatsink; this is impressive from GIGABYTE.
To compare how efficient GIGABYTE's cooling design and power delivery is, we observed around 53.9°C from around the CPU socket, which was around 74.2°C on the Z790 Taichi Carrara, showing that GIGABYTE's cooling solution is dissipating heat more effectively and isn't transferring the heat around the power plane.
This also segues us into our overclocking results, as given how fast Intel's Core i9-13900K is at default settings and how hot it operates, there's not much overclocking headroom available at all, even when using a premium 360 mm such as we are.
Overclocking Results
Using Intel's Speed Optimizer settings within the Intel Extreme Tuning Utility (XTU), we can see how each board performs in CineBench R23 MT. We can also observe critical variables such as CPU V-Core, peak package power, and peak CPU temperature.
The GIGABYTE Z790 Aorus Xtreme using the board's default settings, performed very well, with the lowest peak CPU VCore of 1.356 V at full load, as well as peak CPU package power draw of 283 W. It also performed the best in CineBench R23 MT at default settings, with 23.6% more performance than at Intel's Default specifications (PL1/PL2 at 253 W). The only negative was the peak CPU core temperatures, which hit 93°C, despite having the lowest peak CPU V-Core of all the boards at default settings.
Moving onto results with Intel Speed Optimizer (ISO 2.0) enabled, the GIGABYTE Z790 Aorus Xtreme was once again the most conservative with CPU VCore, with a peak value of 1.392 V and the only board tested to be below 1.40 V. The results in CineBench R23 yielded some improvement, with a bump of 0.9% over the default specifications, which shows GIGABYTE is pushing the chip straight out of the box.
With a solid and premium power delivery, with equally and well-implemented heatsinks, the power delivery on the GIGABYTE Z790 Aorus Xtreme is as solid as they come. We have no qualms that users can push more out of their Intel 13th and 12th Gen Core processors, but we must stress that cooling is the key differential here. Without premium cooling, even perhaps optimal custom water cooling at a minimum, the CPU will run into thermal limitations before anything else.
For the record, we did test GIGABYTE's Instant 6 GHz profile, but it crashed consistently, so that means either our silicon isn't good enough or the settings aren't aggressive enough. Either way, it didn't work, and we don't have a guaranteed 6 GHz chip in our possession to test this further. Even then, our cooling wouldn't likely be good enough, which is ironic as we're using one of the most premium 360mm AIOs on the market from EKWB.
As we have seen consistently over the last couple of years with motherboards, especially in the high-end and premium segment, vendors are trying to go all out with flashy features. Still, they all seemingly have the same core fundamentals, including large over-engineered power deliveries, higher-end networking configurations such as 10 GbE, large amounts of PCIe SSD support, and flashy cool screens that can either/or display critical system information or even custom GIFs to add that extra bit of pizazz.
One flagship model on Intel's Z790 chipset that ticks the above boxes is the GIGABYTE Z790 Aorus Xtreme; well, aside from the screen that can't display gifs, the 2.8-inch digital LCD on the rear panel cover can display a variety of system information such as CPU/VRM temps, CPU clock speed and memory clock speed. With that out of the way, the Z790 Aorus Xtreme is currently GIGABYTE's current flagship motherboard for Intel 13th and 12th gen processors, and we say current because GIGABYTE is refreshing the line-up for Intel's next generation (14th Gen) processors expected in the coming months. We'll touch more on this in our final thoughts.
Sitting at the top of GIGABYTE's Z790 motherboard stack, the Z790 Aorus Xtreme is flashy but feature-filled. First, the design is reminiscent of the quintessential Aorus-themed branding, primarily black and grey, with shades of flashy RGB LEDs integrated into the chipset heatsink and rear panel cover. The most notable aspect of the design is the nearly full-covered PCB, which is covered by various metal covers. This large mid-plate stretches across the bottom of the board and cools the majority of the M.2 slots, as the cover on the right-hand side has a power and reset button and a 2-digit LED debugger embedded into it. Overall, it's a stylish board with plenty of appeal in terms of looks.
One element to highlight around the design is GIGABYTE's cable management implementations, or as GIGABYTE calls it, Project Stealth. All of the board's power inputs and headers are located around its edge at 90° angles, giving it a cleaner look as they are covered by armor across the top. The idea is that users can plug in cables so that they protrude from the sides of the board, which should make things look tidier and aid in making cable management easier when installed into a chassis. We like this kind of cable management implementation, and we feel that it adds an element of quality, which every motherboard above $500 should at least include in some shape or form.
Touching on the other features of the GIGABYTE Z790 Aorus Xtreme, it has plenty of storage options, including one PCIe 5.0 x4 M.2, three PCIe 4.0 x4 M.2, and one PCIe 4.0 x4/SATA M.2 slot. Other storage options include four SATA ports for conventional SATA SSDs and HDDs, or even, dare we say it, optical drives. Memory support is impressive, with support for up to DDR5-8000, but only in a 1PDC configuration, limited to smaller capacities. Like other Z790 Aorus Xtreme, the Z790 motherboards can support the new 24 GB DIMMs with a maximum capacity of up to 192 GB across four memory slots.
Moving to the rear panel, GIGABYTE has implemented a very premium selection of input and output, with the most notable including dual Thunderbolt 4 Type-C ports and ten USB 3.2 G2 Type-A ports. Even the networking array is impressive, with a Marvel AQtion AQC107 10 GbE and Intel I225-V 2.5 GbE controller pairing, as well as a Killer AX1690 Wi-Fi 6E CNVi with access to the 6 GHz Wi-Fi band and support for BT 5.2 devices. Users looking for more Type-C connectivity can use the front panel header (USB 3.2 G2x2), and if ten USB Type-A ports on the rear panel aren't suffice, then users can add four USB 3.2 G1 Type-A and four USB 2.0 ports through the use of front panel headers.
Focusing on performance, the GIGABYTE Z790 Aorus Xtreme is competitive with other Z790 motherboards we've tested. Although non-UEFI POST times aren't going to set the world alight, we saw solid performance in power consumption with our Core i9-13900K and good DPC latency performance. In our compute and gaming benchmark suite, performance was where we would expect, and laying it out as simply as possible, most Z790 motherboards will perform to similar levels regardless of vendor or segmentation.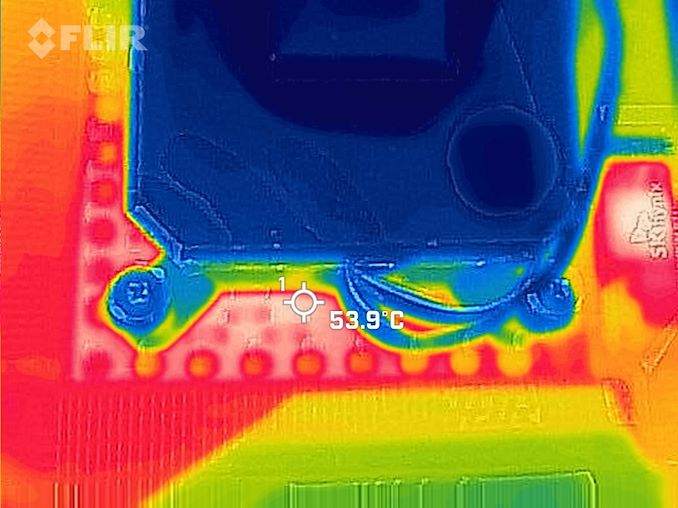 The most significant difference in performance comes through things like the power delivery, but more specifically, VRM thermal performance. In this area, the GIGABYTE Z790 Aorus Xtreme is impeccable, with cooler VRM temperatures than an actively cooled power delivery (Z790 Xtreme has passive), and effectively dissipating the heat through the large nanocarbon coated heatsinks; a lot of vendor's implementations over the years dumps a lot of the heat into the copper power plane around the CPU socket, but GIGABYTE does an excellent job here of keeping things cool and running efficiently.
Final Thoughts: Solid Motherboard, Cool VRMs, Refreshed Z790 Xtreme X Soon?
The GIGABYTE Z790 Aorus Xtreme is the cheapest of the leading manufacturer's flagship models at $800, which, given the features on offer, is a fair price compared to the competition. Compared to the other vendors, the MSI MEG Z790 Godlike has a price tag of $1200, which is 1/3 more than the GIGABYTE, but it has seven M.2 slots. The ASUS ROG Maximus Z790 Extreme costs $999, all with top-of-the-range flashy designs, networking arrays, plenty of PCIe M.2 storage, and premium controller sets.
As a standalone option, the GIGABYTE Z790 Aorus Xtreme does have the key features of the other flagships, especially with 10 GbE and Wi-Fi 6E networking, as well as lots of high-performance USB connectivity, including Thunderbolt 4 Type-C on the rear panel. Also offered on a plate is a large 20+1 (CPU+SOC) phase power delivery, which uses a teamed configuration for the power stages (10/10+1) and has some of the best thermal VRM performance we've seen from a high-end motherboard.
If all of that impresses you, and having one PCIe 5.0 x4 and a full-length PCIe 5.0 x16 slot is a necessity, then you would be slightly disheartened to know that effectively all Z790 motherboards have this as they are the main selling points of the Z790 chipset and Intel's 13th Gen Core series processors. What sets the Z790 Aorus Xtreme apart from the rest is all of the features such as 10 GbE, one PCIe 5.0 x4 M.2 slots, four PCIe 4.0 x4 M.2 slots, Thunderbolt 4, lots of USB 3.2 G2 Type-A, and an aesthetic and feel that screams "I am a premium motherboard, I am better than everything else". While the latter is a misnomer regarding price versus features, general compute and gaming performance across all Z790 boards we've tested is similar.
While we feel the GIGABYTE Z790 Aorus Xtreme is a solid LGA1700 motherboard that's got a lot of features and, compared to the competition, is worthy of the flagship status and with a more affordable price than the other vendor's top offerings, GIGABYTE has new boards coming. We're talking about the recently announced GIGABYTE Z790 Aorus Xtreme X motherboard, which has a similar feature set but supports slightly faster DDR5-8266 and has the latest Wi-Fi 7 CNVi. Everything else between this board and the new 'X' variant looks to be similar, and even the rear panel has the same I/O, which means GIGABYTE might be using the same or a closely similar PCB but with the new Wi-Fi 7 instead of the Wi-Fi 6E CNVi.